A Host of Honeysuckle
Jess Pearce, from Wild Thyme, on these excellent, scented climbers and shrubs. - 25 August 2017
Shakespeare wrote about it in A Midsummer Night's Dream, the Scots believe it brings good luck and protects your home from evil spirits, and the Victorians exchanged flowers of it to symbolise true love. Is there anything more quintessentially English than the heady scent of Honeysuckle wafting from the hedgerows on a warm summer's evening?
Lonicera belong to the family Caprifoliaceae and over 180 species of Honeysuckle have been identified worldwide. The largest proportion of these, over 100, are native to China, with Europe only contributing a mere 20 species. They are named after Adam Lonicer, a German botanist from the 1500's and are widely known as honeysuckle, owing to the abundance of sweet nectar produced by the flowers.
In Britain our main native species is Lonicera periclymenum, the wild honeysuckle or woodbine found sprawling over hedgerows. The perfume is released in the evenings in order to attract pollinating moths. It is the main food source of the striking Garden Tiger Moth and the White Admiral butterfly, among others.
Garden Tiger Moth on Wild Honeysuckle - Lonicera periclymenum
The vast majority of Honeysuckles are the twining, climbing 'woodbines' that we have all grown up with. There are literally dozens of different varieties to choose from. They all prefer to have their roots in the shade and will clamber over old trees, across walls, fences and pergolas to find a slightly sunny spot for their heads. They will grow happily in most garden soils and don't require pruning except when they outgrow their welcome.
Honeysuckles are immensely valuable in the garden for their ability to cover unsightly structures and for the masses of strongly scented tubular flowers they produce in summer. None does the job better than Lonicera japonica 'Halliana' (Japanese Honeysuckle), a really vigorous evergreen climbing honeysuckle with masses of pure white, heavily scented flowers that turn yellow with age, giving an attractive, two-tone appearance. It will reach a height of 10 metres with a spread of 2 metres, making it the perfect choice for an unsightly garage, wall or arbour.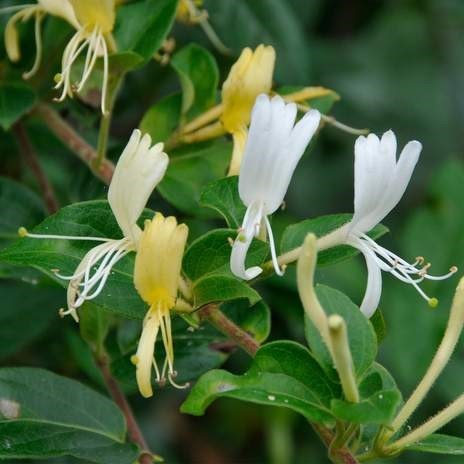 Lonicera japonica 'Halliana' 
If Lonicera 'Halliana' is a bit too tame (colourwise) for you, then the semi-evergreeen Lonicera x brownii 'Dropmore Scarlet' will knock your socks off! Vivid orange-scarlet blooms from July – September are longer than normal and really exotic looking. The scent is only light but it more than makes up for it with its dramatic blooms.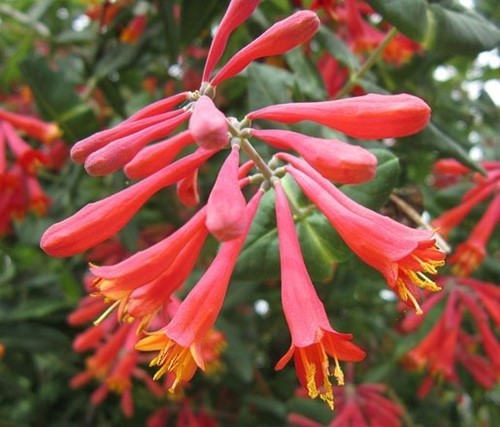 Lonicera x brownii 'Dropmore Scarlet'
Lonicera x tellmanniana is a stunning choice for a garden arch or covering a wall. Gorgeous, amber-coloured cartwheels are really full and the buds are flushed red. This variety holds a well-deserved RHS- AGM.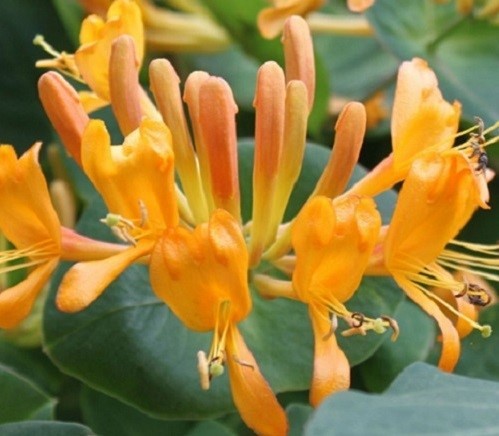 Lonicera x tellmanniana
Lonicera periclymenum 'Belgica' (Early Dutch Honeysuckle) is a much earlier flowering variety than many of the others from May- July, sometimes with a second flush in August-September. Large cartwheels of white and yellow flowers, streaked dark reddish pink on the outside are sweetly scented and produced en-masse.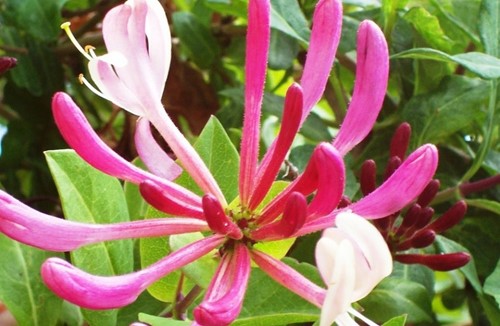 Lonicera periclymenum 'Belgica'
While the iconic twining climbers make up the majority of the species, there is a small minority of shrub honeysuckles that one should definitely consider making room for. Perhaps the most widely used of these (if not instantly recognisable as a honeysuckle) is Lonicera nitida or Box-Leaf honeysuckle which is commonly used as a hedging plant as a good evergreen alternative to Box, Yew or Laurel.
Probably equally unrecognisable as a honeysuckle is Lonicera syringantha (Lilac-Scented Honeysuckle), a small, delicate shrub growing up to 4ft with tiny, soft, bright green leaves and clusters of pale pink, fragrant flowers in late spring and early summer.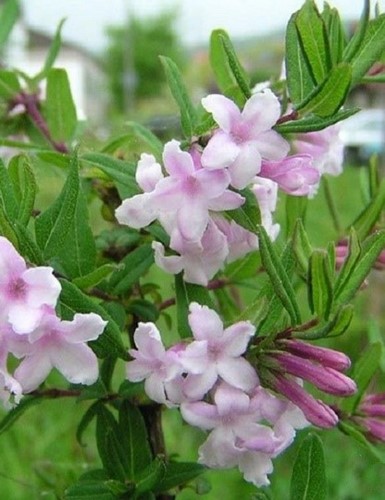 Lonicera syringantha
Fully hardy Lonicera purpusii 'Winter Beauty' (Winter Flowering Honeysuckle) has an RHS – AGM and produces really strongly perfumed, creamy white, tubular flowers on its gracefully arching stems in the depths of winter, before the leaves appear. Bring a few branches into the house to fill your home with fragrance or plant it near a door or pathway to get the most out of its winter perfume. A taller shrub, reaching heights of up to 8ft (3m), it is completely hardy and really easy to grow in most garden soils.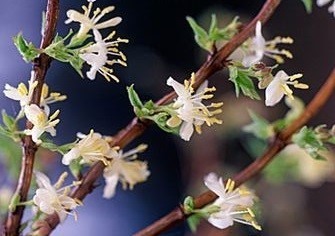 Lonicera purpusii 'Winter Beauty'
Lonicera elisae is a little less commonplace but, an equally valuable addition to the border. The same creamy white, tubular, scented blooms in winter are much larger and often flushed pink. They are a welcome sight at a time of year when little else is flowering but the real winner with L. elisae is its gorgeous chocolate coloured foliage in spring and summer, which makes a great backdrop for other flowering shrubs later in the year.
Lonicera elisae
All the honeysuckles sport berries of some sort in colours ranging from red to black but most are slightly poisonous. Of the very few that are edible, Lonicera caerulea- Honeyberry has become popular in recent years both domestically and commercially for its delicious long blue-grey fruits. The fruits taste like blueberries and are high in Vitamins B and C. The fruits ripen in May on bushes that will reach to about 6ft (2m).
This is just a small selection of plants from a very large family but, hopefully reading this will inspire you to explore the genus further and find favourites of your own.
In the language of flowers, Honeysuckle means 'United in Love'. Obviously it owes its symbolic value to the sweetness of its perfume but who can resist such a romantic notion? I will definitely be twisting some into my wedding bouquet next June!.... And historically it was used to make rope …. if things don't work out!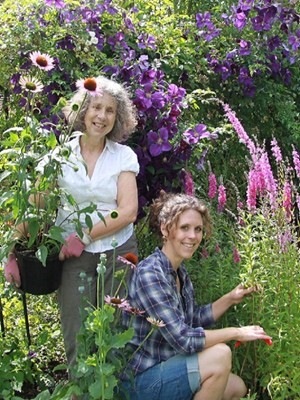 Monica Ashman and Jessica Pearce are co-owners of Wild Thyme, based in Somerset, which specialises in wildflowers and fragrant perennials and shrubs.
Website: www.wildthymeplants.co.uk.