A New Day for Michaelmas Daisies
Louise Mitchell, from Mrs. Mitchells' Kitchen and Garden, selects her favourites from this family of late-flowering perennials - 26 August 2016
 Michaelmas Daisy is a commonly-used, non-scientific name for a group of beautiful, jewel-coloured perennials which bloom late in the season and have been considered as part of the genus Aster for centuries.  They were classified, using observation, by the naturalist Linnaeus; but recent, more scientific examination on the molecular level has divided the "Aster" genus into several different groups. Three of these new groups contain plants which are commonly planted in British gardens and thought of as Michaelmas Daisies, and so I will discuss them as such for the purpose of this article.
Aster
Plants of European and Asian origins have remained asters.  These include Aster amellus and Aster x frikartii; they tend to flower in late summer.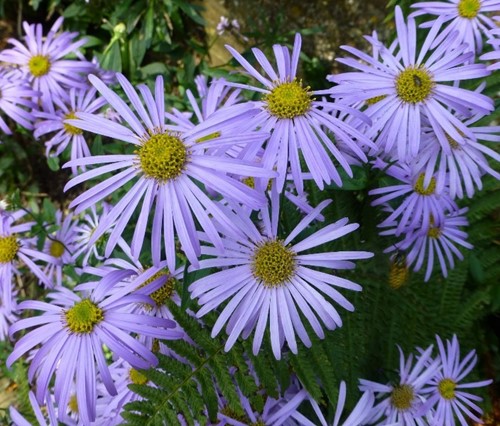 Aster x frikartii 'Monch' (AGM), said  to be the best all-round aster in existence. It grows to about 36 ins with lots of lovely blue flowers.  It prefers well-drained, alkaline soil in full sun.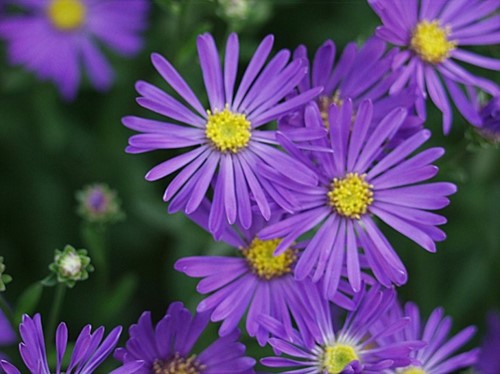 One of my favorites is Aster amellus 'Sonora', with a rich dark colour. It grows to about 24 ins and usually flowers in mid-September, between  the more commonly seen A. amellus 'King George' and A. amellus 'Violet Queen'.
Eurybia
These plants tend to flower in late summer and are much more tolerant of shade than other Michaelmas Daisies. They are quite short and form spreading patches rather than clumps.    They include the species E. divaricatus, E. macrophyllus and E. schreberi.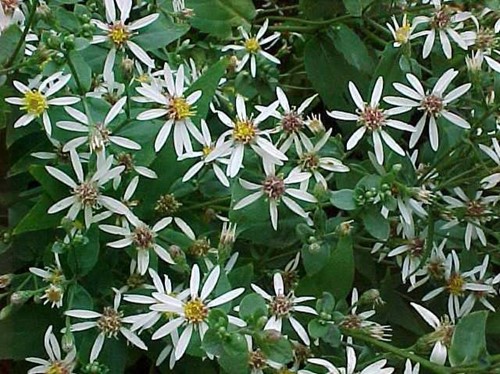 Eurybia divaricatus (The White Wood Aster) usually opens in mid-August with clouds of tiny white stars.  It thrives in dry shade and eventually forms a great billowing cushion.
Symphiotrichum
Most of the plants we think of as Michaelmas Daisies, the species S. novi-belgii and S. novae-angliae, fall into this group, as well as some other hybrids and species, including S. cordifolius, S. ericoides, S. laevis and S. turbinellus.  They are generally tall, clump-forming and autumn flowering. Most have their origins in North America.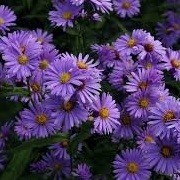 Symphyotrichum novi-belgii 'Blue Danube' is one of my own favourites.  It has medium-sized, single deep lavender-blue flowers on tight 4 ft upright bushes in early September.  It seems especially resistant to the mildew which frightens some gardeners about growing novi-belgii. These "New York Asters" have the widest range of colours, shapes and sizes, so are really worth the effort.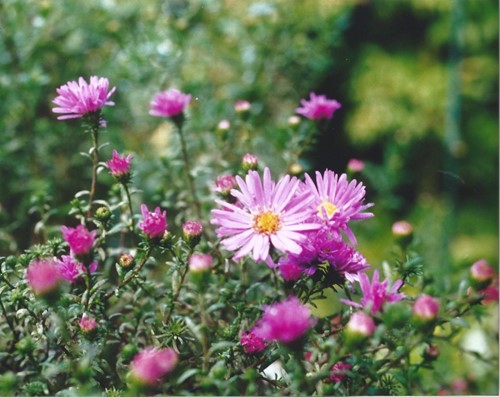 Symphyotrichum novi-belgii 'Autumn Rose'. This is another  4ft upright plant and produces flowers from mid to very late autumn.  If planted in a sunny border and kept consistently watered, if should remain mildew free. Trimming the whole plant back by 1/3rd in late May (Chelsea Chop) is further insurance. Like all the novi-belgii, the clump does best if it is divided every 2 to 3 years.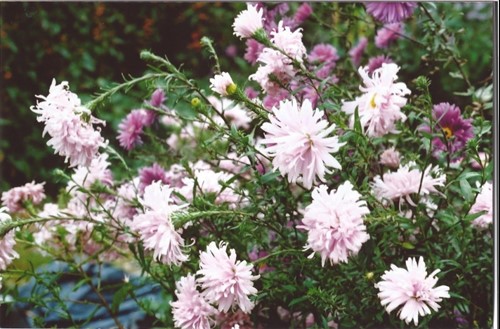 Symphyotrichum novi-belgii 'Fellowship' (AGM) This is one of the most popular and widely available novi-belgii varieties It has large, pale pink double flowers and is very good as a cut flower.  It isn't the strongest grower, often producing rather small clumps; but in a sunny location, with fertile, consistently moist soil it is well worth the effort. I usually feed all my Michaelmas Daisies with a general fertilizer once or twice in early and mid summer, then with occasional high potash liquid prior and during flowering.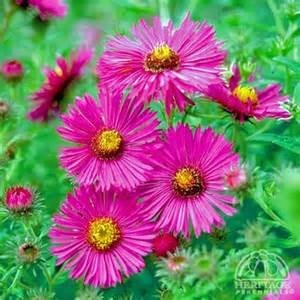 Symphyotrichum novae-angliae 'September Ruby'.  One of the "New England Asters", 'September Ruby' is another variety that is widely available.  Its large, red-purple flowers appear in mid to late September on strong, wiry 4 ½ ft stems. Novae-angliae plants are largely mildew free, but do benefit from the same cultivation rules as the novi-belgii.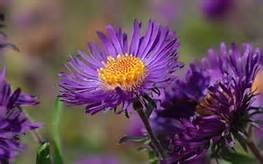 Symphyotrichum novae-angliae 'Violetta'.  This is another of my favourites. It is the deepest purple available and one of the latest to flower. Each flower is quite small and the 5ft plants benefit from some support – but the pollinating insects will thank you for your trouble in October and, sometimes, even November. Like all the novae-angliae, 'Violetta' will only need occasional division – perhaps every 4 or 5 years.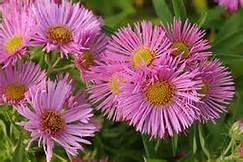 Symphyotrichum novae-angliae 'Annabel de Chazal'.  There are several really good pinks in the novae-angliae range; two, 'Rosa Sieger' and 'Harrington's Pink', have AGMs. My choice, however, is this newer introduction, slightly darker and a little more compact at about 4 ft. It was bred by the Picton family at Old Court Nurseries, one of the National Plant Collection holders and blooms for a very long period during September.

Besides S. novi-belgii and S. novae-angliae, the Symphyotrichum genus now includes some hybrids and several species.  Here's a quick look at some of my favourites!
Symphyotrichum ericoides f. Prostratum 'Snow Flurry' (AGM).  A funny little 4-6 ins plant with woody stems and tiny white flowers in September and October. It is terrific in a rock garden or tumbling from a raised border and needs sharp drainage.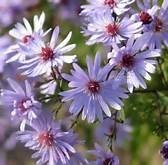 Symphyotrichum 'Little Carlow' (AGM).  One of the most popular varieties at the moment, this is a hybrid of the species S. cordifolius.  It forms a glorious clump up to 4 ft covered with small lavender-blue flowers.  It doesn't hold up too well to heavy rain, but otherwise is really trouble free.  Usually placed in full sun, but I grow mine in light shade under a birch tree and there it keeps more compact.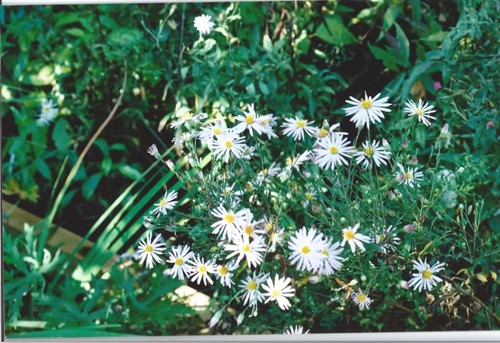 Symphyotrichum turbinellus is an example of a species plant within the Symphyotrichum genus, and is a lovely, airy plant covered with small violet-blue flowers in September, sometimes into October.  It grows to about 3–4 ft. Instead of staking in a regimented fashion, grow at the rear of the border, where it can sprawl about among the other plants.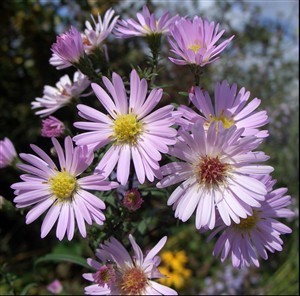 Symphyotrichum laevis 'Les Moutiers'.  And finally, one of my real pets at the moment!  This lovely plant, a fairly new introduction from France, has beautiful pale pink flowers on tall, graceful dark stems.  The plant grows to about 4 ft. S. laevis is the most resistant of all the Symphyotrichum to mildew.
Growing up in rural New York State I didn't see many Michaelmas Daisies.  Some tall, wispy blue plants grew wild on roadsides or near the edge of woods; but there were hardly any cultivated varieties in gardens.  It wasn't until I came to Britain in the 1980's that I was really introduced to them, as I tried to extend the flowering season of my little cottage garden.  True to my gardening form, I then became totally obsessed by them!
As with so many of our favorite garden plants, much of the improvement and exciting hybridization of the Michaelmas Daisy has taken place right here in Britain.  The results can be seen at the various National Plant Collections  (www.plantheritage.com)  and at Waterperry Gardens, where the Rare Plant Fair goes in late June (though you will have to visit again later in the year to see the daisies in their glory).  My colleagues in the Rare Plant Fair, Avondale Nursery in Warwickshire, are National Collection holders of Symphyotrichum novae-angliae. We grow many examples in our little Hampshire garden, but unfortunately, following several years of my ill health it is not currently open.  Next year, we hope – the Michaelmas Daisies are too lovely to keep all to ourselves!
Louise and Julian Mitchell run Mrs. Mitchell's Kitchen and Garden, a small nursery based near Salisbury, specialising in cottage garden perennials, especially hardy geraniums, phlox, Michaelmas daisies. They also make yummy jams and chutneys!
Article copyright the author; photos as individually credited.
Facebook: https://www.facebook.com/mrsmitchellskitchenandgarden.co.uk