A Rose by Any Other Name… and for Any Situation
Jess Pearce, from Wild Thyme, shares some of her favourite roses. - 09 March 2016
We all love roses. They are the nation's favourite flower, a symbol of all things British and no 'English Country Garden' would be complete without them but, with so many thousands of roses to choose from out there, from species roses, through old fashioned Damasks, Bourbons, Centifolias, Tea Roses and Floribundas, Climbers and Ramblers (to name but a few) , the choice is mind-boggling. What's the difference and which one is right for you? Here I hope to introduce you to a few of my personal favourites some beautiful roses that will thrive in any situation.
Climber or Rambler?
The main difference between Climbers and Ramblers is that Rambling Roses tend to only flower once, smothering themselves in blooms and putting on a stunning display, often early in the season. Climbing roses tend to produce more measured flushes of larger flowers throughout summer and autumn. There are of course exceptions. Ramblers, being closer to the wild forms, tend to be more robust, tolerating poor soils, offer good disease resistance and tend to have a more untamed, sedate habit. They are ideal for hiding a shed, covering a pergola or arbour or growing through an old tree. Climbers tend to produce stiffer, more upright growth and are often more manageable, making them a more appropriate choice over an arch, pillar or doorway.
Thornless Evergreen Rambler: Rosa banksiae banksia 'Lady Banks Rose'
A fantastic example of a rambler. Smothered in large sprays of small, lightly scented, white, cupped blooms in April/May, well before any other roses are out. This rose is ideal for covering a pergola, large fence or scrambling through a tree. My favourite thing about this species rose is that it is one of the few completely thornless roses and is evergreen with small, delicate, dark green foliage. In many cases it will repeat flower.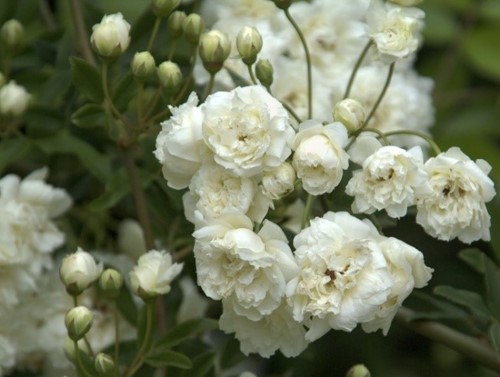 Scented Repeating Rambler : Rosa 'Paul Noel' 
A vigorous David Austin rambler, producing masses of two-tone mid-pink and salmon, mid-sized double flowers with a warm, sweet scent. It produces a stunning show in mid-June with further, smaller flushes right through until the first frosts. This rambler will cope with poor soils but, would prefer a sunny or partially sunny site.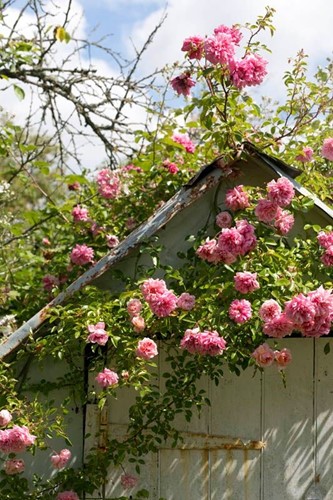 Scented Climber For Sun: Rosa 'Lady Hillingdon'
One of the last tea roses to be propagated back in 1800 with large, heavily scented soft peach blooms. Named after Lady Alice Hillingdon, who was famous for 'lying back and thinking of England' The stems of this climber tend to dip under the sheer weight of its blooms. This is ideal when growing over an arch or pergola as the blooms bend down to meet you, whereas so many climbers are only at their best when viewed from the roof! Young foliage is red-tinted.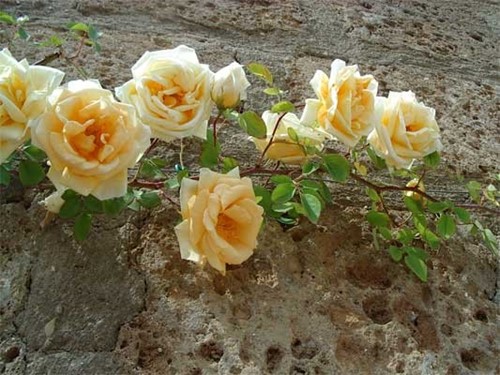 Thornless Climber for Shade: Rosa 'Zephirine Drouhin'
A gorgeous climbing Bourbon with a strong, damask scent, double, deep pink blooms and completely thornless, making pruning a breeze and making it an ideal choice for a doorway or close to a path. It will also thrive (and more importantly, flower well) against a North facing wall or in partial shade.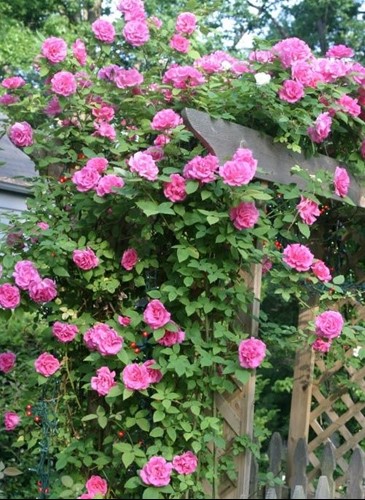 Shrub Roses or Bush Roses?
Strictly speaking, all roses are shrubs (including climbers and ramblers) as they all have woody stems. Shrub Rose tends to be a term used to refer to old French and English roses or taller, wider modern roses. They include species (wild) roses and are usually heavily fragrant and fairly tall, growing to around 4ft. Shrub roses are best at the back of a border or used as hedging.
Bush rose refers to all other shorter varieties of rose and includes Floribundas and Hybrid Teas. Hybrid Teas were developed from the old Chinese Tea Roses and crossed with European roses to produce well-formed blooms that would repeat flower all year. They tend to produce single flowers on long stems and are the roses favoured by florists as they make good cut flowers. Floribundas produce trusses of several flowers per stem and tend to repeat more freely. Bush roses are an excellent choice for a border or in a large container
Back of a Shady Border: Rosa rugosa 'Roseraie de l'Hay'. Shrub Rose
Developed in France in 1800, specifically for the perfume industry it has a fragrance that really is hard to beat. Large, double magenta-violet blooms from July – September are followed by big, glossy tomato-like hips in the autumn. Growing to 2m it's perfect for the back of a border and is far more shade tolerant than most roses.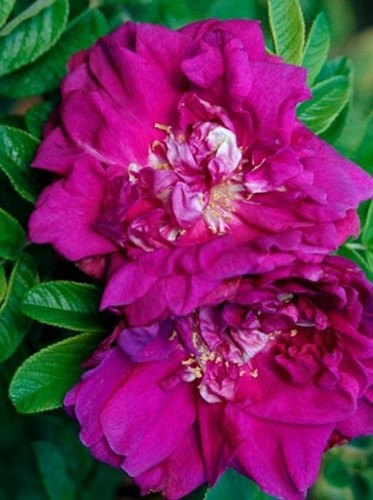 Back of a Sunny Border: Rosa 'Comte de Chambord' Shrub Rose
Huge, pretty, warm pink double, quartered blooms are so distinctive of this Old Rose. Really disease resistant, tough and reliable. Strong, delicious damask fragrance. Repeats well all season. Height 120cm.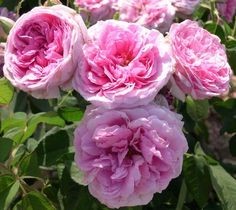 Middle of a Slightly Shady Border: Rosa 'Hot Chocolate' Bush Rose
Simply stunning and so unusual. Rusty orange buds open to a warm, smoky red-brown. Heavily fragrant, double blooms. Height 90 cm Very good disease resistance. Winner of 'Rose of the Year' when it was introduced.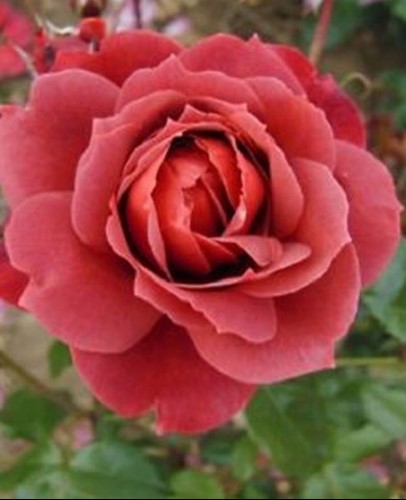 Middle of a Sunny Border: Rosa 'Eyes for You' Bush Rose
Like an oriental poppy or peony, this stunning, modern floribunda has really unusual blooms with a distinctive 'eye' at the centre of each flower. Flowers are a pale lilac with a strong purple blotch. Huge blooms in trusses with a strong damask perfume, flowering continuously. Extremely disease resistant. Height 80cm.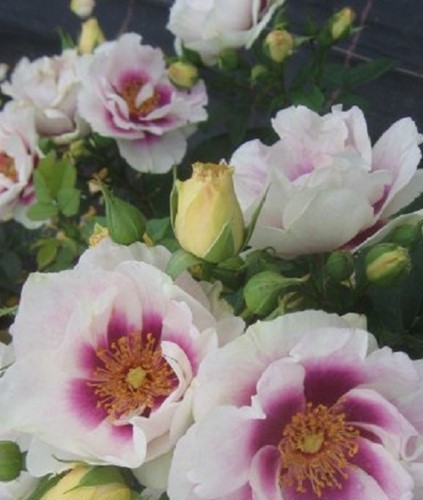 Front of Border or Container: Rosa 'Pomponella Fairy Tale' Bush Rose
This modern take on the old fashioned Centifolia (hundred petalled or Cabbage Rose) has incredibly pretty, globular, deep pink blooms which flower in dense clusters from completely spherical buds. Less vigorous and more compact than some varieties, reaching only 1m (3ft) and with almost continuous flowering, it's a perfect choice for a large container on the patio or the front of a sunny border.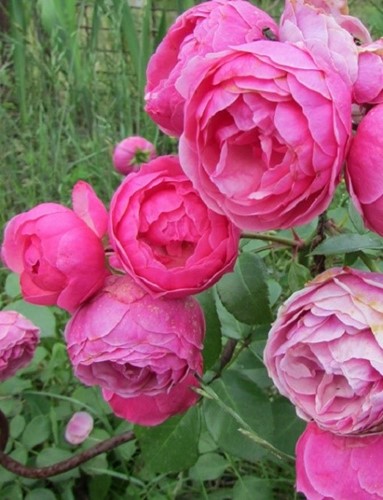 Front of Border or Container: Rosa 'Ebb Tide' Bush Rose
With the look of an old fashioned damask but, in the most modern shade of deepest, smoky purple. This rose is really compact, growing to only 60cm (2ft) and is perfect where space is at a premium. Blooms are really large and heavily fragrant and the plant has all the disease resistance we've come to expect from modern roses.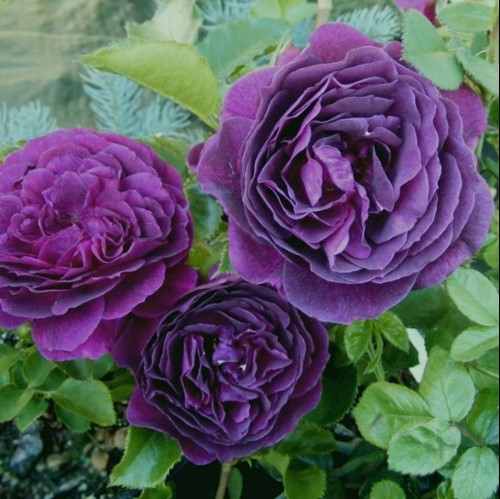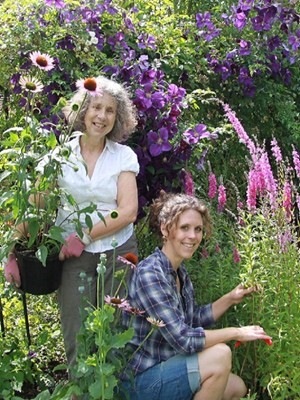 Monica Ashman and Jessica Pearce are co-owners of Wild Thyme, which specialises in wildflowers and fragrant perennials and shrubs.
Website: www.wildthymeplants.co.uk.