Alternative Lawns to Increase Garden Biodiversity
Helen Lockwood, from Artisan Plant Nurseries, on alternatives to traditional grass lawns that are also great for wildlife. - 05 May 2017
Mixed species lawns are not a new idea, in fact they've been around quite a while. Yet, despite our aims to increase biodiversity and reduce our impact on the environment, alternative lawns have often been forgotten.
If you calculated the area made up from back gardens in Britain it would equate to an enormous amount. The biodiversity in gardens per square metre is more than a rainforest and equates to a larger area than the sum of all our nature reserves, supporting untold numbers of wildlife, particularly in cities, where natural spaces are so important for providing habitat corridors. This said, we can always do better and the potential for biodiversity can be increased again. Our natural biodiversity in Britain is small in comparison to many other countries as we have experienced an ice age relatively recently in our history. However, we are very lucky that we have access to many cultivated perennials for horticulture in Britain as well as native species.
When you look at the make-up of the average garden, say in a city, it is normally 80-100% lawn. One monoculture of grass. I spent most of my childhood lying in my back garden on summer days staring between the blades of grass and watching insects wandering about. Imagine a lawn made up of many different species, and the number of insects it could support is inevitably increased also, that said, without the introduction of herbicides. I dread to think how much herbicide has been applied to lawns in the world, and being leached into waterways, just because fashion states that a little bit of clover in your lawn is unsightly. With a little extra knowledge we can see that actually clover can be beneficial. It can fix nitrogen into a form accessible to the accompanying grass, improving its quality of growth.
Generally horticulture has been a way of giving structure and form to an otherwise uncontrolled natural space. Fashion has dictated that there must be a monotone central piece surrounded by a colourful border of many different plants, but slowly, in the last century we've begun to see changes in these rules. Other than in heritage gardens of stately homes, we don't often see people planting in straight lines, and hedges aren't always clipped to perfection. Small-scale gardens have often been a miniature representation of stately gardens, and though it has been over a century since Capability Brown began a trend of naturalistic plantings, many of our back gardens remain quite formal.
With the onset of global warming amongst many environmental issues and hopefully a more relaxed attitude to gardening, I wonder if it is time for a new horticultural trend. A fashion that blurs the lines between the borders and lawns, that creates harmonious plantings beneficial to wildlife but equally aesthetically pleasing, and more importantly, you don't lose your sunbathing space. Some groundcover plants don't even need to be mown. They can be mat forming and also have beautiful flowers.
Creating an alternative lawn is relatively simple and once established, it can remain low maintenance. You can decide whether to grow a beautiful tapestry of different species that will naturalise into one another, or to have a vibrant carpet of colour, such as Thymus 'Magic Carpet'. It might be best to begin with smaller areas, so that your plants will establish faster. Begin by digging up the grass lawn, if there is any. You must remove all of the roots, so that they don't re-grow and compete with your groundcover plants. Another way to clear your lawn without chemicals is to mulch with newspaper. Thick layers of newspaper, weighed down with a little compost and water, will inhibit the growth of grass and other weeds below and is an almost effortless method, although you will have to wait a few months for the newspaper to fully decompose. Once you have a clear canvas, you can cultivate the top 6 inches, adding organic matter such as garden compost. If you have a clay soil, it can be beneficial to dig in grit to assist with drainage.
Plant either plugs or small plants around 6 inches apart and make sure to water them in. They will establish faster if the plants are already moist. For the first couple of years, you will find yourself weeding in between the perennials, but they will soon interlace and suppress other weeds from getting in…well, the ones you don't want shall we say!
Some species are more tolerant than others when it comes to footfall. If you are concerned that your efforts will be trodden away, then it might be prudent to lay a few stepping-stones. You can continue to mow the lawn, keeping your plants in check and limiting their overall height. Mow every 2 to 3 weeks to a height of about 3 inches. You can allow your plants self-seed by discontinuing the mowing for a while when they have formed seed heads. This will also be a good food source for birds. You will need to water in the summer, once a month, or on very hot days.
Here are a few examples of plants you can use:
Sagina subulata – Has soft, moss like foliage and an abundance of tiny, white, strawberry-like flowers. It can take normal to heavy footfall.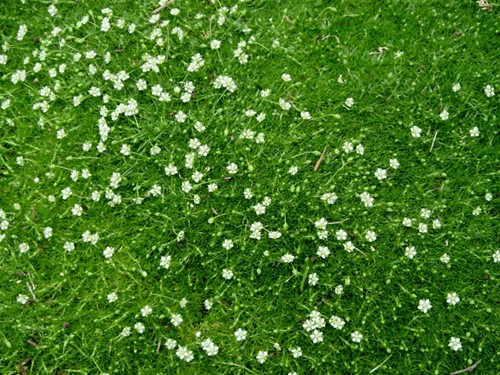 Mentha requienii – Forms a mat of delicate leaves with a strong mint aroma and tiny lilac flowers. Avoid too much moisture as the leaves may rot. 
Thymus 'Magic Carpet' – Has small, dark, green, aromatic leaves and striking, magenta flowers. Prefers a free draining soil.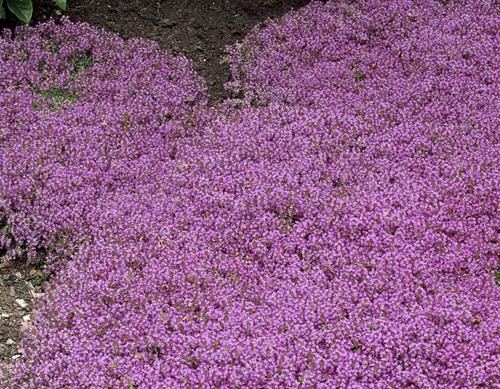 Chamaemelum nobile – Has white, daisy-like flowers on tall stems, above feathery foliage. Can withstand normal footfall and can be mown to deadhead. There's also a non-flowering form called 'Treneague' that was specifically developed for lawns.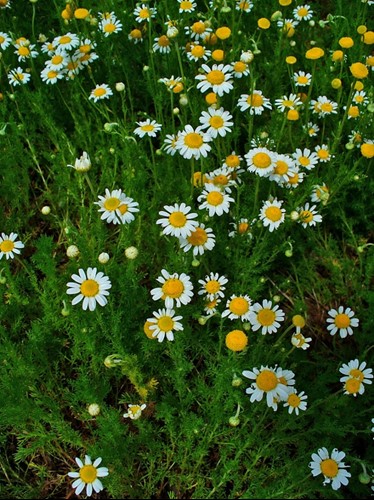 Gypsophila repens 'Rosea' – Forms a soft carpet of small, pink flowers. It cannot withstand heavy footfall, so is best planted near an edge. It prefers full sun on a well-drained soil.
Veronica repens 'Sunshine' – Has a vibrant lime green colour to its foliage. It can tolerate light footfall and prefers full to part shade on a well-drained soil.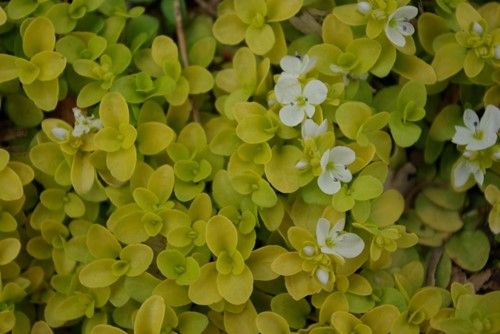 Ajuga reptans 'Black Scallop' – Has spikes of royal-blue flowers emerging from its contrasting black foliage, with tones of red and green. It can withstand moderate footfall and helps to suppress weeds. You can mow over it to deadhead.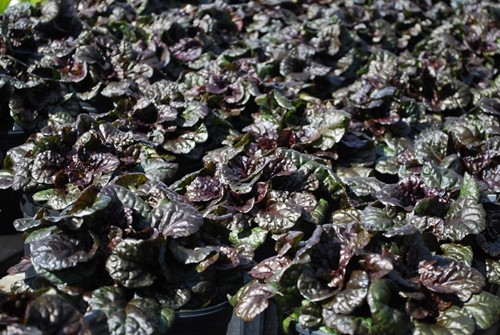 Delosperma cooperi – Has daisy-like pink flowers and fleshy leaves. It cannot withstand footfall, so it is best when planted near an edge. It prefers a well-drained soil and full sun, hardy to –7°C.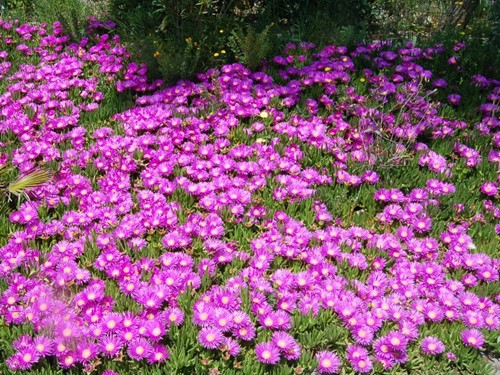 Trifolium repens – White clover, with small 'pom-pom' flowers, excellent for bees! It can withstand normal footfall and can be repeatedly mown.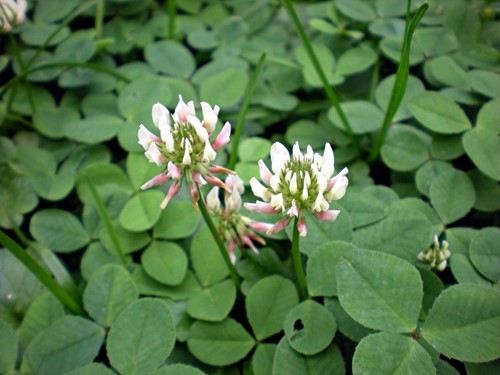 Leptinella gruveri – Has very small, feather-like foliage. It can withstand heavy footfall and prefers part to full shade on a moist soil.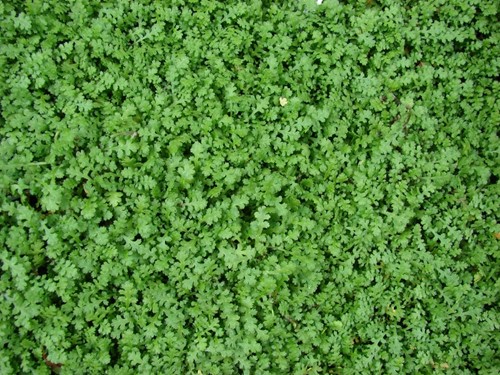 Thymus pseudolanuginosus – A very pretty creeping Thyme with pale pink flowers. It can tolerate moderate footfall. You can shear after it has finished flowering.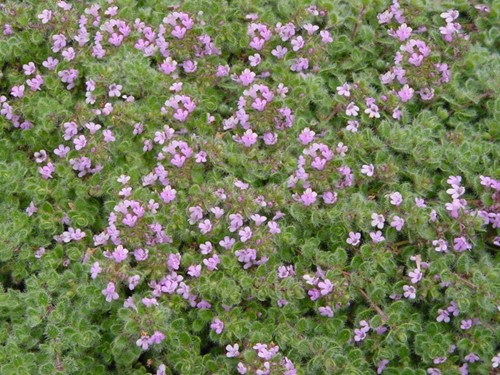 Sedum album 'Coral Carpet' – Has lovely succulent foliage, green with red blushes. It can tolerate moderate footfall and prefers a dry soil.
Isotoma fluviatilis – 5-petalled white flowers create a stunning carpet of snow. It can withstand heavy footfall and prefers full sun to part shade on any soil.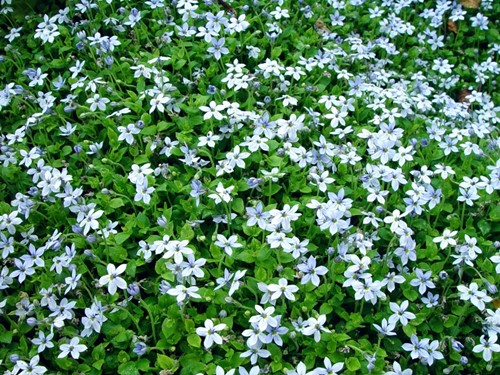 Lysimachia nummularia 'Aurea' – Lime green foliage that run via stolons and has pretty yellow flowers. It helps to suppress weeds and prefers moist soil.
Thymus praecox 'Coccineus' – Has an abundance of magenta flowers and can withstand moderate footfall and prefers full sun on a well-drained soil.
You'll have created a breathtaking lawn, that is not only infinitely interesting to look at, miles more colourful than a grass lawn, but also releases beautiful aromas when walked upon. And above all, you'll be giving a home and a food source to so many wonderful creatures.
Helen Lockwood and Andi Strachan run Artisan Plant Nurseries and specialise in rare and unusual perennials.
Article is copyright the author.
Website: www.artisanplantsnurseries.com