Autumn Colour Plants from Hillview Hardy Plants
Ingrid Millington, from Hillview Hardy Plants, with her choice of the best plants for colour in Autumn - 08 September 2017
"Let's grab a bite!" said Bee. "Great idea! Where do we meet?" answered Butterfly. "At Diervilla rivularis 'Honeybee' of course!"
I found this quote on a trade website, describing Diervilla rivularis 'Honeybee' It certainly lives up to this with the flowers attracting lots of bees and butterflies. The foliage is golden and the plant which will grow in sun or partial shade can reach 80cm tall and 100cm wide. The flowers start out yellow and then turn orange so it looks good for a large part of the season. The stems can be cut back in spring when it will regrow from the ground to give a good bushy and compact shape.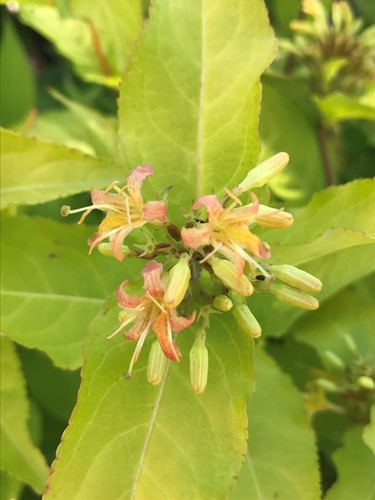 Diervilla rivularis 'Honeybee'
Another golden foliaged plant is Ceratostigma willmottianum 'Sapphire Ring'. It can behave like an herbaceous perennial, dying down in winter or if the winter is mild, it remains, like a shrub. The bright yellow foliage is stunning on its own but when the gentian blue flowers appear, it is truly spectacular. It too will grow in full sun or partial shade.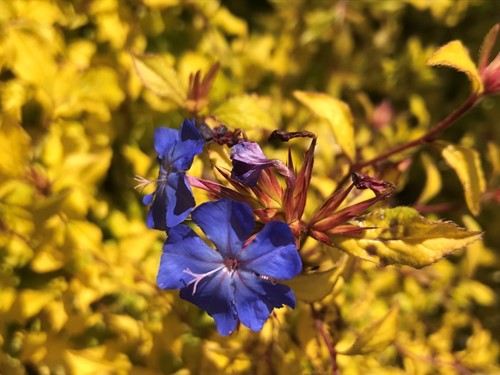 Ceratostigma willmottianum 'Sapphire Ring'
If you are looking for something "exotic" in your garden, why not try Roscoea? They belong to the ginger family, Zingiberaceae, and come from high up in the Himalayas, Sichuan and Yunnan. They are very tolerant of our climate, growing from tubers: the pseudostems grow in late spring and flowers are produced for at least 6 weeks. They can be planted in a semi-shaded spot but also look fabulous in large pots.
Roscoea auriculata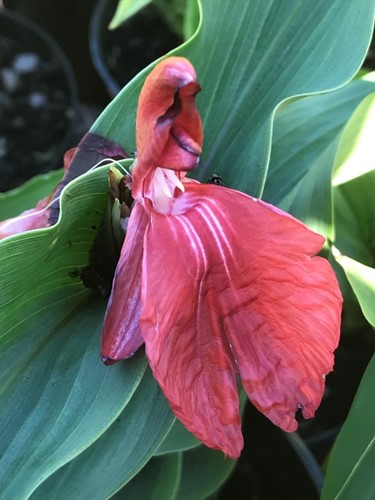 Roscoea purpurea rubra aka 'Red Gurkha'
For dry shade, you can do no better at this time of year than plant "Japanese Anemones" which come in single and double forms in pink, white or red. There are many very tall varieties but there are also compact ones for smaller gardens.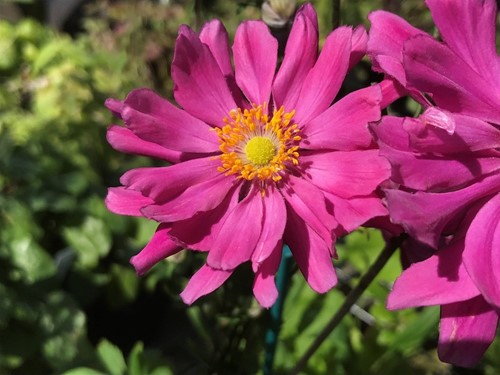 Anemone hupehensis var. japonica 'Bressingham Glow'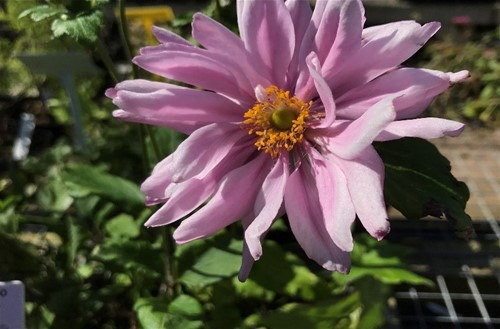 Anemone × hybrida 'Königin Charlotte'
Geranium nodosum 'Clos du Coudray' also loves shade and would look really pretty amongst your anemones. The leaves are palmate and shiny, unlike most hardy geraniums and are attractive even when the plant is not flowering.
Geranium nodosum 'Clos du Coudray'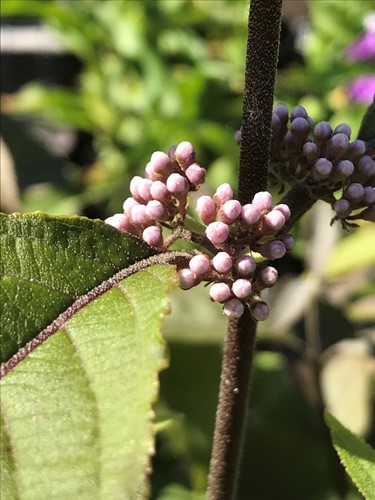 Callicarpa giraldii 'Profusion'
Last but by no means least, have you ever seen a shrub that looks like it has purple polystyrene balls glued to it? This is Callicarpa giraldii 'Profusion'. The flowers (above picture) are quite small and pinky mauve when they come out but in winter, when the leaves fall, you are left with the brightest purple fruits you can imagine.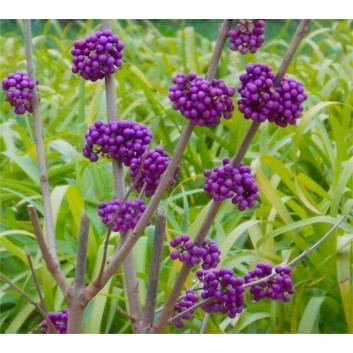 (Picture from www.gardeningexpress.co.uk)
John and Ingrid Millington own Hillview Hardy Plants, set in the middle of the beautiful Shropshire countryside. They specialise in herbaceous plants, especially those for drier soils, as well as auriculas in early spring. They also hold two National Collections: Acanthus and Albuca.  Opening hours March to October are 9.30am 'till 5pm daily, except Sundays when they are closed; other times by appointment. They are an RHS partnership nursery and attend many shows and plant sales throughout the year.
Website: www.hillviewhardyplants.com