Connoisseurs Plants from Hillview Hardy Plants.
John Millington, from Hillview Hardy Plants, with some choice and unusual plants for late summer. - 24 July 2015
When we come to plant sales, we like to bring a few plants that people may not know but which are easy to grow. Our soil is very sandy so most of the plants will be those that thrive on poor, dry soils.
The selection below are those we hope to bring to Castle Bromwich but if you have a problem soil or situation in your garden, please feel free to either get in touch with us before the sale so we can bring some suitable plants for your garden "problem" area or come and have a chat at the day.
Anthemis 'Cally White'
This is a member of the daisy family, closely related to Chamomile, native to the Mediterranean. It produces purest white flowers with a golden eye. The foliage is dark green and fern like and aromatic in the heat of the sun. It thrives in well drained soils in full sun and will tumble over a wall once it gets going. If it gets too big, then just shear it back and it will quickly regrow. It was a chance seedling found at Cally Gardens in Dumfries.
Lobelia cardinalis
Lobelia can be a small bedding plant or a 200cm tall herbaceous giant! This North American wildflower has the species name "cardinalis" as its scarlet colour is the same as the robes of catholic cardinals. Probably better known in its form 'Queen Victoria' with dark foliage, this beautiful Lobelia is stunning in its own right. The foliage is bright limy green and forms low rosettes of foliage. From the arise tall stems with scarlet tubular. It can grow up to 200cm flowers in terminal spikes. It loves a moist soil and may well self-seed. The seeds are like dust so may not be easy to see. Full sun or part shade.
Salvia meyeri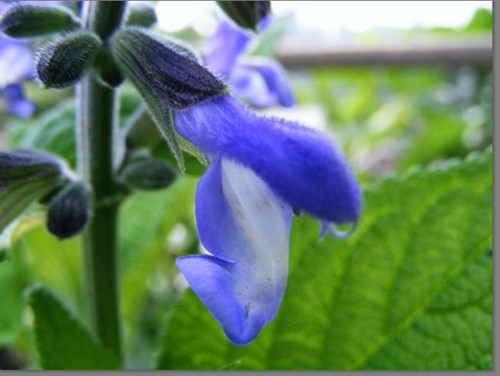 This is a South American sage from Argentina. It is easily grown from seed and makes a large plant with masses of blue flowers from midsummer onwards. Bees and butterflies will reward you with their constant presence. The plant dies down to a subterranean tuber for the winter but readily sprouts again in the spring. Well drained soil and sun are all that is required. The strong square stems mean that no staking is required. The flowers are held on the end of the branches so this sage looks like a small shrub. 120cm tall.
Salvia nubicola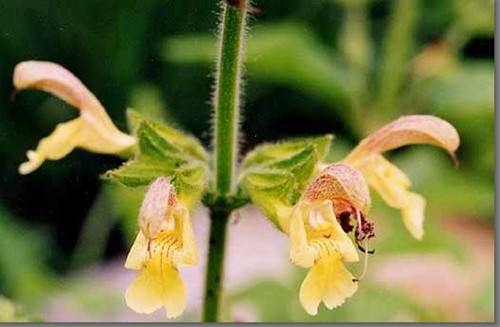 "Himalayan Cloud Sage" This Sage grows in Nepal at heights up to 14000 feet and can start to grow while there is still snow on the ground. The plant will grow up to 120cm tall and produces creamy yellow flowers with purple streaks all summer. Full sun or partial shade are ideal but this plant is very tolerant of less than ideal conditions. There is a lovely fragrance produced when the leaves are brushed against. As if all this was not enough, it is also deer resistant.
Libertia 'Taupo Sunset'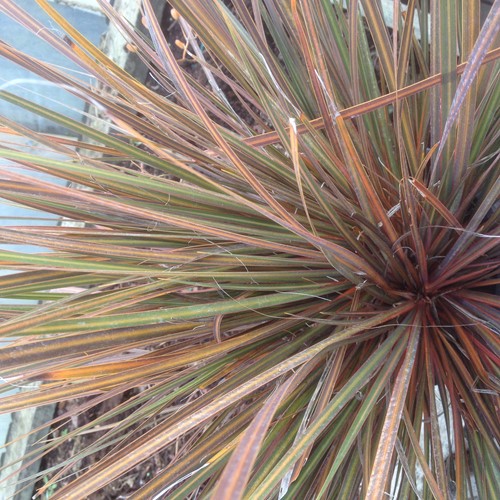 From New Zealand, comes this lovely foliage plant belonging to the iris family. The foliage forms stiff fans of green, yellow, orange, purple and bronze and will produce flower spikes with 3 petalled flowers of pure white, from June until August. These are followed by orange seedpods. The leaves become tinged with dark red in the winter. Well drained soils are best but with some moisture is best. 60cm.
Fuchsia hatschebachii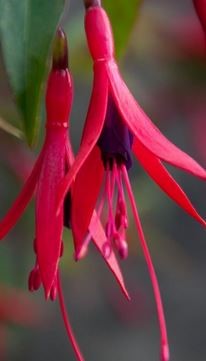 This is an evergreen fuchsia with willow like foliage, forming a small evergreen bushy plant. The "fuchsia-coloured" flowers appear all summer and are followed by edible berry like fruits.
Habranthus citrinus texensis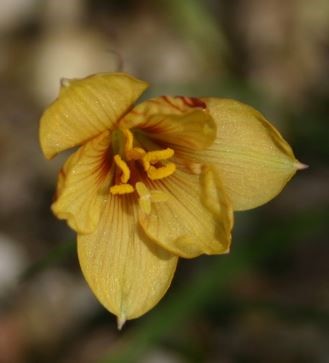 The flowers on this small bulb are yellow inside and orange on the outside. They are produced in mid to late summer when there is no visible foliage. These are followed by tri-lobed seed pods full of flat papery black seeds. These germinate readily and will soon produce flowering sized bulbs. Well drained soils are best. 10cm.
Grindelia stricta ssp.venulosa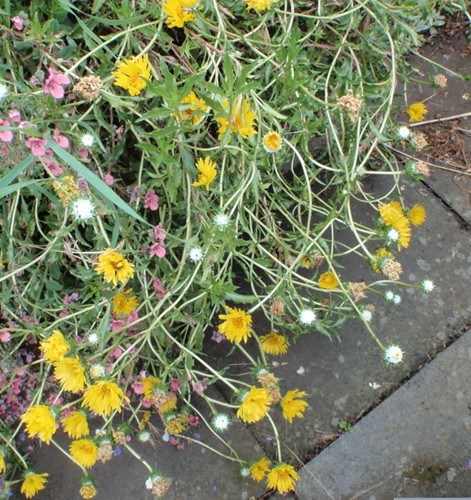 This "Gum Plant" naturally occurs in coastal marshes in California. The plant grows almost flat against the ground, and can cover up to 100cm. The stems are white or yellowish with very leathery, resinous leaves. The flower heads are up to 5cm across and in bud are covered with a gummy white resin. When they open, they are bright yellow. Excellent for dry poor soils.
Albuca species ex. Ausgrabies Hills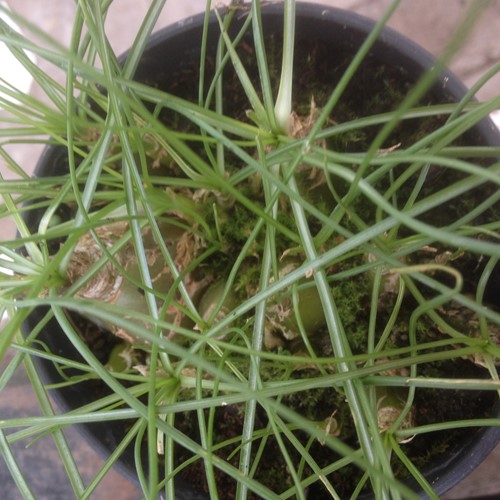 I hold the National Collection of Albuca and bought this from a cactus nursery. The foliage is thin and grassy looking, growing from a large fat bulb that sits above the soils surface. The upward facing flowers are held on 20cm stems and are white with a green stripe. The leaves are present when the flower inflorescence appears. It makes a good pot plant or in a well-drained mild climate, may be able to be grown outside. The bulb reproduces readily so the plant can soon be tried in a variety of situations. Albucas are commonly known as "Slime Lilies" and have a gooey sap like Aloe Vera.
Dierama mossii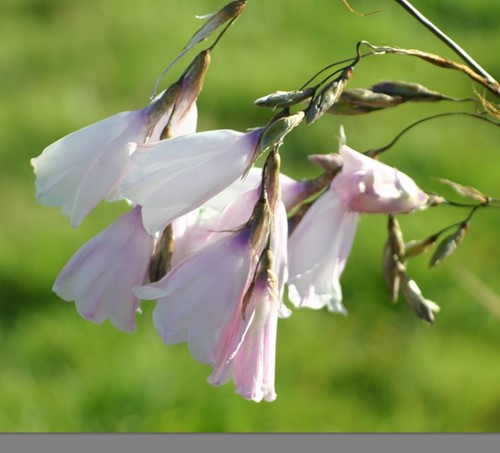 This lovely "Angel's Fishing Rod" comes from the South Eastern cape of South Africa where it grows in marshland or next to streams. In cultivation, it will tolerate much drier conditions once it is established. The corms produce evergreen foliage and the pretty campanula-shaped pink flowers are borne on arching stems from summer onwards. The foliage may need to be tidied up but will remain all year. 60cm.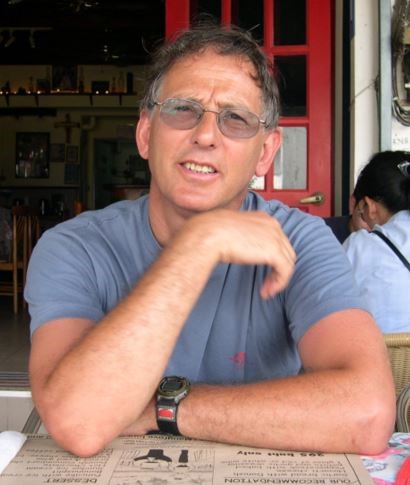 John and Ingrid Millington own Hillview Hardy Plants, set in the middle of the beautiful Shropshire countryside. They specialise in herbaceous plants, especially those for drier soils, as well as auriculas in early spring. They also hold two National Collections: Acanthus and Albuca.  Opening hours March to October are 9.30am 'till 5pm daily, except Sundays when they are closed; other times by appointment. They are an RHS partnership nursery and attend many shows and plant sales throughout the year.
Website: www.hillviewhardyplants.com
Article and all photos copyright the author.