Easy Late Perennials
Andi Strachan from Artisan Plant Nurseries advises his choice of the best late summer perennials - 03 July 2015
There are many plants that are easy to grow, fairly free of pest and disease and flower late into the year. These plants, as organic growers, are very useful to us. They will grow and thrive if placed in the right position and will attract many beneficial insects into the garden. It is important to keep the garden diverse and vibrant, also to have a source of pollen and nectar for bees, hoverflies and the many other insects and creatures that visit our plants and gardens.
All plants marked with a * indicates an Award of Garden Merit (AGM) from the RHS.
Ligularia dentata 'Desdemona'* is from China and Japan and grows in a range of habitats, it is happy in rich soil and part shade/sun. It's a stunning foliage plant for most of the year, with large cup shaped leaves that are shiny green, tinged with purple upper surfaces and deep purple undersides, held on purple stems up to 1m (3 feet). In late summer into autumn it flowers with large mop-like orange, daisy flowers to about 1.6m (5 feet) Ideal to use in a late hot border with Dahlias, Cannas and other tender perennials. Best propagated by division but can come true from seed.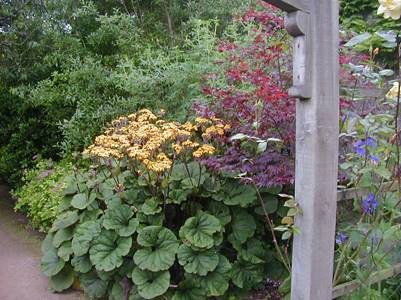 Morina longifolia is one of my all time favourite plants, heralding from the Himalayas it's very tough. With a neat rosette of aromatic, thistle like leaves but thankfully, soft spines. The flowers are held in whorls up the stems up to 1m (3 feet) tall, are tubular, about 2.5cm (1 inch) long, flaring at the end and start white and mature to a rich pink. This is an incredible plant but hard to spot in the garden centre before it flowers because it looks nothing like what it will become. M. longifolia likes moisture retentive but free draining soil, so incorporate lots of organic matter and grit under it when planting and it will do well for years. Easy to grow from seed, if you can't find a plant.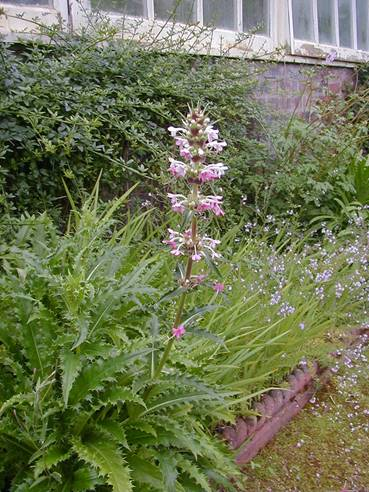 Knautia arvensis is a British native extending across Europe into Siberia. It is a sweet cottage garden favourite and ideal for the front of a sunny well-drained border. Leaves are mid-green and a thin pinnate shape, forming a thick clump. Flowering from August well into the autumn with beautiful blue/lilac flower heads about 3cm (1 ½ inches) and making 60cm (2 feet) in height.
Knautia macedonica is from the Yugoslavian and Bulgarian area and very similar in habit to Knautia arvensis. It has one very important difference though, its flowers are deep maroon. The cultivar Knautia macedonica 'Mars Midget' is slightly better still, having slightly larger flowers with pink stamens held away from the flower giving a extra dimension to this lovely group of plants. All easy to grow from seed.
Eupatorium rugosum is a native of North East America, favouring a shady spot in rich soil. This is a tall plant making 1.5-1.75m (4-5 feet) with deeply toothed ovate leaves. The flowers give the appearance of white foam, made up of numerous small, fluffy white blooms. Eupatorium rugosum spreads but a rhizome and makes a large stand after a few years, it is easy to propagate by division or seed.
Eupatorium cannabinum is a British and European native, it is slightly taller than E. rugosum sometimes making 2m (6 feet) in height. The leaves are 3-5 deeply cut lobes that are slightly toothed, giving it its characteristic name. The flowers are a soft pink and fluffy held in loose domes. Both Eupatorium are ideal for a big show of colour at the back of the border well into the autumn. Easy to propagate from division or seed.
Persicaria bistorta 'Superba'* is a good hard working plant, I have included it here in this selection of late perennials because it flowers in early summer and then, if dead-headed, reliably again in late August and September. Getting two flowerings each year, means this is a must have plant for all gardens. The species is a European native and the cultivar P. bistorta 'Superba' is very similar but has larger flowers. It forms good size clumps after a few years of dock-like leaves, with pale pink bottle-brush flowers to 75cm (2½ feet). P. bistorta 'Superba' is happy in full sun or part shade and prefers a moisture retentive organic rich soil but it will perform in nearly any soil. Best propagated by division in autumn or spring.
Andi Strachan and Helen Lockwood run Artisan Plant Nurseries and specialise in rare and unusual perennials.
Article and photos copyright the author.
Website: www.artisanplantsnurseries.com