Fantastic Phlox
Louise Mitchell, from Mrs. Mitchell's Kitchen and Garden, on the renewed popularity of this cottage garden favourite. - 03 July 2015
Few plants are more evocative of a summer garden than Phlox paniculata. Erect, with soft, open heads of lightly scented flowers, the phlox is the very epitome of the English garden. But like so much of what we today consider "British", Phlox paniculata comes with lots of foreign influence. A native of the Eastern seaboard of North American, early hybridization of phlox took place mostly in France.  Its popularity in the U.K. started about 1880, when it began to be bred for use as a cut flower. It became popular for outdoor use in late Victorian and Edwardian gardens - a great favourite of Gertrude Jekyll -- and by 1907 over 300 different varieties were listed in the catalogues of nurserymen. 
From the 1930's, the great German plant breeder, Karl Foerster worked on improvement.  Several of his cultivars are still garden stalwarts today, including the striking purple 'Dusterlohe' (often sold in this country as 'Nicky'), the gentle lavender 'Amethyst', and the lovely, pale pink 'Rosa Pastell'.  He is reputed to have delivered the memorable judgement that "a garden without phlox is not only a sheer mistake but a sin against summer."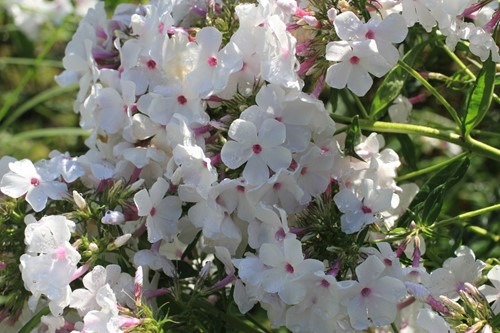 Phlox 'Rosa Pastell'
The high point of phlox breeding in this country occurred after WW II when Fred Simpson of Otley, Yorkshire and Capt. B.H.B. Symons-Jeune of Old Windsor began serious efforts to produce modern varieties for British gardens.   Many of their excellent cultivars are still available today.  Simpson concentrated on two strains. The names of one of all have the prefix 'Otley';  the other, the regal strain, was made up of cultivars named for royal residences, such as the rose-pink 'Balmoral', fuschia-pink 'Glamis' and the bright salmon-pink 'Windsor'.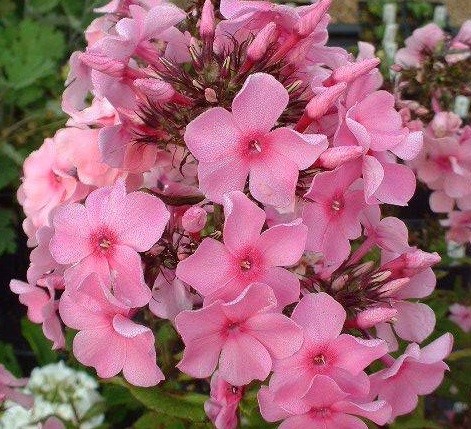 Phlox 'Sandringham'
Capt. Symons-Jeune's name appears over and over on the list of cultivars available today. They range from the rich claret-red colour of 'Vintage Wine' and the slightly lighter 'Othello', to the cool loveliness of the delicate, late flowering 'Eventide', one of the 12 original varieties he introduced in 1947. A specimen of 'Eventide' has stood unattended in my own garden for over 10 years, and is still bushy, healthy and very lovely!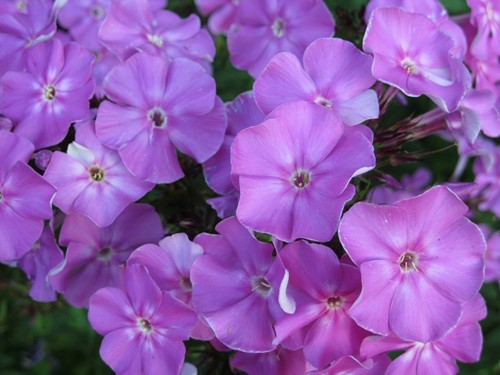 Phlox 'Eventide'
From the 1950's until his death, plantsman Alan Bloom worked on developing a series of new varieties, including the violet coloured 'Franz Schubert' and the distinctive 'Mother of Pearl', with slightly cupped white flowers suffused with pink.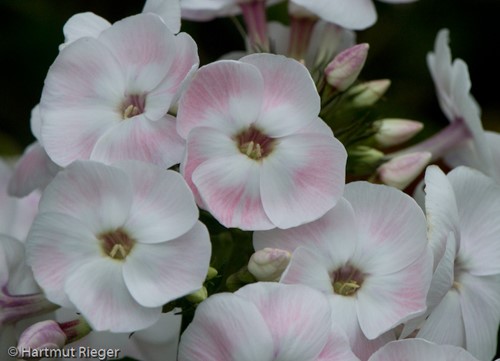 Phlox 'Mother of Pearl'
By the 1970's, interest in growing Phlox paniculata seemed to wane. British gardeners had the perception that they were difficult to grow and suffered from disease; they were put off by the dual problems of mildew and eelworm, which can disfigure phlox plants.  Except in torrid summers, mildew can be controlled by good air round the plants and consistent moisture in the soil.  Eelworm, although incurable, is much less prevalent that historically because nursery stock has been cleaned up and resistant new varieties introduced. When it does strike, the plants that are affected must be destroyed and replaced with new ones propagated from their roots - which do not host the pests. Throughout the period when interest in phlox dropped off, many did remain in our gardens, but the names of many cultivars were gradually forgotten and many varieties lost all together.  During this time however, Dutch and German nurserymen continued producing excellent new plants.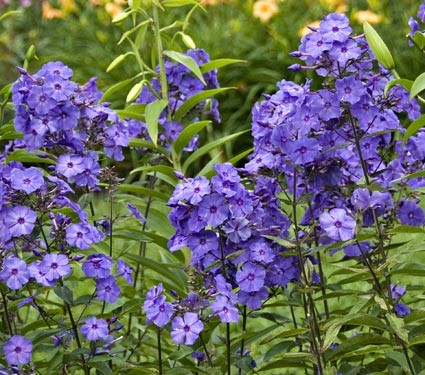 Phlox 'Blue Paradise'
Dutch grower Piet Oudolf has produced  some lovely blue cultivars, including lavender-blue 'Blue Evening' and the wonderful indigo 'Blue Paradise', which is one of the earliest of the phlox to flower and always the most popular variety on  our  nursery.  The quality of its blue colour changes throughout the day, at dawn and dusk a magical watery blue, and then at midday, almost pink.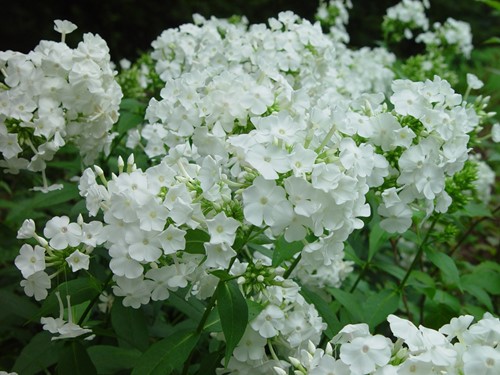 Phlox 'David'
'Blue Paradise' wins my vote as the most beautiful blue phlox; but I can't resist the strong purity of the recent American introduction, 'David'.  This was found as a chance seedling and developed for the florist trade.  It is tall, healthy and late-flowering - replacing in many ways the old stalwart, 'Mt. Fuji', long considered the best white phlox.
For stronger colours I would vote for another Dutch variety, 'Starfire', bred by B. Ruys in 1937.  It blooms mid-season, a bit later than 'Blue Paradise', and is the most beautiful shade of cherry red.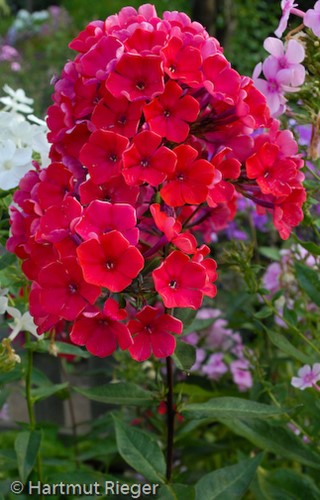 Phlox 'Starfire'
Today, Phlox paniculata is beginning to become popular again with British gardeners. The hard work of all the breeders has produced an array of good, hardy, disease resistant plants.  Gardeners have remembered how to grow them; good soil, sun to partial shade, soil that is consistently on the moist side and that definitely doesn't dry out in summer.  Phlox should usually be regarded as a mid-border plant, as even well-grown specimens often lose their lower leaves by the time they flower.  The exceptions to this rule are some of the new strains of dwarf phlox being developed in Holland for pot or front of border use.  One such group is the Flame Phlox series, which includes an endless selection of colour choices on compact, well-flowering plants.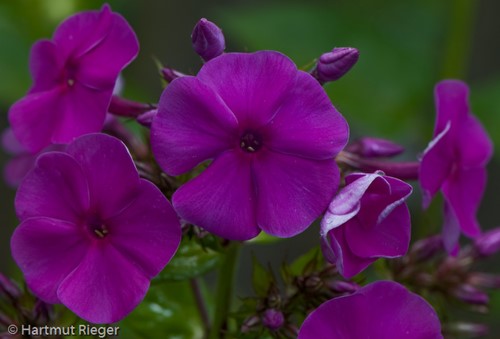 Phlox 'Purple Flame'
All in all, I think that Karl Foerster was quite right, and every gardener should grow some Phlox paniculata if he is interested in form and colour and scent!
Louise and Julian Mitchell run Mrs. Mitchell's Kitchen and Garden, a small nursery based near Salisbury, specialising in cottage garden perennials, especially hardy geraniums, phlox, Michaelmas daisies. They also make yummy jams and chutneys!
Article copyright the author; photos as individually credited.
Facebook: https://www.facebook.com/mrsmitchellskitchenandgarden.co.uk