Fuelling Stations for Butterflies
Angela Ward, from Butterfly Cottage Garden Plants, with a range of great food plants for butterflies - 10 April 2016
When we started our nursery, fourteen years ago, we had relatively few butterflies visiting the nursery. Now we have identified 25 species, many of which are now breeding. Last year the Marbled Whites, Skippers and Small Tortoiseshells were too numerous to count: it was magical. There was also a dramatic increase in Holly and Common Blues, Peacocks, Commas and Red Admirals. We are lucky to have the space to accommodate varying sites for breeding: large areas that remain untouched, where thistles abound; huge swaths of nettles (in a sunny site); ivy left to grow tall and provide an abundance of flowers in late summer.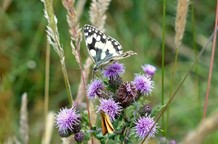 Marble White & Skipper butterflies
Of course many of us don't have the luxury of space, or even the desire to create this type of habitat in our gardens. However, even the smallest garden or balcony can provide an important fuelling station for butterflies travelling to nature reserves and other natural habitats. For it is important to remember that the female's goal is to find a suitable site to lay her eggs. She will travel long distances to do so and in the process can find herself in barren landscapes. So here's just a few of the plants to help her on her way (and her husband too – no good if she arrives and there are no males to mate with!!)
Late spring and into summer the fragrant, lavender flowers of Hesperis matronalis or pure white flowers of Hesperis matronalis 'Alba' are a favourite of butterflies and bees.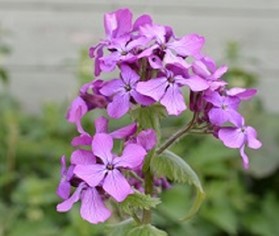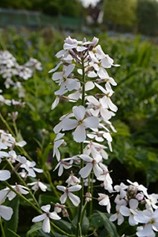 Hesperis matronalis and Hesperis matronalis 'Alba'
In summer, for long flowering plants in pots and the front of borders try any of the Calaminthas with their aromatic foliage and masses of tiny white, pink or blue flowers; rosette forming Borago pygmaea with its more prostrate habit and clear blue flowers that can be placed in ice-cubes to put in your favourite tipple; and the delightful Chaenorrhinum origanifolium 'Blue Dreams' a favourite of the Common Blue butterfly.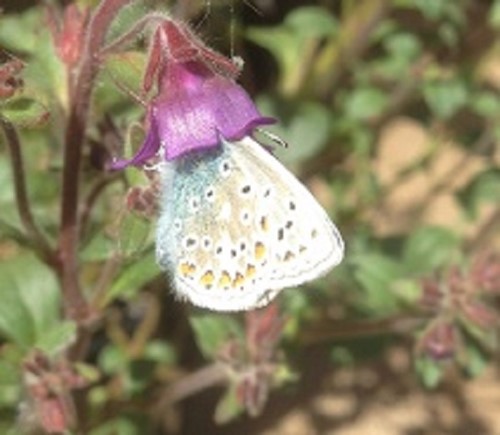 Chaenorrhinum origanifolium 'Blue Dreams'
Lower growing Nepeta such as the white flowered Nepeta racemosa 'Snowflake' or blue Nepeta racemosa 'Felix'; and the pin-cushion flowers of Armeria hybrids that can go on into autumn are also a good choice for front of borders and pots.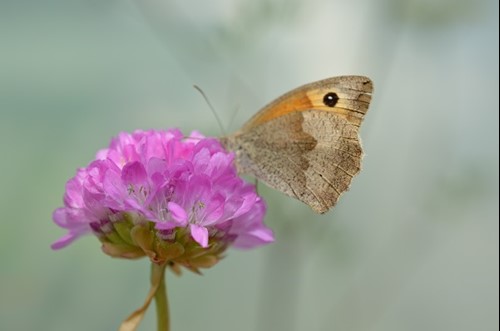 Armeria hybrid with Meadow Brown butterfly
Consider the old-fashioned Dianthus which is favoured by several butterflies: Dianthus deltoides is great for pots and crevices around the garden and Dianthus 'Brilliant Star' will provide exquisite scent by backdoors or along walkways. From early summer and into autumn, Dianthus carthusianorum creates focal points within pastel planted borders or along with D. knappii is a perfect partner for grasses and informal planting.
Scabiosa columbaria, Dianthus carthusianorum and origanum
There is a Lychnis for most soils and sites: Lychnis viscaria ssp. atropurpurea, with open airy habit, for naturalistic planting; the pure white flowers of Lychnis flos-cuculi 'White Robin' brightens moisture-retentive soils; for pots and the front of borders in well-drained sunny sites, try the grey, felted foliage and soft pink flowers of Lychnis flos-jovis 'Peggy';  if the magenta pink Lychnis coronaria is too bold for your tastes, Lychnis coronaria 'Angel's Blush', with its grey/green foliage and white, pink centred flowers is a welcome addition to the herbaceous border.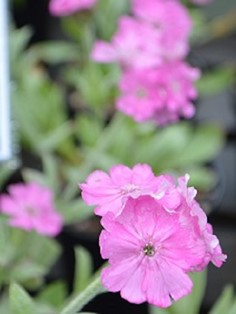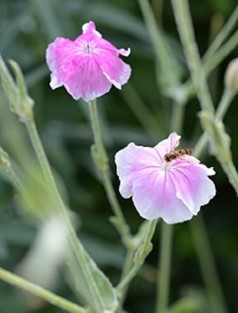 Lychnis flos-jovis 'Peggy' and Lychnis coronaria 'Angel's Blush'
Silenes are members of the pink family and are closely related to Lychnis. With 500 species worldwide Silenes are a valuable source of nectar for wildlife. Silene alpestris, with starry white flowers throughout summer, is a good choice for well-drained soils in sun or partial shade: plant to trail over walls or to brighten pots and rock gardens; the rare native Silene nutans, might not look much in the daytime, but the flowers open in the evening to emit an exquisite scent attractive to moths; and for a burst of colour in mid to late summer why not try the bright red Silene regia.
The open daisy-like, pink/purple flowers of Senecio polyodon are a magnet for a variety of pollinators and will delight you throughout those long summer days: plant in pots, rockeries and borders in a sunny site.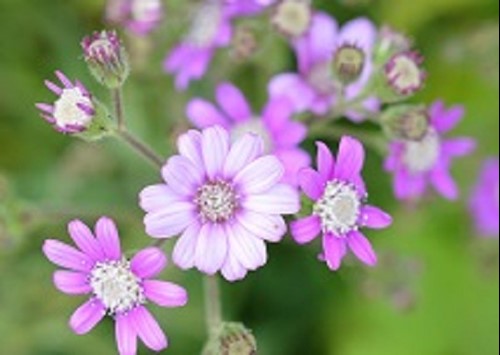 Senecio polyodon
Love it or hate it, the self-seeding Centranthus ruber and Centranthus ruber 'Snow Cloud'  is a must for a variety of pollinators including the fascinating, Hummingbird Hawk Moth. It provides a rich source of nectar and a long flowering display.
Centranthus ruber with Patrinia villosa
Coming out tops in many studies are the Origanums. The masses of tiny flowers are a rich source of nectar to many butterflies: for something a bit different try Origanum laevigatum 'Herrenhausen' with its dark foliage and purple/pink flowers.
Another versatile family are the Centaureas: the dainty pink/purple flowered Centaurea bella is good for dry banks and low walls, gravel gardens and pots; ivory flowered Centaurea cheiranthifolia and white flowered Centaurea montana f. alba delight us from May and into summer; and the beautiful, silver foliage and fluffy, lilac flowers of Centaurea 'Silver Feather' look spectacular in the summer sun.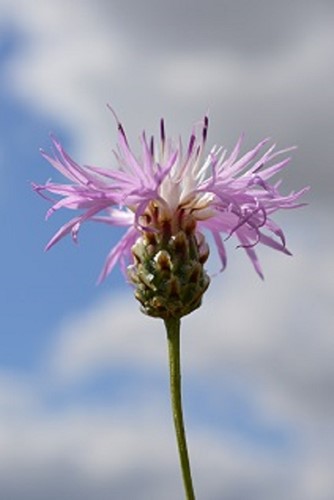 Centaurea bella
Let's not forget the scabiosas: ideal for naturalistic type planting schemes, Scabiosa columbaria has airy stems of blue, pin-cushion flowers from mid-summer and into autumn; taller but with the same habit is Scabiosa columbaria var. ochroleuca with soft creamy - yellow pin-cushion flowers; and for those wanting to make a bit more of a statement in the border, the larger, white Scabiosa caucasica 'Perfecta White'.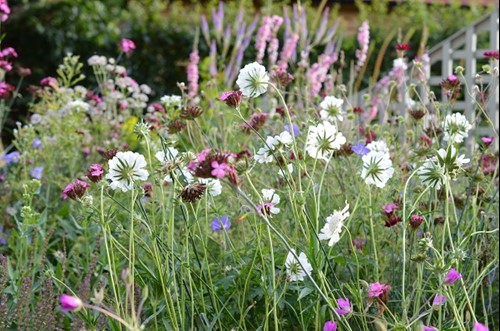 Scabiosa caucasica 'Perfecta White' & Dianthus carthusianorum
One of our customer said that she could stand on a soap box and talk all day about our next choice, and so could we: Knautia macedonica with tall, airy stems and an abundance of burgundy, pin cushion flowers throughout summer. We plant it alongside another favourite of ours, Valeriana officinalis with attractive foliage and umbels of fragrant, pale pink flowers from June to August. While it is a native of marshy soils, it thrives in an herbaceous border of deep, good garden soil.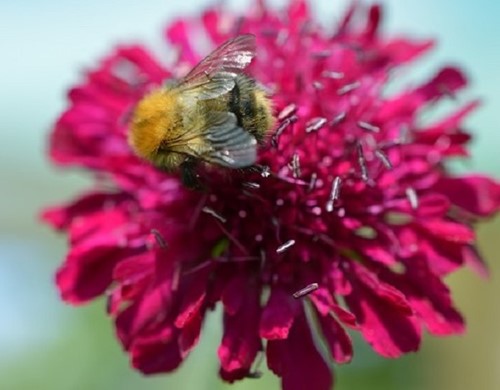 Knautia macedonica
In late summer we like the old favourite, Verbena bonariensis and the relatively hardy Verbena rigida with branching stems and clusters of fragrant, bright blue flowers. For something different try the tall Vernonia noveboracensis with its tubular, fluffy, purple flowers that continue into autumn or Serratula tinctoria with purple/red, thistle-like flowers for a late nectar source for a variety of pollinators.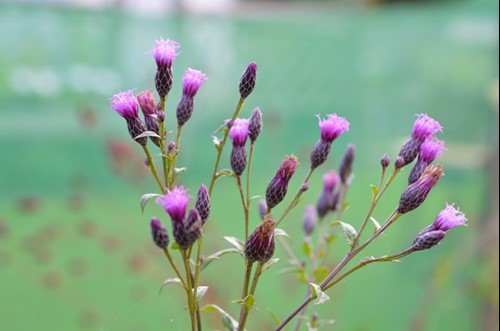 Serratula tinctoria
Finally, Teucrium chamaedrys flowers in late summer and will also attract an abundance of bumble and honey bees.
We hope that you find something here to inspire you.
Angela and Andy Ward's nursery near Winchester in Hampshire focused on butterfly-friendly plants.
Website: www.butterflycottageplants.co.uk 
All photos © www.roxanafraser.com