Going WILD at Lyneal Mill
Chris Eyke, from Lyneal Mill Nursery, on managing your garden to support wildlife. - 29 July 2016
Mention wildlife gardening and I suspect most people think of a nettle patch, some long grass at the end of the garden and maybe a Hawthorn hedge. The truth is that these stereotype habitats are not necessary for a thriving wildlife garden. Firstly, forget the nettles, even though they are the food plant for the caterpillar of the Comma, Peacock, Red Admiral and Tortoiseshell butterflies; you would be better off providing a nectar source for the butterfly. There are plenty of nettles elsewhere without using your own valuable space. The Hawthorn hedge can be replaced by a number of wildlife/garden friendly shrubs. I chose Berberis darwinii, with lovely evergreen dark glossy leaves, attractive flowers that are great for bees, nice juicy berries for the birds and a fantastic nesting site.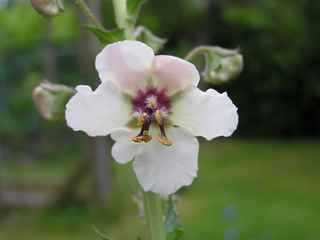 Verbascum blattaria
In my view there are two main approaches to wildlife gardening. I call them 'The Purist Approach', and 'The Non-purist'. I used to be a purist but I am a convert to the latter type of wildlife gardening. The purist uses mostly native plants in a naturalistic way, the object being to create a completely natural looking habitat as far as is possible in the confines of a garden. The trouble with this is that there are times of the year when native plants, in flower, to attract bees, butterflies etc., are in short supply. It's better to include a good mix of suitable non-native plants,  and the wildlife will hang around for much longer.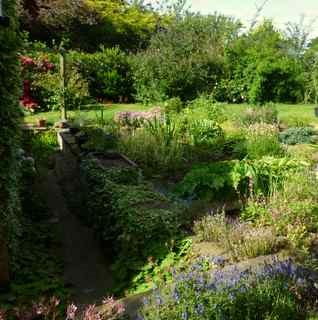 Siting a pond near the house is desirable; this is the view from our kitchen window
Read any book on wildlife gardening and they all say that water is the most important habitat to include.  It is. The first project in my garden was to build a pond, and as it is a large garden, the second project was to build another pond. There is no shortage of native plants to use here; Yellow Flag Iris and Purple Loosestrife add a bit of drama at the back of the pond; Some Flowering Rush, the beautiful pink umbels irresistible for hoverflies and butterflies. I have Water Mint and Water Forget-Me-Not - they tend to work their way from the edge and float on the surface of the water - Water Avens, Marsh Marigold and Ragged Robin are in the boggy area at the side. To add more interest and lengthen the season I also have about ten cultivated varieties of Water Avens (Geum rivale) that all tend to flower at slightly different times. These include 'Snowflake', a beautiful pure white Geum; 'Farmer John Cross', with bright yellow single flowers with deep red calyces; and 'Mrs W. Moore', bearing large drooping pale pink flowers that have a creamy inside. They are all varieties with single flowers; double flowered varieties produce less nectar.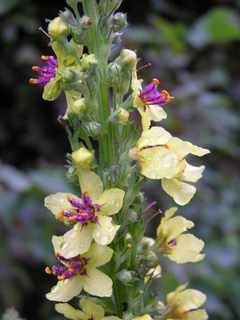 Verbascum nigrum
A nectar border, for me, is second on the list of 'must haves'. I include just a few natives in my border, Verbascum nigrum (Dark Mullein), Verbascum blattaria (Moth Mullein), Echium vulgare (Vipers Bugloss) and Knautia arvensis (Field Scabious). The bulk of the border is made up of non natives. Agastache are an absolute magnet for bees and hoverflies, they look great, come in a range of colours and have aromatic foliage. At the hot end of the border I have A. aurantica 'Apricot Sprite', A. aurantica  'Tango' and the lovely A. 'Bolero', with it's striking bronze/maroon leaves. Also at this end of the border I have several Aquilegia. One of the most useful is A. chrysantha 'Yellow Queen',  with large yellow blooms in July/August, late for an Aquilegia ,and A. caerulea 'Koralle', a little beauty with deep red and yellow flowers.  At the cool end of the border I have selected mostly blue and white flowers, including  Agastache rugosa 'Alba', a tall white flowered variety; Agastache rugosa 'Korean Zest'; and Agastache rugosa 'Golden Jubilee', its golden foliage showing off the violet blue flowers.  Scabious are loved by bees and butterflies. I use several non-native species. At the front I have Scabiosa japonica 'Misty Butterflies' and S. ochroleuca 'Moondance' (both about 12 inches tal), midway S. ochroleuca at 3 feet and at the rear Cephalaria gigantea, at over 6 feet.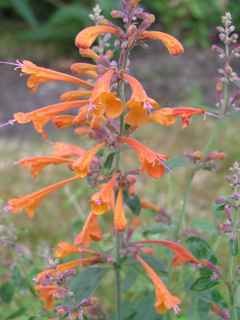 Agastache 'Tango'
The humble lawn can be a great habitat for all manner of creatures if managed with wildlife in mind. I had the opportunity to sow a completely new lawn and there are three distinct areas. On the higher, dry, sandy area I used a seed mix of fine, deep rooted native grasses. The wide expanse of grass with its delicate seed heads looks great so I don't cut it till the end of July. I've kept the wild flowers, Musk Mallow, Field Scabious, Greater Knapweed, Black Knapweed, White Campion and Bladder Campion, to the edges. This is a great area for Meadow Brown butterflies, grasshoppers and beetles, and these in turn attract toads and hedgehogs.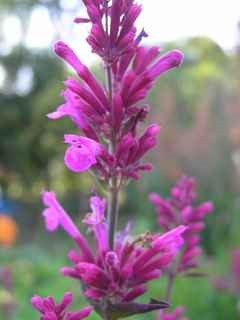 Agastache 'Bolero'
The middle sloping section of lawn is part orchard. Having far too many apples for us to eat, most are left on the ground for the blackbirds and the fieldfares when they arrive in the autumn. Primroses, Snowdrops and a whole range of bulbs do well under the apple trees. Goldfinches quite often choose the orchard as a nesting site, as will a Mistle Thrush in the larger trees.
The lower area leading down to the pond is quite moist. A native bulb that prefers permanently moist ground is Snake's Head Fritillary. I planted some a couple of years ago and they are establishing quite nicely. Just remember not to cut the grass until the fritillary leaves, that look quite grass like, have died back. Self-heal, a valuable nectar source for bees, also likes moist grassland but be warned it does spread itself around rather well.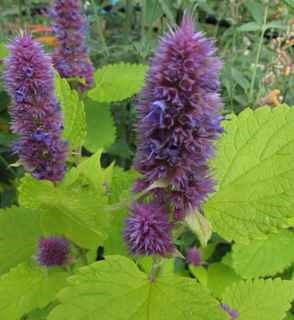 Agastache 'Golden Jubilee'
The final 'must have' habitat for me is a hazel coppice. It doesn't have to be big, one bush will do. I cut mine on a seven year rotation but three or four years will do if there is not enough room for a large plant. We use the cut branches for hurdles. Hazel, although deciduous, is one of those plants that never shuts down. The leaves can still be green in November. The male catkins are usually opening before the last leaves have fallen and just look at the tiny but beautiful bright red of the female part of the flower in mid-winter.  Ramsons, Primroses and Bluebells all live quite happily in our hazel coppice together with my favourite butterfly the Speckled Wood.  Birds also benefit, particularly blue tits and long tailed tits which are always flitting around in the branches looking for aphids and caterpillars You can eat the nuts or leave them for voles and mice.  Why provide food for mice, I hear you ask. Well we have owls in the vicinity and mice are tasty snacks for owls. I'm off to the coppice now, must cut some poles for this years runner beans (written in March).
 
To find out more about flowering times, size and preferred growing conditions of the above mentioned plants and in most cases see images of them please visit our website www.british-wildflowers.com Or come and have a chat, we will be at Castle Bromwich plant fair on 7th August.
Chris Eyke owns and runs Lyneal Mill Nursery, based in Shropshire. The nursery specialises in native British Wildflowers as well as cultivated varieties of natives, including Digitalis, Aquilegia and Aster.