Growing Orchids in Your Garden
Dr Wilson Wall, from Bewdley Orchids, on how to grow beautiful native orchids in your garden. - 20 May 2016
Having orchids in the garden is every gardeners dream. It is usually considered that this is an impossible thing to reproduce artificially, but at Bewdley Orchids this is exactly what we do. While a large meadow may be beyond the reach of most, a small garden meadow can make a lovely background for the cultivation of naturalized orchids. If that is not to your taste, native orchids can easily be grown in pots and containers to make a small and spectacular show. If you have access to any ground there will be a species of orchid from Bewdley Orchids that will be able to grow and thrive.
There are many reasons for growing our native orchids, all of them positive. Many of our wild orchids are rare, or at least uncommon. Even the Common Spotted Orchid with its beautiful leaves and lovely flowers are no longer common. They may be locally abundant, but there are still large areas from which they have disappeared. There are many reasons for this, all of which stem from the extraordinary life cycle that orchids go through. Broadly speaking our native orchids, like most of the northern terrestrial species, have a complex process of germination requiring the presence of a species specific fungal symbiont. With this precarious association there is also a long slow life span. So if you grow native orchids in your garden and they become established the plants will last for many years, quite likely seeding themselves to produce new plants.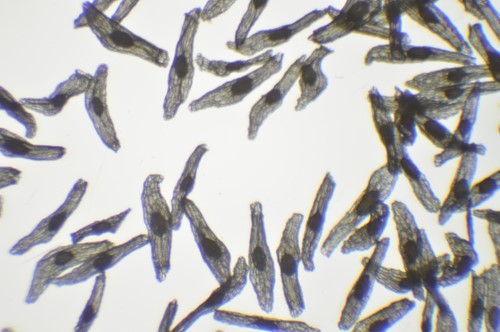 Orchid seeds from Dactlorhiza fuchsia, the Common Spotted Orchid. Each seed is less than 0.2mm wide and has no nutrient reserves of its own.
At Bewdley Orchids we grow the seed in artificial medium to help germination and to nurture the young plant until it can grow on its own. This is a scientific process requiring specialist equipment and our own growth medium. By the time the plants are for sale they are already well formed and once established can be expected to flower in one or two years time.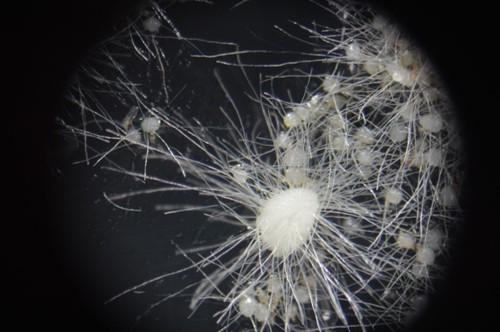 After two months the seeds are starting to germinate and produce fine hairs to collect moisture and nutrients.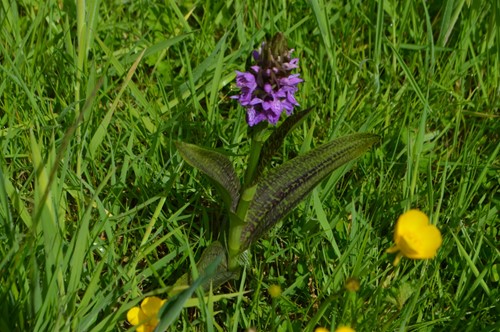 A Common Spotted Orchid grown from seed showing the beautiful leaf pattern.
There is no doubt that growing orchids in the garden is one of the most exciting things for a gardener to grow. There is something very special about these plants when they start to appear in the Spring and finally flower, they add a brightness and stature which is unusual in a native plant and can attract many different insects to the garden, even to long tongued moths specially keen to visit Butterfly Orchids in the early evening to sip the nectar and pollinate the flowers. This very special relationship between orchids and their environment, their ecological position in the world, is what makes them so important.
Growing orchids in you own garden, rather than in a greenhouse or on a conservatory shelf says a lot about you. It says 'I care about the environment and this garden is important to me and the garden is here for the long term'. These are lofty thoughts, but not ones to lightly dismiss. You could grow you plants just for show, but you will still be considered a very sound and caring gardener. There is something special about these marker species, which says something about the grower. Although many species can quickly set up colonies when conditions are suitable, most are slow developers and need a log undisturbed period of growth before they flower.
It is the time that it takes for orchids to flower in the wild which can be their downfall. Any disturbance during their development can cause the untimely collapse of a wild population. This disturbance can come in many forms, such as changes to land use, ploughing and herbicides, but also pressure from visitors to an area inadvertently treading on the plants which may have been the original  reason for the visit in the first place. All these aspects can be circumvented when they are grown in the garden. Such cultivation of iconic plants can therefore be both a delight for your garden and a genuine help in the survival of our orchids.
Once established in your garden there is really no reason that they should not become a self sustaining colony.  If you live in an area of suburban gardens where wind can distribute the seeds across several gardens and any waste ground there is, you may even enhance your whole area.
It is not unrealistic to think about conservation, decline in our native orchids has been going on for so long that even those that were once regarded as common are no longer. When Victor Summerhayes wrote Wild Orchids of Britain, a Collins New Naturalist book, in 1951, he described the Green Winged Orchid (Anacamptis morio) as one of the most common orchids of England and Wales. This has changed considerably since then, many people have never seen a Green Winged Orchid and the remaining populations are scattered and genetically separated  from each other. They may be quite plentiful where they occur, they are, after all, quite fast growers among the orchids, but the overall population has declined significantly since Summerhayes wrote his book. Even worse, with the knowledge of this decline it has not stopped and seems to be progressing every year. Here at Bewdley Orchids we grow these for sale so that they can be introduced into gardens as small populations. Green Winged Orchids grow in our traditional meadows, never in woodlands. Unfortunately, traditional meadows have been largely replaced by the barren improved pasture required for high milk production and with the loss of meadows we lose the orchids as well.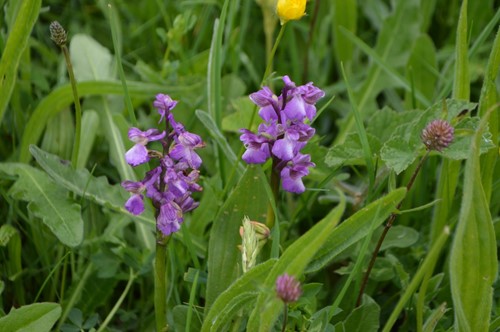 Anacamptis morio, Green Winged orchids growing in a meadow.
If you have a shady area, under a fruit tree perhaps, some species are ideally suited to bring a splash of light to the area, like a Butterfly orchid.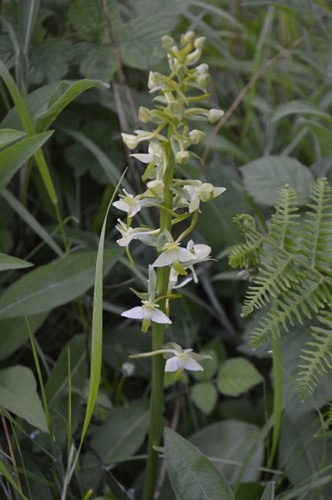 Platanthera chlorantha, Greater Butterfly Orchid, growing in dappled shade of trees.
We do not need to confine ourselves to a single species, we can grow all manner of plants, with different species in different conditions. If your garden is small try containers, if it is large try producing your very own area of meadow, either way it will be a very rewarding.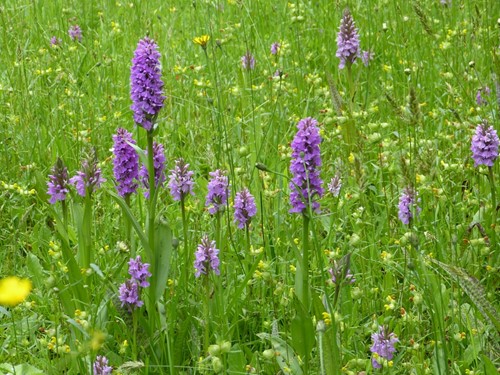 A small garden meadow, the species here are predominantly Southern Marsh orchids, Dactylorhiza praetermissa. The original plants have extensively seeded and spread themselves.
Growing your own native orchids may be a small step in the process of stopping a decline in numbers which started a century ago and proceeds even now. But it is a step and most definitely it will be your step, something very precise which you have done.
Dr. Wilson Wall and the team at Bewdley Orchids specialise in the native orchids of Great Britain, growing them from seed under sterile laboratory conditions and selling them when they are ready for planting directly into the garden.
Website: www.bewdleyorchids.com