Hardy Chrysanthemum
Louise Mitchell, from Mrs. Mitchell's Kitchen and Garden, chooses her favourite hardy Chrysanthemums, for very late colour in the garden! - 08 September 2017
When we were first married we lived in the Leeward Islands, where my husband, Julian was serving as Chief Dental Officer for the Associated States of St Kitts and Nevis. As accompanying spouses weren't allowed to work, I had to find other things to do with my time. Managing a household with multiple servants was a new, and not always comfortable, experience; but I did enjoy looking after my flock of nearly 100 chicks (all the descendants of five pullets and a cockerel left in a Carnation milk carton at the surgery by a grateful patient!)
I started making chutneys with the plentiful mangoes in our garden (still part of the Mrs Mitchell's range of preserves), and I spent most of my time indulging my love of gardening. I grew most of our fresh vegetables -- which were in surprisingly short supply on the islands; and introduced beloved plants that had never been grown there before -- strawberries, Christmas cactus, Fuschia, French tarragon, and even rocket (which oddly is slower to bolt in the tropical heat than it is here).
When the islands became independent and we returned to Britain. It was invigorating to return to a temperate climate, and we really enjoyed the long evenings of summer (near the equator, night falls suddenly year-round at about 6pm). But what I really missed was a garden always full of colour and flowers. There are actually differences in season in the Caribbean, but it is the changes in vegetation that mark them, rather than huge fluctuations of temperature; and unlike some other tropical regions there isn't really an established cycle of wet and dry seasons.
As I began to establish my "English" garden, having colour throughout the year became something of an obsession! Starting in the spring with snowdrops and hellebores, I began to search for plants to do the trick in the later months of the year. The first I fell for were Michaelmas Daisies (now renamed Symphiotrichon), which brought lovely intense colours for August and September, even into October in some cases.
But by November, especially in wet years, the garden was looking pretty drab. Then I discovered hardy chrysanthemums! The very early ones flower in August or September; but they reach their peak MUCH later, in fact, they are usually blooming in late November. They come in a full range of colours, but many are in lovely reds, russets and golds, just perfect for the mellow pallet of Autumn. Most years they are still in flower when the first hellebores begin to do their "thing"! Eureka! I got my wish for a year-round garden full of flowers.
My first acquisition was a variety called 'Brennpunkt' Like most of the really special perennials that I was buying then, it came from the wonderful and much missed Norfolk nursery Four Seasons. The catalogue described it as just "brownish-red), but it was so much more! The flowers were complicated and really lovely, and it bloomed profusely from late October through November. It stood about 3 ft (90cm) tall and had strong stems that didn't need staking. After flowering, it sailed through the winter in great shape.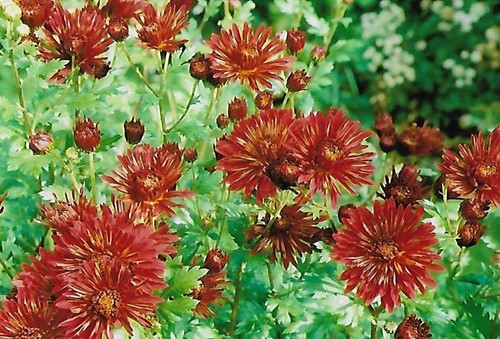 Another red variety has received lots of good press. Although usually referred to as not totally hardy, the variety 'Ruby Mound' has been much lauded in the gardening press. It certainly is a lovely plant, and in our garden has proven quite hardy planted in a sheltered position at the base of a brick wall facing SW! As it was bred in Minnesota, in the U.S., the chances are that it really is! The flowers are, again, complicated and beautiful! It stands 3 ft (90cm), with strong stems. 'Ruby Mound' received an AGM (Award of Garden Merit) in the 2005 Wisley Field Trials.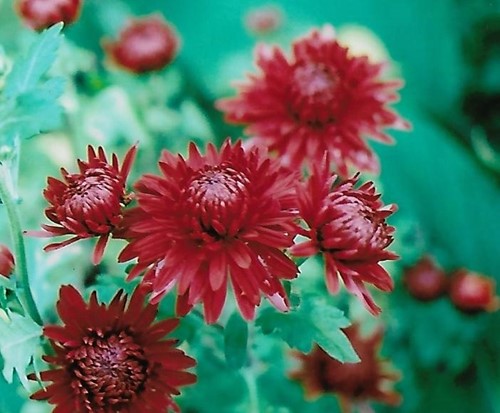 A third red variety which really appeals to me is called 'Royal Command'. Not much seems to have been written about it, but I find its 2 ½ foot (75cm) erect plants with single or semi-double clear red flowers very pleasing. It has strong stems with silvery leaves and slightly quilled flowers and blooms a bit earlier than the other two, from September into November. It is also hardy to -18 degrees.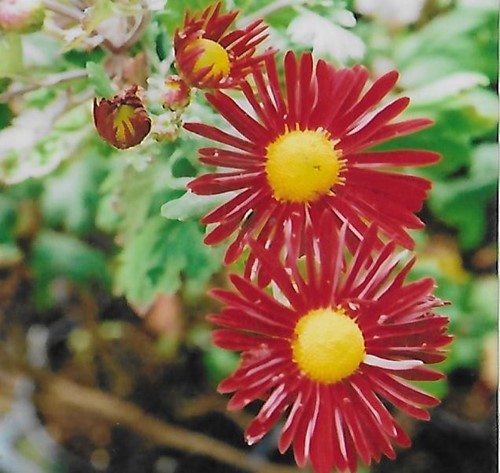 'Royal Command' belongs to the Rubellum group of chrysanthemums. Others are Koreans. Apparently Rubellums have a more spreading rootstock and also have a more pronounced scent; but both groups would seem to have very similar development histories, and both terms seem to have originated as trade names. So my conclusion is that, unless you are a botanist, knowing which is which will in no way change your enjoyment of the plants!
To my way of thinking, no other colours look better in the rich light of late autumn than orange and bronze. There are some outstanding varieties in these shades. One example is 'Paul Bossier', a lovely orange-bronze spray chrysanthemum standing just over 3 ft (100cm) and blooming throughout October and November. This plant was bred by Amos Perry (who you might remember from my 2015 essay on Phlox), and has had the AGM ever since.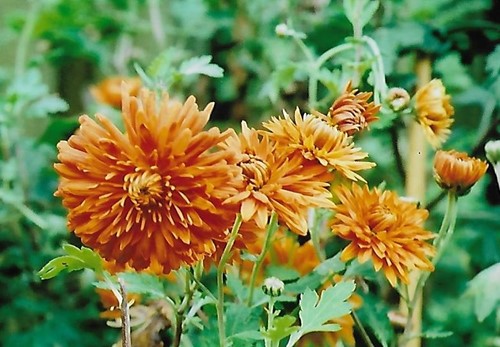 Another, perhaps even older variety is the stunning 'Chelsea Physic Garden', a strongly growing variety reaching 3 ½ ft, flowering in November with double bronze flowers with a lovely gold reverse. This variety may have been around for at least 100 years.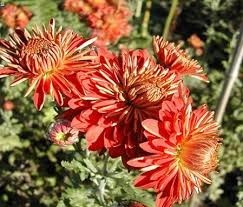 A newer introduction in this colour range is a greeny-gold single or semi double found as a seedling in the garden of Bob Brown of Cotswold Garden Plants early in this century and received an AGM in 2012. It flowers in late October and November and stands about 2 ft (60cm). It has a really unique combination of colours and, again, looks spectacular in the autumn light.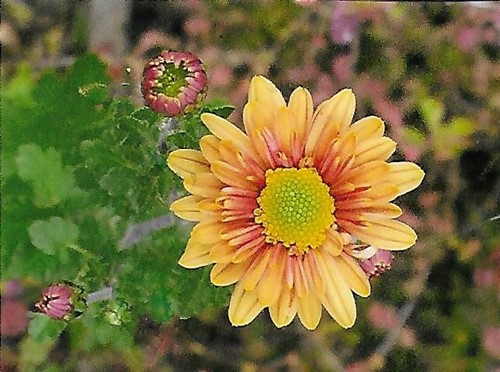 One of the best known hardy chrysanthemums is a yellow semi pompom variety known as 'Nantyderry Sunshine'. I don't particularly like the pompom form so prefer the rich golden yellow of the variety 'Ruby Raynor', which stands 2 1/2ft and won an AGM in the Wisley Field Trials of 2005.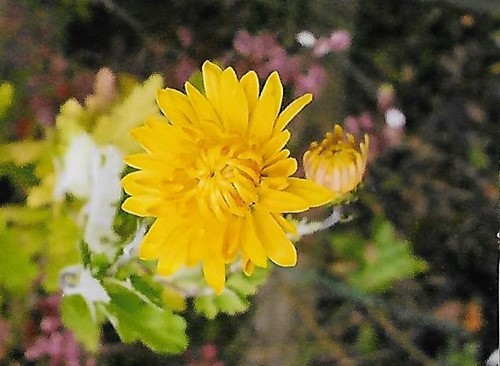 Although I don't have 'Nantyderry Sunshine' in my collection, it has played an important role in my chrysanthemum journey. As a well known variety, it was one of the first chrysanthemums I bought. To my great surprise it turned out to be a single pink. I don't know for sure what it is, but it is one of my very favourites, very hardy and blooming from October until early December. My best guess is that it is 'Tapestry Rose', a very hardy variety that has been popular since at least the 1960's It again stands at 3 ft (90cm) and has small rose pink single flowers.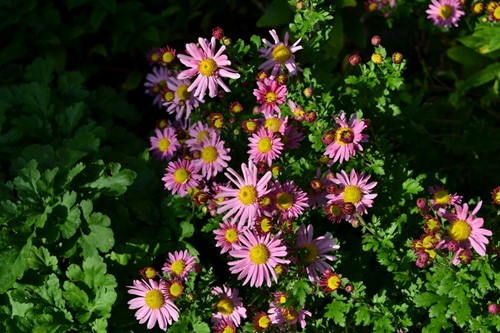 Which leads me neatly to what I have to admit is my very favourite hardy chrysanthemum (also one of the many in the pink range), 'Emperor of China'. In the words of Judy Barker, the woman who has done so much to reintroduce these plants in Britain by building the Plant Heritage National Collection of Koreans, Rubellum and Hardy Sprays, "Silvery pink double spooned petals flushed with purple, swirl at centre. Flower size 5cm, secondary buds on short stems forming a bud at end of stem. Very large broad foliage veined and suffuse with crimson complimenting the flowers as they open late in the season." This plant is a very old variety, known to have been at Kew Gardens by at least 1936. It is a total winner, standing over 3 ft (97cm) with wonderful complex flowers -- it blooms in late November and it is very hardy to boot!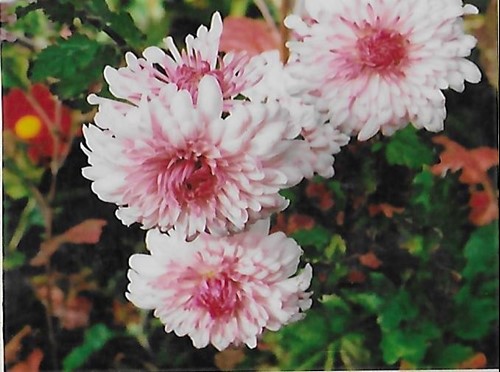 This article was written from my personal experience, using as references Judy Barker's website www.gardenchrysanthemum.org.uk, and magazine articles by John Hoyland and Graham Rice. All photos are from my garden.
Louise and Julian Mitchell run Mrs. Mitchell's Kitchen and Garden, a small nursery based near Salisbury, specialising in cottage garden perennials, especially hardy geraniums, phlox, Michaelmas daisies. They also make yummy jams and chutneys!
Facebook: https://www.facebook.com/mrsmitchellskitchenandgarden.co.uk