New Varieties from Hillview Hardy Plants
Ingrid Millington, from Hillview Hardy Plants, with some of the new varieties in their range in 2016. - 07 May 2016
As I am just putting the finishing touches to our 2016 plant list, I thought I would share some of the new plants we are stocking this year.
Cirsium rivulare 'Frosted Magic'
This is a pure white-flowered thistle, but without the prickles, that makes a tuft of dark green foliage from which arise 120cm stems with bunched heads of snow-white flowers. These are really attractive to bees and butterflies, as well as looking great. They are particularly effective in "prairie-style" plantings, peeping out between grasses. They would look lovely with their "cousin" Cirsium rivulare 'Atropurpureum'.  We also grow Cirsium heterophyllum 'Melancholy Thistle' which is a British native plant, rather less well behaved as it tends to spread by stolons and can make a large clump in quite a short time. The single purple flowers are quite large and are held on tall stems above toothed dark green foliage which is white felted beneath.  Bees love it so much that they often appear to fall asleep on the flowers, exhausted by their pollen collecting.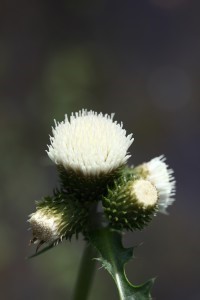 Sedum SunSparkler® 'Blue Pearl'
There are hundreds of different sedums around these days; their flowers are all attractive to bees and butterflies (and unfortunately the roots are very attractive to vine weevil grubs). This new variety has the darkest purple/blue/black leaves which contrast beautifully with the dark pink flowers.  The pretty stems are dark red and sturdy enough to stop the plant flopping when it bears its flowerheads.  It grows to 50cm high and 25cm wide. Again, most of the taller sedums look lovely planted in "prairie-style" gardens, especially with grasses. The seed heads are attractive in winter, sparkling with frost.
Baptisia Decadence® 'Lemon Meringue' and Decadence®  'Cherries Jubilee'
Last year we grew Baptisia Decadence® 'Dutch Chocolate' (pictured), which had the most unusual chocolate coloured pea like flowers on tall stems. We were delighted with the performance of this plant so this year we are trying a couple more from the Decadence® series. 'Lemon Meringue' has blue-green foliage and chocolate coloured stems bearing lemon yellow flowers, followed by attractive seedpods. 'Cherries Jubilee' has similar blue-green foliage with deep maroon bus opening to maroon and yellow, looking like a bicoloured lupin. They all like full sun and are happy in poor soils and are fairly drought tolerant once established in the garden.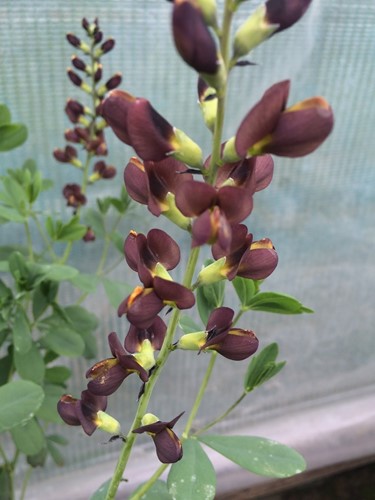 Baptisia Decadence® 'Dutch Chocolate'
Bunium bulbocastanum 
I am very fond of what used to be Umbellifers, (now Apiaceae) so am now growing Bunium bulbocastanum  "Black Cumin" or "Great Pignut". It is a fairly typical umbellifer with very neat, ferny foliage and delicate white flowers in umbels. The whole plant is only about 15cm tall. The roots are tuberous and can be eaten, tasting like sweet chestnuts when cooked. The leaves can be eaten raw or cooked, used as a parsley substitute. When the flowers fade and seeds are formed, they can be used in cooking, as "Black Cumin".  Do I use all the parts of the plant to eat?  No, of course not. I just love the way the foliage and flowers look in the garden and they are a good contrast to brighter coloured flowers.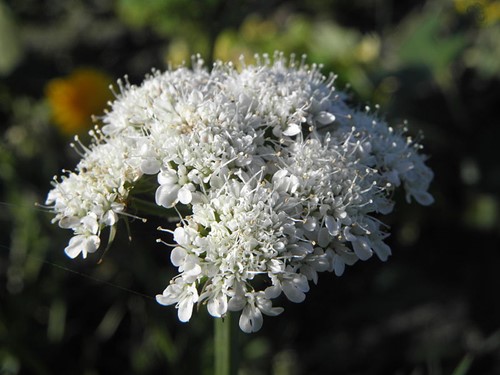 We will be bringing these plants and many more to the first Rare Plant Fair to be held at Winterbourne, Birmingham. 15th May 2016: 11.00am - 4.00pm
John and Ingrid Millington own Hillview Hardy Plants, set in the middle of the beautiful Shropshire countryside. They specialise in herbaceous plants, especially those for drier soils, as well as auriculas in early spring. They also hold two National Collections: Acanthus and Albuca.  Opening hours March to October are 9.30am 'till 5pm daily, except Sundays when they are closed; other times by appointment. They are an RHS partnership nursery and attend many shows and plant sales throughout the year.
Website: www.hillviewhardyplants.com