Ornamental Grasses
Ian Moss, from Ian and Teresa Moss, with advice on these wonderful summer perennials. - 14 August 2015
Ornamental grasses are one of the iconic plants of the late summer garden. They have been made popular by the advocates of the 'new perennial' movement, such as Piet Oudolf, with their most well-known use being in so-called 'prairie planting' designs, where they are combined with a wide range of late summer flowering perennials. They are, however, very versatile and beautiful additions to any late summer garden.
What is a grass?
True grasses, which also include bamboos, have several defining features. All are 'monocots', i.e. they develop from a single seed leaf. They have hollow cylindrical stems, with flat leaves, and a key distinguishing feature compared to other perennials is that growing points are just above the node on the stem, not at the tip of the branch or stem. Similarly, leaves grow from the base rather than the tip. It is these features that make grass the natural choice for lawns! The other key difference from other perennials is that they are wind, not insect, pollinated.
There are some related families, such as sedges, rushes and cat-tails that share some commonalities with grasses, but differ usually in the structure of the stem, leaf or flower.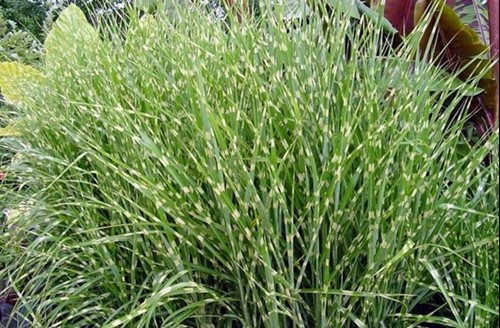 Miscanthus sinensis 'Zebrinus'
Using grasses in the Late Summer Garden
Late season grasses have many useful attributes that can add interest to late summer borders. They add structure and make great focal points; upright grasses such as Miscanthus and Panicum add height and structure, whereas more arching grasses such as Pennisetums make a softer impact and often make great specimen plants. They add movement and sound to a planting scheme, rustling in the breeze, and their softer, more natural appearance acts as a great foil to the bolder shapes and colours of other late summer perennials. The taller grasses can also be used to create semi-transparent screens in planting schemes, allowing divisions to be made in a border yet allowing glimpses of the planting beyond. Careful siting of grasses where the stems and flower spikes can catch the afternoon or evening sun can also provide wonderful effects.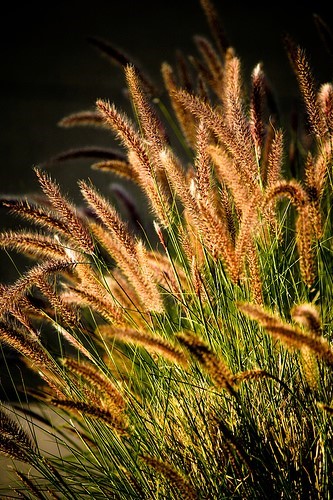 Choosing your grasses
Grasses suitable for late summer and autumn planting are known as warm season grasses, and many originate from continental climates such as North America, and from Asia. Probably the most well-known are the selections of Miscanthus sinensis. The species comes from China, but there are now a wide range of excellent  garden cultivars available. Miscanthus has a strong upright shape with fluffy flower heads in silver, pink or purple. Our favourites are 'Zebrinus' with gold stripes on the green foliage that becomes more pronounced as the summer wears on; 'Flamingo' with dark pink flower spikes, and 'Rotsilber' with deeper red-pink flowers. These selections make tall plants at between 1.8 and 2m, but there are shorter cultivars available if required. All have good autumn leaf colour.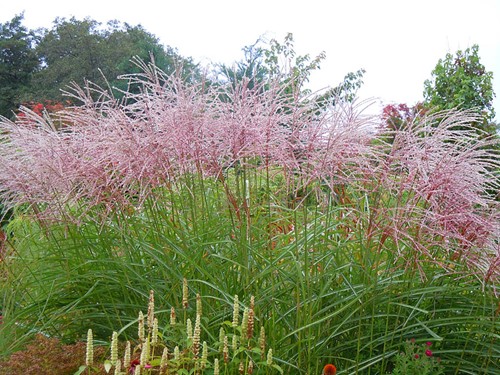 Miscanthus sinensis 'Flamingo'
Another great choice is Panicum virgatum (switch grass) which is a true prairie grass from North America. These are slightly shorter, at around 1.5m, but again present a strong upright shape. There are many good cultivars but they generally fall into two broad groups; those with grey-green foliage, such as the wonderfully named 'Heavy Metal', and those with darker green foliage, often tinged with red, such as 'Rotstrahlbusch'. All have a rich, butter yellow autumn colour.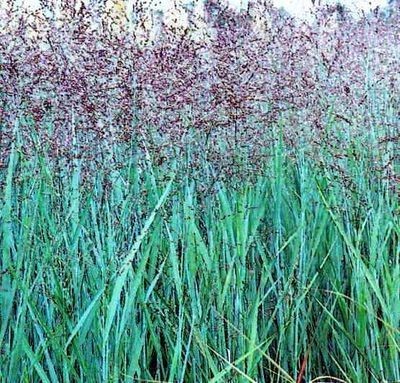 Panicum virgatum 'Heavy Metal'
There are also lovely grasses that offer a more arching shape. One of the best is Eragrostis curvula 'Totnes Burgundy'. This is an outstanding grass, about 60cm tall, with wispy, delicate flowers above deep green foliage that is strongly marked with burgundy.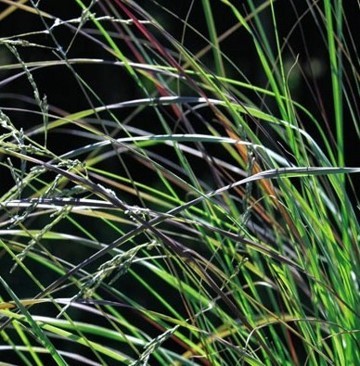 Eragrostis curvula 'Totnes Burgundy'
Also very popular are cultivars of Pennisetum, which have the well-known 'bunny ear' flowers. Be careful which varieties you choose, as not all are hardy, but our favourite is Pennisetum orientale 'Karley Rose', a fabulous cultivar forming mounds of shiny arching leaves and very deep rose pink flowers produced in profusion during summer.
This is just a small selection of what is available; there are many other grasses, such as Molinia, Stipa and some selections of Calamagrostis, that also make great additions to late summer borders.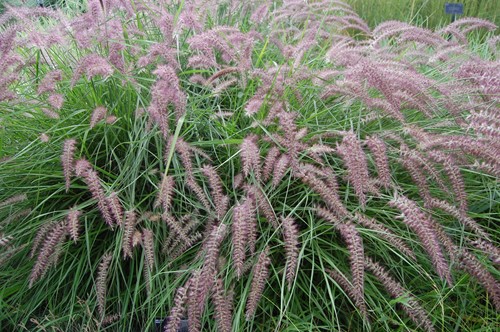 Pennisetum orientale 'Karley Rose'
Looking after grasses
Late season grasses are generally easy to care for. They generally prefer good drainage and full sun, but not very dry, arid conditions. They are generally pest and disease free, although nibbling by rabbits and deer is possible, and need no support or staking. The question that is most frequently asked about grasses is when to cut them back. For deciduous grasses (which includes all those described above), this to some extent is a matter of personal taste. Some gardeners like to leave the dry stems and seedheads of their grasses in place during the winter – they can add architectural interest and look great when coated in hoar frost. Others prefer to tidy up at the end of the autumn. Either way, cut the grasses back to about 10-15cm above the ground (not right to ground level), and if doing this in the spring the best time is in March.
Evergreen grasses such as Stipas would not normally be cut back unless absolutely necessary; just rake out tatty leaves with your hands in the spring.
Ian and Teresa's nursery in Somerset specialises in hardy and unusual perennials. They exhibit their plants at over 30 shows throughout the year. Plant enthusiasts can also buy their plants throughout the growing season at the Kilver Court nursery.
Website: www.hardyandunusualplants.co.uk