Primula Auriculas – 'Deserved Merit'
Susi Clarke and Tom Morey, from Pops' Plants 2, on their collection of these highly popular and beautiful plants. - 11 May 2018
Auriculas are small, perennial herbaceous plants that thrive in cooler temperatures, either in pots or borders.  These charming alpine plants herald originally from the mountain slopes of Central Europe and the Western Alps.  Often known as mountain cow slips or bears ears because of the shape of their leaves, it is said they arrived in England with the fleeing Huguenots.  Cultivated by the weavers of Spitalfields and popularised by the Northern working classes, they became a fascination of the Victorians. 
Strict Victorian society encouraged its members to communicate through the hidden language of plants (floriography).  To the Victorians auriculas symbolised 'deserved merit', and as collectors of these magical plants it is easy to see why.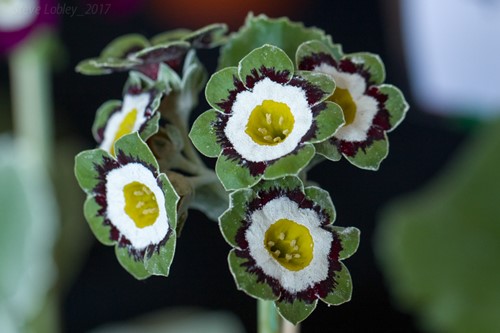 'Audrey'  (Edge)
Auriculas are particularly hardy plants, available in a myriad of different jewel like colours, each with their own special name.  Their colours cross the spectrum ranging from the lightest of fairy-like dusky pink to an almost prehistoric dark matt green They have long been the fascination of botanists and collectors which has resulted in the breeding of thousands of cultivars falling into the categories of; doubles, edges, fancies, borders and alpines.  It is hard not to fall in love with their exquisite, intriguing beauty, on some days it can feel like they almost call to you.  Their desire for a very light touch bordering on wilful neglect, makes them a popular choice for any gardener.
Auricula Classes
Double auriculas flower with multiple petals covering the eye, are easy to grow and often strongly scented.  Sadly their popularity dwindled when the 'Show' auriculas hit the stage but by the mid 19th century they were back in fashion.  Flowering from March to June and sometimes again in the Winter, their range of colours is remarkable.  Whether you are looking for the deepest royal purple, the frivolity of a cherry pie, a frothy coffee and cream or the delicate, mystical properties of a forest glade the doubles entice you with their variety.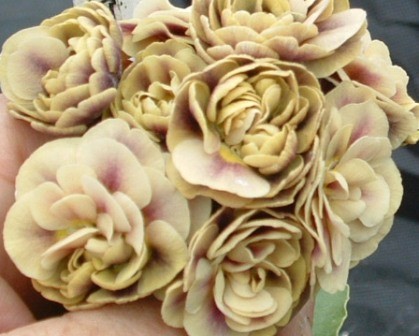 'Ann Hyatt'
Their sometimes heavy heads may require support.  We have found the thinnest grade piano wire provides this perfectly and camouflages well. 
Many of the doubles in our collection grow sprinkled with an icing sugar like substance called farina (Latin for flour).  Ypres, pictured below, has astonished us this year, coated in farina and flowering for months she has been a pleasure to behold.  Despite its beauty farina can cause skin irritation so it's important to wear gloves when handling the plants.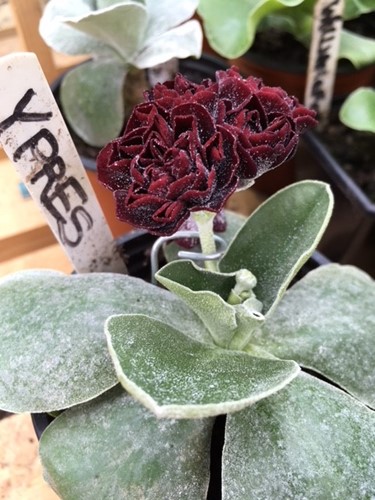 'Ypres'
The doubles make excellent displays planted in terracotta pots on steps, rustic ladders or even your own auricula theatre. 
Edges in the Primula Auricula world are the most sought after of plants but can also be the most difficult to grow.  The green edge is a mutation of the petal edges into leaf material and depending on the amount of farina on the plant the edge can be grey, green or white.  Their unearthly, alien-like quality is quite mesmerising.  Best displayed in a sheltered spot against a dark background or wall to let them shine.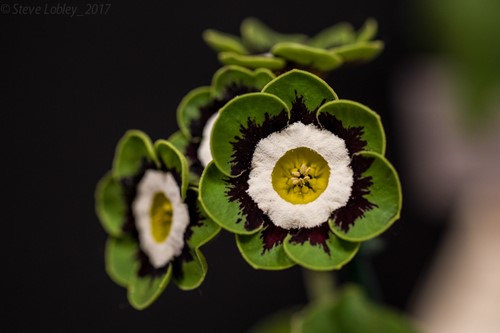 'Chloe'
Fancies seem to break all the rules, beautiful plants with unusual colours or patterns in the petals which can sometimes be pointed.  If your plant doesn't fit into the other categories outlined by the Auricula Societies then it is probably a fancy.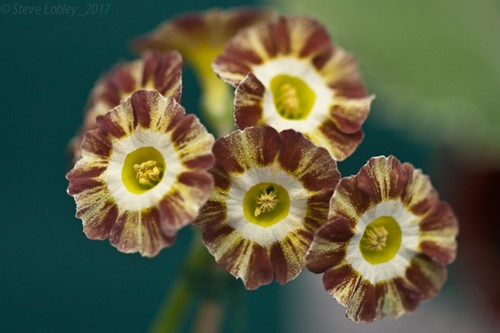 'Cutie Pie'
Border auriculas thrive well in the garden and produce multiple free-growing flowers provided they are well-drained and in partial shade.  Often pastel shade in colour, borders are light centred with a consistent colour across the petals.  Flowering in Spring time and producing a wonderful scent they will spread themselves effortlessly around the garden.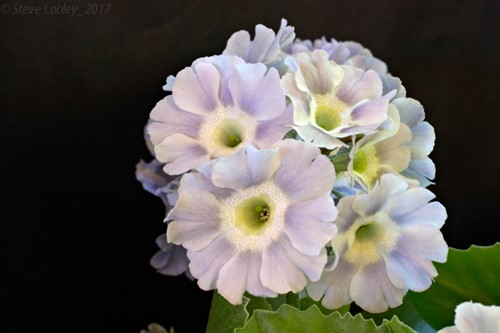 'Border Grey Cloud'
Alpine auriculas create a little confusion as all Primula Auriculas are alpine plants, it's a bit like Labradors and Retrievers!  Alpine auriculas are recognised by their light centre in either white or gold and their colour deeper in the centre, transcending to a light shade at the edge of the petal.  The alpines embody the irridescent, jewel-like colours ranging from deep blues, purples and pinks to terracottas and apricots.  Literally stunning, they are a favourite show plant and their velvety petals and bright colours create the most excitement from auricula fans.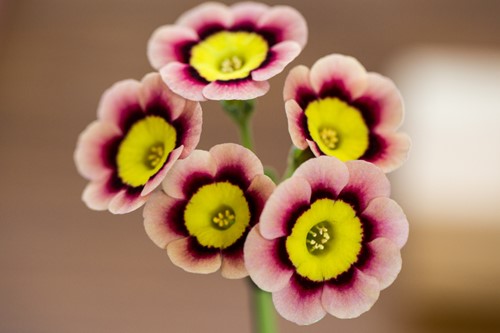 'Sir John'
Self auriculas are show plants and have a uniform colour to their petals from the middle to the edge.  A golden tubal centre, surrounded by a bright white circular face provides a perfect contrast to the vivid colours of their petals.  Most commonly seen in bright reds, purples, pinks and yellows they can sometimes be so dark they look black.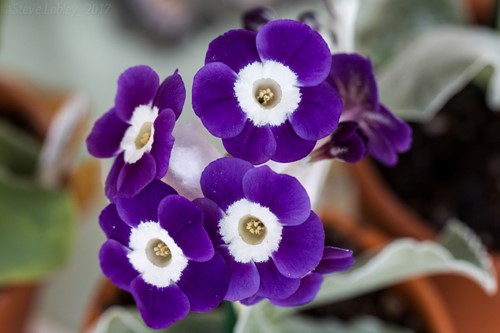 'Angel Islington'
Growing advice
Auriculas like to be cold and airy, love to be frozen in their pots, and to have good drainage.  They should never be allowed to become waterlogged, a cold green house with the windows open, or a cold frame, open on fine days, is ideal for pot grown plants.  Auriculas in the 'Show' category are best grown in pots with some protection from the worst of the winter and spring weather – rain will spoil the appearance of the flowers. A cool spot out of the greenhouse or frame for the summer for all auriculas is a good idea. 

Leave the plants in their black pots until the leaves reach the sides. If you are growing in pots it is better to keep to a small one and wait until the plant gets to a decent size before potting on to a pot no bigger than 3.5". The suggested potting mix is a 1:1:1 combination of John Innes No. 2, compost and potting grit.  Auriculas do not like to be 'over-potted', you can always drop a small pot inside a larger pot for display.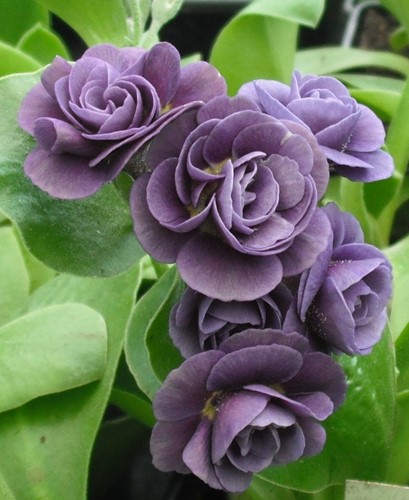 'Purple Flake' (Double)
The plants need little water during the winter - just a tiny spoonful or so each week to keep them ticking over.  From about February, when they start to put on growth, they will need more.  Always water the compost, not the leaves.  By the end of February, if they are still in the same pot, they may have used up all the food in that compost (particularly the doubles), so a weak (no more than half--strength) multi-purpose feed like phostrogen will ensure they have something to eat.  Feed once a month in the growing season.
Good light is important for them in the autumn and winter, but by the time they have flowered, or even before if we have a hot spring, they will need to be shaded.  A greenhouse is generally too hot for them in the summer, even with shading. Probably the worst pest - and auriculas don't suffer too much this way - is the wretched vine weevil. The only effective way we have found to banish this is to water the compost with insecticide three times a year. 
For more online advice take a look at the cultivation pages of the website of the National Auricula and Primula Society (Southern) at www.southernauriculaprimula.org
Susi Clarke and Tom Morey own Pops' Plants 2 is a family run business based in Hertfordshire and specialising in the captivating Primula Auriculas.  Home to a large collection of doubles and an ever-growing selection of stripes, edges and fancies, we were trained and mentored by the original Pops Plants. Their love of auriculas has been passed down through the generations and continues to grow.  All their plants are available to order on their website, along with bespoke handmade auricula theatres, originally designed by the Victorians to honour auriculas with a stage for their beauty. 
Website: www.popsplants2.co.uk