Rhodohypoxis
Chris and Lorraine Birchall, of Tale Valley Nursery in Devon, on these choice bulbous alpines from South Africa, for which they hold a National Collection - 04 March 2019
Rhodohypoxis are a small bulbous plant originating chiefly from the alpine areas of the Drakensberg Mountains of South Africa and Lesotho and are found at altitudes ranging from about 1000 – 3200 metres. The name originates from the latin Rhodo which means pink, and Hypoxis, a bulbous plant usually yellow in colour and which genera Rhodohypoxis was originally placed.The genus consists of six species, Rhodohypoxis baurii, (with three varieties, baurii, confecta and platypetala) R. milloides, R. deflexa, R. thodiana, R. rubella and R. incompta. The first four of these are readily encountered in cultivation with numerous cultivars originating from R. baurii and R. milloides. Rhodohypoxis rubella is however rarely encountered outside of botanical institutions and Brian Mathew's observations in his 1980's article in The Plantsman that this and R. incompta might conceivably be used to produce a race of miniature cultivars has unfortunately not come to fruition. Indeed we are unaware of R. incompta or R.rubella existing in cultivation in this country although would be delighted to hear from anyone who was able to supply us with any 'corms' or seed of these species.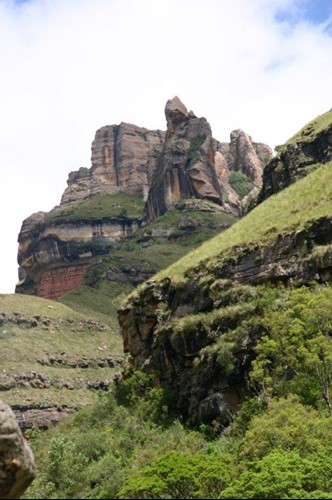 Drakensberg Mountains in South Africa - the home territory of Rhodohypoxis
The colour range of Rhodohypoxis varies from white to pink to red, with every shade of these colours being encountered among the various cultivars. There are, however, in the region of 180 cultivars in existence which leads one to question the ease in which new ones are introduced. On consulting the International Code of Nomenclature for Cultivated Plants (also known as the Cultivated Plant Code) we understood that for a plant to be given cultivar status it must be "distinct" from other existing named cultivars which in many cases is simply not true with Rhodohypoxis.
We believe that with Rhodohypoxis too many of the newer plants which have been listed with cultivar status in the RHS Plant Finder are too similar in appearance and habit to existing cultivars. Added difficulties with naming occur as flower colours can fade or deepen with maturity. This makes the positive identification of many cultivars nigh on impossible. It should however be added that similar observations could be made about so many other genera and their cultivars in cultivation. In the alpine world Sempervivum and Galanthus come immediately to mind and other general examples include Hosta, Rhododendron and Rosa to name a few that have numerous new cultivars added annually which are similar in appearance to the 1000's already existing. Unfortunately, without any proper controls in place over the naming of cultivars this situation will continue to snowball each year which puts a mockery on the whole system.
With Rhodohypoxis in the case of R. baurii  'Pictus' and R. 'Picta' confusion with nomenclature has we believe stemmed from a basic typographical error. We first acquired R. 'Pictus' pre 1995 possibly from Avon Bulbs and R. 'Picta' in 2006 from Ward Alpines and could see no difference between them. As part of our investigations into the genus we obtained a copy of the RHS Wisley trials results undertaken in 1990. The first page states that R. 'Picta' was awarded a FCC as a result of these trials, however in every subsequent page this cultivar was referred to as R. 'Pictus'. The Plant Finder lists both cultivars under separate headings although we are fairly certain they are in fact synonymous.
It is thought in many circles that R. 'Tetra White' and R. 'Helen' are also one and the same although again these plants continue to receive separate listings in nursery catalogues. Indeed in one catalogue under 'Helen' it states "also known as 'Tetra White'" then under 'Tetra White' it says "distinct from 'Helen' which is also known as 'Tetra White'" (!!)Although there appear to be subtle differences between the two cultivars, we would query whether they merit separate cultivar status.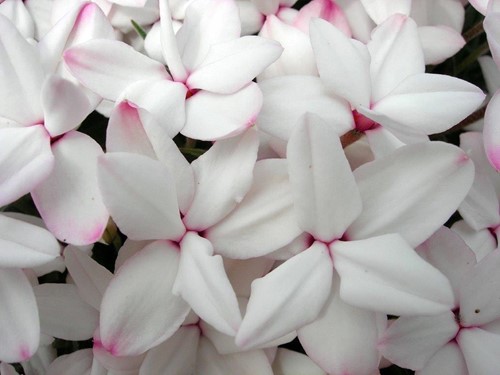 Rhodohypoxis 'Helen'

At the RHS trials questions were raised over the plants of 'Douglas' and 'Albrighton' which were presented for assessment. Eight differing accessions of these two cultivars were considered and it was decided at the completion of the trial that these were synonymous. As only two of the eight cultivars were presented as 'Douglas' and six as 'Albrighton' it is possible that the 'Douglas' accessions were actually 'Albrighton' and had been incorrectly named in the first case. Our experience of the two is that 'Douglas' is of smaller stature with slightly smaller flowers of a more intense red colouration although these fade as they mature the main difference however lies with the size of the corm with those of 'Albrighton' being considerably larger and slower to bulk up.
When we first purchased corms of 'Ruth' (pre 2000 which was when we started to make more accurate records of the provenance of our plants), these plants were pink in colour. On reading Brian Mathew's article again, it states that this cultivar which received an Award of Merit in 1944 has large white flowers. We have since acquired the correct plant. Unfortunately there is still a pink flowered Rhodohypoxis named 'Ruth' (which seems to be of Dutch origins) circulating in the trade which continues to be purchased by the general public.
The double-flowered Rhodohypoxis started appearing in commerce around the year 2000 and we purchased 'Lily Fan' from Paul Christian in 2002 and acquired 'Lily Jean' from Roger Stuckey, again these two cultivars were very similar in appearance.On comparing the two plants side by side however it can be seen that 'Lily Fan' is of a deeper pink colouration and in this instance we believe separate classification is justified.
There appear to be two versions of R. 'Great Scot' in circulation. On talking to David Mountfort his stock of this plant was acquired from Keith Clarke around 1980 who obtained his stock from its raiser and namer, the late Valerie Finnis. This plant is a relatively slow increaser of a good deep red colour. There is another plant available under this name which is also a good deep red colour but is a far stronger grower. This is the form which is more readily available in cultivation and probably incorrectly named. A similar situation occurs with there being three  forms of 'Fred Broome' which we are aware of. In this instance two of the plants are mid to pale pink in colour whereas the true cultivar is cyclamen pink with fairly large flowers.This type of situation only continues to add to the minefield in the naming and identification of Rhodohypoxis cultivars.
We could go on raising other questions in respect of the naming of other cultivars but this is an area we hope to clarify somewhat through further studies and obtaining different accessions to add to our collection. Unfortunately, this work is also likely to further muddy the waters.
On a closing note on this particular issue we recall being told at college over 30 years ago that one of the Horticultural Research Stations then in operation believed that over 20% of Hardy Nursery stock was incorrectly labelled. It appears a similar situation probably exists with Rhodohypoxis and no doubt other alpines!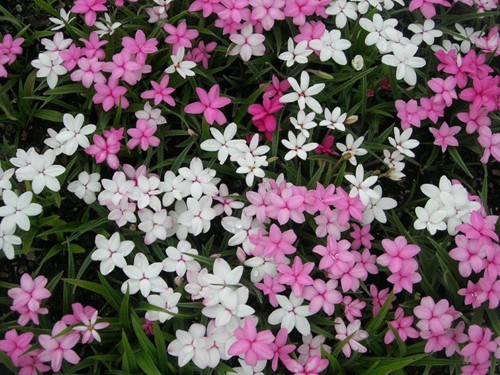 Mixed Rhodohypoxis and x Rhodoxis
We therefore move on to consider the cultural requirements of Rhodohypoxis. In their natural environment Rhodohypoxis grow in areas which are very moist in summer and very cold (as low as – 20c) but dry in winter. Fortunately in a controlled environment it is easy to replicate these conditions in cultivation.
We tend to grow our plants in clay pots for display purposes and plastic for selling. In the growing season, which runs from approximately late March to October, these plants are kept constantly moist which in the event of a hot dry summer means the plants grown in clay pots require watering daily. As the plants start to die down in October all watering is stopped and the plants placed in winter storage. If they are to be placed in a glasshouse they should be placed somewhere cool otherwise the occasional very light watering will probably be required to stop the corms from desiccating. Although plants grown in the open garden may not need as much watering in the summer months, corms are very susceptible to rot from the combination of cold and wet experienced in our winters.  Most plants grown directly in garden soil will require some form of protection which can be provided by a sheet of glass, or if planted in large drifts polythene sheeting. As with most genera however there are some species and cultivars which are more adaptable to garden conditions than others and from our experience R. deflexa and R. milloides with its cultivars are more likely to survive outside. Certainly heavy clay is a non-starter unless significantly improved. We have known plants to survive temperatures as low as -10 degrees centigrade in this country unprotected outside for many years and it is this last comment which leads to the question of hardiness.
Rhodohypoxis root structure
On the matter of composts, although in their natural environment Rhodohypoxis grow in acidic conditions we have not found ericaceous mixes essential for their successful cultivation. Indeed from experience we believe the general proprietary ericaceous mixes consist of very fine particles which are not complementary to good drainage. We generally use a commercial, peat-reduced compost consisting of 80% medium and coarse grade peat and 20% bark. We add a ratio of approximately 25%  6-10mm grade pea gravel, which helps with ballast, re-wetting and to a certain extent drainage. This mix already has lime added to it and has a pH value of about 6.0.
Feeding is supplemented by the use of a half strength high potash liquid feed through the growing season, the frequency of application is dependent on the weather conditions and is undertaken more frequently in very wet summers as any nutrients will be leached away in these conditions. We have also successfully used slow release fertilizer at half the recommended strength.  
During our staging of displays we found that by continually pinching out any emerging buds until two weeks before the exhibition, flowering could be held back, although this is somewhat time consuming when over 100 pots are involved! It should also be noted that plants such as R. thodiana generally come into flower about a month before R. milloides and its various cultivars. In the wild R. incompta has generally flowered and set seed before R. milloides flowers.
So, we come to our thoughts as to where the development of Rhodohypoxis is heading. Undoubtedly the introduction of the double and semi-double flowering cultivars in recent years has provided a lot of scope for further additions. Personally, we find these forms disappointing as they lack the impact of a pan of single flowered Rhodohypoxis in full bloom. As stated earlier we have concerns over the large number of cultivars which have been introduced which are not distinctly different from existing ones. There have, however, been new introductions which are worth mentioning. 'Flashing Ruby' has small, deep maroon single flowers which at a first glance appear to be double. Despite just condoning double flowered cultivars 'Starry Eyes' has small compact double flowers with a hint of apricot/yellow in the pink petals and has been very popular when we have exhibited it. Perhaps one of our favourites is 'Pintado' a strong growing bi-coloured plant with pale pink to crimson flowers. We acquired this from Blackthorn Nursery in 2001 and believe it was originally an Allan Robinson introduction from the United States.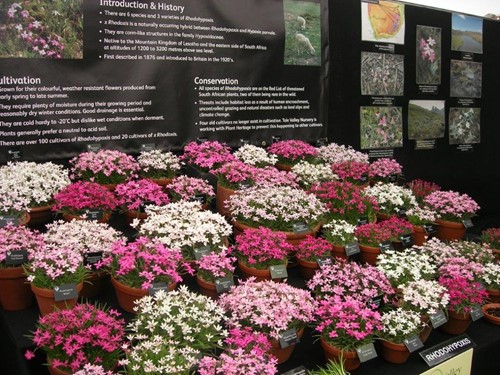 Our display at Hampton Court Flower Show
However as with so many other genera we fear some of the older cultivars will disappear to make room for the newer ones. R. 'Beamish White' and 'Beamish Red' are already lost to cultivation, along with 'Maculatus', 'Major' and 'Giuseppi's Rubra' which also appear to be no longer in cultivation. Hopefully by maintaining our Collection some of the older and weaker growing cultivars which may otherwise be lost in cultivation can be preserved.
Finally we would like to thank Brian Mathew, David Philbey and David Mountfort for their help in providing us with certain information and encouraging our particular interest in this genus.
Chris and Lorraine Birchall own Tale Valley Nursery, based in Devon. They specialise in alpines and in woodland plants, and hold Plant Heritage National Collections of Rhodohypoxsis, x Rhodoxis, and dwarf and miniature standard bearded Iris. They were the RHS Master Grower exhibitor at the RHS Flower Show in Cardiff in 2017, and have won many RHS Gold Medals.