Sage the Saviour
Jo Fox, from Foxplants, on the rare and unusual salvias grown on her nursery. - 29 May 2016
The name Salvia derives from Salvare; to heal or save, with Salvus meaning uninjured or whole, referring to the several species of Salvia with medicinal properties. The Roman scientist and historian Pliny the Elder was the first to use the Latin name Salvia. Pliny commented that ""salvia" of the Latins, [was] a plant similar in appearance to mint, white and aromatic." The genus is distributed throughout the temperate and sub-tropical regions of the world, with temperatures ranging from -18⁰C to 38⁰C. The genus Salvia is complex and rich in diversity for their colour, texture, form and aromatic fragrance. The plant has the truest blues and brightest reds of any group of plants.
With over 1000 species of shrubs, perennials and annuals in the genus Salvia, as an enthusiast, potential collector and grower, I wasn't sure where to begin. I began by establishing Foxplants, a small independent nursery specialising in Salvias.
My passion for these plants really began when I travelled through Mexico to Panama and saw Salvias growing in their natural habitat. My next encounter with the Salvia plant was at Cothay Manor Gardens , where I trained as a WRAGS trainee, later promoted to Head Gardener. The owner and plantswoman Maryanne Robb had been enthused in the past by the former holder of the National Salvia collection – Christine Yeo. I learnt a great deal whilst gardening with Mrs Robb, in particular the importance of planting in relation to the plants habit and natural growing environment. Maryanne grew Salvia elegans and Salvia fulgens during the summer in her beautiful pot displays on the Terrace at Cothay.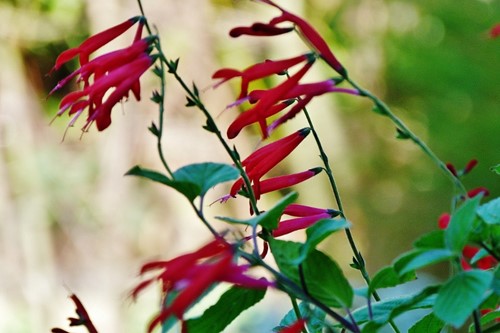 Salvia elegans
Salvia forsskaolii grew in the herbaceous border as did Salvia turkestanica alba, growing amongst Gaura lindheimeri and Verbena bonariensis. Salvia argentea is native to Southern Europe and was grown for its architectural basal leaf, and was planted in the Green Knight Garden. The leaf of this Salvia is densely covered with silky hairs on both surfaces, the tall candelabra bloom has inconspicuous white flowers tinged with white pink or yellow.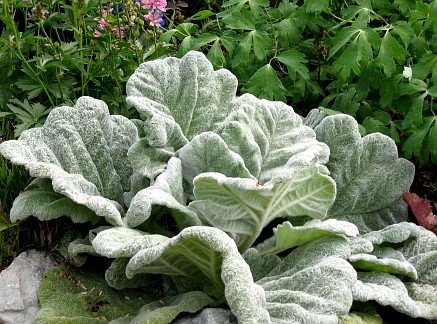 Salvia argentea
Salvia buchananii, one of my favourites, grew in pots in the Courtyard. It was admired, cared for and protected in the greenhouse during the winter. The plant isn't known in the wild but is thought to be of Mexican origin. It's a beautiful Salvia with dark evergreen leaves, rich downy magenta flowers that seem to hang in perfect formation.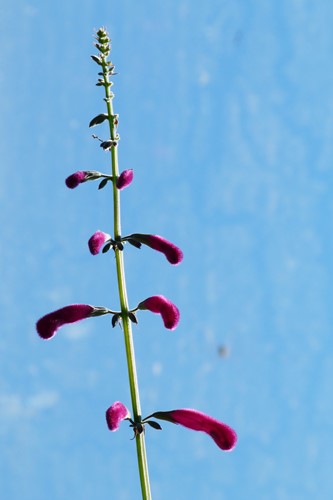 Salvia buchanannii
Salvia flava, another favourite, grew in the small damp shaded garden at Cothay,' Emily's Garden'. Salvia flava is native to the province of Yunnan in China, growing at high altitudes and favours stream banks and gravelly soil. It is a perennial herb with basal like leaves. The flower colour is yellow or yellow – brown with a purple spot on the lower lip. I've found this Salvia to be slow growing and difficult to propagate from seed. Basal cuttings in the spring seem to be more successful.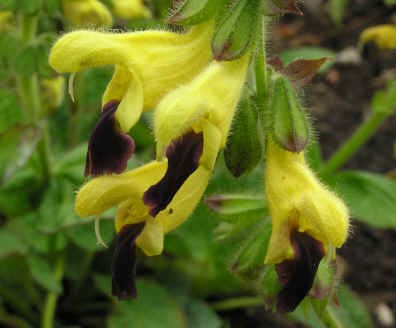 Salvia flava megalantha
Although Salvias have been collected and cultivated in gardens along the French and Italian Riviera since 1899, in the British Isles Salvias as ornamental plants, have only been popularised since the 1970s. At Foxplants I grow in the region of a 100 different species; some are hardy, some are half hardy, whilst others are specimen plants for under glass. The propagation and planting situation for Salvias is very important as it is essential to establish the plants ideal environment. Salvias can be particular, some easy to propagate and grow, others are time consuming and temperamental. I have been encouraged to collect and grow Salvias by a friend and fellow enthusiast plantsman Peter Wadley of Prospect House Gardens, whose garden is a Salvia haven with over 200 species of  Salvia growing in the borders, pots and gravel garden.
The Salvia plant can add such vibrancy, colour, structure and individual interest to a garden contributing to the diversity of the Genus Salvia. For example Salvia macrophylla  'Peru Blue' a giant in the boarder growing to heights of 1.90m with huge leaves and exquisite intense mid–blue flowers. In contrast, Salvia namaensis an evergreen shrub growing to a height of 60cm, it's irregular and very small pinnatifid leaf only 2cm in length and with tiny, delicate, white–pale blue flowers. The flowering period of most Salvias in  the UK is extensive, usually from mid-May to November.
I've mentioned a few favourites, but the list is forever changing. Salvia fulgens remains at the top of the list for sentimental reasons. The Mexican Scarlet Sage, a plant native to the central mountainous region of Mexico. It grows at the edges of oak and coniferous woodland at high elevations. In the UK the plant will flourish in late summer but becomes half hardy in the British climate.
Salvia fulgens
I grow Salvia discolor for its form, contrasts and sculpted appearance; it is grown as an ornamental specimen plant. In the wild, the plant occurs naturally in a small geographical location in Peru. Salvia discolor is a climbing plant. Its habit is scandent and has wiry, white stems emerging from the base. It is tender in the British climate, but can be kept in a pot through the summer months and protected under glass in winter.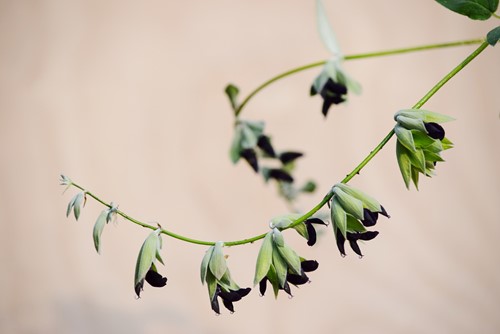 Salvia discolor
Salvia munzii is a beautiful plant, native to Northern Baja, California and Mexico. With large lavender–violet flowers on erect inflorescences and grey-green aromatic foliage, S. munzii excels in semi-arid conditions and full sun. Although not fully hardy in the UK, the plant will tolerate mild winters if partially protected; good drainage is essential.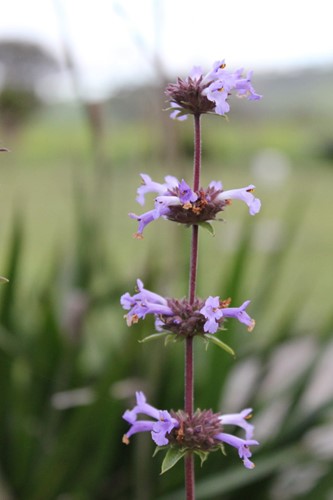 Salvia munzii
Salvia dombeyi, the 'Giant Bolivia',is native to Peru and Bolivia. When I first saw the plant I was completely animated by its flower and exotic appearance. I was given a very sickly looking plant that gave up after a week. My cuttings seemed unsuccessful, the growing season caught up with me and I forgot about it. Last summer I was given another sick S. dombeyi plant, which I nurtured back to health, took cuttings and decided to concentrate on why, when and how the propagation process takes place. In the misting unit, at the back in the corner, the cuttings thrived, rooted and grew. This was the perfect environment. In its natural habitat it grows at altitudes of 9000ft, reaching heights of 20ft. The plant has a beautiful flower and has the largest corolla of the Salvia genus at 12 cm in length. S. dombeyi is a multi-stemmed, woody based climbing plant, a tender perennial in the British Isles.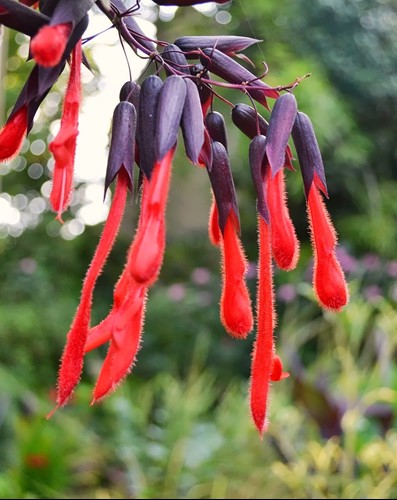 Salvia dombeyi
In ancient Incan culture the plant was used in religious ceremonies to appease the gods, red being a sacred colour. Maybe the Gods are looking down from above, but I can now add Salvia dombeyi to my Foxplant collection. Next on my wish list is Salvia foveolata native to the cloud forests of Haiti and the Dominican Republic, a Salvia that I look forward to growing once the seed becomes available in Europe.
Jo Fox is the owner of Foxplants, a specialist nursery based in Devon focused on salvias and related species.