Scabious : A butterfly's best friend
Jessica Pearce, from Wild Thyme, on these wonderful wildlife-friendly plants - 29 May 2015
Summer is upon us and the garden at this time of year is lush and abundant and (hopefully)overflowing with blooms. Mine is also filled with butterflies but, this is not the case in every garden and whilst we have over 50 native species of butterfly in the UK, unfortunately, these pretty, colourful garden visitors are becoming increasingly rare.  I use some of the many varieties of Scabious to tempt them my way and am rewarded by masses of pretty pincushion blooms well into the autumn and the knowledge that I'm helping protect some of our more endangered wildlife too! 
Here are my top 5:
Field Scabious - Knautia arvensis
The tallest of our native Scabious, growing up to 1 metre in height. The flowers are like flat, pin-cushions surrounded by a delicate frill of soft lavender -mauve petals. Field Scabious flowers all summer long from July to October providing high quality nectar for bees and butterflies and produces up to 50 flowers at a time. Chopping the plant in half with a pair of garden shears in early August will ensure a second flush of blooms that will carry flowers well into autumn. The leaves are an important food source for the caterpillars of the rare Chalkhill Blue butterfly. Perfect in a sunny meadow and delicate and airy in a cottage garden border. Happy in any reasonably well-drained, sunny site but, dislikes very acid soils. Mine grows happily on heavy clay. The flowers are an important nectar source for Meadow Brown, Gatekeeper and Painted Lady butterflies.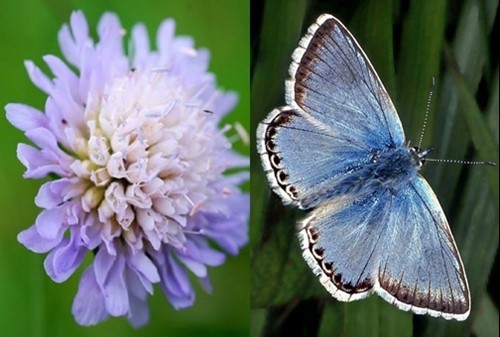 Small Scabious - Scabiosa columbaria
Shorter and more compact than Field Scabious, making it ideal for smaller gardens or towards the front of a flower bed. Large, pale lilac-blue flower heads on slender stems look so pretty next to the silvery foliage of Nepeta faassenii or Artemesia 'Powis Castle' The foliage of Small Scabious is more finely cut, dark green and forms a neat basal rosette. It can be confused with Field Scabious as the flowers are very similar but, Small Scabious is shorter, more slender and less hairy, growing to a maximum height of around 60cm (2ft.) Flowering June to October it would prefer sunny, well-drained site.
All Scabious are part of the Dipsacacae (Teasel) family, so leave some flowers to go to seed to feed the Goldfinches in winter. The flowers of Small Scabious are an important nectar source for the Small Skipper, Small Tortoiseshell and the strikingly beautiful Six Spot Burnet Moth.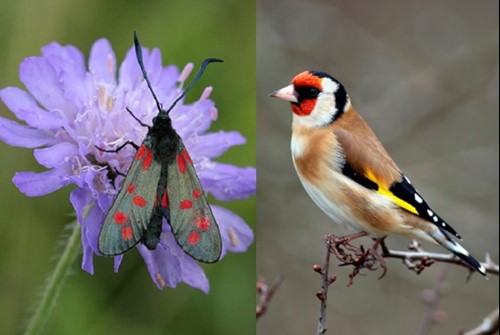 Scabiosa columbaria 'Barocca'
For those averse to the informal nature of the wild forms of Scabious, the cultivated Scabiosa columbaria 'Barrocca' could be the plant for you. Short, compact and with very attractive curled, bright green foliage, they produce stout and sturdy little plants with large, fat pincushions in a fashionable velvety purple-maroon, fading to a berry pink at the edges and flecked with white. The flowers sit neatly atop the foliage on much sturdier stems than any of the other varieties. Perfect at the front of a sunny border or in containers on the patio.  Height and spread 40cm. Deadhead regularly to prolong the flowering period. This variety is particularly susceptible to winter wet. Add a little grit when planting to improve drainage. Scabious make excellent fresh cut flowers and with their sheer abundance of flower, you can always spare a few for the house but, the dried seedheads are very pretty too, and resemble furry Sea Urchins.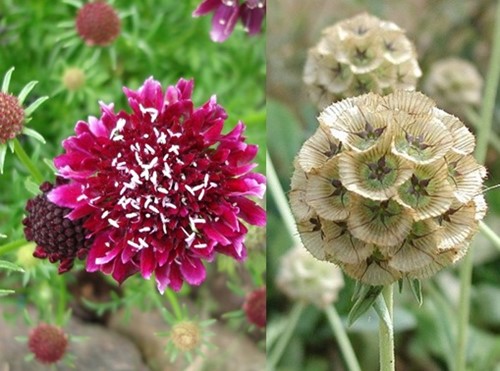 Devil's-bit Scabious – Succissa pratensis
Most Scabious prefer a well-drained site in full sun on a neutral or slightly alkaline soil as they are natives of chalk downlands and dry meadows, but Devil's-bit Scabious is different. A native of woodland rides, damp meadows and marshes, Devil's-bit Scabious would prefer a damp site (it will tolerate dry) on neutral to slightly acid soil and will tolerate some shade too. Slightly smaller, more rounded flowerheads are a much darker violet-blue than the field Scabious and whilst in the wild they may only reach a few centimetres on grazed or poor soils, will reach up to 60cm on richer soils. The name scabious comes from the Latin Scabere meaning 'itch' and refers to its old medicinal uses to treat Bubonic plague, various skin disorders and even unwanted freckles! The legend has it that the devil, angry at the plants ability to cure these ailments, bit off the roots in an attempt to kill it. The plant has short, black roots which end abruptly, as though bitten off, hence the name Devil's-bit Scabious. The flowers are an important food source for the rare and declining Marsh Fritillary butterfly – listed as a Priority Species in the UK Biodiversity Action Plan. Flowers July – October.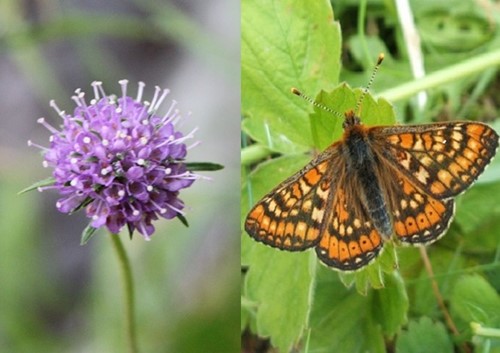 Giant Scabious – Cephalaria gigantea
Growing to a height of just over 2m (7ft in old money) this Scabious is perfect at the back of a sunny border or for weaving through shrubs. Giant, two inch wide, primrose yellow blooms look so pretty and add height and informality to a cottage garden. Stems are still slender and this plant would benefit from a willow tripod or a few rustic sticks to hold it up on exposed, windy sites. Flowers June – August in sun or part shade.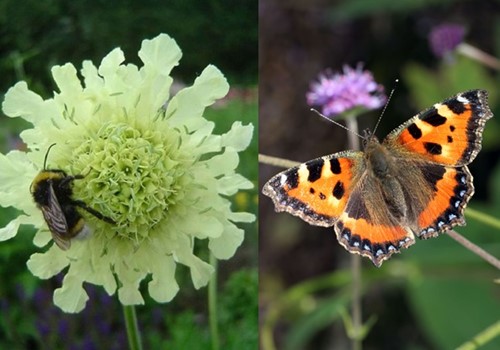 Attracting butterflies: Top tips
Plant in sun – Most Scabious prefer full sun anyway but, butterflies certainly do. Adult butterflies need the sun for orientation and to warm their wings for flight. Plant nectar-rich blooms in a sunny spot in the garden for maximum visitors.
Say no to insecticides – We all love butterflies but, in order to keep them in our gardens we need to turn a blind-eye to the odd caterpillar-nibbled leaf. Most caterpillars will only munch the odd hole and it's worth it in the long run.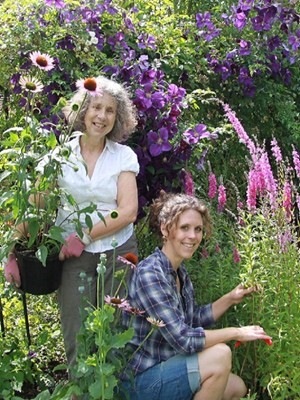 Monica Ashman and Jessica Pearce are co-owners of Wild Thyme, which specialises in wildflowers and fragrant perennials and shrubs. All the different Scabious mentioned here and many other plants for attracting butterflies, bees and other pollinators to your garden can be found in their online shop.
Website: www.wildthymeplants.co.uk.