The Gardens at Pyt House
Virginia Von Celsing, owner of Pyt House, outlines the development of the beautiful gardens at Pyt House, which are still only ten years old. - 29 May 2015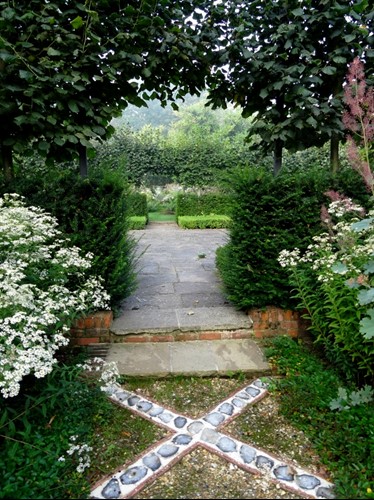 Pyt House sits at the bottom of the north Berkshire Downs in an Area of Outstanding Natural Beauty.  The house was originally a small farmhouse in the 15th Century, added to in the 18th Century, and the rear of the house was added to in the 1930s.   The house itself is not open but is surrounded by 4 acres of garden that has mainly been constructed in the last ten years.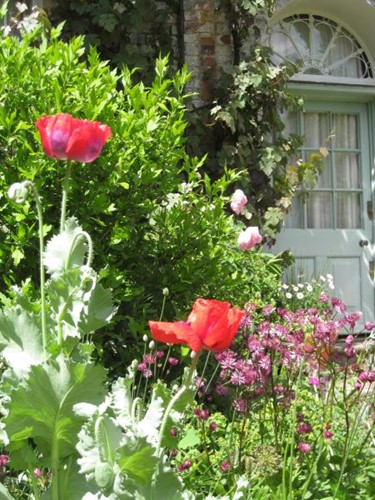 There were always some good trees, beech, lime and oak, and an apple walk planted in 1947, but apart from that not much else.  I started with the large terrace area in front of the house, planting yew hedges and pleached limes, and moved outwards towards the fields.  I always used the smallest yew and beech hedging plants available, and you will be able to see how well it has matured in ten years.The terrace borders in front of the house consist of perennials, roses, hibiscus and a few shrubs.  Below this are four iris beds, leading down to wilder areas where I have let the formerly mown lawn grow wild, with paths mown through it to the orchard.  At the far end is a wildlife pond again constructed only six years ago.  Different primulae have hybridised, and lots of wildlife has made itself at home here.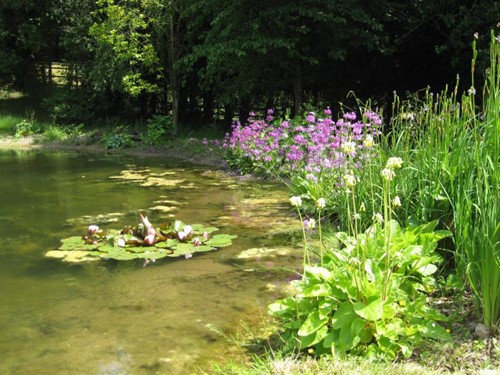 On the east side of the house near the barns, a formal garden with herbaceous borders is laid out, under whitebeam (Sorbus aria lutescens).   There is also a formal pond surrounded by a holly hedge and a small spring garden.  Elsewhere in the garden you can find a small walled garden, a gravel garden as well as a vegetable area.  Bees are kept in the field below which pollinate the garden, and there are also chickens.  The garden is totally organic except for paths that are sprayed.  The roses, and all other plants, are never sprayed.