The Plants I Would Never Want to be Without (but sometimes have to be!)
In the second of our 'Desert Island Plants' series, Louise Mitchell, from Mrs. Mitchell's Kitchen & Garden, shares her selection of plants that are very important to her. - 10 August 2018
I have been lucky enough to live and garden on two sides of the Atlantic and on a beautiful tropical island; but like most people, I suspect, the plants I love and cherish come mostly from childhood memories and family tradition. Chief among these must be the paeony, which I seem to be returning to in my maturity, as our little nursery grows more and more varieties.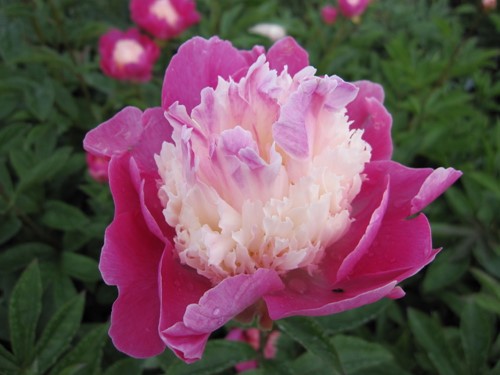 I grew up in a big old house (once used as an apple-packing shed and icehouse) in the rural Hudson Valley of New York State.  Outside our dining room window was a huge bank of paeonies.  Nobody ever took any care of them, but each May they produced a wonderful display of gorgeous, heavily scented flowers which completely captured me.   I used to pick great bunches for my Grandmother to put around the house and festooned my poor horse with them and paraded her around the driveway. Sadly, no picture of the peonies has survived, but the house itself was magical!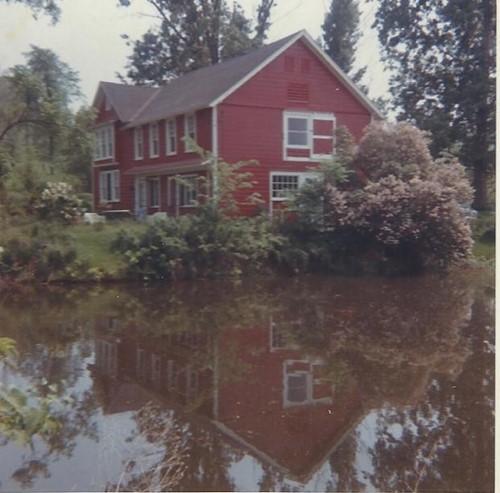 The next of my "favorites" is a plant which I have only recently found – the hardy garden Chrysanthemum.  When my Husband and I returned from living in the West Indies, I tried to develop a garden that had colour throughout the growing season.  At first I fell in love with the rich Autumn colours of the Michaelmas Daisy which blooms happily away all through September and October. I still grow many varieties both in the ground and in pots that I move around to places that need a bit of a lift when all the other plants die back.  But the Chrysanthemum takes what the Michaelmas Daisy does even further.  It has the same rich Autumn colours, is perhaps even easier to grow and flowers happily, through whatever weather from September right into November, or even December.  I grow it in much the same way – both in the ground and in pots and fill the house with its lovely blooms.  I have had plants flowering outdoors on Christmas Day!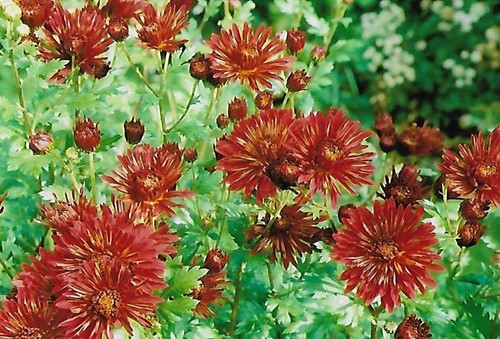 Which brings me to the one exotic entry on this list!  On the island of Nevis, where we lived so happily when we were first married, a miracle used to take place every year just before Christmas.  A bunch of straggly sticks outside our kitchen door would suddenly burst forth into the most beautiful flowers – a red poinsettia and a bush which the Nevisians called "Bajan Snow". The Bajans themselves call it "Snow on the Mountain".  Botanically, I believe it is a type of Euphorbia (E. leucocephala) as is Poinsettia itself.
The lovely combination stood proud throughout the holiday season, until finally in March our gardener, Stanley, would come with his machete and chop them off at ground level.  For the remainder of the year we would not even notice them, until suddenly the next December there they would be again in all their glory.  Sadly, this combination that I would not want to be without is not something that I can grow in my English garden.  It can be approximated with store-bought plants; but it's not quite the same as glorious 6 ft specimens appearing magically outside your door!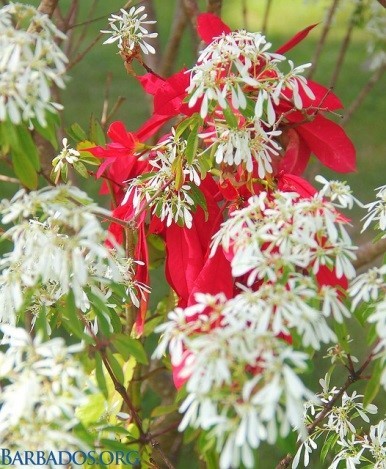 My final two "favorites",  have intensely personal family reasons for my loving them.  Of these, the one vegetable on my list is a climbing bean known as "Cherokee Trail of Tears".  In the 1820's and early 1830's, the State of Georgia in the American South made the decision to expel the native Indians – the Creeks and the Cherokees – to designated "Indian lands" West of the Mississippi and open up their lands in Georgia for white settlement. The efforts went on and on.  The Creeks were successfully removed first but the Cherokee resisted. One early Spring in the early 1830's it was finally decided to use troops to force them to march West   My ancestor, Matthew Hall McAllister, Mayor of Savannah and at various times State Attorney General and State Senator took up their cause and although he could not prevent this shameful incident, he managed to prevent their removal until they had been able to bring in their harvest of corn (maize) and beans – Cherokee Trail of Tears beans.  On the long march West a huge percentage of the tribe died, mostly the young and the aged, but those who survived at least had food, and seed in hand to plant again.  I have been told that there are still a good number of Cherokee Indians who have taken the name McAllister!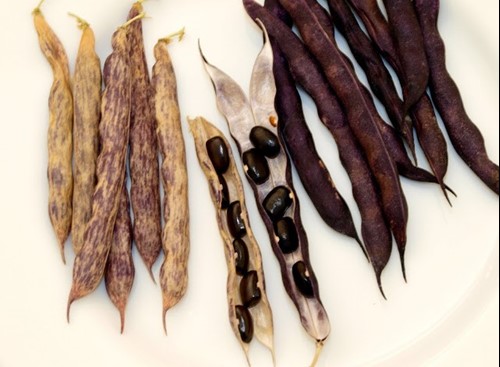 And finally, the plant that I would never, ever be without!  On the day that I was born – 3 November 1945, a neighbour gave my Grandmother a tiny cutting of a plain ordinary Christmas cactus.  She grew it on, I grew it on.  I gave cuttings of it to all my friends, I carried bits of it to the West Indies.  I carried it back to England with us when we came home.  Last year it got some sort of nasty pest and I really thought I was going to lose it – having not been too well over the last few years, I was seriously worried that if it died I would too!  But we both have survived!  It hasn't flowered since its recent resurrection – it's just a single coral-red flower – but its doing very well!  Perhaps at Christmas it will show its colours!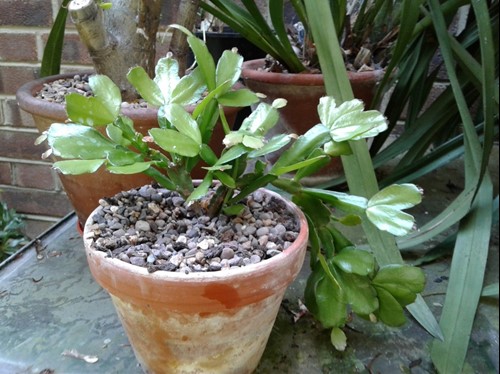 Louise and Julian Mitchell run Mrs. Mitchell's Kitchen and Garden, a small nursery based near Salisbury, specialising in cottage garden perennials, especially hardy geraniums, phlox, Michaelmas daisies. They also make yummy jams and chutneys!