The Walled Gardens of Cannington
Jayne Alcock, Grounds & Gardens Supervisor at The Walled Gardens of Cannington, with an introduction to our new host garden in Somerset. - 23 June 2017
The Walled Gardens of Cannington have a rich history which dates back to 1138 when Cannington Priory was first established by the De Courcy family, lords of nearby Stogursey village. More recently the priory and its grounds have been used for educational purposes serving the county of Somerset and beyond. In 2008 Cannington College and Bridgwater College merged and funding was received and some was used to redevelop the Walled Gardens. The garden is a wonderful resource for students, with various garden styles featured, both classic and contemporary, including a 'hot' Herbaceous Border, Blue Garden, Sub-Tropical Walk, Australasian Garden, Potager and Dry Garden. Students have the opportunity to learn invaluable skills as they work alongside trained horticulturalists. Make no mistake though, this is a garden that has a high standard with the garden open to the paying public, preparing students for their future careers in skills such as plant husbandry, garden design and business development. The gardens are a true delight for plant geeks and features two newly acquired Plant Heritage National Collections of Santolina and Deschampsia.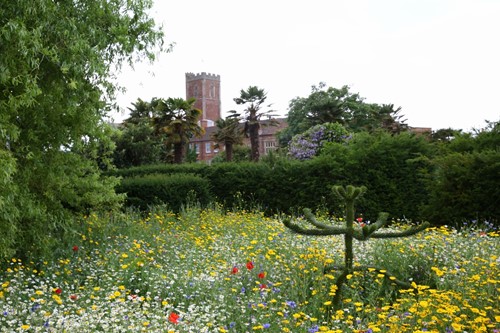 For many the piece de resistance is the botanical glasshouse. It was installed at a cost of £500,000 and covers 1088 sq m. Visitors can view the areas where plants are propagated and grown on for sale, including an automated misting system for cuttings and heated benches for seed germination. The glasshouse is divided into climatic zones which are automatically controlled via a computer. This means that there are distinct botanical zones where plants from all over the world can be admired.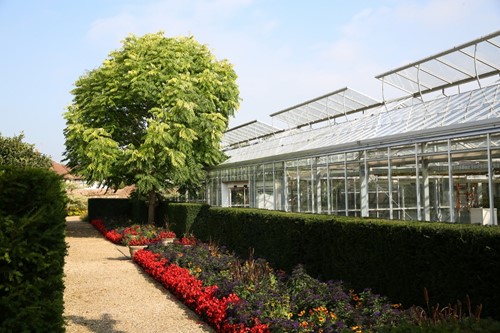 The Tropical zone features one of the highlights of the whole garden, the jade vine (Strongylodon macrobotrys). The specimen has thrived in the humid, 22 degree atmosphere since it was received from Kew Gardens. It is rare in cultivation and endangered in its native Philippines due to deforestation. It has the most exquisite, almost other worldly jade-green flowers which cascade down from the roof. It is in the legume family and is pollinated by bats. Its inflorescence can contain up to 75 individual flowers and reach up to 3 metres in length!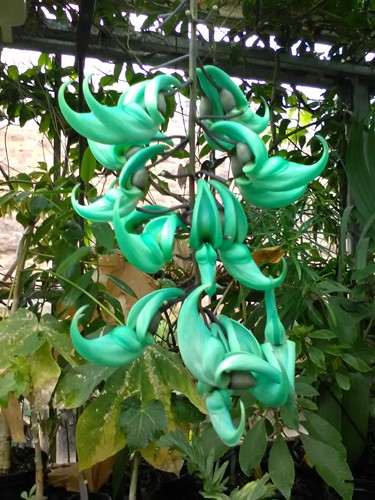 The arid zone is a delight for lovers of succulents, cacti and all manner of prickly things. An impressive collection features the tequila agave (Agave tequilana), which produces a high amount of fructose that is used to make the famous Mexican drink. The team at the Walled Gardens are currently working with expert Tony Irons and the British Cactus & Succulent Society to extend its collection. A recent addition is a 10 foot Cereus which has been generously donated, making an interesting journey from nearby Wells! A living stone (Lithops spp.) collection was also donated to the college, one of a number of people who are keen to share their passion and encourage the next generation into horticulture by sharing their plants and knowledge. The gardens and its visitors benefit as many species are displayed which are rare and unusual.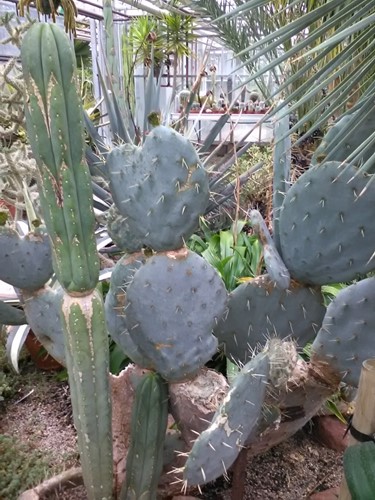 The first thing that catches your eye as you enter the Mediterranean zone is the wonderfully gnarled trunk of an olive tree which is over 100 years old. Originally from Spain, this was the first plant brought into the glass house after it was built. A forklift truck delicately placed this beauty into its chosen spot ten years ago and it looks like it has been there forever. Close by is the squirting cucumber plant (Ecballium elaterium). It is much loved by children as they can observe its impressive method of seed dispersal by 'shooting' each other! When its fruit is ripe, it explosively squirts a visible stream of a thick, gluey substance that contains its seeds. This is a plant that travels fast, each seed can travel up to 6 or 7 metres!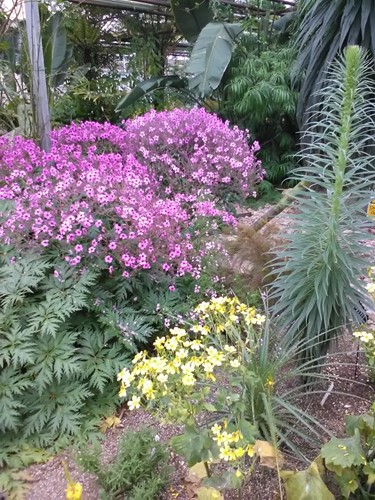 The subtropical zone brings a more humid growing atmosphere, with tree ferns ( Dicksoniana spp. and Cyathea spp.) and birds of paradise (Strelitzia reginae and Strelitizia nicolai) setting the scene, immediately transporting your mind to foreign climes. For those whose favourite tipple is not tequila they can view the plant that provides the much loved cup of tea – Camellia sinensis. There are many plants with economic importance in all of the zones, including medicinal, with tea tree (Melaleuca alternifolia) growing in the subtropical zone. This small tree's leaves contain an essential oil which is both antifungal and antibacterial and has a wonderful fresh antiseptic scent. Close by is a collection of twenty five citrus trees, including the largest lemon cultivar, 'Ponderosa', coveted by many visitors for their beverages!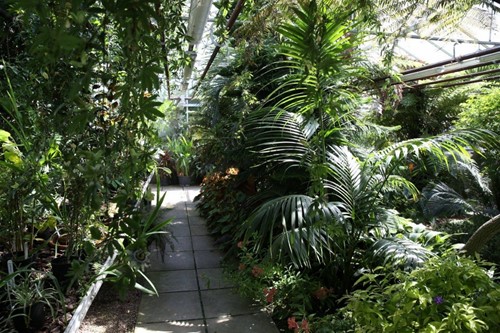 In 2015 an aquaponics system was installed in the glass house. This is a combination of hydroponics, the growing of plants without soil and aquaculture, the farming of fish. Visitors can see the Tilapia fish and various crops being grown in symbiotically. The ammonia excreted by the fish is converted into nitrates which are used as a feed by the plants. This system of farming was used by ancient Aztecs and Egyptians, more recently interest has resurged as a way of feeding people in areas where it is challenging to farm, for example in developing countries and densely populated urban areas.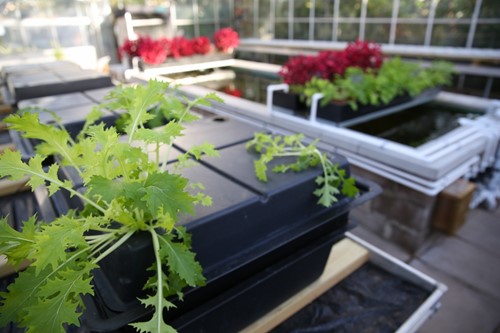 This truly is a garden that is ever developing and works closely with community groups, as well as achieving its primary aim of being a dynamic, real life learning experience for students ensuring they are industry ready when they leave their course. In 2017 an art trail for children, known as 'Upcycled Art' and a newly created 'Sustainable Garden' have been introduced. The trail features pieces by a local engineer who collects unwanted and unloved objects and reassembles them to create an alternative usage for them.
The staff work closely with Cannington in Bloom who are entering the national Britain in Bloom competition this year, providing plants and technical knowledge to the group, supporting them to achieve that all important 'wow factor'. The college also works collaboratively with Seed of Hope, a Community Interest Company providing recovery based horticultural therapy to people experiencing mental health problems.
The ethos at the Walled Gardens of Cannington is inclusivity and learning. Everybody is welcomed with a smile, and given the opportunity to marvel at a wide variety of plants as well as experience a moment or two of peace and calm in an ever busy hectic world.
For more details of The Walled Gardens of Cannington, visit their website at www.canningtonwalledgardens.co.uk