Welcome to Rare Plant Fairs 2018!
Once we get hooked on gardens and gardening, we all become fascinated with new and unusual plants. Whether we specialise in collecting a particular group of plants such as roses, snowdrops, irises, etc., or are just interested in anything that is rare or novel, we're constantly on the lookout for that special plant. However, finding the plants that we need or want (not always the same thing!) is not always easy. The best sources are the many specialist growers and nurseries around the country, but many are based in remote locations, or may not be open regularly (or at all) to the public at their home sites. So how can these nurseries and the avid gardeners desperate to buy their plant be brought together? The solution lies in Rare Plant Fairs, held throughout the growing season from March to September.
Now in their 24th season, our fairs are held in beautiful and prestigious gardens, making a day out at one of our fairs a really enjoyable experience for everyone, whether a novice or experienced gardener. Relax and enjoy refreshments, often homemade, at all of our venues. 
At every one of our fairs there is the opportunity to buy interesting and unusual plants from our nurseries, all of whom are genuine growers dedicated to offering you well-grown plants and advice on the plants they sell. The admission fee for each of our Fairs is a combined package and includes access to the Fair and Gardens, and the price is generally the same as the normal admission fee for the garden only.
Our Gardens
All of our fairs are held at beautiful gardens, a number of which are not frequently open to the public. Each garden has its own unique character, some with histories stretching back centuries whilst others are more recent. Our gardens are regularly featured in the gardening press and on television.
We are pleased to be holding 13 fairs in 2018, across the South and South West of England, South Wales and the West Midlands.  For full details of our fairs click on the links at the left of the page.

Visitors to our Fairs at Hanham Court and The Walled Garden of Cannington in 2017 will know that we experienced some teething problems with the parking at both of these events. We're sorry for these issues, but we're pleased to let you know that these have been resolved for the 2018 Fairs, and full details of the arrangements are available on the Fair pages. 
Our Nurseries  
We carefully select our nurseries to ensure that they are genuine growers who produce most or all of the plants that they sell themselves. The nurseries that exhibit at each fair are chosen so that we can offer the widest possible range of plants to our visitors, including perennials, shrubs and trees, alpines, bulbs and exotic plants. 
All of our nursery owners are experts in the plants that they grow, and some are National Collection holders. They are all always happy to offer all the advice that you need to select and grow the right plants for your garden. And don't forget that all of our nurseries are happy to bring pre-ordered plants to the fairs that they are attending, so don't forget to visit their websites to see what they can offer!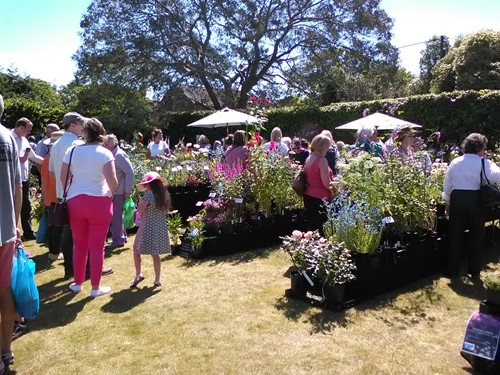 At some of our fairs we also have exhibitors offering garden-related products and services, such as plant supports, garden tools and implements and garden sculpture.
Click on the 'Our Nurseries' link at the  this page for a complete list of the nurseries and other exhibitors coming to our Fairs. Additionally, a list of the nurseries attending each individual event can be found on the page for each fair.