Welcome to our 2021 Programme of Specialist Plant Fairs!
It's fair to say that the 2020 plant fair season was the most challenging that we have ever had in the 26 year history of Rare Plant Fairs. Our programme was severely disrupted by the impact of the COVID-19 pandemic, and we were only able to run 3 of the planned 13 events during the year. On a positive note, we were delighted that the three fairs that did take place were very successful, and safe, and gave us the confidence to know that we can run both safe and enjoyable Fairs moving forward.
We are pleased to now confirm that our revised programme of 12 events for this year will now all be going ahead. We have plans in place to run the fairs in a COVID-safe way, and for all events up until July 25th admission will be by advanced, timed ticket. Tickets can be booked via the links on each of the individual event pages. Ticket sales are live for all events up to and including Highnam Court on July 25th.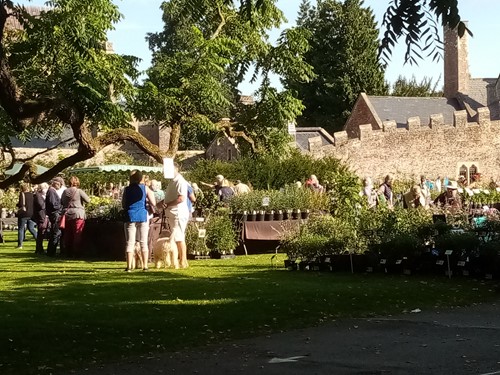 For our September Fairs, we have differing arrangements in place for each of the Fairs, consistent with the preferences of our host gardens.  For all fairs, you may book your tickets in advance if you prefer to do so. The detailed arrangements are as follows:
September 5th - Adwell House, near Thame 
ENTRY TO THE FAIR IS BY PREBOOKED TICKET only for arrival from 11am until 1pm. Visitors may pay at the gate from 1pm onwards with no need to prebook. 
September 12th - The Bishop's Palace, Wells, Somerset 

Prebooked tickets are available 
September 19th -  Llanover House, near Abergavenny
ENTRY TO THE FAIR IS BY PREBOOKED TICKET only for arrival from 11am until 1pm. Visitors may pay at the gate from 1pm onwards with no need to prebook. 
September 26th - Evenley Wood Gardens, Nr. Brackley, Northants
ENTRY TO THE FAIR IS BY PREBOOKED TICKET only throughout the day
Please visit the individual event pages for full details and for the ticketing links.
Whilst we hope that there will be no further changes to Government guidelines after July 19th, we can't rule this out, so please check back regularly to this website for the most up to date information. We'll also be keeping you updated via our social media platforms on Facebook, Twitter and Instagram, and via our regular monthly newsletter that will be sent out monthly through our season starting in February/March. If you're not already signed up for our newsletter, why not do so now via the link at the bottom of this page?
For more details on how we make our events COVID safe, please visit our Coronavirus Information Page.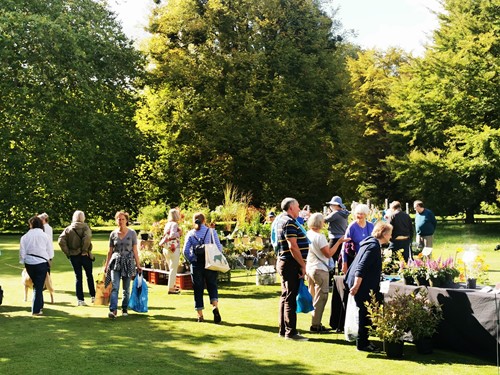 If there is one positive note from the year that has just passed, it is that we all appreciate the value of our plants, our gardens and the great outdoors more than ever before. We're therefore delighted to be able to offer you a full programme of events in 2021 so that you can enjoy the beautiful and unique gardens that play host to our Fairs, and buy interesting, unusual and, above all, superbly grown plants, and other garden products, from our fantastic specialist nurseries and exhibitors.
Our Fairs
Once we get hooked on gardens and gardening, we all become fascinated with new and unusual plants. Whether we specialise in collecting a particular group of plants such as roses, snowdrops, irises, etc., or are just interested in anything that is rare or novel, we're constantly on the lookout for that special plant. However, finding the plants that we need or want (not always the same thing!) is not always easy. The best sources are the many specialist growers and nurseries around the country, but many are based in remote locations, or may not be open regularly (or at all) to the public at their home sites. So how can these nurseries and the avid gardeners desperate to buy their plants be brought together? The solution lies in Rare Plant Fairs, held throughout the growing season from March to September.
All the events are held in beautiful and unique gardens, offering the visitor the complete horticultural day out, for novice or experienced gardeners alike. The original idea remains as good as ever, with the Fairs continuing to be extremely popular with nurseries and gardeners alike. You can also relax and enjoy refreshments, often homemade, at all of our venues, although arrangements for 2021 will be dependent on the Government restrictions in place at the time of each fair.
At every one of our fairs there is the opportunity to buy interesting and unusual plants from our nurseries, all of whom are genuine growers dedicated to offering you well-grown plants and advice on the plants they sell. The admission fee for each of our Fairs is a combined package and includes access to the Fair and Gardens, and the price is generally the same as, or less than, the normal admission fee for the garden only.
Our fairs are mostly held in rural locations, where mobile phone signals for card machines may be unreliable, so don't forget to bring plenty of cash (and your cheque book, if you still have one!) with you! And to try to reduce plastic waste, please bring reusable bags, boxes, trolleys etc. for your purchases.
Please Click on any one of the fairs in the list at the side of the page to find full details of the event and a list of the nurseries and exhibitors attending. 
Our Gardens
All of our fairs are held at beautiful gardens, a number of which are not frequently open to the public. Each garden has its own unique character, some with histories stretching back centuries whilst others are more recent. Our gardens are regularly featured in the gardening press and on television. Our Fairs are held across the South and South West of England, South Wales and the West Midlands.  
Our Nurseries  
We carefully select our nurseries to ensure that they are genuine growers who produce most or all of the plants that they sell themselves. The nurseries that exhibit at each fair are chosen so that we can offer the widest possible range of plants to our visitors, including perennials, shrubs and trees, alpines, bulbs and exotic plants. 
All of our nursery owners are experts in the plants that they grow, and some are National Collection holders. They are all always happy to offer all the advice that you need to select and grow the right plants for your garden. And don't forget that all of our nurseries are happy to bring pre-ordered plants to the fairs that they are attending, so don't forget to visit their websites to see what they can offer!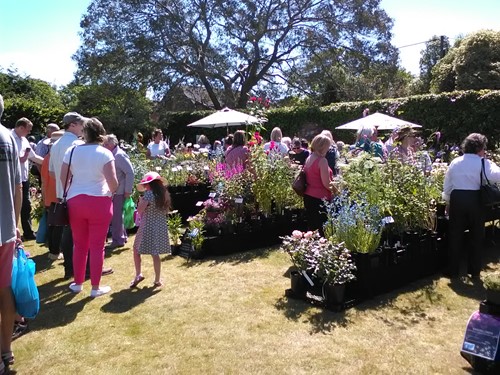 At some of our fairs we also have exhibitors offering garden-related products and services, such as plant supports, garden tools and implements and garden sculpture.
Click on the 'Our Nurseries' link at the  this page for a complete list of the nurseries and other exhibitors coming to our Fairs. Additionally, a list of the nurseries attending each individual event can be found on the page for each fair.
Sign Up to our Mailing List
Keep up to date with all our news about Rare Plant Fairs by signing up to our e-mail mailing list. Our newsletters contain all the latest information about our fairs, together with fantastic articles written by our nursery owners and the owners and Head Gardeners at our host gardens.
We will send you a newsletter at the start of the season with a reminder of all the season's Fairs, followed by further monthly newsletters during the Fair season. Exceptionally, we may also send e-mails if we have to make any major changes to the arrangements for an individual fair.
Please sign up using the form below; as an additional security measure you will be sent a follow up e-mail for you to check your details and confirm your subscription. We do not share your information with any third parties; should you decide in the future that our newsletters are not for you, you may unsubscribe at any time using the link at the bottom of the newsletter e-mail.

Click here for full details of our Data Protection and Privacy policy.