A Year in Our Garden
Ian and Teresa Moss, from Rare Plant Fair, on the highlights from their garden in 2016 - 09 September 2016
One of the consequences of retiring from the nursery business this year is that we've had much more time to spend in our own garden. Like many in the nursery trade, we found it difficult to get out into it much during the growing season; we often missed our favourite plants in flower, or didn't get the opportunity to complete the projects that we had planned, and we were too often playing 'catch-up' on maintenance jobs. All that has changed this year, and we've had the chance to really enjoy our garden for the first time for many years. We've planted unusual and interesting plants throughout the garden, either 'liberated' from our own nursery stock, or bought from other specialist nurseries (often at Rare Plant Fairs!), so we thought we'd share some of the best with you in the hope that it will provide some inspiration for your own gardens.
Our Herb Garden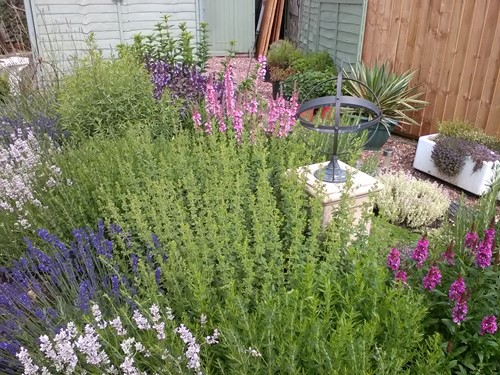 It may be a bit of a surprise, given our long involvement in growing herbaceous plants, that we've chosen this first. However, herb growing was responsible for getting us into the nursery business; Teresa worked on an organic herb nursery for a season about 15 years ago and this provided the inspiration for starting our own business. Although we haven't grown herbs for sale for some years, we still love them and were determined to have an herb bed in our current garden. We planted it in mid-2015 using some plants we already had, but many bought from Rob and Kim at The Cottage Herbery and from Pepperpot Herbs and it has been a great success. The most important thing to remember about herbs is that they are, first and foremost, beautiful and ornamental garden plants, and worthy of a place in any garden. They are fantastic for pollinators, too, and this bed has been awash with bees, hoverflies and butterflies right the way through the summer. All of them are good, but probably the winner in terms of insect popularity has been Origanum 'Hot'n'Spicy', which has been alive with pollinators for months. It tastes good too!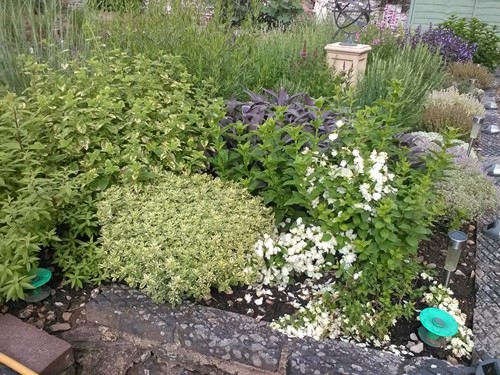 Our herb garden in June
Spring Favourites
Herbaceous perennials are our passion, and provide the lion's share of our planting. The spring perennials all started a bit late this year, but gave a fantastic display. One of our main spring plantings combines Brunnera, Dicentra, Geum and Mertensia, together with the Geranium phaeum section of Teresa's Geranium collection. We love this part of the planting and for us the highlights are the wonderful Dicentra 'Spring Magic', together with Geranium phaeum varieties 'Springtime' and 'Lavender Pinwheel'.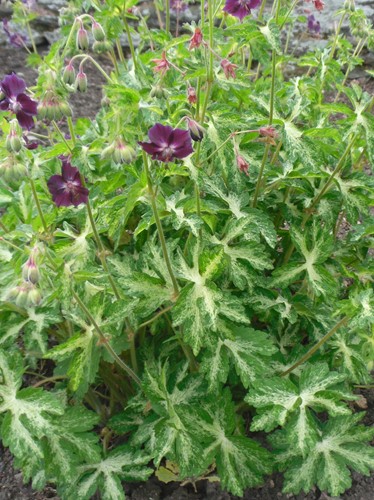 Geranium phaeum 'Springtime'
Elsewhere, we would not be without the early flowering Veronica teucrium ssp. teuchrium 'Crater Lake Blue'. Growing to about 18 inches, in late May and early June it is smothered in true, electric blue flowers in a shade not often seen. Hardy and easy to grow, it should be better known than it is.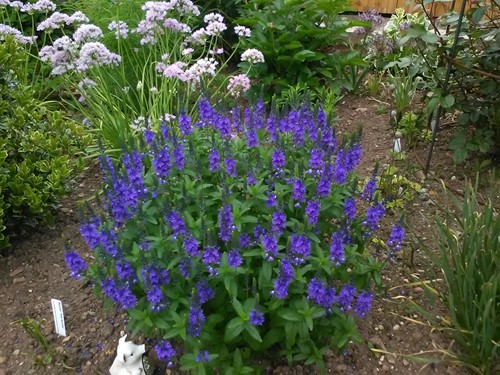 Veronica teucrium ssp. teucrium 'Crater Lake Blue'
Also fabulous, not only in the spring but throughout the summer, have been our two Galega x hartlandii, 'Alba' and 'Lady Wilson'. Both started flowering in mid-May and are only just starting to run out of steam now, and have the added bonus of coconut-scented flowers.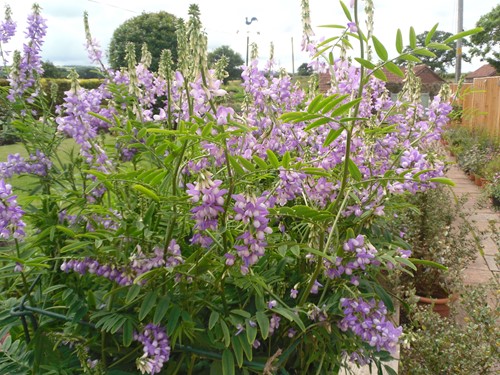 Galega x hartlandii 'Lady Wilson'
We bought these from two of our Rare Plant Fair nurseries, Oska Copperfield and Wild Thyme respectively.
Fantastic Foliage
Variegated plants are not everyone's cup of tea; in our view their success (or otherwise) depends on how well the flowers and foliage work together. In one of our borders we've dotted silver-variegated plants along the border to help link the planting together and provide rhythm through the scheme. All of them combine foliage and flower beautifully, but probably the best of the bunch is Eryngium planum 'Jade Frost'. The young foliage is edged pink, and the flower bracts as they emerge are also silver variegated and contrast beautifully with the blue flowers when they open. It's wonderful throughout the spring and summer and only now at the beginning of September are the flowers just starting to go over.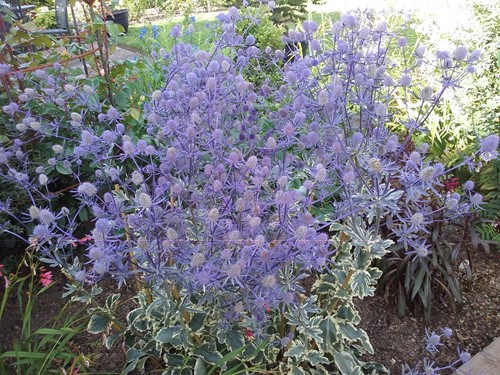 Eryngium 'Jade Frost'

The other silver variegated plants in our border are Knautia 'Thunder and Lightning', which combines superbly with the dark-leaved Penstemon digitalis 'Dark Towers', and the mock orange Philadelphus 'Innocence' (from Green's Leaves), which has a very strong scent.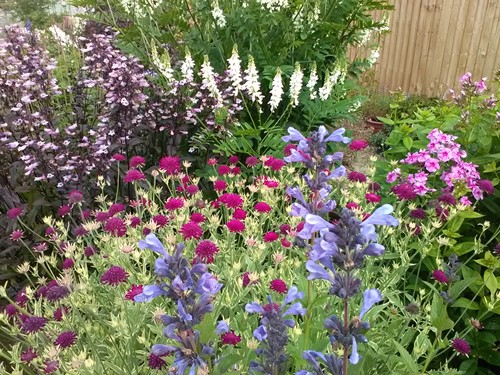 Knautia 'Thunder and Lightning', with Penstemon digitalis 'Dark Towers', Galega x hartweggi 'Alba' and Nepeta 'Blue Dragon'

The Hot Border
Our main project this year has been the planting of a new hot border, inspired by the Hot Garden at Rosemoor. The soil in this part of the garden is the worst we have, and took some effort over the winter to improve it, culminating in the addition of 4 tonnes of composted green waste in late May. We have planted this with late summer perennials and grasses with flowers in shades of red, orange, purple and yellow. It's all still looking a bit 'new' and needs to fill out, a process not helped by the minute amounts of rain we've had since May, but already there are some stars. The best of the grasses has been Pennisetum orientale 'Karley Rose', which is stunningly beautiful.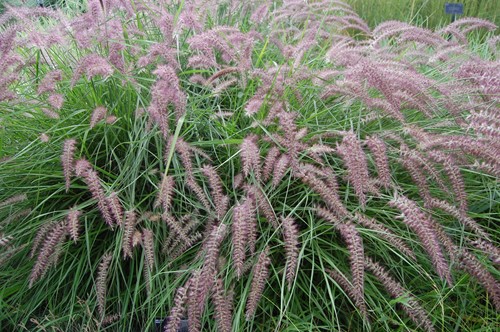 Pennisetum orientale 'Karley Rose'
We've used three heleniums; 'Mardi Gras', 'Salsa' and 'Siesta' (no Rio 2016 theme, honest!) of which the best so far is undoubtedly 'Mardi Gras'. We also have three Kniphofias which have settled in very quickly, and which have surprised us with the length of their flowering season; the best of these are 'Timothy' and 'Mango Popsicle' (a lovely plant which highlights the dangers of letting Americans loose on plant names…). These are combined with Achillea, Rudbeckia, Inula, Symphiotrichon and Sedum, and are backed by the wonderful Macleaya 'Spetchley Ruby', which looks fabulous with the evening sun shining through the red, foamy flowers.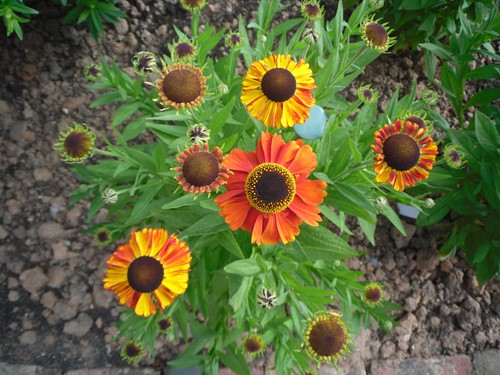 Helenium 'Mardi Gras'

Salvias
So we're already getting near the end of our allotted space and we haven't even mentioned Teresa's Geranium collection (over 70 varieties, about which you can read in another article on the website at http://www.rareplantfair.co.uk/news-and-articles/hardy-geraniums/ ), or our new Sanguisorbas, from the National Collection at Avondale Nursery, but we can't leave without mentioning our Salvia collection, now up to 95 varieties. Ian is completely obsessed by them, with their fantastic range of colours and sizes. It's difficult to choose just a few from the collection to mention, but we particularly like Salvia 'Theresia', a new hybrid introduced from Argentina, not only for its almost perfect name but also its beautiful flowers. It is a paler flower than the similar S. 'Amistad', and for us this year has made a shorter, more compact plant just covered in flowers throughout the year.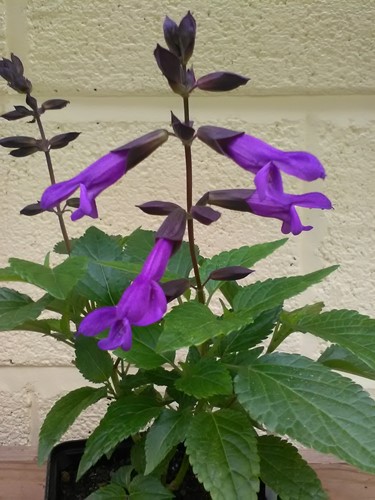 Salvia 'Theresia'
We also love S. oxyphora for its unusual, furry flowers, quite different to any other in our collection. Finally, our newest favourite is S. darcyii, a clump-forming perennial from Mexico that is hardy in well-drained soil, at least in the south of the UK. All of these were sourced from Jo Fox at Foxplants in Devon, but others have come from Dyson's Nursery in Kent and from Wildwood (Oxfordshire). We also swap a lot with Colin Roberts, a fellow Salvia enthusiast, who is Head Gardener at Adwell House.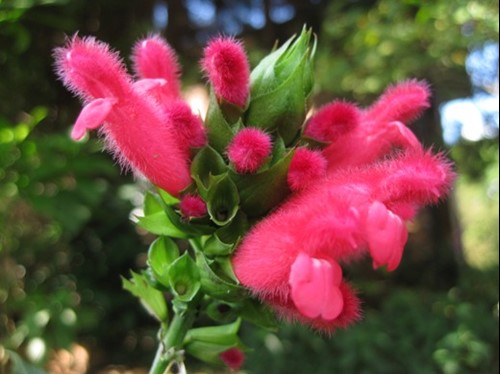 Salvia oxyphora
We hope that you've enjoyed this brief tour around our garden. And you may have noticed that we've tried to mention the nurseries from which we've bought the plants we haven't grown ourselves, because that has been the other great pleasure of this year; buying our plants from fantastic specialist nurseries, who are as passionate about their plants as we are.
Salvia darcyi
Ian and Teresa Moss are retired nursery owners and organisers of Rare Plant Fairs. But as obsessive, compulsive gardeners, you may occasionally find us at some Fairs selling the surplus plants (all interesting!) from our own propagation!