Desirable Delphiniums
Graham Austin, from Home Farm Plants, on the best delphiniums for the herbaceous border. - 19 June 2015
It's mid summer and perennial borders all over the country are bursting at the seams with plants and colour.  At the back of many of those borders there are a group of plants that have been pushing up thick strong stems since late winter and are now producing tall flower spikes, all standing to attention demanding you look at them, and yet all the colours blend together perfectly.  Not one standing out like a sore thumb; the perfect artists palette.  It is of course the delphinium, the "Queen of the Border", the epitome of summer.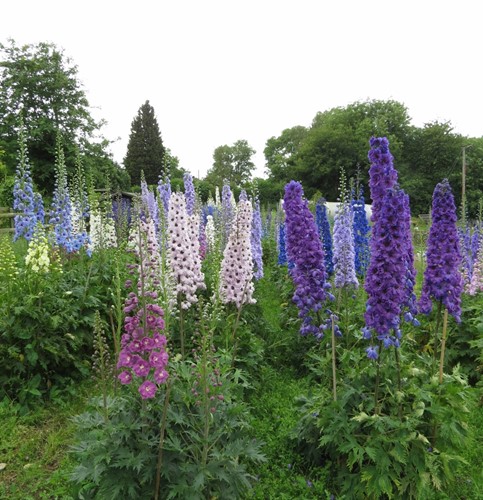 But all is not as it seems in the Delphinium world, for there are some bad guys amongst the good.  The most widely available delphinium is the Pacific Hybrid with names such as King Arthur, Black Knight and Galahad springing to mind.  Bred by Frank Reinelt in California in the 1930's the Pacific Hybrid certainly gave us more vivid blues and purples and lovely rich colours were being bred into his delphiniums.  The colour is these hybrids came true from seed so they could be grown in huge numbers and distributed all over the world, therefore allowing the everyday person to grow these wonderful plants.  So what's the problem?
The Pacific Hybrid was bred as an annual delphinium, so making it unpredictable and unreliable when grown on our shores, and sadly some 85 years on the quality of the pacific delphinium has diminished so much that they rarely grow anywhere near to their former glory.  So even when people do everything right in terms of soil, position and pest control, they still lose their delphiniums, and it's all because they are growing an annual delphinium: one of those bad guys.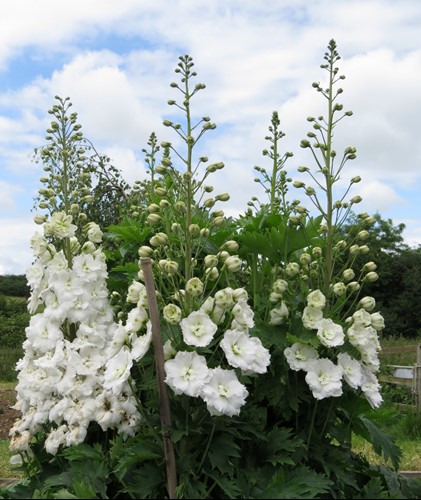 Delphinium 'Constance Rivett'
The delphinium that should be grown is the Elatum Delphinium.  This is a very hardy, reliable and powerful delphinium and is the Rolls-Royce of the genus.  There are certainly a number of species responsible for producing our modern day delphiniums and we do not really know who was involved or when it all began, but what is certain is that today's plants derive from a species found in the European Alps and mountain ranges further east.  The blue delphinium elatum species has all the same qualities as present day delphiniums in terms of size, foliage, shape etc. and elatus (meaning tall in latin) also fits the bill and so today we simply know them as Elatum Delphiniums.
Elatum Delphiniums can withstand very cold conditions (RHS rated H5, which is -10°C to -15°C).  Indeed it is often found that they flower better following a very hard winter.  Tolerant of many soil types, from slightly acidic to alkaline, they must have a sunny position and a fertile but free draining soil, and resent sitting wet during winter months.  They are heavy feeders so a good feed of general fertiliser in spring is advised, and an autumn/winter mulch of organic matter certainly gives them a boost. Elatum Delphiniums do not grow true from seed so named cultivars need to be grown from cuttings.  This is a time consuming process so plants are only available from a handful of specialist growers.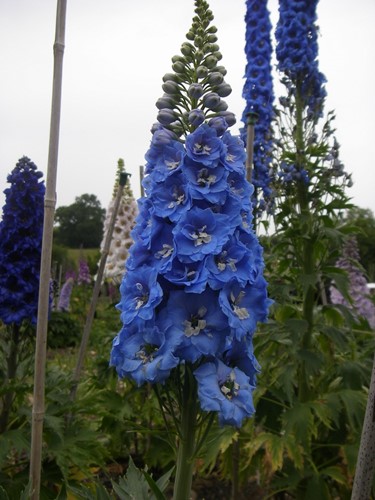 Delphinium 'Cupid'
Flowering begins from mid June to the end of June, and lasts approximately 5 - 6 weeks.  When  flowering has finished, cut back the old spikes to roughly 6 inches below the old flower head, and feed with tomato food (potash) and this often encourages a later autumn flowering, which adds interest to your border later in the year.  Delphiniums are certainly not just a mid summer flowering perennial.
Ranging in heights from 3.5 ft (small), 5 - 6 ft (medium) and 6 - 8 ft (tallest) there is a delphinium to sort all garden sizes.  There is also delphinium Chinensis which is a dwarf rockery delphinium if needs must.  For those of you that like cut flowers Delphinium Belladonna are the best to use; producing many narrow spikes that make a colourful border plant as well as being ideal for the vase.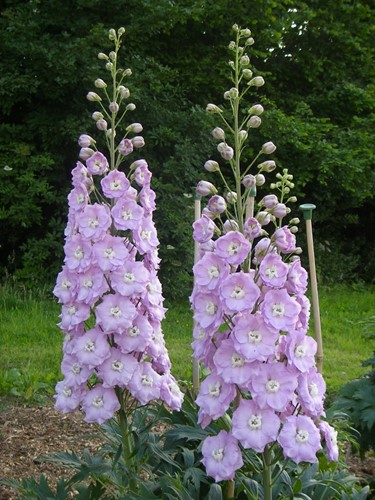 Delphinium 'Foxhill Nina'
The Elatum Delphinium spike is made up of a number of florets, and most have a centre eye (sometimes known as a bee).  This centre eye is actually the petals of the flower but the main colour comes from the outer sepals.  Elatum cultivars come in a range of colours: white, cream, light pink to dark dusky pinks, lavender, violet, purples and intense blue to soft blue.  Of course the eyes can differ too, from black, white, brown, fawn or even striped or flecked with the colour of the outer sepal.  It is important that you stake your delphiniums.  Generally three 5 ft canes arranged in a triangle around the outer edge of the plant with ties 6, 12 and 18 inches up to form a cage is effective.  On no account tie each spike in separately to each cane as this will certainly end in disaster with the stem breaking (because it has no room to move).  Delphiniums do not have many pests or diseases but no piece on delphiniums can end without mentioning their great nemesis "the slug".
Slugs must be kept at bay at all times, even in winter.  Nowadays there are many slug controls (too many to discuss) on the market to meet most people's requirements.  It is recommended that when you cut your delphiniums down for the winter, surround them, or even cover them, with sharp sand or horticultural grit 2 - 3 cm deep (they will easily push through in spring).  This certainly helps to keep the slugs off and also marks where your plants are during their dormant period.  Delphiniums respond to a little TLC and believe me it is worth it because with a small amount of care you can have these mid summer, long lived perennials flowering in your garden for 15 - 20 years or more.
So avoid those "bad guys" and get the proper "Queen of the Border" the ELATUM DELPHINIUM!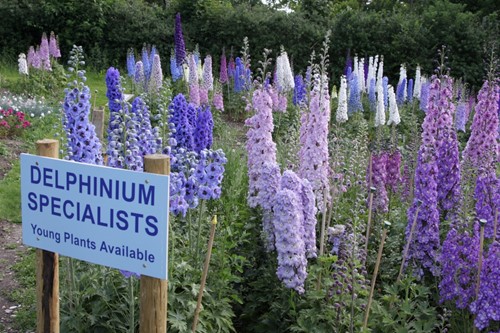 Graham and Nina Austin own Home Farm Plants, and specialize in Elatum Delphiniums and other perennials.
Article and all photos copyright the author. 
Website: www.homefarmplants.com