A Brief History of DK Plants
Dave Knox, from DK Plants in Staffordshire, charts his journey from developing an interest in growing plants at school and in his parent's garden, via National Championship angling, to becoming a successful nursery owner with a passion for rare and unusual plants. - 30 April 2021
The Nursery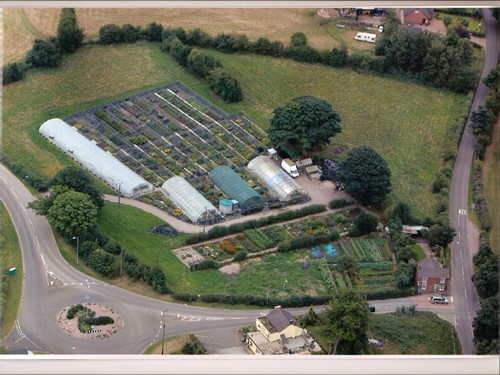 D K Plants is run by myself, Dave Knox. The nursery offers a wide range of rare and unusual perennials plus many favourites which I have collected over many years. I have several of my own introductions, including two Primula, 'Lipstick Pink' and P. florindae 'Crimson King', plus several geums from my breeding programme and also a number of shrubs and alpines. Ninety-five percent of the plants are propagated by myself. I have no horticultural training, and am a self-taught propagator.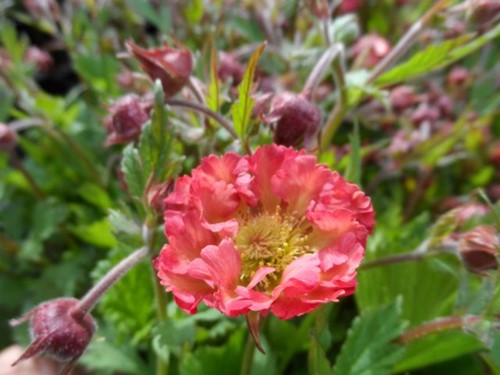 Geum 'Petticoats', bred and selected at DK Plants.
I have had the pleasure creating displays at shows for many years, mainly the Harrogate Autumn Show, where I achieved silver, silver-gilt, gold and the prestigious Premier Award. I was also awarded 'Best in Show' at the Blenheim Palace Flower Show in 2016.
My nursery is based in a very small village called Freehay, just outside Cheadle, Stoke and three miles south of the famous Alton Towers theme park. Visitors are welcome to visit the nursery from April to November inclusive. Opening times are Monday, Tuesday, Thursday and Friday 10am until 4pm and 6.30 till 8pm. Saturday and Sunday are possible , if I am not at a show.
If you are travelling a distance to visit, please ring or email two or three days prior to your visit to avoid disappointment. Groups are very welcome to visit the nursery, particularly Garden Societies, etc. There are no toilet facilities on the nursery but the Queens Arms pub across the road can offer refreshments and toilet facilities.
Plants can be ordered and collected at fairs and shows I exhibit at up and down the country. I do not have a website at this moment in time but if you would like to give me a ring and chat about my plants or email me your wish list two days before the fair or show I will be more than happy to bring them along.
My Passion for Plants
When I went to secondary school one of the subjects we had was gardening. Our gardening teacher was rather a remarkable chap named George Moss. He had been a fighter pilot in the War, where he was shot down, surviving with serious injuries to his legs. He had one leg which was good and one wooden one. He was a bit of a character, quite often when we walked into the classroom he would have his left wooden leg folded across to his right hand shoulder with a little smile on his face. The school had a large garden mainly vegetables with a rose garden. He was a very good teacher and I became very interested. I started to grow vegetables at home in the back garden and turned the front garden into rose beds   The second year I went into the garden to dig over the vegetable beds and the vegetables were still in the beds. My mum had gone to the shops rather than take the vegetables out of the garden. To say the least I was very disappointed I got the spade and fork and put them back into the shed and never went into the garden again until the early eighties. 
In the meantime, I pursued my hobby which was angling. I became very interested in competing in competitions and I started winning senior competitions in my local club when I was fifteen. After a number of years, I was entering open competitions on the River Trent, local canals and lakes. I was national champion in 1976 and went on entering competitions with world champions and England team members.
In the early 80s my dad was taken ill and I started tidying up the garden as a necessity. By this time, I was losing interest in my angling career and this is when I became interested in plants again. I landscaped the front garden with a circular lawn surrounded with a display of bedding plants which I had grown from seed. I also had a display of hanging baskets and window box planted with fuchsia and bedding plants. I did this for about three years.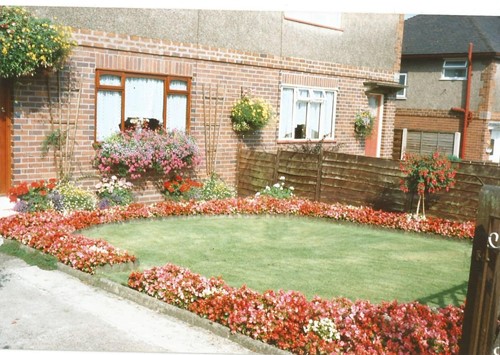 This is when it started to get interesting! I went to my first gardening show and I could not take my eyes off the fantastic perennial plants in the displays.  I started collecting perennial plants, visiting nurseries up and down the country. Then you have to have somewhere to plant them, this is when it got exciting. I started drawing plans to landscape the back garden. I started by knocking the garage down replacing the back hedge and fence with new ones then I started the hard landscaping. It looked like a war zone for several months. Finally, the hard landscaping was finished, the garage was reassembled at the back of the garden on the left hand side in front of that I made a 18x8ft mahogany, double-glazed greenhouse with a hot water pipe heating system.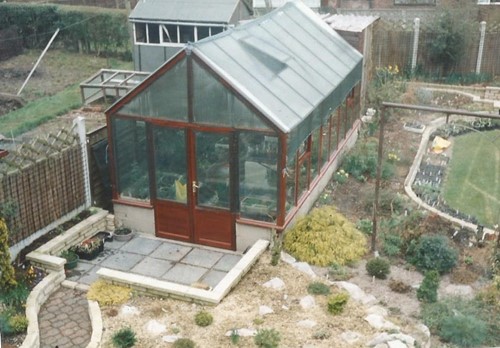 There was a small patio in front of the greenhouse with a curved path leading down into a small paved area outside the back door. The path then led around to the left to arches that divided the garden in two rooms. The first is the winter garden, with raised borders on both sides the left hand side as a small pond and rock garden with water running around into the pond. The surrounding area is planted with evergreen shrubs.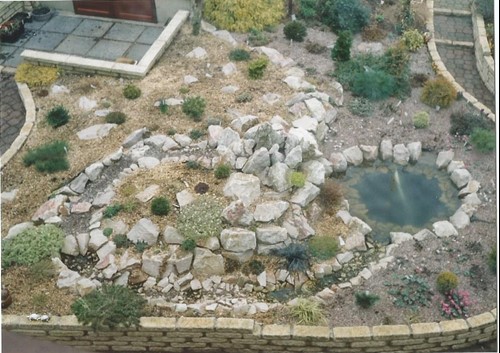 The second is the summer garden with an oval lawn stepping stones through the middle surrounded by a block paved path and raised borders. At the back there is a patio surrounded by shrubs and perennials. By this time, I was starting to look at plants in a different way; not just because they looked beautiful but looking at them and inside them to discover how to propagate them.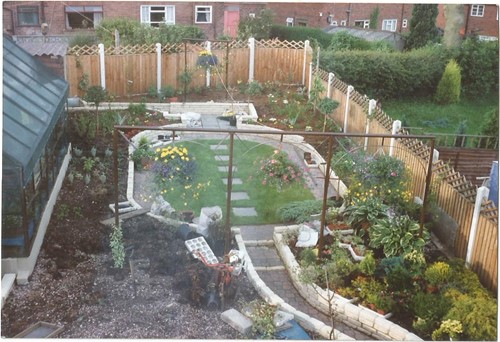 I started growing plants and putting them on the block paved path. It didn't take long to fill the path so I started to take plants to my local car boot fair. After about six months I bought a small van; that was it, I had got the bug.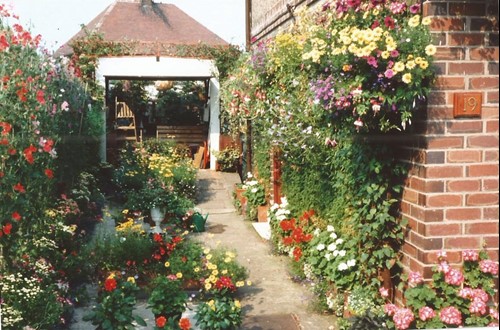 Starting the Nursery
I started growing plants on my allotment I had lots more space but it was far from being ideal, so I started looking for better facilities. A friend of mine told me that there was a farmer just outside of the town who rented parts of his farm out for different things. I had a chat with him and he agreed to rent me part of his yard and a shed for potting up and we soon became good friends. I did my first plant fair at a friend's nursery just outside Coventry, where I met lots of wonderful people just as enthusiastic about plants as I was; plus, they gave me money for them - it doesn't get any better than that! That autumn I made applications for trade stands at the Arley Hall Garden Festival and the Kings Heath Park Gardeners' Weekend; I was successful with both applications. The following year I did both shows and several other plant fairs.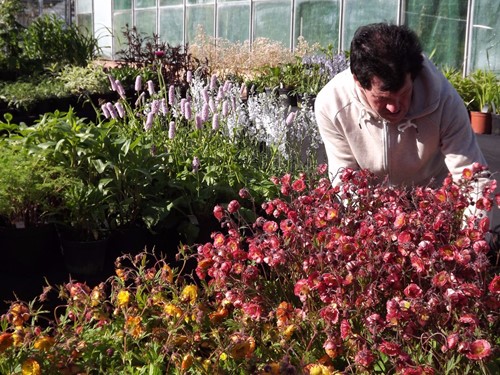 What happened next was remarkable. I had seen a piece about the Holker Hall Garden Festival in 'Gardening News'. They called it the 'Chelsea of the North', and I thought 'Wow what a fantastic show!' I made an application, hoping to get in to the show in the next two or three years. I got a reply asking me if I was a member of the Horticultural Exhibitors Association (HEA); at this time I had not got a clue what that was. The organisers wanted photographs of my stand and a list of shows I was going to so they could visit and look at my stand. I sent a reply explaining that I was not a member of the HEA and did not have any photos of my stands. I told them the type of plants that I was growing and some of the wonderful comments I got at the shows from customers at other events such as at Kings Heath Park, plus the Birmingham Evening Post, and sent i a list of shows that I was doing. A few weeks later I got a letter from Holker Hall; to my amazement I got an invitation to do the show in June that year. I could not believe it!
Off I went that June to the Holker Hall Garden Show. I arrived on the first day of the show, Friday at 5 AM. They gave me a wonderful stand just outside of the entrance to the Floral Marquee. I had a look in the marquee. The displays were out of this world, just like being at Chelsea. Opposite my stand was one of the best alpine nurseries in the country. I said to myself 'I am at the wrong show, I am way out of my depth here' and I felt like going home again. I took a deep breath started to set up my stand with my own handmade tables made out of boxes. I dressed my tables and put all my weird and wonderful plants on them. I had a really good show with lots of wonderful comments from customers. The show organisers also took a liking to my stand and I continued to get invitations.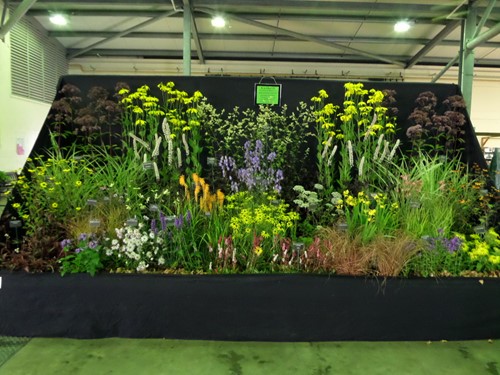 In 1999, I managed to lease four acres of land to build my nursery on. By the middle of 1999 myself and five friends installed 3 tunnels, 65x30ft, 12 outdoor stock beds 12x 65ft, a state of the art propagating house plus a computerised watering system. Then in September I got news that I could possibly be made redundant from the company I was working for. Three days later I got my redundancy. I will never forget the next morning: I was driving up to the nursery and the most fantastic record came on the radio - "I Want to Break Free" by Queen. That was a fantastic feeling!
Over the next 10 years I built the nursery stock up, continued to do more shows and fairs including stands at the Malvern Autumn Show. In 2009-2010 I exhibited at the Tatton Park Flower Show with an outdoor stand. I then started to do indoor floral displays. This was a steep learning curve. I did my first display at the Cheshire Show and I was lucky to have my friend Steve at the show who was brilliant at doing displays. I started doing the display I then asked Steve to come and have a look to see how I was going on, "Do you want me to tell you the truth," he asked.  I said, "of course I do!"  He turned around and said "it's rubbish". Then he started to show me how to put the plants together and mix the colours.
After doing a few more displays at smaller shows I put an application in to do a display at the Harrogate Autumn Show; this was accepted. This was a big step for me. Back then you had to get a silver medal in your first year to get an invitation back. Luckily I had a few friends at the show to give me a little guidance and I got my silver medal and went on to achieve silver gilt, gold and a Premier medal. In 2016 I decided to retire from doing displays, with my last one at the Blenheim Palace Flower Show winning 'Best in Show'.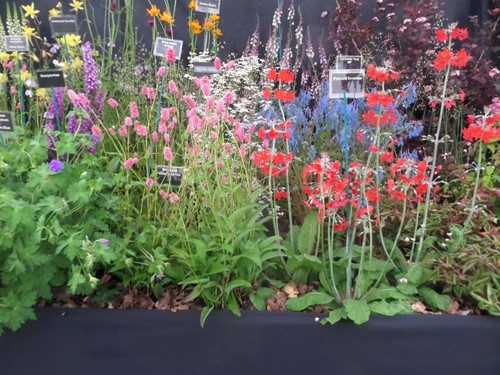 As they say the rest is history.
And the funny thing is, I was far more talented in the angling world than horticultural world!                     
New Developments at the Nursery
There has being a lot going on in the last 12 months. The concrete slab pathways have been covered in non-slip ground cover.  This will make it much safer for customers (and also save me time in weeding!) A new customer car park has also been constructed. But my biggest venture is to create a brand new garden.
This started just over twelve months ago in an area started off as a stock bed twenty years ago but which had become overgrown with brambles and self-set trees 20ft high and bordered by two hedges 6ft high, with the back edge as much as 30ft high. All the trees have been taken out and logged or chipped and the brambles and other thugs have been killed off.
The garden consists of two long borders 160ft long by 12ft, with a 12ft wide lawn down the middle, plus a large alpine scree. I have added 60 tons of recycled compost on the beds to improve the soil. Examples of all of the plants and shrubs that I grow on the nursery will be planted in to the garden for customers to come and see them growing. I am hoping to start the planting this spring.
For more information, and contact details for DK Plants, please visit his page on our website at https://www.rareplantfair.co.uk/our-nurseries/d-k-plants/