Creating Big Impact with Large Leaves
Clare Lovegrove, from Lovergrove's Nursery, on the dramatic impact that the striking foliage of shrubs, trees and perennials can offer. - 10 May 2019
Bold foliage can have a real impact in a garden, adding interest and character to what otherwise might be a boring pallet of colour, texture and form. Large leaves have the potential to add drama, transport you to the tropics, act as focal points, create space illusions or influence the feel of a garden.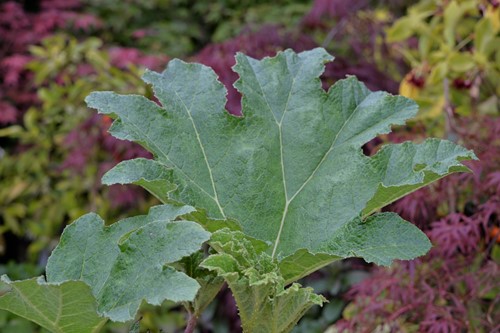 Gunnera manicata
A landscape without contrasting foliage form can be rather confusing on the eye. The addition of large leaved plants helps emphasize the difference between plants, objects and surroundings and provides a more captivating to view. Large leaves, such as those of Gunnera manicata, can add visual weight to a garden border, or they can act as a perfect foil or backdrop such as Viburnum rhytidophyllum.
When it comes to creating a focal point, dramatic foliage is an obvious choice. Large leaves grab attention and can be used to re-direct the eye, especially those with architectural form such as Dicksonia antartica, Melianthus major or Schefflera rhododendronifolia. Often just one well-chosen specimen is enough for a bold statement and for maximum impact.
It is perhaps more surprising that large leaved plants can be used to create the feeling of intimate space in larger surroundings. Choices such as Magnolia macrophylla or Paulownia tomentosa, can create the illusion of intimacy; their large size stands up to larger surroundings and bold foliage and textures allow the eye to rest. They may even provide shade for secluded seating, try Catalpa speciosa.
Bold luxuriant foliage is more commonly used and associated with creating a tropical or exotic effect in the garden. Oversized, bold and textured foliage can be used to re-create the dense layering, bold form and bursts of exotic colour commonplace in a tropical climate. There are plenty of large leaved plants to choose from here including Fatsia japonica, Musa basjoo and Tetrapanax papyrifer.
Fatsia japonica 
You don't need to shy away from using big leaves in a small garden, they can still be used effectively to play around with scale and add interest.  For many small, contemporary gardens large foliage is a great way of matching interior trends such as bold prints with the exterior. Plants like Cynara cardunculus, Acanthus mollis, and Osmunda regalis all fit the bill nicely.
One of my absolute favourites for creating big impact is Catalpa with its large heart shaped leaves. Coloured forms purple Catalpa x erubescens 'Purpurea' and yellow leaved Catalpa bignonoides 'Aurea' are popular but a more rarely offered form is Catalpa speciosa 'Pulverulenta'. This northern form offers large heart shaped pale green leaves, heavily speckled with luminous white that create a beautiful haze of creamy yellow.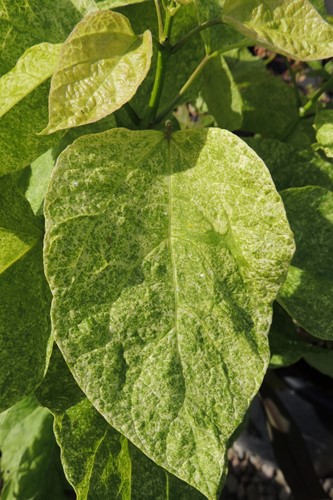 Catalpa speciosa 'Pulverulenta'
As with any Catalpa, Catalpa speciosa 'Pulverulenta' can be pruned hard in winter, to encourage even larger and more luxuriant foliage. It can add height and luminosity to any border as a shrub or grown as a small tree reaching 3-4 metres. For a more contemporary look try Catalpa bignonoides 'Nana' grown as a standard or to provide shade try Catalpa fargesii f. ducouxii with its larger deep-green foliage.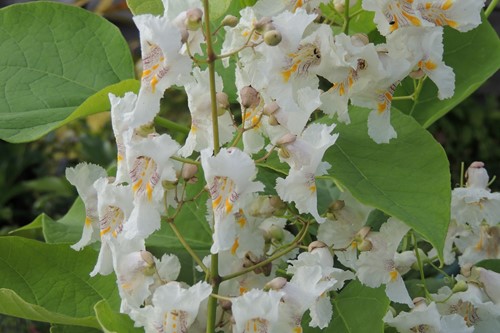 Catalpa bignonoides 'Aurea': foliage and flowers
As a focal plant, or for drawing the eye, Paulownia can definitely hold its own with its stout shoots and huge shallowly lobed pubescent leaves. Paulownia tomentosa is the most commonly planted but try Paulownia elongata, a rarer species. Originating from South East China, it is the fastest growing, with even larger leaves than Paulownia tomentosa and light blue flowers.
Paulownia elongata can be pollarded, allowing you to keep the plant compact but encouraging distinctly larger downy leaves up to 60cm across. Cut the Paulownia back to the ground in spring, remove any suckers and allow a single stem to grow to 3 metres in a season.  Alternatively leave it to grow naturally to form a round-headed tree reaching 5 metres and enjoy it's sweetly scented, foxglove-like light blue flowers in spring or early summer. For darker violet-blue flowers and a more compact tree try Paulownia fortunei.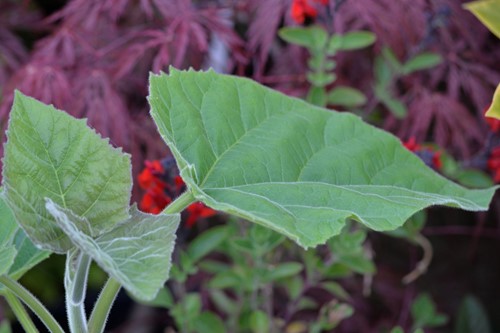 Paulownia tomentosa
For curiosity in a more traditional planting, Quercus dentata 'Carl Ferris Miller' is both unusual and eye-catching on account of its leaves which resemble those of our common oak but are spectacular in size. It is a beautiful variety of Daimyo Oak with stout shoots and leathery green leaves that turn orange-red in autumn, then apricot-brown, persisting on the tree into winter.  Originating from Korea, it has some of the largest leaves of any oak, reaching up to 30cm long.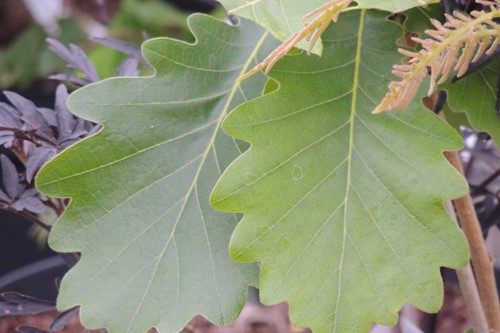 Quercus dentata 'Carl Ferris Miller'
When grown naturally it forms an initially columnar, eventually round headed tree that will reach more than 6 metres in height. For the less patient gardener, rather than growing a specimen tree, it can be pruned each year to form a large bushy shrub. For those with less space, or for a more exotic looking leaf, try Quercus dentata 'Pinnatifida' which has striking extremely incised foliage and is much slower growing.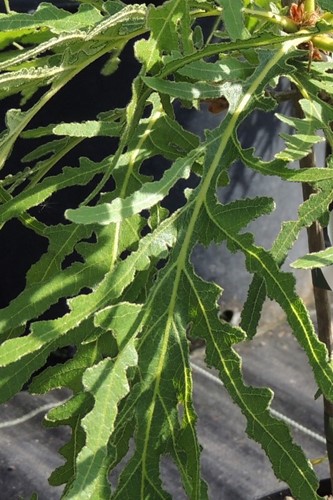 Quercus dentata 'Pinnatifida'
However, if I had to settle on one showstopper, my choice would be the huge jungle-like, palmately lobed, leaves of Tetrapanax papyrifer. With foliage of 60cm or more in size, it's an imposing plant that adds real drama and definitely has the exotic look. Originating from the Shei-Pa area of Taiwan, Tetrapanax papyrifer 'Rex' is even more vigorous, having huge downy leaves, with chestnut bloom on the underside, reaching up to 1 metre.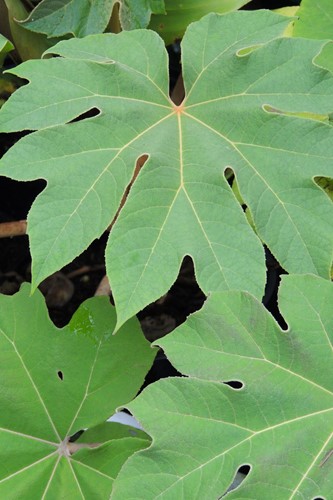 Tetrapanax papyrifer 'Rex'
Tetrapanax papyrifer 'Rex' forms a large shrub, producing stout upright shoots covered with a chestnut-brown tomentum when young. Whilst it will die back to the ground in all but the best protected spot and milder winters, it can easily reach 2.5 metres height in a season, re-shooting from its roots. If you have less space but still want to enjoy the foliage of Tetrapanax papyrifer 'Rex', mine does particularly well in an old cattle trough with plenty of moisture but good drainage. 
So no matter what size your garden or what your style, try making room for at least one drama-queen!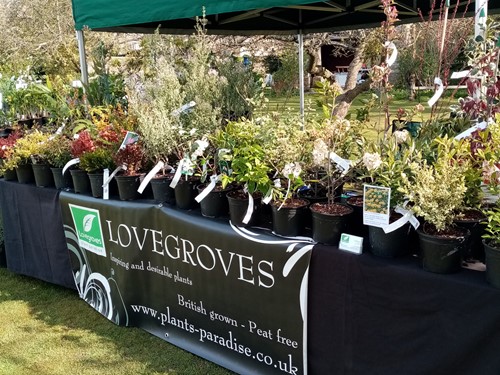 Lovegroves is a specialist plant nursery based in Gloucestershire and on the borders of Herefordshire and Worcestershire. Clare produces an inspiring selection of rare and unusual trees and shrubs, complemented by ferns, climbers and a few other choice plants. All of her plants are peat-free and British-grown.
Website: www.plants-paradise.co.uk