Primulas are Back in Vogue
Paul Navin, from Millwood Plants, on the resurgence in popularity of the (not-so) humble primula - 10 March 2017
Primula: quite literally translated, this means the first flower and to those of us who are just a novice it is a sign of spring, that little flower that cheers us whilst driving down the country lanes. The genus Primula is an incredibly large family with an excess of 600 species, spreading far and wide across the globe, from the mountains of the Himalayas right down to north Africa. Primula vulgaris, our native primrose, again literally translated means a common primrose. If you live in Devon like I you would know why it's called 'common'. It is almost a compulsory plant in the garden. Whether planted in a particular place in the garden or not it is one of those delicate little plants that pops up everywhere but for the one place where you want it to grow. They naturalise beautifully and are often found growing happily in the most unimaginable and tricky places like the hedges and steep dry banks. Spring doesn't really kick off until Miss Primrose has raised a glass to welcome the sunshine.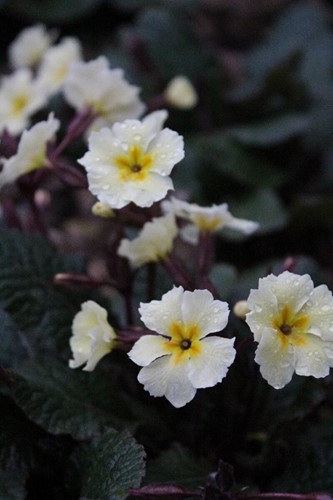 Primula 'Millwood Lemon'
When I first saw this humble Primula it was love at first sight and I just couldn't stop adding to the already existing vast collection that Gary had already accumulated since the age of 6! Yes, 6! Turns out that she was his first love too…!
I almost forgot to mention the wild primrose is a delicate shade of cream. Now before one of you pulls out the colour chart or another shouts out ''Cornish cream'', or in fact that dreaded magnolia that is used for everything between an off white and yellow, may I make it clear that it's a primrose yellow! Yes! It has a shade named after it!!! So how did we come into a world of all these different primroses that we see? Some are double whilst others on a thin long stalk called polyanthus that come in sizes and colours that are bright enough to even make the word 'gaudy' hide behind the bushes…! Well, this is going to be a three part drama, so grab a bowl of popcorn or a glass of vino, (the sort of glass that I got as a birthday present, which can take a whole bottle in) and relax…
Long, long ago there was a man called Ludwig Franzevich Mlokossjewicz, a Polish aristocrat who was born in Warsaw. He was enlisted in the Russian army at the age of 22 and was stationed at Lagodekhi in the Caucasus where he laid out and planted a park and orchard collecting trees, conifers and exotic plants. During his career he was falsely arrested and accused of being involved in the uprisings. After resigning from the army he was appointed inspector of forests for the Signakhi district and settled in Lagodekhi where he spent the rest of his life. He explored the Caucasus extensively took his children on these botanical expeditions. On one such expedition in 1900 in the month of April his little girl called Julia found Primula juliae. This species forms wonderful carpets covering the forest floor and when in full bloom there is barely a leaf in sight. This primula was going to make history in the world of primroses as it brought the bright magenta with a hint of blue flowers on dark foliage.
It wasn't long after this little treasure was found that a plant of P. juliae reached England and was exhibited at the RHS by Mr W. G. Baker on 2 April 1912, and was given an Award of Merit. The news spread like wild fire and so did little Julia, being incredibly vigorous it exchanged hands for hybridizing all over UK and Europe. It did take its time to reach North America as they weren't just across the channel!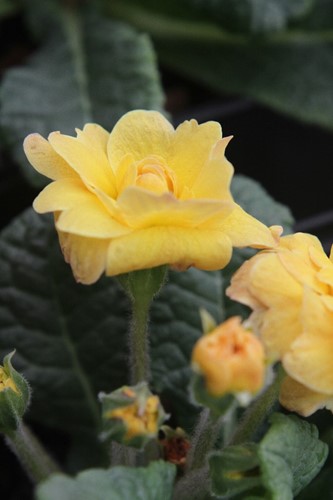 Primula 'Sunshine Susie'
Florence Hurtig was born in New Orleans, 19 May 1906. The name Florence Bellis or Barnhaven would ring a bell for any Primula enthusiast, for the remarkable work this wonderful lady has put into growing and hybridizing primulas. Florence's grandparents were European and moved from the Baltic in mid 1800s before the civil war. Florence's mother grew market produce and Florence spent her childhood training as a concert pianist. Florence was from humble beginnings and was raised without much affection, as she described in one unguarded moment. This resulted in her lifelong reluctance to talk about herself or her private life although she never hesitated to talk about primulas till winter! Florence began to work from an early age of 14 as a secretary to a bank manager and later got involved in managing a theatrical company in Portland. She lived on the premises, a studio on the top floor of the first bank building where the theatre was conducted. When the theatre company collapsed she couldn't pay the rent and fell severely ill with nervous breakdowns. Fortunately, a friend came to the rescue and took her in. Severely ill and virtually destitute, she married Lou Levy.
It was Levy who persuaded one of his wealth acquaintances to let them move into his old decrepit barn which was later going to be the 'Barnhaven'. At her first sight Florence found this old barn in its enchanting setting calling to her. It was a cow barn that belonged to the big house on the hill; a tiny little lane led up to it and it created a feeling of destiny that never left her. Florence and her husband had to make do with what little they had and move into the hayloft. They made a bed of hay in the least leaky corner and slept under umbrellas. The wild life living around the barn made it even more mysterious. The family of otters, the deer and the jumping salmon in the river all became part of their life. The acres of land surrounding the barn gave Florence an idea. Florence, just like us, saw some English primroses in a friend's catalogue and had the same 'love at first sight' moment so she spent the last little money she had left on a Suttons seed order, facing a snowdrift on her way to the Post Office. After weeks of anxious waiting came a parcel and the seed was sown. Over 1200 plants bloomed the following year, each one so priceless and more beautiful than the other. That was the day the story of Barnhaven Primroses began. Word soon spread and she sold her first plants for 50 cents in 1936, which was spent on kerosene for lamps and yeast. Florence had nothing but a heartful of love for growing primulas when she started this venture, she never knew how far the primroses were going to take her and nurture her health that she regained gradually spending time gardening. Her story always fills my heart with hope, a hope that even if you have nothing but an umbrella to keep you dry in a hay stack, then not to worry it's not all lost.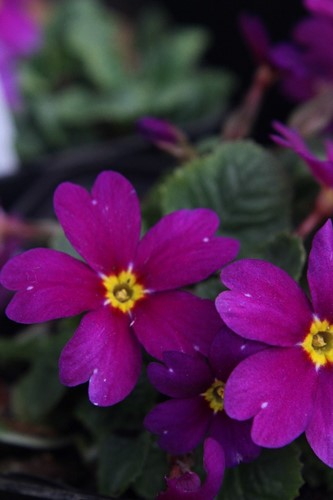 Primula 'Wanda'
Gary was born in Devon in 1972, at the age of 6 his grandmother gave him a little primrose. It is a primula that was bred from Primula juliae and was named Primula 'Wanda'; it had been given to her by her mother. It's this primula from his great grandmother that encouraged little Gary to start a nursery, and to start breeding some of his own in the years to come. Primula. 'Wanda' is a robust and good garden worthy plant that has a really strong will to live. It grows on our bank even today and it reminds us every year that spring is here and things are only going to move forward now. It prefers more light compared to other P. vulgaris hybrids and flowers like there is no tomorrow.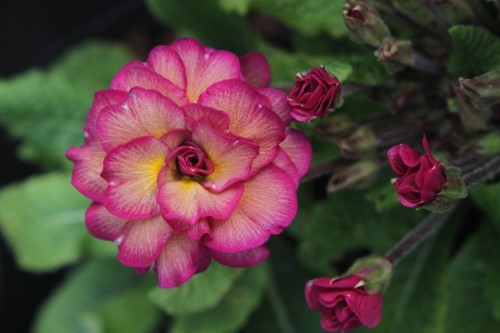 Primula 'Millwood Double'
It didn't take long after he started collecting them that seedlings in different shades and shapes started to pop up in the garden. One such seedling that appeared on the same bank was a delicious looking double primula that was named Primula 'Millwood Double'. There is something about naturally occurring hybrids, they just want to live. It is a very good garden plant and flowers its socks off! Gary went on to breed a few with darker foliage. Often all the primulas start looking the same when they are in the green and especially when they spend a lot of time through the winter just waiting to burst open, so he thought it be nice to have something with different foliage for winter colour. The first was Primula 'Millwood Pink Beauty' with its dark glossy bottle green foliage and very delicate, almost antique, pink flowers.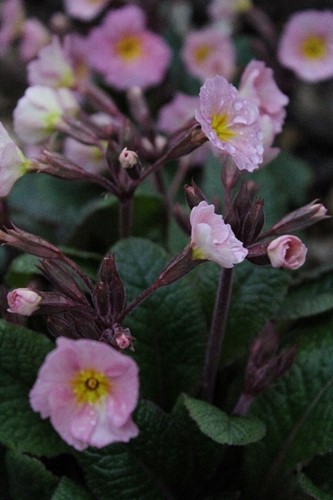 Primula 'Millwood Pink Beauty'
He then took it one step further and came up with a stunning mahogany brown foliage primula with contrasting bright lemon yellow flowers. The petals on this are slightly ruffled and once it starts flowering it goes on well into June; this was named Primula 'Millwood Lemon'. These two dark leaved forms have been bred from Barnhaven selections. One spring morning we discovered a delicate little darling of a plant no bigger than a two pound coin growing between the paving slabs of the nursery and what really drew us to it was the size of it; in two weeks it grew no more than three times the size and had the most amazing flush of flowers with a very tiny shade of apple blossom. We named it Primula 'Millwood Blush'; the flowers really look good against the foliage.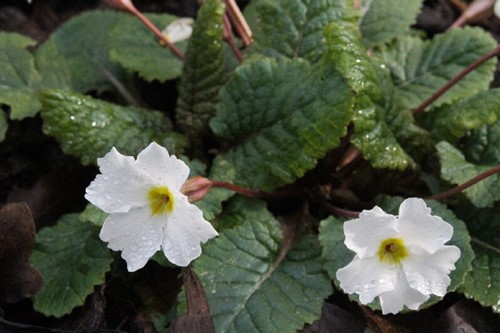 Primula 'Millwood Blush'
The following are a selection of some of the wonderful old varieties that we grow:
Singles:
Primula 'Blue Riband': raised in Scotland and has the most wonderful amethyst-blue flowers on deep green leaves.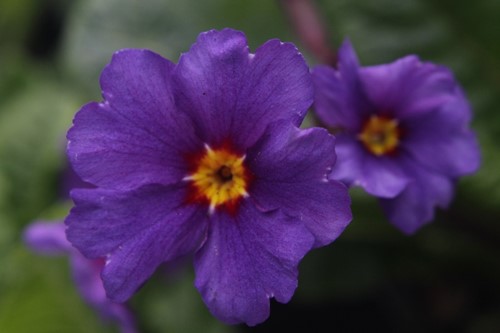 Primula 'Buckland Wine' which was introduced by Champernowne Nurseries with dark glossy green foliage and with the most perfectly formed, made to measure, wine red flowers.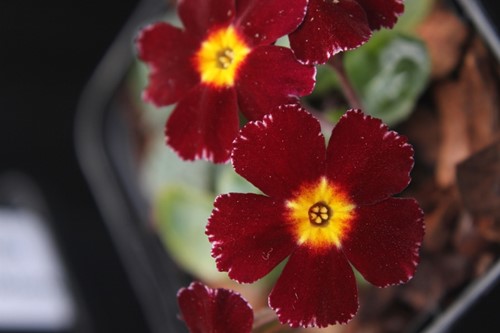 Primula 'Lady Greer': a tiny little primula with the most floriferous habit like its parent P. juliae. It's a tiny polyanthus with creamy yellow flowers.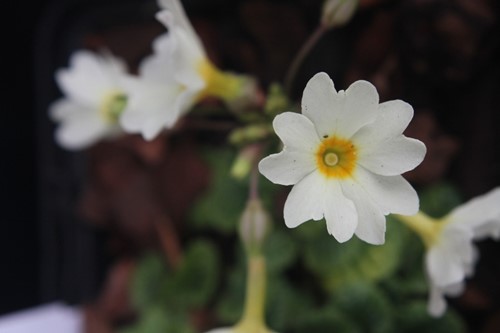 Primula sibthorpii is the European wild primrose, just like our wild one but this one is purplish pink and the foliage is much more compact and tidy compared to ours.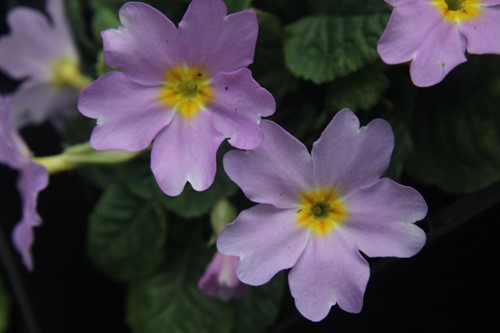 Primula 'Snow Cushion'; this was bred in Germany and is frequently called 'Schneekissen'. It is one of the early hybrids bread from P. juliae in 1931.
Primula 'Tomato Red': this is an excellent variety introduced by Lady Anne Palmer of Rosemoor. As the name suggests, it a lovely red over clean green leaves.
Primula 'Wanda Hose-In-Hose': the best of the P. juliae hybrids has been tweaked and this one has one flower sitting right on top of the other.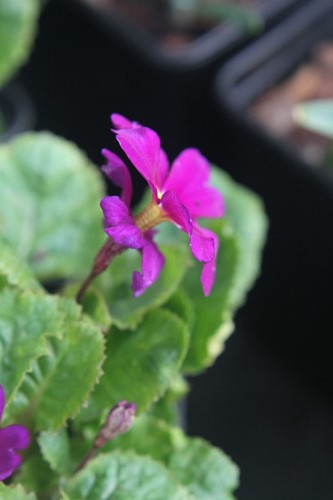 Doubles
Primula 'Alba Plena': The most divine pure white double flowers on long stalks that gently caress the earth, it is said to be centuries old and the plant was named in 1800s. We are so proud to grow this but we don't ever dare touch it.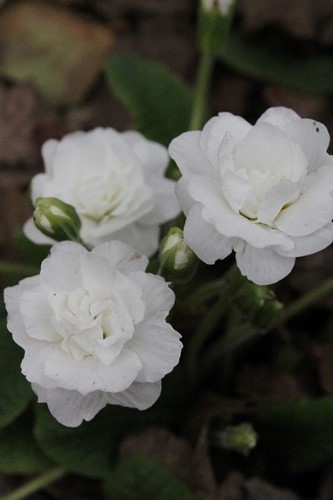 Primula 'Bon Accord Purple': Words can't express the beauty of this polyanthus type double. It's a sheer delight just to see it flower and when the flowers droop down there is a hint of blue on the reverse of the flowers that are actually purple. Raised in the early 1900 along with a series of several other Bon Accord doubles.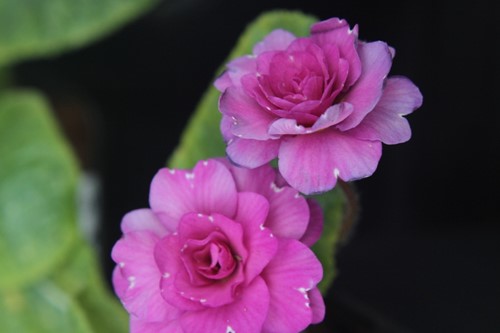 Primula 'Corporal Baxter': A primrose that wouldn't let you walk by without stopping to say ''Wow''. The beautiful double blooms are deep scarlet against bright green foliage. A real showstopper and a Barnhaven introduction.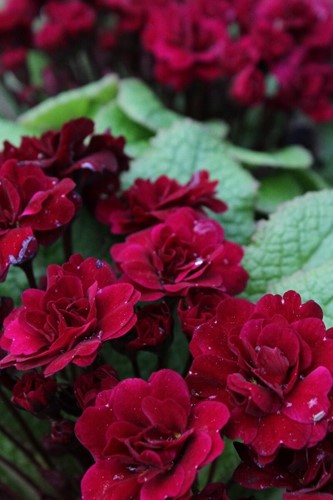 Primula 'Elizabeth Killelay': If the Victorians could imagine that their much treasured gold lace primula, which they grew with utmost care under fancy cloches and made special annual trips to the show benches, would one day go on and have a double form there would be no bounds to their joy. This is a double gold lace polyanthus with the most unusually deepest darkest maroon flowers with every petal edged with a golden line. A must have!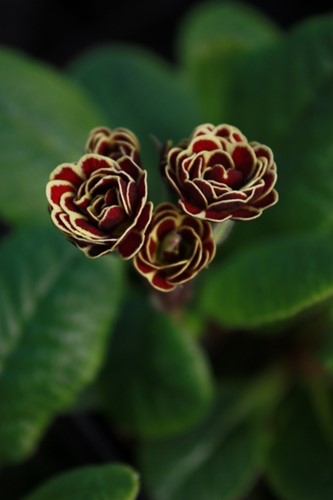 Primula 'Petticoat': this is once again a delightful double that flowers freely and does very well in the garden, in fact a cheat's treat to replace P. 'Alba Plena' as it's much easier and more vigorous.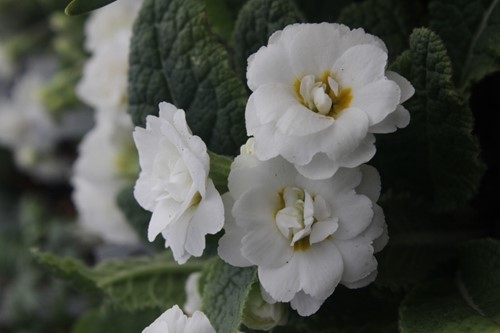 Primula 'Sue Jervis': This was introduced by Bressingham nurseries of Shropshire and was found growing wild. It is quite clear from its habit but never the less has the most delightful double pastel pink blooms and flowers for months for us.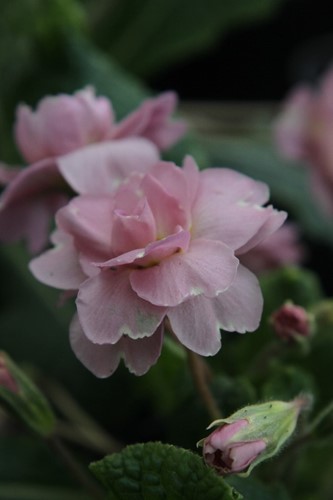 Primula 'Val Horncastle': another Barnhaven introduction with bright primrose yellow double flowers over bright green foliage.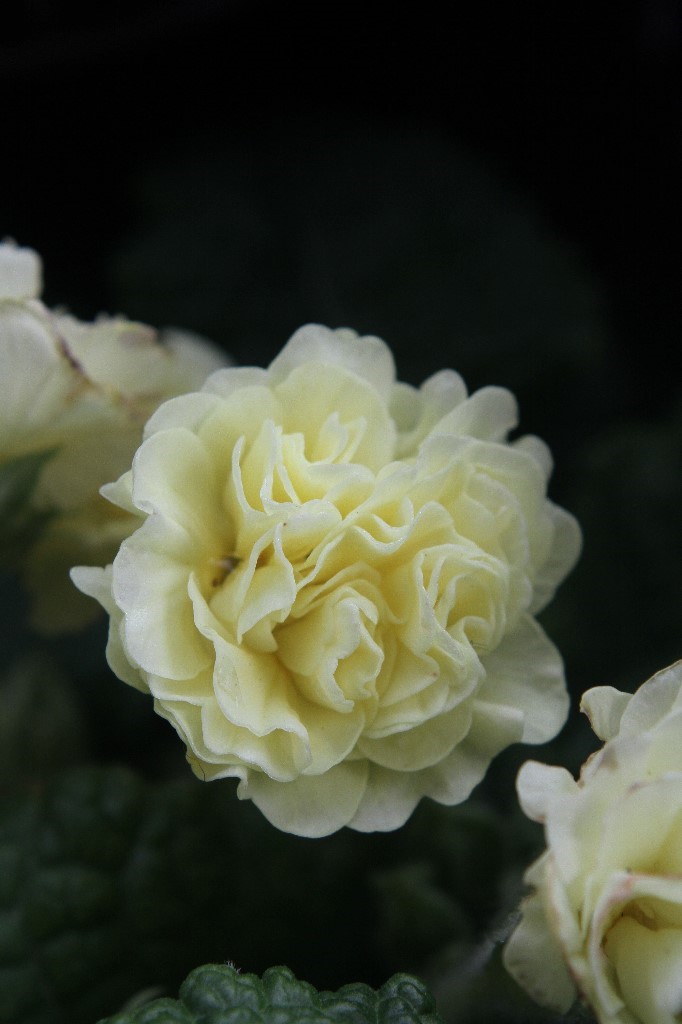 When we talk about primulas it's hard not to mention the wars that they have been through. Some have been carried on across continents and blown to pieces and faced all the dreadful things that my grandmother reminded me of when I didn't eat my greens, yet here they are today, hundreds of years later, still growing amongst us and they are back with a BANG! There have been several new hybrids introduced in the recent years of which the best garden worthy plants are Primula 'Pink Ice' and Primula 'Nectarine', both doubles that are nothing like we have ever seen before. Most importantly they stand our ever unpredictable weather.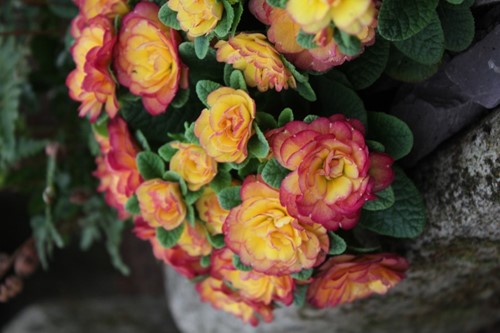 Primula 'Nectarine'
My most favourite one though is Primula 'Strong Beer', not just because of the name, but also for the fact that we planted this in our woodland five years ago, and now it has spread three feet across which shows it is in fact a strong plant. We haven't had much luck trying to track down its origins but none the less it's a fabulous plant.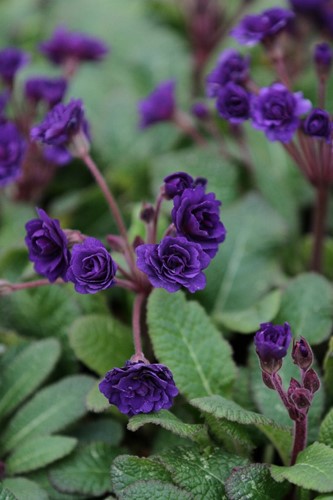 Primula 'Strong Beer'
Next time you look at rows of primulas in a nursery just remember that, if it wasn't for the little P. juliae, there wouldn't have been so many colours. Happy Gardening!
Gary Buckingham and Paul Navin run Millwood Plants, based near Rosemoor in North Devon, where they grow a huge range of outstanding herbaceous perennials, including many woodlanders. They will be making their RHS  Show debut at the Spring Show at Cardiff in April, where they will be exhibiting their Primula collection.
Website: www.millwoodplants.com 
Article and all photos copyright Millwood Plants