Exciting Echinacea
Ian and Teresa Moss describe the development of the huge range of new and exciting Echinacea introduced in recent years. - 29 July 2016
There are a number of plant genera that have undergone an explosion in popularity over recent years, borne out of the efforts of talented and dedicated plant breeders to develop new and interesting varieties. Heuchera (and its relations, Tiarella and x Heucherella), Geum, and Coreopsis, to name but a few, have all seen a huge rise (and, in some cases, subsequent fall) in popularity as new plants came to the market, but for us probably the most startling developments have been in the field of Echinacea. When we first started out in the horticultural trade 15 years ago, there was a very limited range of plants available, mostly selections of Echinacea purpurea along with a few selections of the other species. With the exception of the yellow species Echinacea paradoxa, all were in shades of pink/purple, or white. Since then, an amazing selection of new cultivars has been introduced to the market, including both single- and double-flowered forms, and in more or less every colour you can imagine except blue.
The Building Blocks – Species Echinacea
There are nine Echinacea species in total, all native to North America with a geographic spread that extends from Florida and New Mexico in the South to Southern Canada; the greatest concentration of different species is found in the grasslands of the mid-Western states of Oklahoma and Missouri. The common name is the purple coneflower (although now many are not purple!) and the flower shape is a reflexed daisy with a shape loosely resembling a shuttlecock. They grow in a number of habitats but in all cases they prefer open, sunny locations with good drainage and limited competition. The most well-known species is Echinacea purpurea, introduced to Europe in the early 18th century. The roots of this species, along with Echinacea pallida and Echinacea angustifolia, have been long used as herbal remedies, with the most common current application being in the treatment of cold and flu symptoms and in boosting the immune system.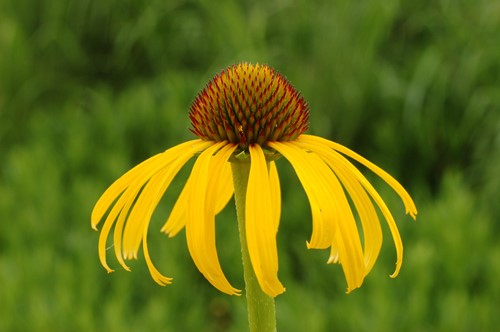 Echinacea paradoxa
Until the early 21st century, most gardeners would only have grown the single, purple flowered form of Echinacea purpurea, with a few growing white selections and also the yellow flowered species Echinacea paradoxa. In the mid-1990's, researchers at the Chicago Botanic Garden started to experiment with crosses between E. paradoxa and E. tennesseensis. Around the same time, Saul Nursery in Georgia carried out similar experiments but using E. purpurea instead of E. tennesseensis. Ultimately, whilst both programmes were successful, the hybrids based on E. purpurea were the better and more long-lived garden plants.
Following that, the major breeding work was carried out by the famous Terra Nova Nurseries in Oregon (also responsible for many of the new heucheras that have appeared in recent years) and by Arie Blom in Holland. Terra Nova focused mainly on the development of new colours, whilst in Holland the focus was on developing double flowered forms. Other breeders have followed, and there are now a whole range of hybrids in colours ranging from red through orange, yellow and peachy colours to the original pink/purple and white. As with many modern breeding programmes, however, there has been the temptation to introduce hybrids where the improvements or difference from earlier selections have been, at best, subtle, so be discerning when choosing your varieties.
Cultivation and Uses
The most common question that we hear about Echinacea hybrids is 'are they hardy?' A number of gardeners have struggled to overwinter them and have become discouraged from trying them again. In fact, Echinaceas are completely temperature hardy in UK climates (remember where they come from – winters are hard in the USA!) but what they don't like is poor drainage, especially in the winter months. We would argue that the vast majority of winter failures are due to drainage issues. So they require a well-drained soil in a sunny spot, and avoid excessive competition with other plants in the border.
Once established, Echinacea can be drought-tolerant and can also cope with relatively poor soils, and most modern hybrids do well in a range of soil pH's. Protect plants emerging in the spring (and also newly planted specimens) from slugs and snails. Flowering times for Echinacea is from mid-July to the early autumn – deadheading can prolong flowering, but the seedheads themselves are also attractive and a good food source for overwintering birds.
In the garden, Echinacea are a great addition to any mixed or herbaceous border, but are particularly effective in modern perennial or prairie style borders, combining especially well with other late summer perennials and with ornamental grasses. Whilst there are some dwarfer selection of Echinacea purpurea that have been developed with container planting in mind, we think they look a little odd and in our view Echinacea are better suited to open ground cultivation. Quite a number of the modern hybrids also have a lovely scent, so try to plant them where this can be appreciated.
Some Favourites.
We've grown a number of Echinacea over the years and the selections below include some of our favourites, plus a few others to illustrate the range of colour possibilities.
Echinacea purpurea 'Vintage Wine'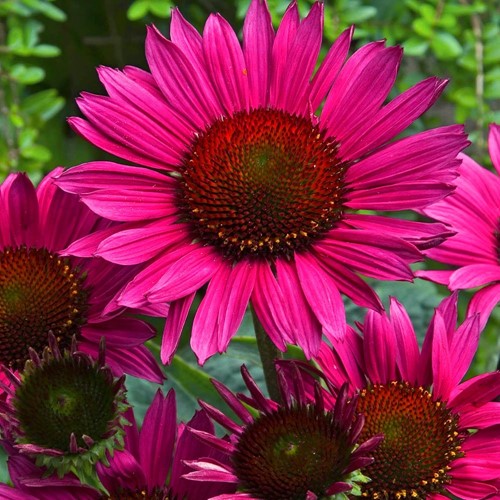 This is an outstanding selection made by Piet Oudolf and was chosen for its strong and sturdy habit and its large, wine-pink flowers borne on black stems. Height is 60cm and this cultivar flowers from July to September. Another good Oudolf introduction is 'Fatal Attraction', with paler pink flowers.
Echinacea 'Tomato Soup'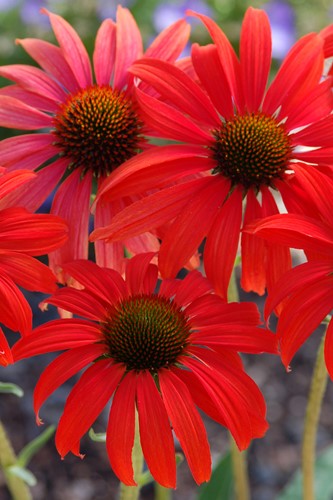 This one does exactly what it says on the tin! Large, fragrant flowers in a bright Heinz red; individual flowers can be up to 10cm across. Highly recommended.
Echinacea 'Summer Cocktail'
We planted this in our own garden in September 2014 and it has been a complete joy. The buds emerge pale yellow, then the flowers darken through orange to salmon-pink as they age. With flowers at all the different stages on an established plant the effect is stunning.
Echinacea 'Mac'n'Cheese'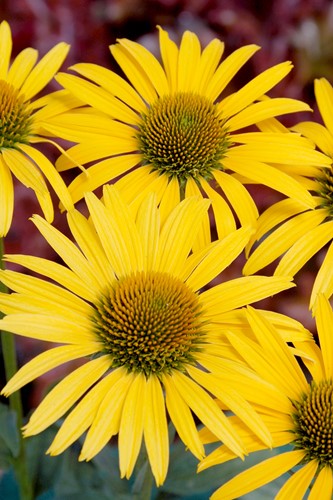 This was the cover girl for the 2015 Rare Plant Fair leaflet and is probably the best of the yellow singles, although the name is lousy! A Terra Nova introduction. There is another hybrid with the even worse name of 'Now Cheesier' which is a slight variation in colour.
Echinacea 'Tangerine Dream'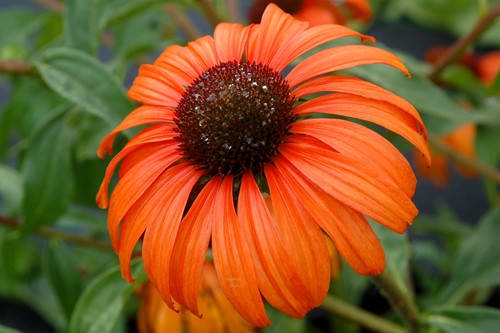 Another Terra Nova introduction, this has large, highly fragrant flowers in bright orange. Beautiful.
Echinacea 'Hot Papaya'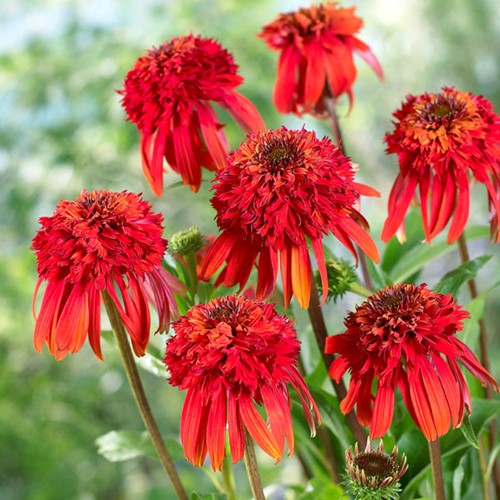 Pretty much all the colours available in single-flowered hybrids are also available as doubles, so we'll just include one here. We have to say that to start with we weren't sure whether we liked the doubles, but they have grown on us immensely over time. 'Hot Papaya' offers orange-pink double flowers, lightly scented, with dense pompoms surrounded by a row of single reflexed petals.
Echinacea 'Green Envy'
A truly unique single Echinacea with flowers that are pink near to the cone, changing to lime green towards the tip of the petals. A bit of a 'Marmite' plant – but we like it a lot!
Echinacea pallida
This is one of the species echinaceas and we love it for its highly reflexed petals that start off pink near the cone but which fade almost to white by the tip, making it look like it's been dipped in icing sugar. Grows to about 90cm.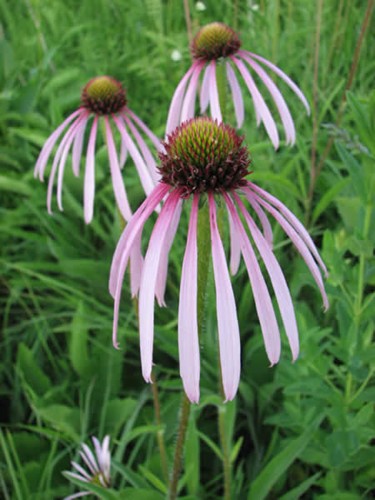 Echinacea paradoxa
The only non-pink species that has allowed the development of all the new coloured hybrids. Flowering from late spring, this is a taller plant from the Midwest that grows to around 120cm and is well worth growing in its own right. See picture above.
Ian and Teresa Moss are retired nursery owners and organisers of Rare Plant Fairs.
Website: www.hardyandunusualplants.co.uk
Reference: Introduction to the Genus Echinacea – Coneflowers by Dennis Carey and Tony Avent. www.plantdelights.com
Photos courtesy of Terra Nova Nurseries