Never Underestimate the Power of Magnolias
Marketa Hermova, from the garden team at Evenley Wood Gardens, on the April show of Magnolias in the Gardens there - 25 March 2016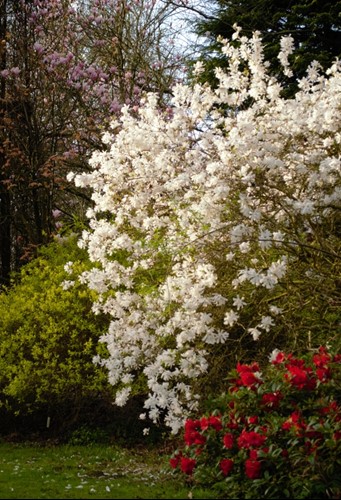 Magnolias are a true treat to us. These vigorous trees and shrubs can reach the height of 110 feet in their native habitat of wet and swampy forests. Even though they don't reach this height in UK, the rich fruit scent, size of flowers and colour hues of white, yellow, pink and purple bring the joy to every single garden in Britain on April when they are in bloom. By going a little bit closer to them and perhaps by feeling the 'wood heart' that beats inside of those magnificent plants, we may understand them and get most of their beauty. If you visit Evenley Wood Garden on Sunday, 3rd April, you will not only have a chance to see flowering magnolias, but you will also get an opportunity to buy one, because on that day, the Garden hosts the Rare Plant Fair. Another plant attraction, the Scilla stream that flowers roughly in the same time, will be then just the icing on the cake.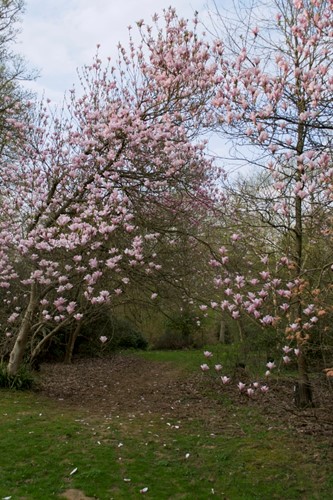 Magnolia 'Heaven Scent'
Found predominantly in northern South America, central America, southern and eastern North America and south east Asia,  the Magnolia family consists about 300 species. However, only 80 of them survive in the wild where they mostly grow in the regions with a tropical, subtropical and temperate climate. Hardy magnolias introduced to British Isles in 1687 (M.virginiana) include some of the best-performing woody plants growing in the North Hemisphere. Popular in these days and widely cultivated, M.grandiflora arrived to Britain in 1730. Sir John Colliton - is the name familiar to you? - was the first Magnolia grower in Europe and UK, whilst Sir Charles Wager was then the first person in UK who has got the tree flowering. The Duchess of Beaufort had a true passion for growing the magnolias in her days and there were more aristocrats who had the passion for plants, parks and gardens.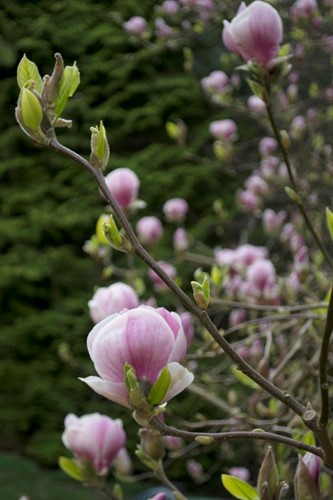 Magnolia 'Verbanica'
Asiatic species, such as lily tree Magnolia denudata started arriving 50—60 years later. The first tree was introduced by Sir Joseph Banks in 1780. The woody orchid Magnolia liliflora, which is nowadays often use as a parent for breeding, was introduced by the third Duke of Portland in 1790. It took a few decades to get a permanent place for magnolias in English gardens, but once the awareness of these plants increased in 19th century, they started being valued and the market started being hungry for them. The star magnolia, Magnolia stellata, was available for British gardens after Commodore Matthew Perry had opened the Japanese trade  routes to Western European countries.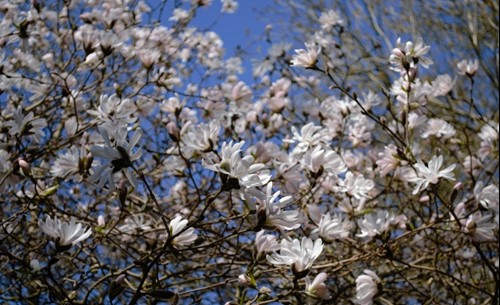 Magnolia stellata 'King Rose'
Monsieur Soulange-Bodin, the French officer and agronomist introduced the first Magnolia hybrid Magnolia x soulangeana. Famous plant hunters Frank Kingdon Ward, Ernest Wilson and George Forrest  also brought back from their journeys some of the Himalayan species. The list of magnolias growing in Britain was massively enlarged during 20th century. Plantsmen Roy Lancaster, Sir Harold Hillier, Geoffrey Herklots re-introduced other magnolias. Good examples are Magnolia zenii, Magnolia campbellii 'Alba' and Magnolia macrophylla subs. dealbata. Having a place in Aztec history, magnolias are an old plant genus and one of the most primitive plants in respect of the evolution and pollination.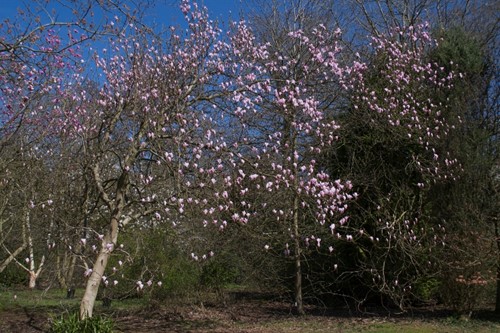 Magnolia 'Raspberry Ice'
The fashion of magnolias in 21st century leans towards the ornamental evergreens, such us Magnolia grandiflora that is widely cultivated. Most of the work on magnolias in 21st century is being carried out through the conservation programs of Botanical gardens and Arboretums. The National Collection of Magnolias is one of the highlights in Caerhays Gardens. Tregrehan Garden and Cottages in Cornwall, Wentworth Castle Gardens in South Yorkshire and  Batsford Arboretum in Gloucestershire are other destinations worth to visiting for magnolias in spring. Without any doubt, some of the best magnolias are part of the private gardens and estates, and Evenley Wood Garden is a great example. Over 100 Magnolias grow in 60-acre woodland garden set in Northamptonshire. A well-drained loamy/sandy soil that is slightly acid offers good growing conditions for M. 'Pirouette', M. denudata and M. 'Maryland'. Growing nearby, the large-leaved  M. macrophylla produces fragrant white flowers each year. Underplanted with spring bulbs and surrounded by rhododendrons and camellias, magnolias play a leading role in the spectacular spring show. Even though, M. salicifolia, M.'Betty' and the sweet bay magnolia M.
virginiana were planted in a very wet area with a predominantly clayey soil, they have survived here. Tim Whiteley, the Garden's owner and for a time also the Head Gardener, took the advantage of different soil types and he used the acid soil condition in a well-protected central area for growing the magnolias. Having a regular portion of morning sunshine, M. 'Iolanthe', M. 'Raspberry Ice' and M. 'Verbanica' have the right condition there. As well as leaf and shape of magnolias, the colour of flowers vary a lot. Visitors may appreciate the yellow-flowering M. 'Lois', M. 'Yellow Lantern' and M. 'Elizabeth', all of them awarded by the Award of Garden Merit in RHS trials.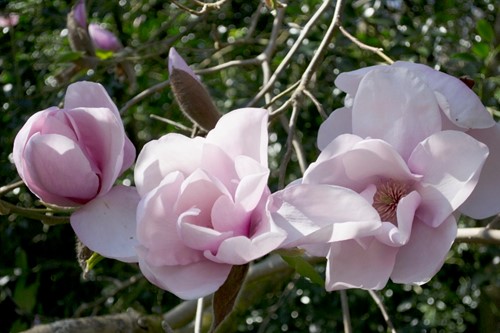 Magnolia 'Iolanthe'
A trial of magnolias grown in alkaline soil, established at the Garden in 2002 by well-known plantsman Maurice Foster for The Rhododendron, Camellia and Magnolia Group of the Royal Horticultural Society, had the principal aim to assess the performance of 20 magnolias. Surprisingly, deep purple flowering M. 'Liliflora Nigra', M. Loebneri hybrid 'Powder Puff ' or M. obovata grew rather well; however M. sargentiana, M. robusta and M. rostrata did not thrive and died after a few years.
The Garden team is specially proud of two magnolias. M. 'Evenley Gift' was a gift to Evenley. This 8 years old tree is a hybrid between M. 'Simple Pleasures' and M. 'Big Dude' and was registered with Magnolia Society International in USA 2 years ago. Another magnolia which receives a special care and attention is M. 'John Bond', gift from, and named after the late John Bond, the Keeper of Savill Garden. It's been planted amongst maples, rhododendrons and azaleas just next to the rare golden red oak Quercus rubra aurea 'Evenley Gold'. The actual fact that the tree had its first flowers on the day of John's funeral gives a special value to this magnolia.

Magnolias act as diamonds in our gardens. You don't need to be a plant collector, but you should have at least one plant in your garden. The value will be discovered once the tree is in full blossom. Having 95 magnolia species and hybrids, the garden's team watch each spring a slow colour transition between white, pink, purple and yellow. The Garden's other plant attraction, Scilla stream takes the part of the woodland spring show in mid April when thousands of bulbs planted underneath the trees and shrubs cover the ground and the blue colour hit always the visitor's eye.