Aspire: Working to change lives across Oxfordshire
Helen Mariner, from Aspire Oxford, the charity supported by our Fair at Adwell House, with an overview of the very important work that they undertake. - 24 August 2018
Aspire is an award winning employment charity and social enterprise, established in 2001. Aspire supports highly disadvantaged local people with a background of homelessness, offending histories, poor mental wellbeing or addiction into employment. We do this because finding employment is the best way to break the complex cycles of homelessness, poverty and re-offending.
Our approach is much needed in Oxfordshire; while perceived as a wealthy, privileged county, our community is facing significant social challenges. These include a homeless crisis and rising levels of rough sleeping; high rates of re-offending and isolation and loneliness in the elderly. Through a combination of specialist employment support and work experience on Aspire's social enterprises, we now help over 1,400 highly disadvantaged local people every year. Demand for our employment projects continues to grow and we have recently expanded our work into Buckinghamshire.
Aspire's social enterprises
When our clients first come to Aspire, they are often very low in confidence and have been out of work for many years. One of the most powerful ways to build their confidence, well-being and resilience is for them to take part in work experience on our social enterprise businesses. These businesses include grounds maintenance, property services and recycling. Aspire delivers these services to councils, companies and individuals across the county. These enterprises provide class-leading professional services, with real social value built in.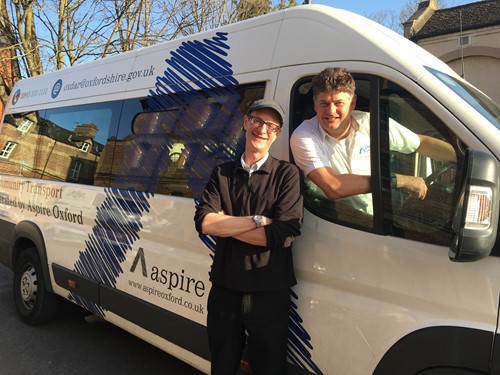 Our latest enterprise is a Community Transport service for vulnerable elderly people. Our buses take elderly people to shopping and social trips and is a lifeline in protecting them from isolation and loneliness. 92% of our passengers live alone and 58% would not leave their homes without this service.
Last year, out of the clients who took part in work experience on our enterprises and benefited from Aspire's specialist support, 93% maintained their recovery from addiction and 99% of those with an offending history did not re-offend.
Specialist employment support
At Aspire we have a team of experienced Employment and Development Workers, who provide specialist employment support to our clients which includes access to training and qualifications, help with getting ID and documentation, access to driving lessons as needed and wider support around mental health, addiction, housing or debt. Aspire also run a successful project alongside local prisons known as Through the Gate, to support ex-offenders as soon as they are released from custody to break the cycle of re-offending. A core aspect of our work across all of the clients we work with is to engage with local businesses, encouraging them to offer work placements and job opportunities and helping them to become more flexible in their recruitment.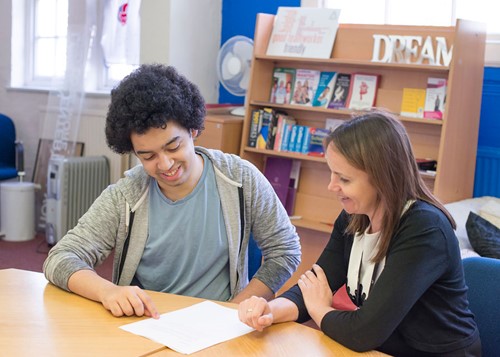 Jane's story
Jane started as an Aspire trainee in June 2016. When she first joined Aspire, Jane suffered from severe anxiety and struggled to leave her home on bad days.
After a positive trial day at Aspire, Jane was able to set some goals with help from her Employment and Development Worker Tom. Jane had always loved working with plants, so with encouragement she signed up for the one day's Introduction to Grounds Maintenance course. She loved it and couldn't wait to learn more.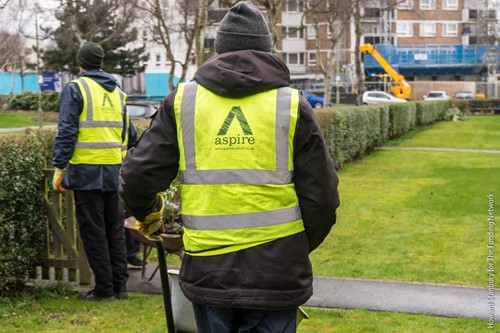 Photo: Howard Stanbury for The Funding Network.
Jane began to build her confidence on the enterprise teams and took part in sports activities. Tom then put Jane forward for the CSCS card training; she passed this with flying colours and grew even more in confidence. With Aspire's help, Jane became more comfortable using public transport and was able to attend college in Witney where she completed her Level 2 City & Guilds qualification in Horticulture. This led onto job searches and CV writing with Aspire and Jane was offered a full-time role working for a gardening team in Oxfordshire.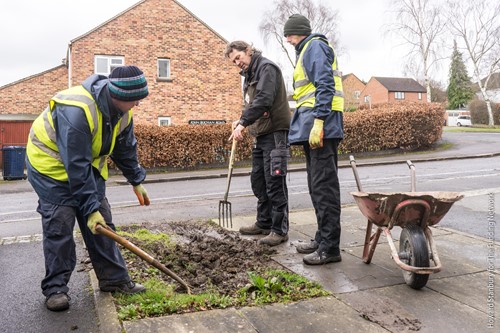 Photo: Howard Stanbury for The Funding Network.
"Without Aspire's help I would never have been able to get back into work and move forward with my life. I now have the confidence to get out there and do new things. Thank you Aspire team!"
Homelessness prevention
Oxford continues to face a significant homeless crisis. Aspire have supported people who are homeless for years, helping them to find employment and escape the vicious cycle of homelessness, for good. But in April 2018 we were delighted to become part of an innovative new approach to tackling the homeless crisis in Oxfordshire through homelessness prevention, known as Trailblazer.
The Trailblazer project sees a new Aspire team working across county to give people help and support at the very first signs of homelessness, before they reach crisis point. This includes giving advice and support around housing alongside other agencies, advocacy and brokerage support, finding advice on managing money and welfare issues and access to Aspire's employment and work experience programme.
To find out more about Aspire's award-winning employment support across Oxfordshire and see how you can get involved, please visit www.aspireoxford.co.uk