Plants that turn me ON!
Paul Navin, from Millwood Plants, on some of the plants that really get under his skin! - 29 May 2016
Spring is just about making way to Summer (well, a man can dream), and after a really wet winter the gardens are now finally coming to life.That means it's time to tuck in and see what gaps are there; if there are none we can always make some, so let's start the 'retail therapy'!
I took a gentle stroll around the nursery this evening; it's half past eight but there's plenty of light and as the sun is beginning to say good night, drawing the last rays one at a time, these plants really caught my eye. Out of a few thousand plants we grow on our nursery, where every morning we see a different flower open to remind us the seasons are gracefully dashing away, very few really catch my eye and I keep strolling back and forth a few times every day to see how they are progressing. Here are a few plants that bring a smile to my face and remind me why we really put up with our lovely weather!
Anemone leveillei is one of my two favourite anemones. It's an incredibly beautiful species anemone that flowers in May. It originates from Northern India and China with beautiful white cupped flowers and stunning blue anthers but it is only at dawn or at dusk when it is shut that it reveals the underside of its petals that are flushed with hues of lilac. It is an absolute must have for a shady part of the garden which holds a bit of moisture, and grows to about 3ft high. Completely hardy yet breathtakingly delicate.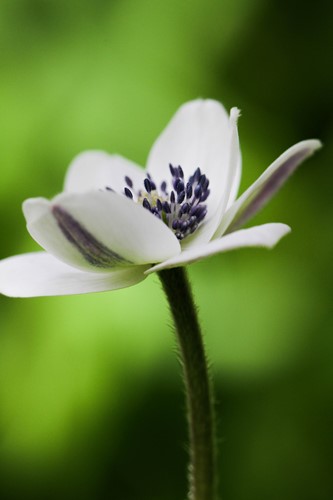 The runner up to this Anemone is none other than the Anemone 'Wild Swan', a hybrid of an early flowering and an autumn flowering Anemone which resulted in this show-stopping variety that flowers like there is no tomorrow from May to November. It has divine white flowers with blue backed petals and gorgeous yellow anthers swirling around a green eye. It grows a little over 3ft and forms a compact clump, ideal for part shade in well drained soil. You couldn't ask for any more from a plant.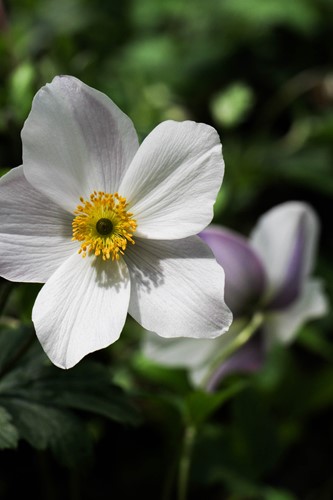 A great companion plant for the Anemone which prefers the same sort of conditions is our beloved Brunnera 'Mr. Morse'. Brunneras are excellent for year round interest with their stunning silvery grey, heart shaped foliage and scintillating little white flowers pop up all over the foliage from April-June. A great ground cover plant for shade and when established tolerates drought very well.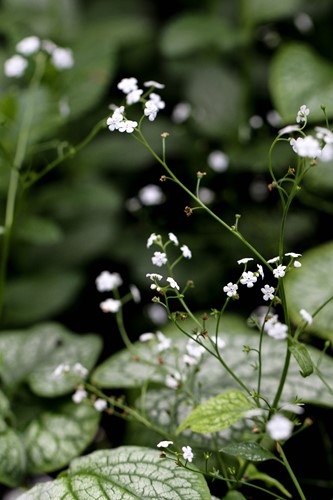 Another good ground cover plant for moist shade is Maianthemum yakushimanum, or the miniature lily of the valley as we call it. The leaves are no bigger than a 5p coin and the flowers are no taller than a 10p coin. The sparkling little starry flowers just smother the glossy green leaves from May to June and later turn to bright cherry red berries. The whole plant vanishes by Aug but it is an ideal ground cover plant for tricky dark corners as it's not fussy about the soil conditions.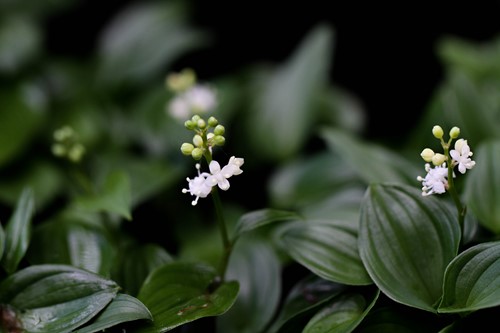 Gardening in the shade is my favourite kind of gardening and it's not always about flower power, I love to play with textures and foliage and there is nothing better than ferns. There are two ferns that I can't be without in my garden. The first is Adiantum aleuticum that originates from Alaska so we shall not discuss its hardiness but what I can tell you is it's the most beautiful thing that even at the deepest darkest corner (in deepest darkest Devon) of our woodland corner just lifts the moment when I glimpse it, with its florescent fluffy dense fronds that draw me to it to gently caress the foliage.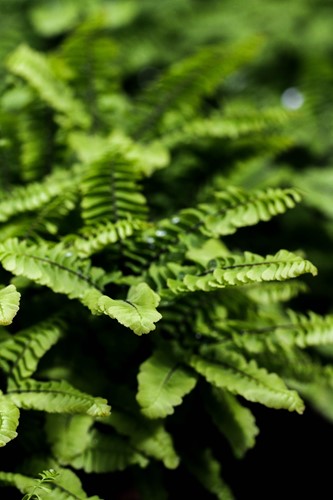 The other fern that I can't keep my hands off is Athyrium niponicum 'Pewter Lace' and as the name suggests it has this stunning metallic foliage. Every new frond starts off deep purple and gracefully unfurl into a metallic platter with an incredibly intense burgundy veining. An ideal plant to bring a dark but moist part of the garden to life. It's a part of the Japanese painted fern family, grows to about a foot high and spreads to about two and is completely hardy.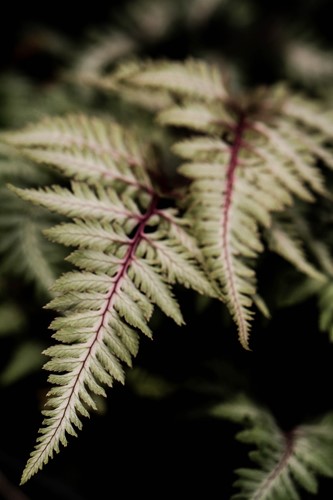 Moisture has never been a problem if you garden anywhere in the United Kingdom. One such plant that loves moisture is Trollius 'New Moon', with its delicate buttery yellow flowers on slender long stems from May to August. It's an excellent cut flower, lasting for a couple of weeks! Any moist, ideally damp part of the garden is the perfect spot for it. At 3ft high it's definitely a charming little chappy.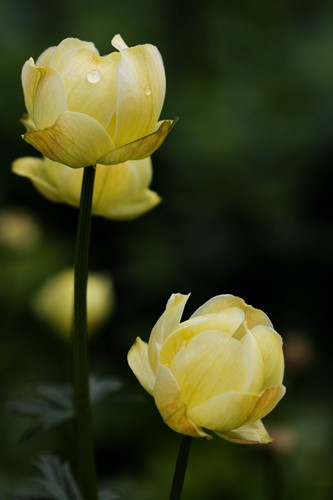 We all have a part of the garden where nothing grows! Most often customers at the nursery who have moved into a newly built house always come up with this problem! Builders often 'hide' dumped everything that they can't be bothered to put in the skip in the front garden under a foot layer of top soil (if only there were Garden Regs!). Well, there is a plant for that position! Anchusa 'Loddon Royalist' prefers free draining but poor soil and is drought tolerant once established. Did I forget to mention it has the most intense electric blue flowers? Well, flowering at just about two feet high they are so blue my eyes hurt!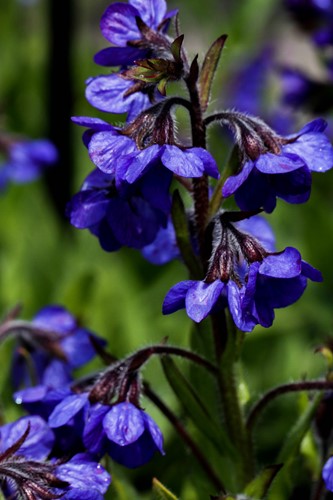 Talking about plants for poor soil I cannot just do without, another is  Cirsium rivulare 'Atropurpureum'. Once established and kept reasonably moist through flowering period (May-July), it's an absolute gem of a plant for flower power on tall slender 4 foot tall stems. An excellent back of the border plant and it's also an absolute bee 'dine & dash' centre. I see more bees than flowers and it certainly has the feel good factor.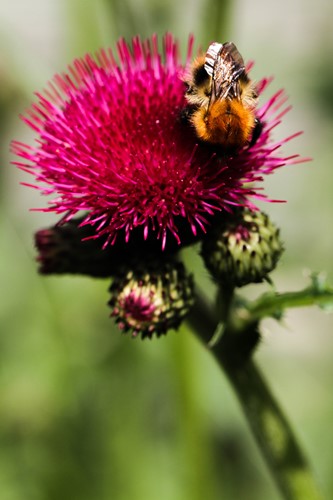 A garden is incomplete without an alpine corner. I asked for a stone trough for my last birthday and I was given the next best thing, a shallow terracotta pot. I grow this unusual double flowered form of Rhodohypoxis 'Kiwi' in this pot and it sits on our picnic table. The first flower opened three weeks ago and it's still looking as fresh as it did on the day it opened. It reminds me of a little rose, but minus the feeding and spraying. Plenty of gravel mixed with soil for good drainage is all it needs. It is no taller than a couple of inches but looks priceless.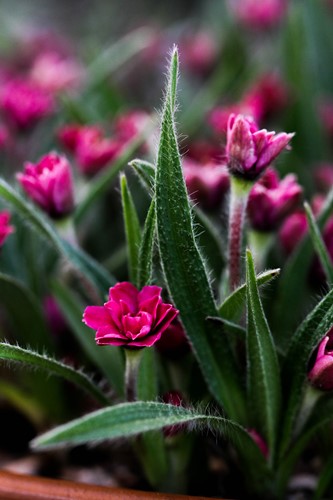 Last but not the least, an annual I really adore, Orlaya grandiflora. If I were a plant this is what I would wish to be - Live fast-Look stunning-Die young! Flat lacy pure white flower heads with ferny foliage on long slender stems. Everything about it is just perfection and exudes elegance. it flowers right into October and if it likes you it will naturalise on well drained open soil in full sun. I am really excited now, can't wait for the sun to rise!
Gary Buckingham and Paul Navin run Millwood Plants, based near Rosemoor in North Devon, where they grow a huge range of outstanding herbaceous perennials, including many woodlanders.
All the plants mentioned in this article will be available to buy at the Rare Plant Fair at High Glanau Manor.