The Wonderful World of Perennial Violas
Laura and Jack Willgloss, from Bouts Violas, tell us why no garden should be without perennial violas. - 02 April 2015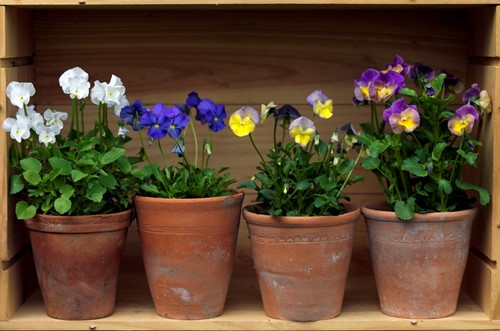 Violas are plants with personality, which is what attracted us to them in the first place, their smiling faces and sunny disposition. On our nursery in South Shropshire we grow a lot of violas, 180 different varieties in fact. They are all perennial types and range from some very old and precious heritage varieties to the latest, most exciting introductions. The violas we grow can be loosely grouped into Viola cornutas and Viola hybrids.  
Viola cornuta is a species that originates in the meadows of the Pyranees and has long stems to hold their purple, honey scented flowers high enough above the surrounding grasses, to attract the attention of passing insects. The flowers of Viola cornuta have characteristically narrow elongated petals that are so delicate, yet these are remarkably hardy robust little plants. They are often recommended for ground cover, as they happily spread to make large flowering clumps under shrubs, notably roses, with which they combine extremely well.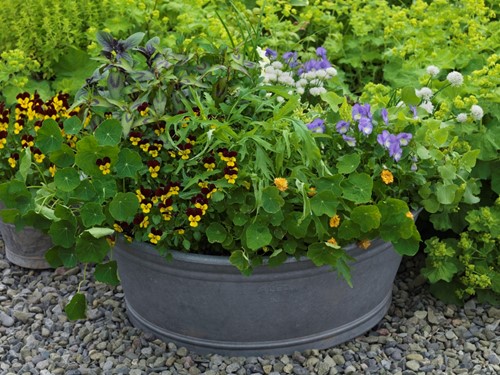 Viola hybrids, as the name suggests, is something of a mixed bag and is the category into which the rest of our large collection is grouped. Their parentage is somewhat diverse and they can be striped and splashed, bicoloured or the image of simplicity itself in pure hues of white, yellow, pink, mauve, purple and black. Many are scented too. The most common scent is of honey, but some varieties are different, such as Viola 'Alice Kate' with sherbet yellow flowers and a scent reminiscent of citrus and cloves, another lovely variety is Viola 'Eris' with frilly creamy white flowers and she has the scent of delicious vanilla custard!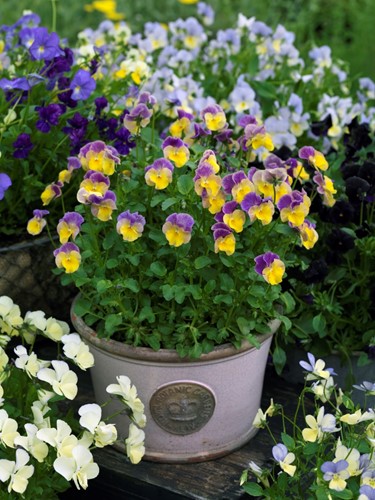 There can be few plants that can match the length of the flowering season of violas. Many of the viola hybrids start flowering in April (May for the cornutas) and combine beautifully with spring bulbs such as Muscari 'Valerie Finnis' and Narcissus triandus 'Hawera'. They then continue to flower throughout the summer and well into September. Violas are remarkably versatile and suit a range of garden situations. They look lovely in pots, whether potted as a collection of individual varieties (as you might do with auriculas), or mixed together. You can also combine them with other plants in mixed containers. We like planting them in an old vintage container with culinary herbs or salads, as viola flowers are not only ornamental but edible too and can be used to decorate salads and cakes. 
In the garden the more vigorous varieties, notably many of the cornutas and some of the hybrids such as Viola 'Ivory Queen' , V. 'Roscastle  Black' and V. 'Eastgrove Blue' are good for underplanting shrubs, but they are also lovely subjects for the front of the border, scrambling through their taller flowering neighbours and combining well with many traditional cottage garden favourites such as geraniums, potentillas and astrantias. We have also found them to suit more contemporary naturalistic styles of planting, particularly the cornutas with their more delicate flowers, combining well with shorter grasses such as Stipa tennuissima and Hordeum jubatum.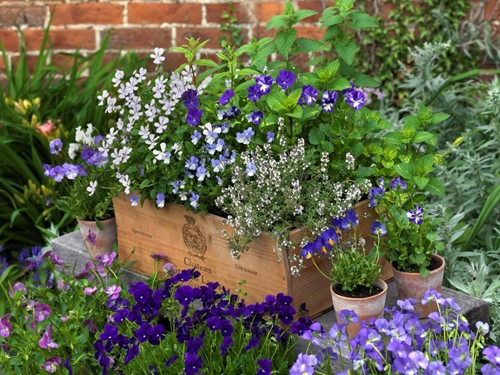 Violas are remarkably generous plants and easy perennials to grow if you follow a few golden rules as follows: 
They enjoy part shade through to full sun, but will not tolerate deep shade.
They like good humus rich garden soil. They are happy on clay if garden compost has been incorporated to break it up and on sandy soil if garden compost has been incorporated to improve moisture retention and nutrients.
If growing in pots use a good quality general purpose compost and incorporate grit or perlite to aide drainage through the winter. You can also add slow release fertiliser to the compost, or give them a liquid feed every two to three weeks to give them a boost. Feed first with a balanced feed for healthy plant growth and once well established switch to a tomato feed to encourage more flowers.
If growing in pots make sure they are deep pots. All our stock pots are made up of 3 plants potted up into one 10 litre pot, that is approximately 30 cm wide and deep. We find the plants knit together well and make a large flowering clump. You can grow them individually in smaller pots for the summer if you want to create an auricula theatre type of effect, but pot your violas on into something deeper by late summer/ early autumn as their vigorous root systems will appreciate more space longterm and a larger pot will help insulate them from winter cold.
Deadhead and keep deadheading. Some people find deadheading very therapeutic. I can't say I do, but then there are 180 varieties of viola to get through in our collection. The rewards are however great and your violas will keep compact for longer and keep flowering all summer long.
If your violas become leggy and you don't want to do all that deadheading, you can undertake a mid season chop. Usually in mid July we take the garden shears to our violas and simply cut straight across the top leaving 2 inches of growth. Give them a balanced liquid feed and in 4 weeks they should begin to shoot again and come into flower.
Check for slugs and aphids hiding deep in the crowns of your viola plants. A drench of nematodes can control the slug damage and a spray with a soap based organic pesticide should keep the sap suckers at bay, otherwise there are non-organic chemical alternatives to these.
Winter maintenance.
After a season of flowering their socks off put your violas to bed for the winter by once again shearing across the top in late September and leaving a couple of inches growth as protection. Next year's young shoots will emerge from the base of the plant. Check for pests and diseases from time to time and treat accordingly.
Following this advice you should have a glorious show of flowers and scent from April through to September, for your pots, or your borders, or even decorating your salad bowl. What garden can afford to be without them?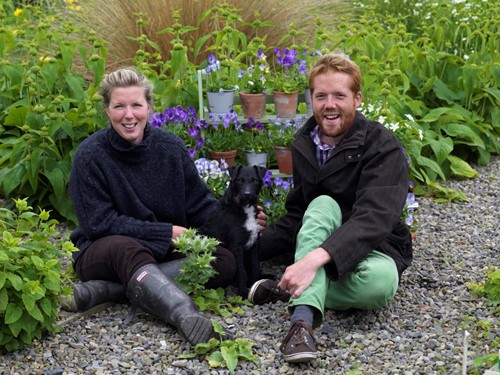 Laura and Jack are specialist growers of hardy perennial violas at their nursery, Wildegoose Nursery, based in a wonderful walled garden in Shropshire.
Website: www.boutsviolas.co.uk
Article and all photos copyright the authors.