Reliable Performers (Good Do-ers!)
Paul Green, from Green's Leaves, suggests plants that will look good in your garden for a long period, with the minimum of fuss and attention! - 10 August 2018
We all love trying to grow "difficult" plants – we love the challenge, it boosts our ego when we get it right, by luck or judgement. But let's be realistic – most of us love our gardens, though we're not blessed with lots of time to tend them. This is where we need a reasonable percentage of what I (and most of you) call good do-ers! Probably not a proper word, but you'll get what I mean. We're talking about plants that you can put in that look good for a decent time period with minimal fuss and you can rely on to thrive for years. So let us sing the praises of some of these tough treasures.
Brunnera
O.K., the silver leaved  B. 'Jack Frost' is not remotely new, but here are now a good number of silvers for you to try – I really rate B. 'Sea Heart' which seems a brighter silver, still with those lovely blue forget-me-not flowers. 'Silver Heart' and 'Alexander's Great' are two of the other excellent new forms to try. Once established, Brunnera is more drought tolerant than you might think (Editor's note: we can confirm that based on our experience this summer!). This is classic example for me of a first class foliage plant with the bonus of flowers. The common name "Siberian Bugloss" certainly gives you the idea of hardiness – it takes below -20C. For all cultivars, it's worth cutting the old flowering stems off before they start seeding around – seed raised offspring are rarely good. This encourages the strong, large leaves that look good throughout the season.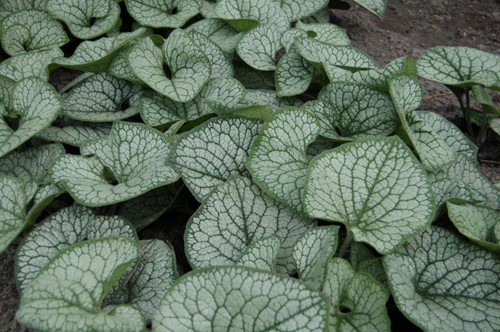 Brunnera macrophylla 'Sea Heart'
Pulmonaria 
I've long been a fan of "lungworts", and they deserve to be appreciated and grown more widely. While they all need moisture to thrive, there have been massive improvements since I admired them in the family garden when young. Take P. 'Diana Clare' - a selection from Bob Brown – a neat yet strong grower with silver foliage and the classic two tone blooms. It is very rare to see any amount of powdery mildew on it; yet some other cultivars are just not worth growing due to this. A much more recent introduction is P. 'Samurai'. I have had this in full sun on a hot show day in August – all other cultivars in the display were wilting, while P. 'Samurai' leaves were completely turgid, because of the much more obvious leaf hairs. An intensely silver leaf plus decent flowers have made it extremely popular both here and in the USA (including warmer states).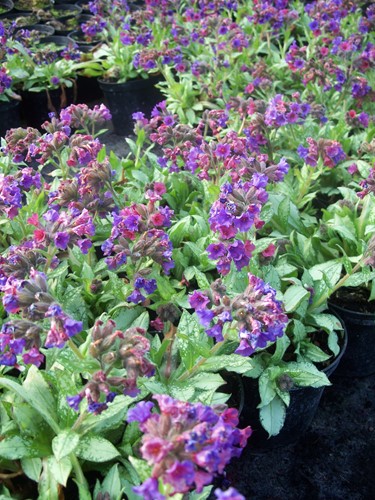 Pulmonaria 'Diana Clare'
Epimedium
A very broad range of growth rates and colours, so a versatile and invaluable under-planting. Remember it is worth cutting old leaves off the evergreen varieties just before new growth appears (so late January – early February). This means you get the full benefit of the new red or bronze leaves and the small but beautiful flowers.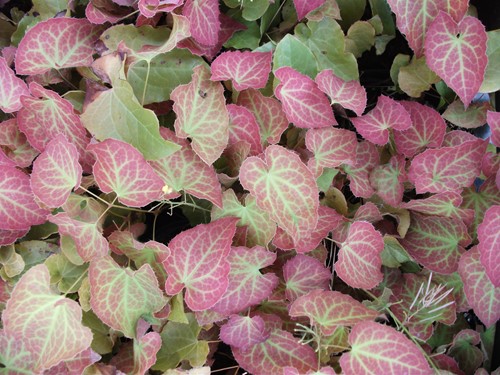 Epimedium × perralchicum  'Fröhnleiten'
Finally, a star plant in my very limited maintenance garden is Aster trifoliatus ssp. ageratoides 'Asran' – one hell of a name for a seriously impressive plant. It spreads nicely, needs no staking, gets absolutely no powdery mildew, it's loved by butterflies and flowers for a decent length of time late in the season. What more could you possibly want from a plant?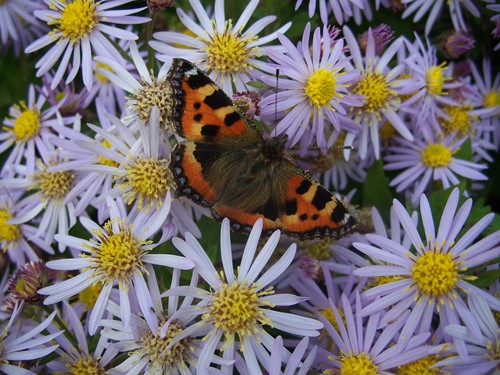 Paul Green and his wife Helen are the owners of Green's Leaves, based in Newent in Gloucestershire. They specialise in choice and rare shrubs, coloured foliage plants, architectural plants and grasses.
Website:  www.greensleavesnursery.co.uk
Article and all photos copyright the author.