Spotty Dotty meets HiViz yellow!
Colin Moat, from Pineview Plants, on some more unusual shade-loving perennials - 19 May 2017
Podophyllum
My initial attraction to this less than common, woodland perennial of the Berberidaceae family, was the handsome leaf, that emerges through the ground like an umbrella. The leaf unfurls to reveal that it has, unusually, a central stem, and, depending on type, the leaf is interestingly patterned, or shiny, or both, and, can be deeply lobed, or pointed. In addition to this rather intriguing habit, it has quite large flowers in relation to the size of plant, and, depending on species, these are white, pink, yellow or deep red. The additional bonus is that, once pollinated, you are rewarded by a large, up to 2" (5cm) fleshy seed pod of green, yellow or red. Although the common name of 'Mayapple' sounds appealing, the other of 'Wild Mandrake' gives a clue that it isn't for general consumption, but is of medicinal use. Unfortunately for us nursery folk, the taxomonists have been left to run amok with slide rule and DNA kit, and they have allocated most of the species to other genera, Dysosma, Pilea, and Sinopodophyllum, leaving just P. peltatum as the orphan of that genus, and as ever there is some debate about this.
Podophyllum peltatum is from eastern United States and south eastern Canada, and is widespread in the woodland there. Its habit is to spread by underground stolons, and unusually pushes through its unopened flower bud through the soil first, followed by the unopened 'umbrella' leaf. These leaves are deeply lobed reaching 12" (30cm) across, and can be carried 15"-18" (35-45cm) high. The flowers which occur in May are generally white (cream and pink have been known) and comparatively large and are followed by equally large yellow fleshy seed pods. It is deciduous, disappearing over winter. It is very hardy (Z4 -35C), but avoid very wet winter soils.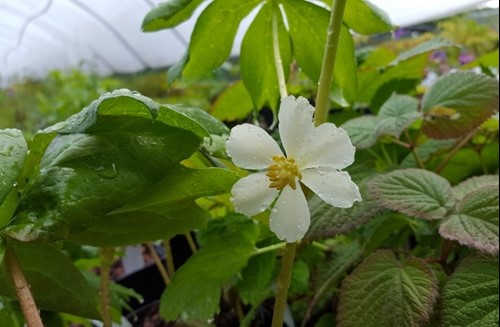 Sinopodophyllum hexandrum (syn. Podophyllum) is the only species of this genus and is from the mountain slopes and woods of the western Himalaya. Their leaves, whilst impressive, are not large at 6" (15cm), but are very attractive, variable in shape, emerging a dark bronze colour, opening to display a handsome shiny surface of mottled bronze and almost purple-green, no two leaves are identical and provide a perfect foil for their white to pink cup shaped large flower. This, then provides its egg shaped fleshy fruit up to 2.5" (6cm) long held below the leaf. There is a larger, rarer, form called 'Majus'.
The other better known form of what was known as Podophyllum has now been moved to Dysosma, a genus I hadn't even heard of, until this taxonomic upheaval, which, depending on source, relates to these Chinese forms. So we now have Dysosma versipellis (syn. Podophyllum versipelle) and the variety 'Spotty Dotty' which due to recent micropropagation is now reasonably widely available. This, in that classic 'moist but well drained' (i.e.not standing in freezing wet overwinter) shady soil, is a wonderful sight with handsome purple and bronze toned and marked leaves, the weight of which tends to arch them over for all to admire, complemented by luscious, large dark red, pendulous flowers. I was discussing this form with a very well respected Belgian nurseryman recently; he planted D. versipellis 20 years ago, and is starting to find a bit 'vigorous', so possibly planting it among shrubs may be a better option than with your choice woodlanders.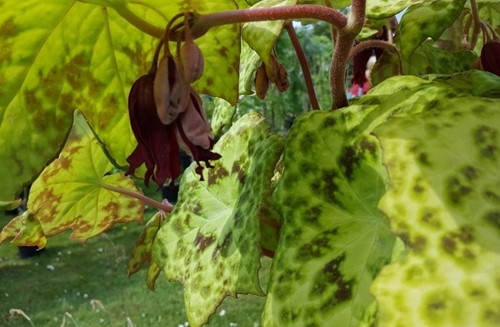 I would really commend any of the above varieties, which have withstood quite harsh conditions in unprotected pots outside all winter and sailed through it. They will certainly make your gardening friends ask the question 'what's that?', which is always worth hearing!
Umbel 'eaven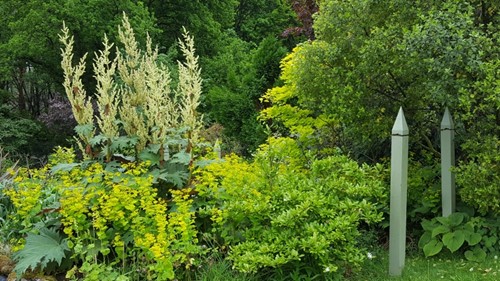 I originally intended to look at some Arisaema in my next piece, but that might have to wait until/if I'm asked for another contribution! Because….on my way down the garden to photograph some, I was distracted (and this often happens to me in the garden!) by my favourite plant at this time of the year (well today) which is the fabulous umbellifer Smyrnium perfoliatum. You can turn off the cynical 'what's he trying to flog us now' button, as this plant is very rarely offered, or even mentioned, by anyone. The reason is that, due to it having a tap-root, it really resents being transplanted. The only way of growing it, is by sowing in situ….and waiting 3 years! The only (other?) drawback is that it looks remarkably like ground elder when it emerges in spring, and, I have had a few sympathetic glances from garden visitors.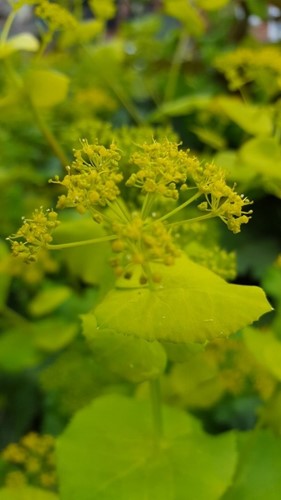 Once it flowers, and it is in flower for about 6-8 weeks, it sets seed and dies. You then go through another couple of years until it settles down and becomes consistently invasive. While nurserymen very rarely call anything a thug (vigorous, is the term to look for, see above) this can be. However, it is a controllable thug, in that it can be easily pulled out, and, I have cleared areas successfully, where I didn't want it, just by pulling before it sets seed, and hoeing off seedlings in following years. I first saw it in a fellow Hardy Plant Society member's garden and was smitten by its soft fluorescent yellow; I do mean soft, it has an open umbel flower which produces a hazy feel, and combines with many other seasonal plants, plus, usefully, hiding dying bulb foliage. It also is an excellent cut flower, enhancing cut tulips like 'Queen of the Night', or, Allium 'Purple Emperor'. I know there are a number of people who are not keen on HiViz yellow flowers (I live with one) but, I think this may be one, for which you might make an exception, as it provides sunshine even on the greyest days.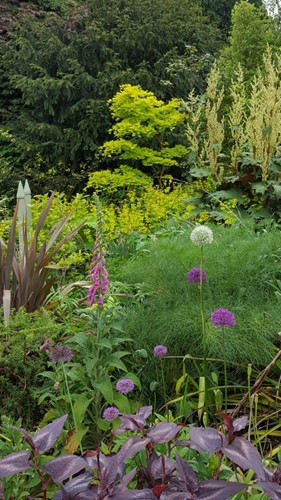 Colin and Cindy Moat own Pineview Plants, based in Kent, where they grow a wide range of herbaceous perennials. Specialities include shade loving perennials and ferns (which are one of the nursery's passions), Sanguisorba, Thalictrum, Actaea and Roscoea.
Website: www.pineviewplants.co.uk
Colin also helps to organise events staged by Plant Fairs Roadshow, a group similar to Rare Plant Fair that hold Fairs in Kent and the South East.
Website: www.plant-fairs.co.uk
Article and photos Copyright the author.