Time to be Inspired for 2016
Elizabeth Murray, from Llanover House, on the development of these inspirational gardens by her family over the last two centuries. - 11 September 2015
The 15 acre garden, arboretum and park at Llanover, which is hosting a Rare Plant Fair on 20th September, displays the work of seven generations of the same family designing and continuously planting it since 1792 when Benjamin Waddington bought a Welsh farmhouse with the Rhyd y Meirch (Ford of the Stallions) stream running nearby.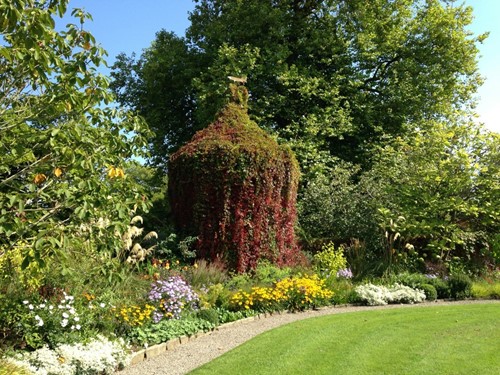 Mr Waddington used the tumbling stream to create ponds, decorative cascades, and rills. He planted recent introductions to Britain such as the London Plane Tree,. Four are still growing here. His daughter Augusta and son in law, Benjamin, after whom the bell Big Ben is named, enclosed the garden and park with a stone wall and gate houses. The main entrance used today was lined with Sweet Chestnut trees in 1922 by Lord Treowen, the great grandson of Benjamin Waddington, and my great-great uncle. During the 1930s planting continued but changes such as grassing over the elaborate design of paths and beds were also made as labour became more expensive.
A second very active period of planting started in 1960, when my father Robin Herbert C.B.E., V.M.H. and former President of the RHS, returned from America where he had learnt about and admired trees known for their incredible autumn colours. He planted hundreds of trees and shrubs, including maples, hickories, nyssas, euonymus, and liquidambars. These trees have thrived, and four are classified as 'Champion' Trees, namely Abies concolor f. violacea, Aesculus californica, Betula costata and Quercus alba.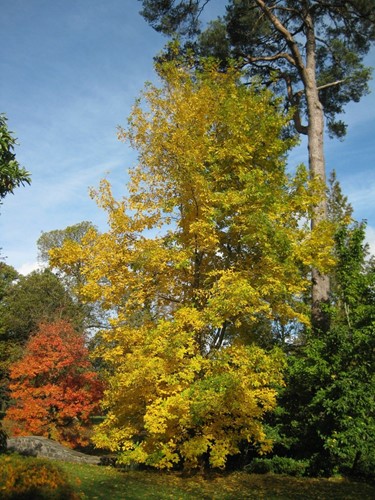 In 1999 my husband and I moved in and have continued to plant the garden with Peter Hall, our only Gardener, who was formerly Head Gardener at Dunham Massey, Stourhead and most recently Powis Castle. The main borders in the Round Garden were replanted in 2009 to a 'minimum effort for maximum autumn effect' brief by Mary Payne M.B.E. These borders, planted with dahlias, salvias and ornamental grasses will be looking 'hot' in September! Several other herbaceous borders have been reviewed and redesigned with new plantings which are of interest to anyone keen on visiting gardens.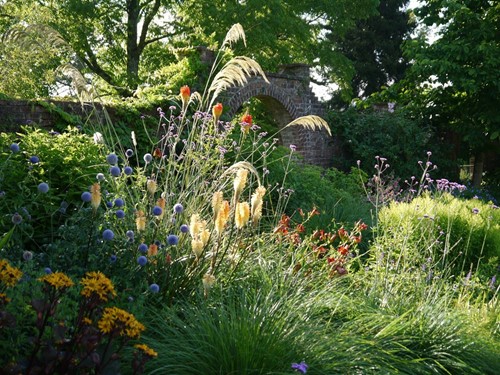 The arboretum will be showing early autumn colour, whether from the berries of the Sorbus hupenhensis rosea, S. Scolaris, S. 'Eastern Promise', S. sargentiana, or the gloriously glossy fruits of Viburnum henryi or V. betulifolium, which reflect onto the water of the lower pond. The strangely contorted fruits, red with a hint of pink holding the bright orange seeds of some of the 28 Magnolia trees such as M. obovata can be seen, and throughout the garden the trees will be slowly preparing for winter as their leaves turn rich butternut yellow, or a blazing orange, dark purple or fiery red or, in the case of Liquidambar 'Lane Roberts', each leaf becomes dramatically shot through with veins of all the radiant autumnal colours; a glorious sight as the gardening year draws to a close.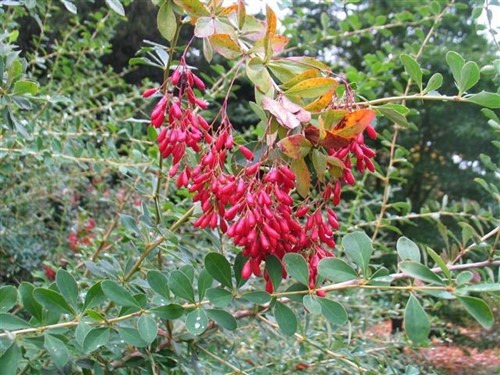 However, autumn is an excellent time of year to plan ahead and the Rare Plant Fair is a wonderful opportunity to buy and plant for 2016 for you and future generations to enjoy, as my relatives have done at Llanover for the last 213 years.