The Gardens at Waterperry
Pat Havers, Head Gardener at Waterperry, describes some of the garden's horticultural highlights. - 19 June 2015
The main herbaceous border has been at Waterperry at least 80 years, when Beatrix Havergal set up her gardening school for young women, in 1932. It is a border of three seasons, early, mid and late and the art is to keep it flowering for all three, a task we hope we can maintain.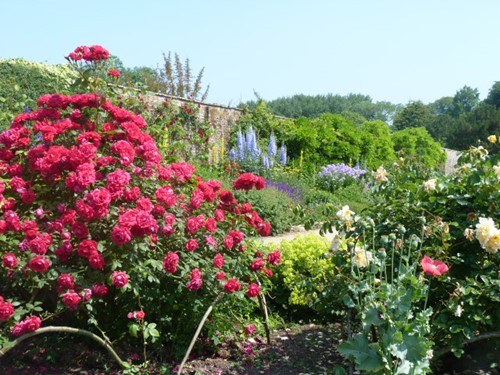 One of my favourite plants on the border is the regal Delphinium which is the main flower of the mid season and stands gloriously tall at the back against the red brick wall. We start work on our Delphiniums before Christmas when they are given a liquid slug treatment which is watered on and for us, is very effective. They are then surrounded with a ring of grit and finally a ring of farmyard manure as they are very hungry plants. As the plants start to grow in Spring, a cane is placed behind each one and they start to get tied to the cane at about a foot/ 30cms intervals. We stop tying at the bottom of the flower spikes although if they become very heavy it has been known to discretely tie through the spike to keep them standing up.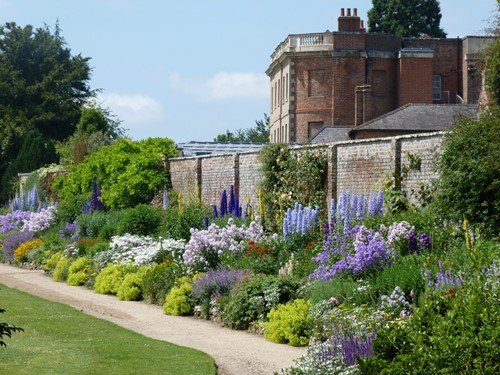 We have some great Delphiniums on the border which we have been collecting over the last few years. At one of the Rare Plant Fairs in the gardens we came across Home Farm plants and now take a trip there most years to stock up on anything we need for the gardens. (See Graham Austin's article also in this newsletter). A few of my favourites are 'Foxhill Nina', 'Gillian Dallas', 'Faust' and the pink 'Lucia Sahin' which took us two years to get.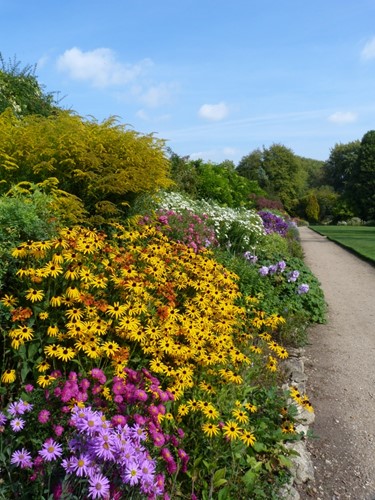 Although the border is probably our most famous part of the gardens with its fantastic asters in September, we have lots of other fabulous plants and borders to admire. The rose garden has a new half arbour this year against which we have planted Rosa 'Schoolgirl' and Rosa 'Swan Lake', and its new irises which should look stunning in May/June.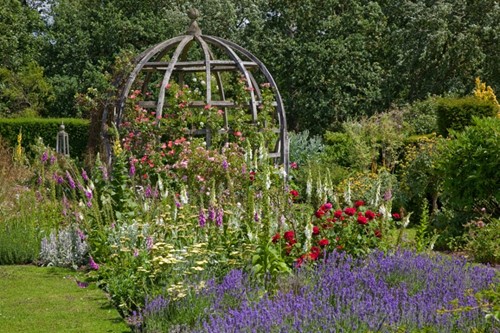 We have the Formal Garden which reflects the history of the house with its Tudor knot planted with Box, Wisteria walkway and borders planted with Tudor, Stuart, Georgian and Victorian plants. On the other side there are the more modern 20th century plants which the students of Miss Havergal may have used.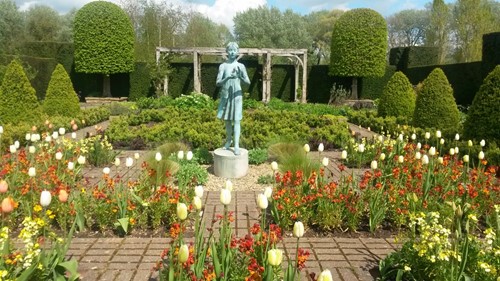 Other interesting elements of the gardens are the Island beds, designed by Alan Bloom to show the use of beds without a background; the colour border which is like a colour wheel, each colour grading into the next and not mixed; and Rob's border. This is a modern planting from 2012 with the use of grasses and other hardy perennials and its aim is to be low maintenance, interesting throughout the winter, drought-tolerant and not cut down until February. It is a great comparison to the main Herbaceous border which is high maintenance with much watering, staking of plants dead heading and weeding to keep it in tip top order.
We are very lucky to have our own nursery here which enables the gardens to have access to home grown plants when we need to do any alterations and they have their own living catalogue within the gardens from which they do all of their propagation. We are a teaching garden, running our own courses alongside the RHS L2 and L3 we  have  both guest speakers and our staff teaching students. We also host  tours for coach parties and Garden club talks on the maintenance and design of the Herbaceous border.
There is a new river walk which takes you along the edge of the estate, running along the tranquil river Thame around the pear orchard and back through the Arboretum. At the bottom of the gardens and creating a lot of interest is the family apple tree. This tree has about 50 different apple varieties grafted on to it by the Fruit Manager Chris Lanczak and eventually he hopes to have 60 grafted on which is one of every variety of apple on the estate. It certainly is a talking point but that is what Waterperry is, unique, quirky and rich in horticultural history.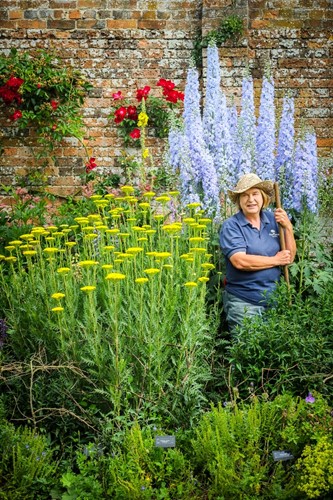 A visit to Waterperry is a great day out with opportunity to purchase our own plants from our onsite nursery, apple juice picked, pressed and bottled on site, rural museum, gift shop, garden shop and gallery. If you enjoy gardens and Art a date for your diary is 16th to 19th July 2015 when the estate will be hosting the world famous Art in Action Festival.
Article and all photos copyright Waterperry Gardens, except the photo of Pat, which is copyright Mark Lord Photography.
Website: www.waterperrygardens.co.uk