The Gardens at Salthrop House
Aldetha Raymond, Head Gardener at Salthrop House, with a taster of what visitors can expect to see in the gardens during our Fair there on May 14th. - 02 May 2023
Salthrop House is a beautiful 200-year-old manor house set a few miles from the World Heritage sites of Avebury stones, Silbury Hill and West Kennet Long Barrow. Salthrop House boasts beautiful large windows and a two-storeybow with a balcony displaying large terracotta pots of Buxus cones.
The 77 acres of grounds comprise woodlands, wild meadows and animal grazing pasture for our primitive flock of sheep and lambs, to a potager kitchen garden with an ornamental glasshouse of pelargoniums.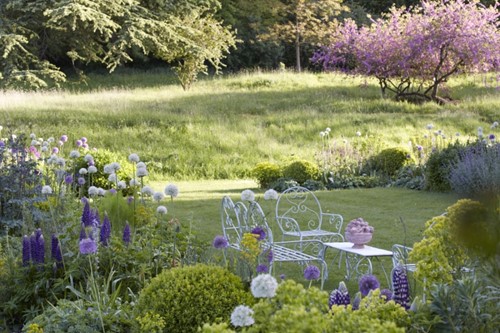 The gardens are edged by the graceful woodlands and are designed into planted rooms from the dappled shade of the hidden fern garden to the sunny rear terrace with views of open countryside, wildflower meadows surrounding the house and the sweeping walled colourful long border of herbaceous perennials.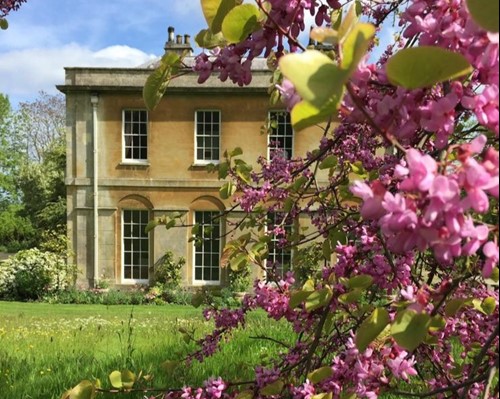 The fern garden display on the terrace is almost like an amphitheatre of plants, starting with the majestic yellow of Fritillaria imperialis in spring to Hydrangea 'Annabelle' to Japanese Anemones, all surrounded by fronds of native ferns.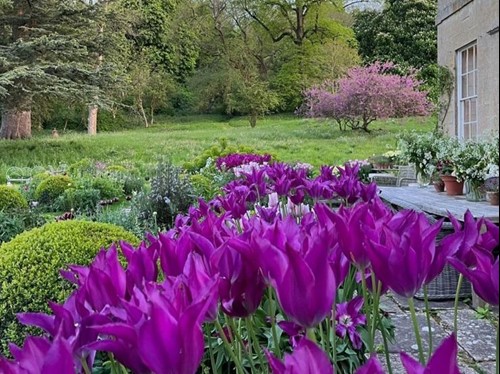 The rear terrace is a melody of herbaceous perennials predominantly in blues and whites, showcasing beautiful tulips, Crambe, flowing Nepeta. Geranium, Penstemons and Euphorbia.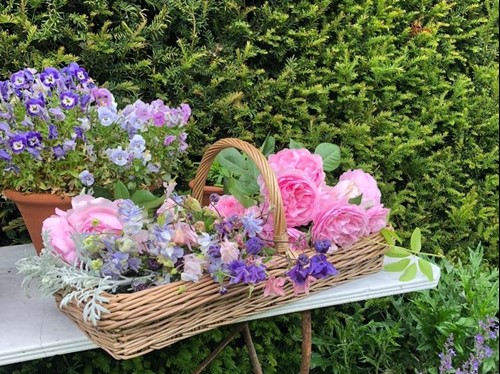 Everchanging potted displays keep the area fresh and up to date throughout the seasons from winter Nerines and Cyclamen to spring Narcissus, summer Lupins, Salvias and little surprises to keep everyone on their toes. This is where guests will stop and enjoy Sophie's homecooked cakes, light lunches and to sip tea whist watching the flowers sway and our sheep and lambs graze.
The sweeping long border drive to the front of the house changes with the seasons from potted displays to fern filled borders, welcoming everyone with scented white Hyacinths, Nemesia, Hydrangea, Clematis, Lillium and Roses. The long border is filled with beautifully fragrant roses, seasonal bulbs, edged with Nepeta, Iris, Hesperis, Peonies and Artichokes.
The beautiful Glasshouse in the potager kitchen gardens is one of the first things your eye is drawn to as you drive onto the estate. Set a short walk from the house we grow a range of fruit, vegetables and cut flowers. We also use these facilities to run short day courses and other events.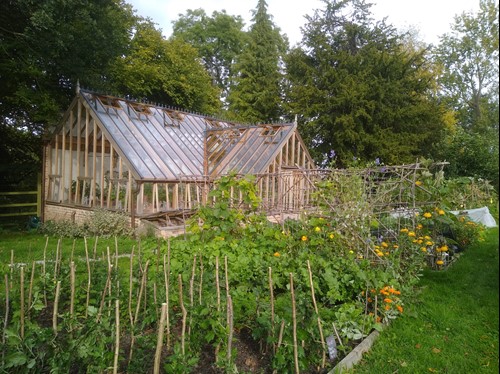 At present we have several projects being undertaken, building new beds, willow arches, a new fruit cage and upgrading our chicken pen. The gardens are always evolving and developing so with each season the gardens always give something a little special.
Aldetha Raymond is Head Gardener at Salthrop House, the host of our Rare Plant Fair on May 14th.