A Blooming Feast
Caroline Cox, from Springhill Plants, with her choice of must-have late season plants - 26 August 2016
Late summer and early autumn is my favourite time of the year. I love the golds, reds and russet colours of flowers and foliage which seem enhanced by the lower sunlight levels. It is also a time when my own garden comes into its own.  Working in horticulture leaves me with little time to enjoy my garden during the busy spring and summer months.  I have therefore designed my planting to give maximum colour from mid-summer until late autumn. I have tried to achieve this by using a combination of both hardy and tender perennial supplemented by a mixture of annuals.
Hardy perennials are the mainstay of my late summer colour scheme.  I am a great believer in 'less is more' and, despite limited space, I have sacrificed variety for larger, bolder patches of colour. I have tried to select plants that are not only resilient against drought and a bit of neglect but will also, hopefully, provide long seasonal interest.  In this respect, members of the Sedum family 'fit the bill' perfectly.  Most are easy to grow in any reasonable, well drained soil and, once established, very drought tolerant.  I grow many varieties but Sedum 'Red Cauli' is a particular favourite with purple flushed foliage and distinctive cherry red, cauliflower-shaped flower heads.  Of the darker foliage forms, Sedum telephium 'Karfunkelstein' is a stunning variety with purple-flushed foliage in spring, soon maturing to beetroot purple. Pink-red flower heads start to form throughout the summer and burst into colour from mid August and last for months.  I only dead head them in the spring to provide good visual structure for the winter garden.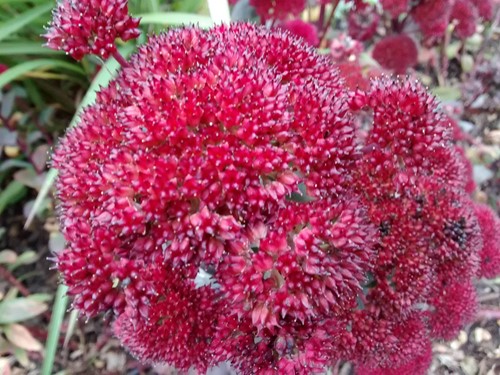 Sedum 'Red Cauli'
For something more exotic I also grow, amongst clumps of Euphorbia 'Grey Hedgehog', Eucomis comosa 'Sparkling Burgundy'. It's completely hardy in a sunny, well drained spot.  Although late coming up, this bulbous perennial forms lush, purple red, strap-like foliage from which emerge dense racemes of star-like purple tinted flowers late in summer.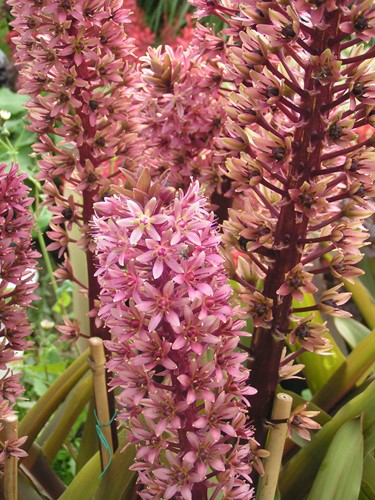 Eucomis comosa 'Sparkling Burgundy'
Another invaluable family of perennials that typifies late summer with their wonderful sunshine yellow 'cone' flowers are the Rudbeckias. They are easy to grow in a reasonably sunny position and will continue to flower if spent flower heads are removed. I particularly favour Rudbeckia fulgida var. deamii.  It has broader leaves than its cousin Rudbeckia fulgida var. 'Goldsturm' but has the same deep yellow ray petals surrounding a black 'cone' shaped centre.  It is superb growing en masse especially with the deep red flower spikes of Persicaria amplexicaulis 'Dikke Floskes' or alongside Persicaria microcephala 'Red Dragon'.
Grasses are another must-have not only for this time of year but also for structure and interest during winter. If I had a larger garden I would love to grow them 'prairie' style but as I have limited space, I dot them around and they do well among other perennials and shrubs.  I am particularly fond of the Miscanthus family and have several varieties in the garden.  However, my favourite has to be Miscanthus sinensis 'Malepartus'.  It is a giant, growing to 200cm, and produces the most lovely deep port coloured flowers.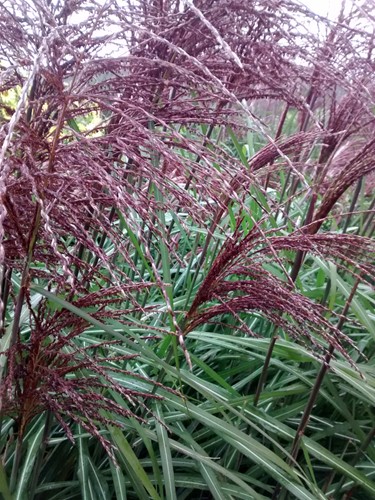 Miscanthus sinensis 'Malepartus'
Another variety I am trying for the first time is Miscanthus sinensis 'Ghana'. It grows to 180cm and I think it has the best autumn foliage with green leaves changing to burgundy red then to golden yellow.  Another worthy grass I came across while on holiday last year in East Sussex is Pennisetum macrourum.  It is very architectural with swaying tall stems carrying long narrow cat tail-like flower-heads lasting all winter.  Growing to 120 cm, it is particularly good for dry sunny beds.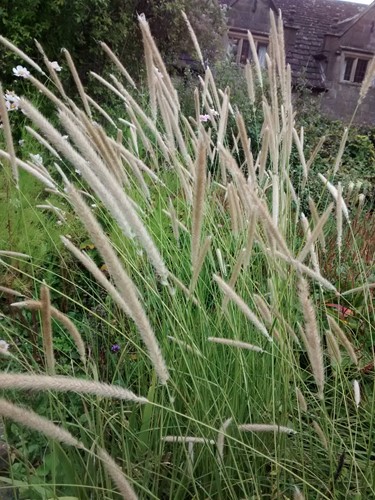 Pennisetum macrourum
For a bit more drama, intensity of colour and sheer flower power there isn't anything better than tender perennials. Although needing a bit more care and attention over the winter months they really earn their place in the garden especially going into autumn.  Top of my list has to be the Dahlias.  I grow them in a mixed border alongside hardy perennials, annuals and shrubs.  I especially like the purple foliaged, single flowered varieties such as Dahlia 'Bishop of Oxford', which produces an abundance of lovely apricot orange flowers for many months.  For something smaller there's a new range of dwarf dahlias called 'Happy Days'. They come in a wide selection vivid colours all having large flowers with broad petals and the same purple foliage but only grow to 35 cm - great for containers or at the front of borders.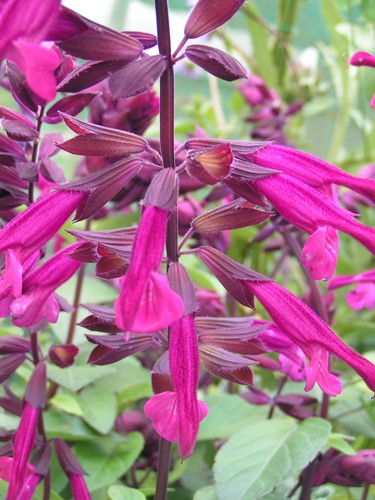 Salvia 'Love and Wishes'
In my opinion tender salvias are also essential for any late summer display and some of the recent introductions are wonderful. Of particular delight is Salvia 'Love and Wishes', which has large,  maroon-purple flowers that keep on going into autumn.  Growing to 120cm, it is great for the middle to back of borders or for added flexibility leave it in a container and position it wherever colour is needed. Others in the range include 'Embers Wish' and 'Wendy's Wish'.  The best blue tender variety has to be Salvia 'Amistad', which produces masses of indigo blue flowers from very striking black buds.  It is another good container plant that can be grown among shrubs and hardy perennials.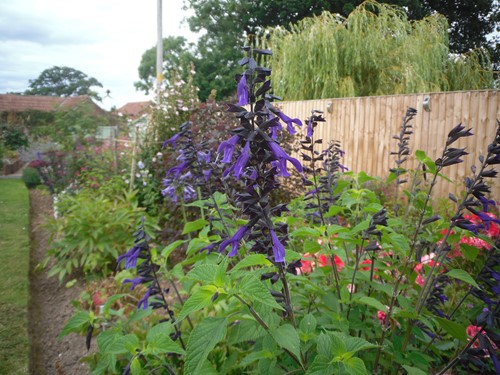 Salvia 'Amistad'
Last but not least there are the annuals which I think are underappreciated in the modern garden. This is a shame as they are easy to grow and guaranteed to produce masses of flowers.  Also, if you prevent them from seeding by removing the spent flowers, they will flower for months. I think they are invaluable for weaving in and around shrubs, summer perennials and tender perennials providing colour here and there where it's needed. Some of the annuals I particularly treasure include: Nasturtium 'Black Velvet' ,with deep blood red flowers, is great in containers and has the added benefit of having edible flowers and leaves; Tagetes  'Cinnabar' has impressive deep rusty red single flowers with each petal outlined in yellow;  and Nicotiana langsdorffii with its masses of pale green tubular flowers delicately dangling that look lovely growing among my dark leaved dahlias.
In summary, late summer doesn't have to be the 'last hurrah'. There are a great number of plants available that can offer not only late colour but, if carefully chosen, continued interest well into autumn and beyond. Even if you only have space for a few late seasonable plants then you too can enjoy an extended blooming feast.
Caroline Cox is the owner of Springhill Plants from Oxfordshire. She grows a wide range of unusual and uncommon perennials and shrubs.
Article and all photos © the author, except photo of Salvia 'Amistad', which is from Ian and Teresa Moss