Designing a Beautiful Border
Meet your new three-point plan for creating a beautiful border. According to Wildegoose Nursery co-founder Laura Willgoss, it's all in the preparation - 10 May 2019
1 – Plot Preparation
Whether you have a blank canvas, or are trying to renovate an established border, taking time to prepare thoroughly is important.  Firstly clear the site – even established borders benefit from lifting out all perennials. Then weed thoroughly. If you have a serious perennial weed problem, this stage shouldn't be rushed. Leave dug over borders for an entire summer if necessary, removing any reshooting weeds – you want to feel confident the bed is clear.
Next, understand your growing conditions. Does your border receive lots of sunshine? Or does it sit in shade? Is it sheltered by a wall or exposed in the middle of the garden? Knowing this will allow you to pick plants that with thrive.
Finally, choose a soil improver to suit your soil type. Gravel and well-composted bark or garden compost are good for improving clay soils; manure is best for poorer sandy soils. Remember that adding lots of manure will create a rich soil, but this may not suit all plants.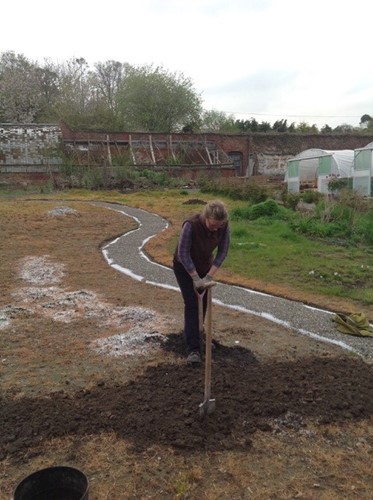 Preparing the border
2 – Plant Planning
Putting together a border is a lot like baking a cake: you can have all the ingredients, but unless you know how to combine them, in what proportions and how long to cook them, you can end up with a dog's dinner. So once you have a strong theme you need to develop it.
Apart from the actual planting, this is the most enjoyable part of creating a border. Different people take different approaches, but here are the basic principles I follow when pinpointing the plants for a border.
Big ideas: I like to grandly call it the 'artistic vision', but it's essentially deciding how you want the border to look. Will it have a particular colour scheme? A certain style, such as cottage garden, prairie or tropical? Do you want it to be useful as well as beautiful? There are plenty of places to seek inspiration: books and magazines are a good start, as well as visiting other gardens. Personally I like to start by picking a bunch of flowers to experiment with colour schemes and plant combinations. Try out your own combinations (you could play around with the plethora of potted plants at a nursery) and discover what you like.
Seasonal Interest: I then think a lot about how my idea is going to translate into each distinct season so I can enjoy my border in flower for as long as possible. I divide a page into four columns titled Spring, Early–Mid Summer, Mid–Late Summer and Autumn. I then think of a simple combination, it could be just two plants, that flower during each season and for me represent the look I am going for. For example, if I want to design an orange and blue border my list might be:
Spring: Tulipa 'Ballerina' with deep indigo forget-me-nots
Early–Mid Summer: Amsonia 'Ernst Pagels' and Geum 'Totally Tangerine'
Mid-Late Summer: - Crocosmia 'Babylon' and Lobelia siphilitica
Autumn: Dahlia 'Maxime' with Salvia atrocyanea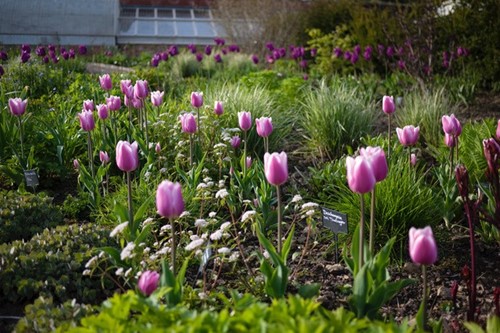 The Border in Spring
Contrast, personality and balance: After I have a core plant combination for each season I then expand it to five or six plants that will contrast and complement each other. Colour is extremely emotive in a border – it can be a harmonious palette or filled with vibrant contrasts, or somewhere in between. Plant and flower shape is equally important, as is the overall character of a plant. Below are some key elements that will ensure contrast, harmony and mix of shapes and good personality. I like to ensure my borders have a good balance of each.
The Prima Donna: Big and blowsy or bold and architectural: this is the stand out flower that you can't miss! Lots of little flowers and shrinking violets can lack focus, so be sure to have a focal point for each season. This could be a voluptuous peony, daylily or Dahlia, a spiky Eryngium or structured Angelica.
The vertical accent: There is an enormous selection of flower spikes to choose from, in every height and colour – these will stand beautifully tall. The Lamiaceae or dead nettle family is a great place to start and includes Salvia and Agastache.
The horizontal contrast: To counteract your vertical uprights you need flat-headed flowers to create a rhythmic flow to your borders. Think Philip Glass or John Adams, with short overlaying patterns that build up to a whole. Achillea are some of the flattest flowers, and umbels work well too.
Transparent tapestries: With all those strong vertical and horizontal accents you now need something texturally soft to knit it all together. Plants that are a bit "fluffy" or "frothy" create a great foil to bolder flower shapes. Either low growing, billowing mounds of tiny flowers like Gypsophila or Geranium, or look for taller plants like Verbena bonariensis, Sanguisorba, Thalictrum and Fennel, that have a transparent quality, allowing you to see through to what is behind as well as in front. These are the plants that weave tapestries through their neighbours creating a harmonious border.
Daisies: With such a huge range of plant genus it is hard to imagine a border without a daisy. From tiny Erigeron to towering perennial Helianthus and everything in between. Helenium, Aster and Echinacea – this list is endless.
A bit of what you fancy: Don't forget that plant you absolutely love. It could be the whorled flower spikes of Monarda or Phlomis, the spherical flowers of Allium, or lovely Echinops.
Punctuation: What often gets lost, with all the flowers in a border, is the need for places where your eye can rest. For me grasses have been the most useful plant in this respect. They can be soft tactile mounds of fresh green in spring, ripening to buff golden, copper or even deep maroon in late summer. Their variety in terms of form and height, texture and colour is infinite.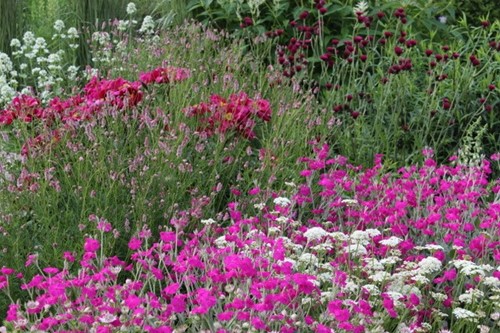 The Border in Early Summer
The final edit If you're anything like me, trying to limit your plant choices can be hard. If you are struggling to choose, try to edit your choices based on criteria such as longevity of flowering, or added interest such as foliage colour or seed heads. For example if I was struggling to choose between Foxgloves, Salvia and Lupins, for an Early-Mid Summer flower spike, I would choose a Salvia because it is an excellent repeat flowerer compared to the relatively short flowering period of the other two. Space dictates how ruthless you have to be and the less you have, the more you need those hard working long flowering plants over the shorter flowering ephemeral beauties.
3 – Mapping It Out
Once you have your edited columns of plants for each season of your new border, draw out the area for planting to scale. I start by marking the location of my "punctuation plants", before taking each season at a time and blocking out areas for the plants chosen. I try to be balanced, but not too uniform or contrived, in the way I distribute the plants along the border. Then in the gaps you have left you add in the next season's plant combinations and so on until your border plan is complete. Work out your plant spacing – this is the spread each plant is likely to achieve as they establish – to calculate the numbers you will need to fill the border. And then you are ready for planting!  
The Border in Late Summer
A Note On Pots 
If you are planting in pots the same principles of border design apply. Plant combinations need to have a balance of different flower or foliage shape, colour and form to work in harmony. The main difference is the importance of choosing plants for their long seasonal interest. This becomes all the more critical when there is less space to play with – each plant needs to earn its space.
You can either combine plants within one large container, or keep just one type of plant per pot. The benefit of doing it this way, is that individual pots can be easily moved around to create different combinations and when a pot goes over it can be removed and another put in its place, which keeps the display looking vibrant.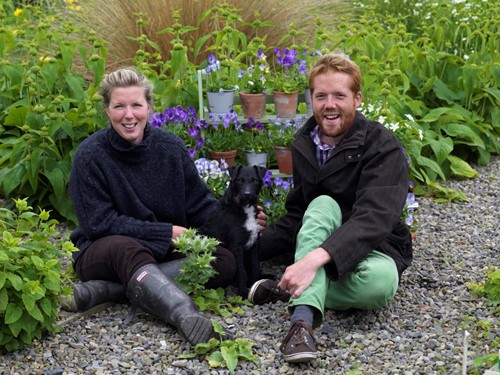 Laura and Jack Willgloss are specialist growers of hardy perennial violas, as well as interesting and unusual perennials and grasses, at their nursery, Wildegoose Nursery, based in a wonderful walled garden in Shropshire.
Website: www.wildegoosenursery.co.uk
Article and all photos copyright the authors.