Flowering Shrubs for Late Summer and Autumn
Chris Cooke, from the eponymous Chris Cooke Plants, with a selection of shrubs that flower late in the season. - 23 August 2019
The following shrubs are a selection from those we grow on our nursery which provide late summer and autumn flowers. 
Grevillea victoriae is a medium sized evergreen shrub with grey-green lanceolate leaves that are covered with a felt of fine silvery hairs beneath. These hairs are called trichomes and insulate the leaves against snow and sub-zero temperatures in its native habitat in the mountains of SE Australia. Throughout the second half of summer G. victoriae bears pendent racemes of rusty-red flower buds which open in milder spells in autumn and early winter to red Honeysuckle-like flowers. Although G. victoriae was named for Queen Victoria in the nineteenth century, it has only recently become more widely planted in UK gardens where it needs a sunny, well-drained, nutrient-poor soil.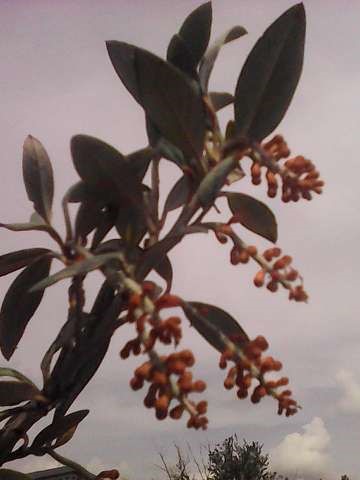 Cestrum parqui is a medium sized semi-evergreen shrub with pungent, dark green willow-like leaves that have the aroma of car tyres. It concentrates the majority of its flowering in the UK in late summer and autumn. The flowers are yellow-green, long-tubed and emit a heady scent in the evening. These three characteristics help to attract pollinating moths. Although often found in riparian habitats in its native Chile, C parqui will grow in any reasonable soil in a sunny, sheltered position. It can be cut back to the ground by hard winter frost, but almost always regenerates in spring and because it flowers on new wood flowering is not lost for that year.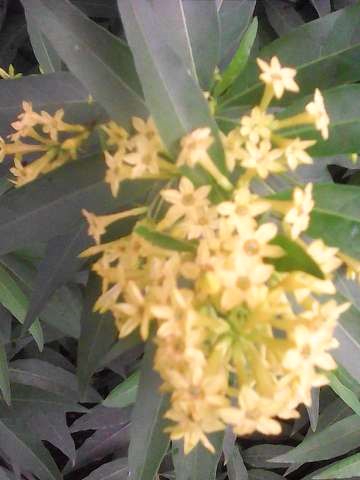 New shrub leaves are often an attractive purple colour. This arises from a heightened concentration of the purple pigment anthocyanin in juvenile leaves which helps protect them from sun damage. One shrub with beautiful young purple foliage is Abelia parvifolia. It is a semi-evergreen species from W. Sichuan in China with that most attractive of all growing habits - it arches. The specific epithet 'parvifolius' means 'small leaved' and references the small mid green ovate leaves that arise from their purple start. In late summer and autumn A. parvifolia is covered with rose-pink tubular flowers with orange inner markings. These flowers are loved by bees. It prefers any reasonable soil in sun or light shade.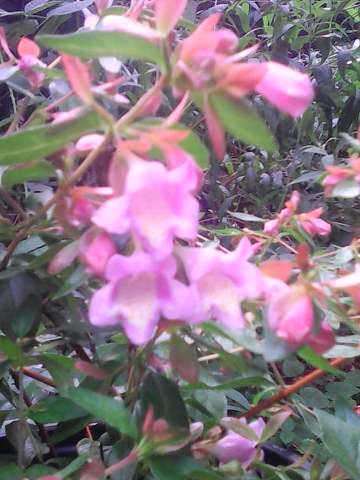 Another botanical epithet for 'small leaves' is 'microphyllus'. The small leaves of Fuchsia microphylla help reduce transpiration in its native Mexico, whilst the high canopy of the high altitude oak and pine forests where it grows still allows for good sunlight penetration, so larger, more sun-catching leaves are unnecessary. F. microphylla is a deciduous shrub that rarely grows above a metre tall in UK gardens. It flowers from high summer through to late autumn producing a myriad of perfect tiny red-purple flowers. It does particularly well planted at the canopy edge of a mature deciduous tree.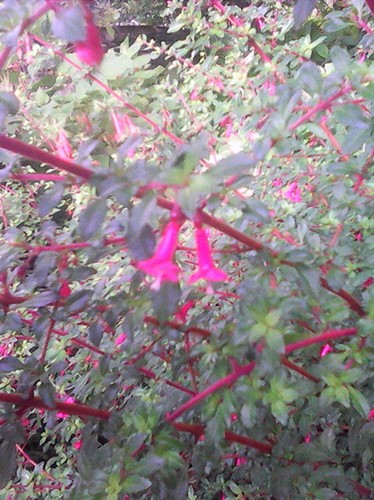 The species epithet 'discolor' means 'two-toned' and often references the colour difference between upper and lower leaf surfaces in plants. In Asterotrichion discolor the leaves are glabrous and dark green above, silver and covered with fine hairs beneath. This is a protection against cold again, this time in the riparian habitats where A. discolor grows in the eucalyptus forests of E & SE Tasmania. It is a large shrub which bears short axillary racemes of lightly scented white saucer-shaped flowers from late autumn to late winter. In UK gardens this rarely encountered shrub prefers any reasonable soil in a sunny position sheltered from cold winds. It has a somewhat unfair reputation for being short-lived and is readily struck from semi-ripe cuttings.
Buddleja forrestii is a large variable deciduous shrub that was introduced by plant hunter George Forrest from Yunnan (SW China) in 1903 but is still seldom seen in British gardens. It has tetrgonal (four-angled) shoots and large, dark green lanceolate leaves that are covered with a red-brown down beneath. In late summer and autumn it bears beautiful understated long pendent panicles of lightly fragrant flowers on the current season's growth. In the clone we grow these are pale creamy-yellow with orange eyes. In the UK, B. forrestii needs a sunny sheltered position. It can do well trained against a warm south or west-facing wall.
Pileostegia viburnoides is a good choice as an autumn-flowering shrub from training against an east or north facing wall. It is a slow-growing self-clinging evergreen Hydrangea relative with exceptionally glossy leaves that reflect and thereby maximize the limited available light in the forests of China and Taiwan it inhabits. In late summer it bears large dense panicles of small creamy-white star-shaped flowers loved by bees.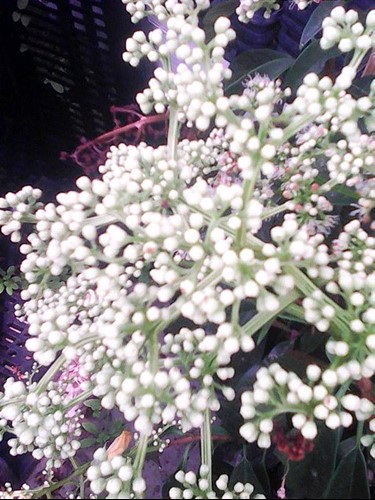 Correa belong to the Rutaceae (Citrus) and their leaves have the distinctive aroma when crushed that many plants in this family share. Correa 'Marian's Marvel' is a small to medium-sized, evergreen shrub producing, from autumn to spring, a succession of pendent tubular flowers that are pink at their necks and lime green at their skirts. We have been surprised at the relative hardiness of this particular cultivar especially if planted near to a house where autumn and winter-flowering shrubs are often best appreciated. Correas are ideal mood-enhancing autumn and winter-flowering cold greenhouse subjects too but careful attention must be paid to avoid them from drying out completely when grown in pots.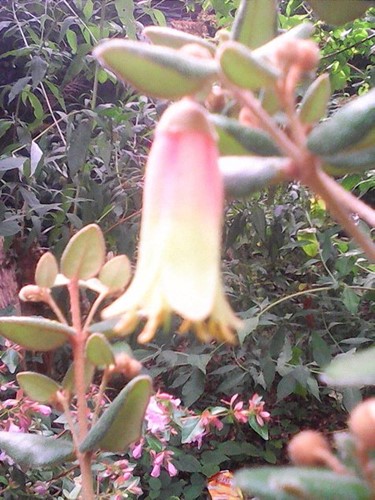 Coronilla valentina subsp. glauca was introduced into the UK in the reign of Elizabeth 1st. This was another capture from Spain. 'Valentinus' means 'from Valencia' and Coronilla accompanied many other Mediterranean plants introduced into Britain in the sixteenth century as trade and sea-faring increased rapidly. It is a compact, evergreen shrub belonging to the pea-family with beautiful glaucous pinnate leaves. From mid autumn to spring it bears numerous rounded umbels of fragrant golden-yellow pea-like flowers. The variety 'Citrina' has softer lemon-yellow flowers. Coronilla prefer a sunny well-drained position.
Caryopteris x clandonensis 'Pershore' is a compact deciduous shrub with grey-green ovate-lanceolate leaves that have a strong aroma of turpentine when crushed. This is due to the presence in the leaves of the essential oil Terpene whose aroma is thought to deter herbivorous pests. In late summer and autumn Caryopteris bears cymes of flowers that are loved by bumblebees and butterflies. 'Pershore' is a selection made at Pershore Horticultural College in the late 1990s whilst I was a student there. Its flowers are a particularly good dark blue. Caryopteris prefers a sunny well-drained position and should be pruned back hard each year in late March.
Chris Cooke is an expert plantsman whose nursery in Gloucestershire produces a wide range of rare and unusual hardy and half-hardy bulbs, herbaceous plants and shrubs.
E-mail: chriscookeplants@btinternet.com