How to Succeed with Lavender
Specialist lavender grower Andrew Bullock, from Cotswold nursery The Lavender Garden, selects his favourite varieties, along with tips and advice on how to grow them successfully. - 02 March 2018
Spring is an excellent time to plant lavender. Hardy lavender in this country is often referred to as English Lavender, but is actually a Mediterranean wild flower, mainly from France and Italy. It grows primarily in well-drained sites in high limestone mountains -  Provence is a good place to find it! It can take cold temperatures and snow; what it can't take is wet, boggy soil and shade! So make sure you plant lavender in a good well-drained soil in a sunny position.
One of the biggest problems with lavenders is that there are many incorrectly named plants out in the marketplace, with seed raised plants being passed off as named cultivars, or even as the wrong species altogether, which can result in a number of problems as you'll see below. So it is always worthwhile to buy your plants from a specialist grower or at least from a reputable source that knows the provenance of the plants that they sell.
Lavandula angustifolia
The species L. angustifolia has many sweetly scented and useful cultivars. They are all very attractive to bees and butterflies. They flower from early June to early August, and make excellent hedging plants spaced one per foot (30cm) centre to centre. For extra interest, try blocking different colours or shades of blue in threes or fives.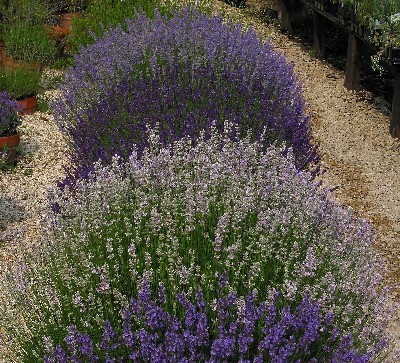 If growing a lavender hedge I always prepare the soil by digging a small trench and adding a mix of good multipurpose compost and plenty of horticultural grit to get the plants off to a good start. You can also add a bit of bonemeal, but be careful if you have dogs, badgers or foxes about -  they love it and will dig up the area!! Don't over water lavender after planting; 2 or 3 times a week (if it doesn't rain) is enough! Every year someone will tell me how they soaked them overnight in a tank of water before planting and then watered twice a day, and then wonder why the plants look ill!
Most L. angustifolia cultivars grow to 40 to 60cms in bloom but can be kept lower by careful pruning (see below). Here are some of the best varieties.
'Hidcote':  A lovely deep blue/purple. Make sure that you buy cuttings raised plants to ensure that they are a true clone of the original, collected by Lawrence Johnston and named after his mothers house, Hidcote Manor in Gloucestershire. Beware of cheap seed raised imitations- there are many on the market and they are inferior! This is especially important if you are choosing lavender for a hedge, as seed raised plants will lack uniformity in both height and flower colour.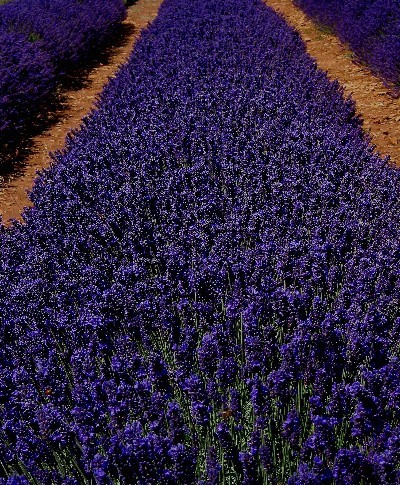 'Folgate': This is a real sapphire blue colour. It is not seen very often but is a really excellent performer.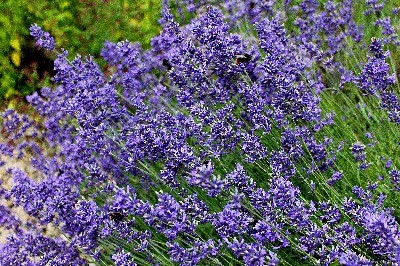 'Little Lady': This is my personal favourite. It is a lovely compact soft blue lavender with bright green foliage and very sweetly scented flowers. It responds very well to pruning, and is the one to choose if you fancy cooking with lavender; it is very good in scones, biscuits, cakes. ice cream etc. Also nice with trout! A little shorter than other varieties, it is excellent for a low hedge.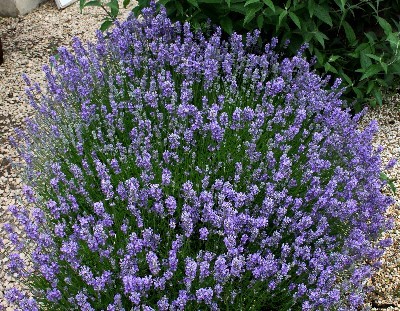 'Rosea': A lovely soft pink lavender that contrasts well with different shades of blue.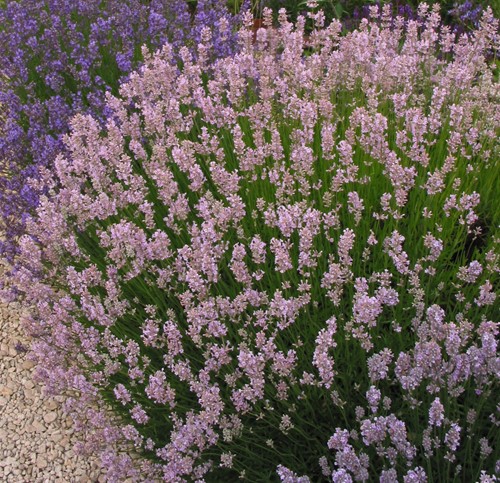 'Melissa Lilac': This really is a striking creamy lilac flowered lavender. Slightly larger than some other angustifolias, and very striking when in bloom.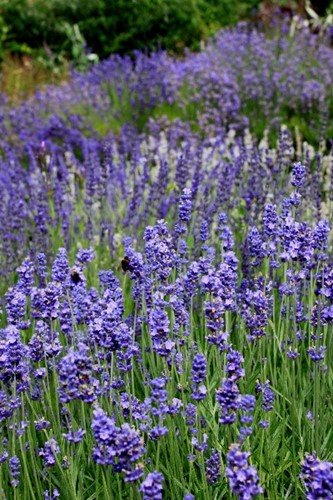 'Imperial Gem':  Deep blue-purple, and slightly taller than 'Hidcote', this was raised on the Sandringham estate.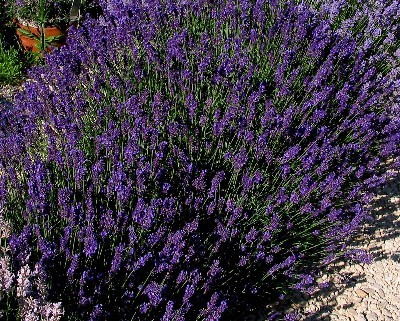 Correct pruning of lavender is important to ensure that the plants remain bushy and healthy. Prune L. angustifolia cultivars back quite hard in early August. I always say prune on the eighth day of the eighth month to a height of eighth inches off the ground - easily remembered as '888'. The plant needs a good six weeks of summer to recover, and will green back up to give you a nice neat ball of lavender to take into the Winter. By taking down to the same height every year, with enough recovery time, this means the plant isn't getting bigger. Many people just cut the flowers off every year or believe that you can't cut into old wood, and the result is usually a bit of a leggy mess after 4 years.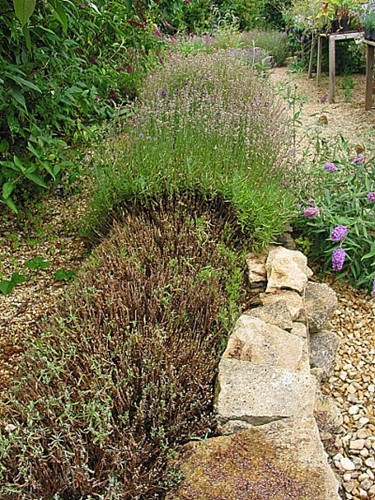 If you really can't bear to prune angustifolias in early August you can cut them really hard back into the wood in late March. Eventually they will reshoot, however they will look like dead hedgehogs until May, and won't flower until later, which will in turn mean that the plants will have less recovery time after a late summer prune; all of which means that this isn't the best option overall.
Lavandula x intermedia
Lavendula x intermedia is a fast-growing lavender, and shaping and pruning is more tricky as you can't prune successfully into old wood. It is a cross between L. angustifolia (meaning narrow-leaved) and L. latifolia (wide leaved) Choose your varieties carefully, as some hybrid selections are better than others!
'Grosso': This is the classic Provence Lavender or Lavandin, where you see lovely fields of violet blue with a strong Eucalyptus or camphorous scent; cut sprigs will keeps moths away from clothes. It flowers from July to August. The beauty of this plant is that, because it is mainly flower stalks, the plant itself stays low so you can cut it hard back in early September without cutting into old wood by just cutting off the long flowers. Excellent for cutting into sheaths or drying.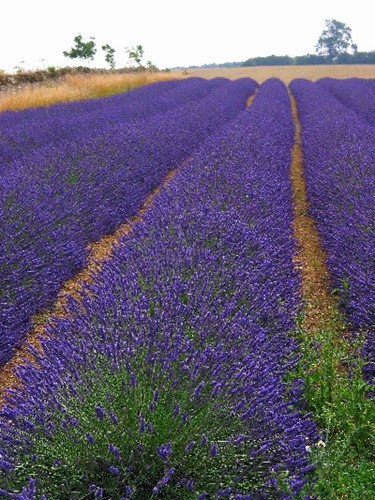 'Edelweiss': This is the white-flowered clone of 'Grosso'. It is very attractive to bumblebees, and shines in the twilight.
'Old English': The original and genuine; often others such as 'Vera' or 'Dutch' are sold as 'Old English'. This is the best of the grey lavenders, up to a metre tall with long silver blue flowers in late summer. In early September look at the stalks and you will see a lighter colour where the new growth starts. Prune a few cms into the new growth. It will get only slightly bigger every year but will keep a lovely architectural shape.
As an aside, beware the dreaded grey lavender sold in garden centres, supermarkets, DIY stores etc. It is often wrongly labelled L. angustifolia (usually in 6 languages!) but is a poor L. x intermedia cross from overseas which can grow 3 or 4 feet in a year and is impossible to keep tidy. You see it stashed up in Dutch Trolleys outside local supermarkets in packs of six for cheap saying English lavender. People buy this in good faith and then when it has taken over their gardens and paths they then come to me begging for dwarf lavender! My best advice for this grey lavender is that it makes a lovely smell when you burn it on the bonfire!
So to sum up:
Choose the right variety of lavender.
Grow in a sunny well-drained position.
Prune correctly every year.
Don't over water.
Avoid competition from other plants and on't allow them to grow over your lavender.
Try putting gravel under lavender, looks great and reflects sunshine on to the plants!
A sunny day with bumblebees feeding on a neat lavender hedge and butterflies skipping from Lavender to Buddleja seems like a perfect English summer day to me. Plant and enjoy….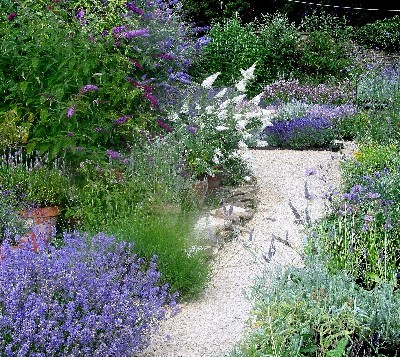 Andrew Bullock owns and runs The Lavender Garden, a traditional nursery, set in a Victorian Kitchen Garden in Gloucestershire. He specialises in Lavandula and Buddleja, holding a National Collection of the latter, and also other butterfly and bee attracting plants. The gardens have been landscaped particularly to attract wildlife, with collections planted so that they can be seen in a more established environment. Advice freely given and demonstrated at the Nursery.
Website: www.thelavenderg.co.uk