Great Foliage Plants for Ground Cover
Paul Green, from Green's Leaves, on useful and beautiful foliage plants for ground cover. - 14 March 2015
Some may think that groundcover plants are not very exciting – just something to chuck in around the 'star plants'. What is termed groundcover can vary in both speed of growth and height. Don't think you need acres of gardens to bother reading this! Here are a few ideas to consider.
Epimedium
A very diverse range in terms of flower colour (white, cream, yellow, orange, red, pink, purple) and vigour (from painfully slow to very strong). Some, but not all are evergreen. They have the common name barrenwort , but don't let that put you off! E. perralchicum 'Frohnleiten' (again don't let the name worry you) is a very robust and attractive one. Foliage is pretty - red marked when young, turning plain green with age. Rich yellow flowers are the bonus.  E. x warleyense is a larger leaved one with orange blooms.  E. x rubrum has only small flowers but boasts fantastic red and green foliage when young. Be warned – there are so many excellent forms of this genus you will become addicted!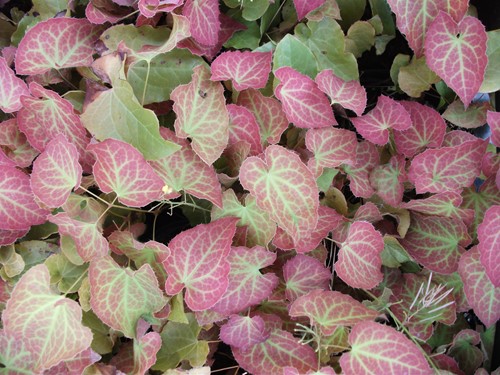 E. perralchicum 'Frohnleiten'
Geranium phaeum 'Samobor' – there are many lovely hardy geraniums, but this is special. The flowers are typical of the species – so called "mourning widow" flowers of deep purple. The leaves look like someone has given them a big kiss! Can't blame them! As per most geraniums, a good hack is required periodically to get more blooms and rejuvenate the foliage.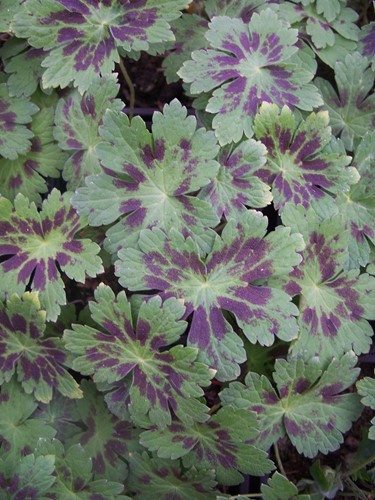 Luzula sylvatica 'Aurea' – the gold leaved form of woodrush often wrongly sold as 'Hohe Tatra'. This has the brightest gold colouring in the winter & spring. Best used in moist shade, it really does "brighten up a dark corner". It is an evergreen carpeter with attractive flower / seed heads of a reddish shade. 
Rubus alceifolius – evergreen foliage with dark blotching. Many of you will be familiar with R. tricolor, but this is a better marked sp. This really will give you a fast growing carpet, suited to full sun to deep shade. The stems are a bit prickly.
Salix nakamurana yezoalpina – a beautiful spreading willow from Japan. Exceptionally hardy, requiring moist, but well drained soil. Yellowish – green stems with soft, woolly silver leaves turning green later. Catkins appear with the leaves in the spring. Autumn colour is yellow and red. Regular pruning helps keep it dense. Good for a rock garden, gravel bed or large container. 
Saxifraga stolonifera - large flowered form – the clue is in the sp. name. Stolons are bright red producing many young plants. While many consider this as just a houseplant for hanging baskets, I've used this in sheltered, shady spots with good results. The late spring flowers are white, pink tinged.
Sedum rupestre 'Angelina' – a great evergreen carpeting perennial that loves it hot & sunny. The foliage is golden with red tinges at the tips. Don't be too generous with the fertiliser – while you will get lots of growth, it tends to be more lime-green. Yellow flowers are good for bees. The blue leaved S. hispanicum 'Blue Carpet' and S. reflexum 'Blue Cushion' are great for a contrast. As well as carpeting areas of rough soil or gravel, these are great for containers and for covering a roof.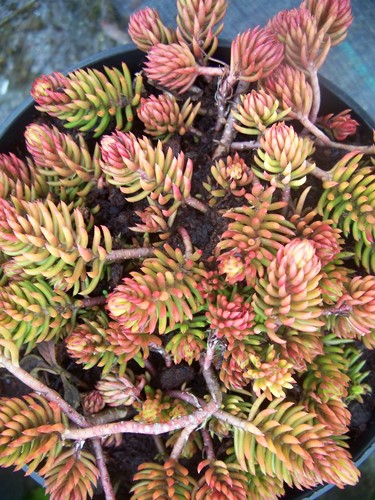 Sedum rupestre 'Angelina'
The shade loving ones are especially useful for under-planting, getting more interest out of an area – and saving some weeding of course!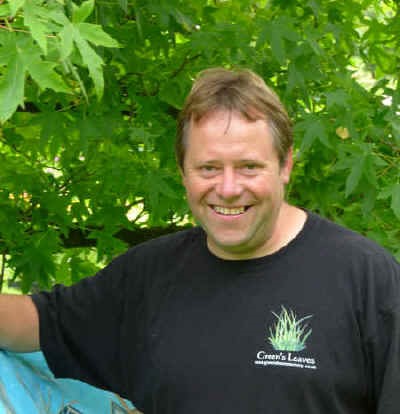 Paul Green and his wife Helen are the owners of Green's Leaves, based in Newent in Gloucestershire. They specialise in choice and rare shrubs, coloured foliage plants, architectural plants and grasses.
Website:  www.greensleavesnursery.co.uk
Article and all photos copyright the author.