Aromatica – By the Crush of a Leaf: Part 1
Kim Hurst, from The Cottage Herbery, on the wonderful scents that you can bring to your garden through plants with aromatic leaves. - 19 May 2017
When choosing plants for our gardens we tend to look firstly for colour, then form and how to incorporate these two important aspects into creating an overall planting scheme. But do we think of scent as an integral part of the garden other than planting the odd fragrant rose or maybe adding a honeysuckle, using aromatic foliage may not be a considered choice. By including aromatic foliage we can create another level of enjoyment from our garden plants. With the 'crush of a leaf' our senses and mood can be lifted, calmed, transported to another time, a memory of a place or even a person.
In history their role was often as the cleansers of disease, the expellers of fleas, the dispersers of foul smells and the elevators of illness not the most glamorous of roles in life, although some of the aromatics were used in latter day cosmetics and for ritual beautification. Fast forward to modern day and their unique oils are extracted for use in aromatherapy, cosmetics, bath preparations, herbal and homeopathic medicines and of course for enhancing our food.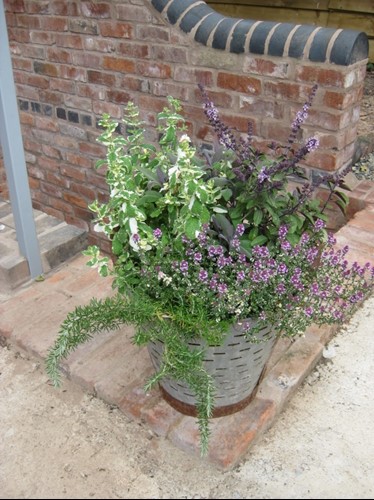 What gives these plants their aroma? By the 'crush of a leaf' this one action releases volatile oils from the plant, these are the power-house of their unique fragrance. Whether it's the fresh Lemon sherbet scent of Lemon Verbena (Aloysia citrodora) or the menthol tones of Peppermint (Mentha x piperita), the action is the same, only the scent is unique to the particular plant you maybe squeezing at the time.
Starting with the Artemisia and those that are of a shrub like habit, semi-hardwoods such as Artemisia abrotanum commonly known as Southernwood, Old Man or Lads Love has strongly aromatic lemony tones, finely divided grey green leaves,  and is a semi-evergreen hardy perennial that likes full sun and a well drained position to thrive. Plant it where it can be brushed passed, its very tactile. Historically it was positioned by the front door or the back gate, where a sprig could be taken for the lapel of the young courting lad to take away the smell of mothballs in his best suit. Its one to consider as an alternative to lavender in the aromatic small hedge stakes, as it clips well.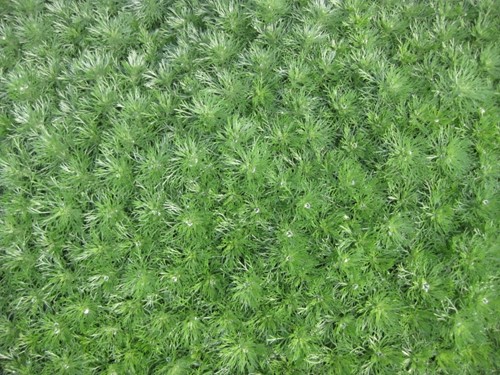 Artemisia abrotanum
Fine leaved and pungent is Artemisia camphorata emitting a more cleansing clinical scent,  and sporting a more natural open habit. It benefits from a spring cut back to keep it in shape and vigour. Artemisia 'Powis Castle' with its silver-grey foliage heads up the garden worthy border aromatic list. To see its full impact a visit to Powis Castle would be ideal; here it can be found planted at the base of the walls where it greatly enjoys the sun and well drained aspect, it has a tendency to be come woody if not cut back in early Autumn. Artemisia ludovicana 'Valerie Finnis'  was named by Beth Chatto who was given a plant from Valerie Finnis. It almost appears white at certain times of the year, has a creeping habit and a liking for well drained under nourished soil. Cut back hard after flowering as this will rejuvenate the foliage.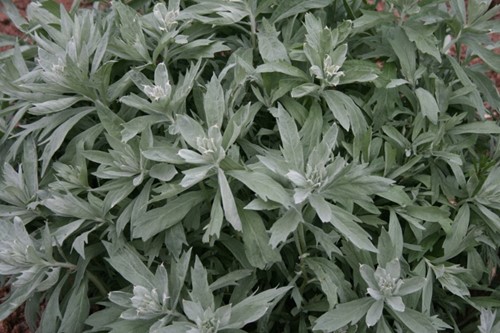 Artemisia ludovicana 'Valerie Finnis'
Rosmarinus officinalis offers a number of interesting aromas, in particular 'Green Ginger' with its distinctive bushy habit pale green foliage, clear blue flowers and that delicious hit of ginger. Loving the sun and well drained position ideally a gravel garden where it will thrive. Plant it near to a favoured sunny sitting area where it can be wholly appreciated. Rosmarinus officinalis Prostratus Group is a low growing form with arching, blue flower laden branches it appears to grow into maturity quicker than other forms. The scent of Rosemary has been described by some as an 'enticing mix of florals, pine, wood, eucalyptus and clove' which make it an ideal culinary herb. The cultivar 'Arp' is an American introduction named after the small Texas town, and has a subtle lemon/rosemary aroma and taste, with an upright habit, grey green leaves and light blue flowers. Our own Rosmarinus officinalis 'Cottage White', a discovery a few years ago amongst a selection of pale blues, has proved to be a popular cultivar for its shorter compact growth, pure white flowers in abundance and its aroma of pine, the stock plants are growing away happily in our south facing gravel garden.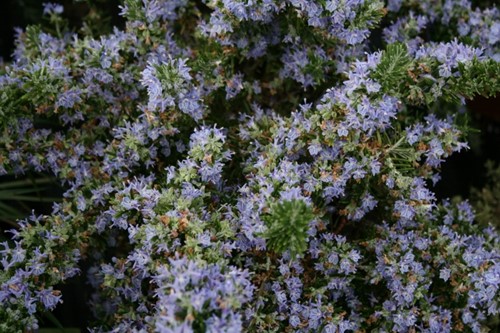 Rosmarinus officinalis Prostratus Group
The next choice of aromatic would be Hyssop (Hyssopus officinalis) with its highly aromatic linear, mid green leaves that have been described as having a minty/camphorous scent, this plant was historically used for cleansing sacred places. Hyssop's natural growth makes it suitable for edging a pathway, having a profusion of indigo blue flowers or maybe consider using either the white or pink forms which are equally floriferous. Hyssops can be grown from seed or cuttings enabling you to grow enough uniformed plants to create a hedge. If your preference is for a small compact hedge/edge then use Rock Hyssop Hyssopus officinalis ssp. aristatus which has a more compact, erect habit and clips well keeping a neat shape. Another attribute of Hyssop is being a bee magnet - they adore it. It likes full sun and a well drained position.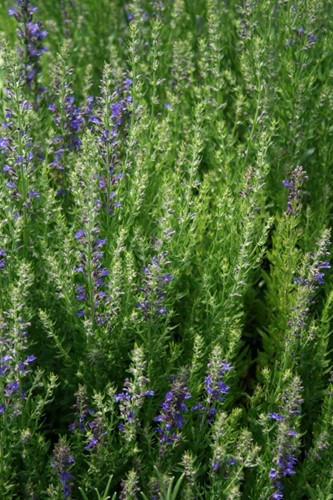 Hyssopus officinalis
Then we have Thyme, Thymus has a number of interesting aromas in its large collection menthol, citrus, pine scented to name a few. Thymus 'Fragrantissimus', known commonly as Orange Thyme, has an orange blossom water scent although some say it exudes a Rose Geranium aroma delicious in fragrance and very floriferous. Thymus citriodorous (Lemon Thyme) is pure lemon drizzle in a mini leaf try the 'Lemon Curd'  and you'll be reaching for the nearest jar for a spoonful of the real thing.
Thymus citriodorous
Thymus camphoratus an upright diminutive bushy type has a pungent smell of camphor rub reminiscent of childhood medicines so maybe not so high on the list of desirable plants. Planting Thymes around sun trap seating areas is not only aesthetically pleasing but also allows them to be brushed by feet releasing those essential oils into the air. Thymes are shallow rooted and prefer to grow in well drained areas, again gravel scores high with these aromatics, they like it sharp.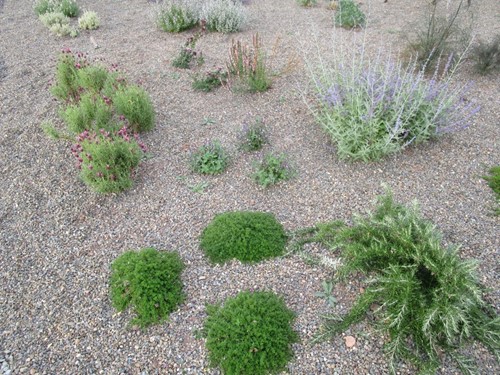 These musings are just a taster of the Aromatics that nature holds. To be continued……….. at a later date.
Kim Hurst along with her Husband Rob run the Cottage Herbery established in 1976 on the Worcestershire, Shropshire, Herefordshire borders in a little known place called Tenbury Wells. Specialising in herbs & their herbaceous relatives. Recently correlated years of information & knowledge into a book entitled 'Hidden Histories' Herbs - published by Timber Press.
Website www.thecottageherbery.co.uk