The Plants of Macaronesia
Nick Hinton and Antonio de Gouveia, owners of MadYard in Cardiff and Bath, on their mission to make the most garden-worthy selections from the native flora of these Atlantic islands available to UK gardeners. - 09 May 2022
We are MadYard, an unusual and upcoming plant nursery based in the two cities of Cardiff and Bath. Established in late 2020 by Nick Hinton, a horticulturalist and Antonio de Gouveia, a Madeiran artist, the nursery came from modest beginnings based in our Cardiff home's back yard. We began during the country's series of lockdowns, getting our idea during a fortunate winter trip to the island of Madeira.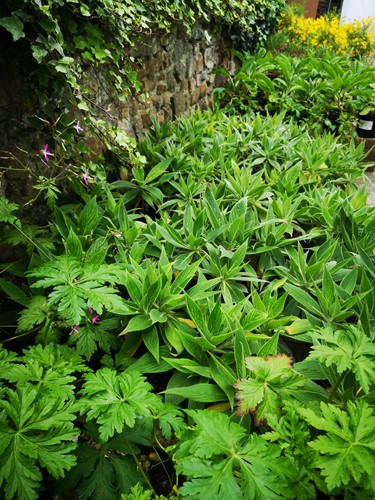 Our Nursery
With our passion for plants and intrigue for unusual species, we drew business inspiration from the islands' vast diversity and established a nursery specialising solely in plants from the Macaronesian islands, namely the archipelagos of Madeira, Azores and Canary Islands. Our aim is to offer something new and original to the UK's horticultural trade, with hardy and temperate exotics for gardens, landscapes and indoor spaces.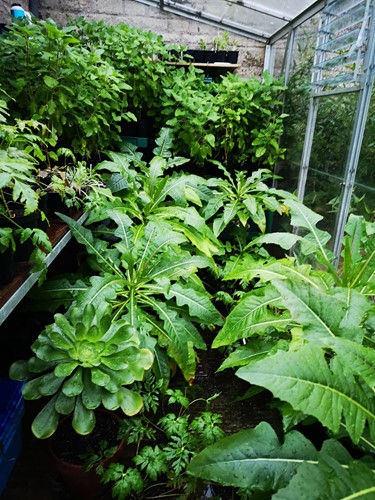 Our Nursery
Whilst in Madeira we travelled a variety of elevations, habitats and eco systems. Despite the clement subtropical climate we observed that the higher you reach within the mountain ranges, the more the climate bears resemblance to that of the UK, even with nights of winter frost and a snowfall occurring during our visit. At these elevations (800m +) we found plant species common in the UK (Geranium robertianum) growing alongside endemic flora (Melanoselium decipiens), all thriving in an often cold and unforgiving climate. With this in mind we experimented with seeds from the native flora, studying species, germination rates and the feasibility of seed export.
Back in the UK and during Winter and Spring 2020/2021, we trialled several species from various altitudes and climatic zones. Results showed a majority displaying hardiness and a resiliences to our winter climate, and an exciting possibility for what we could grow. One particular Madeira endemic (Echium candicans), often described as tender, withstood temperatures as low as -5°C without the slightest sign of stress or damage.
The success and adaptability of the first trial species gave rise to curiosity for what else we could grow. We expanded our geographical range of plants to include those of the Canaries and Azores islands, all of which are grown here in the UK from seed. Of course elements affecting any plants, such as exposure and aspect, play a role in the success of theses species; however, a large majority of the plants we grow are robust and hardy to suit most UK gardens. We are constantly growing new species and pushing the boundaries of what we can successfully grow.
Macaronesia has a staggering diversity of flora, a reflection of the islands varied topography, climates and life zones. Located in the North Atlantic ocean off the continental coasts of Europe and Africa, Macaronesia is a collection of four volcanic archipelagos. These archipelagos formed by a number of Atlantic islands comprise the regions of Madeira, Azores, Canaries and Cape Verde. Unique eco-systems have been created within these islands by both volcanic activity and the wet trade winds. Their geographic location provides a stable year round climate being sub tropical at sea level. Dormant and active volcanos formed mountain ranges, in turn enabling the formation of niche climatic zones such as forest, semi arid and alpine.
The Azores
The most verdant and eastern of the archipelagos are the Azores islands. Often wet and cloudy, the Azores have a mild climate influenced greatly by the passing gulf stream. These islands bring us some beautiful plant species, so far seldom seen in UK gardens. Euphorbia stygiana, rare in the wild and cultivations is fully hardy, hailing from the island mountainous slopes. Bearing similarities to E. mellifera, this shrub has a striking structure and being evergreen is a great subject for borders and landscapes. One of the islands most beautiful dwarf shrubs is Azorina vidalii, the Azores bell flower. Again available but rarely seen in the UK, Azorina is found growing on poor soils and sea cliffs, therefore requiring some winter protection to thrive. (Both these species will be available from us from 2023)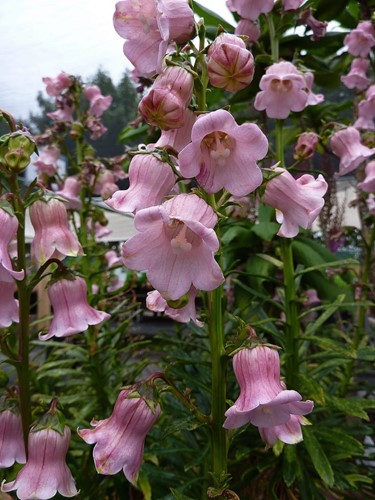 Azorina vidalii
Madeira
The autonomous Portuguese island of Madeira has a mild sub tropical climate with Mediterranean summer droughts and heavy winter rains. As with all Macaronesian islands the north is cooler and wetter and the south dryer, all due to the trade winds and the windward and leeward slopes of the volcanic topography. Madeira harbours a multitude of microclimates found at varying elevations; for us most interest was found within the mountainous ecosystems where many of the island's native and endemic plants are to be found.
A common plant genus found throughout all elevations in open scrub habitat is Echium. Of around 70 species, 29 are endemic to Macaronesia. Found from sea level to high alpine slopes. In Madeira, E. nervosum favours the lowlands growing to 500m, whilst E. candicans (the pride of Madeira) is a mid to high elevation species growing to 1500m, and withstanding temperatures to -5°C.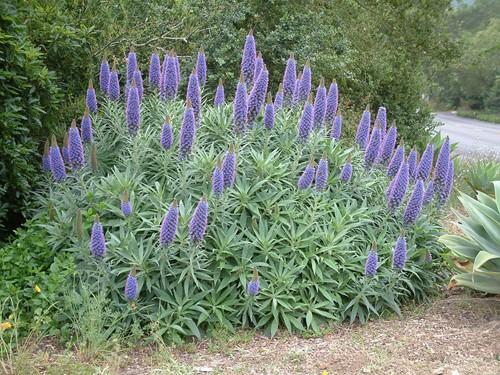 Echium candicans
These perennial and biennial evergreen shrubs produce large conical inflorescences with flowers in shades of white, pink and blue. The flowers are much visited by, and provide a valuable nectar source for, bees and butterflies.
Another mountainous scrub habitat species is Teucrium betonicum. This island endemic in the Salvia family is seldom seen in the UK. With soft evergreen foliage and spires of pink/purple flowers, large swathes of this plant are easily distinguishable as you hike the islands mountain trails.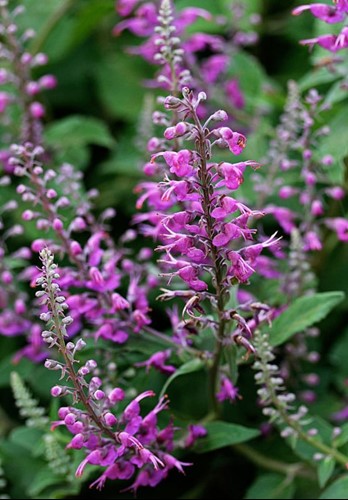 Teucrium betonicum
Between the altitudes of roughly 400-1330m, and often shrouded in cloud, are the humid and ancient laurel forests or Laurisilva. This remnant habitat, supporting over 150 vascular plants, is home to both familiar and uncommon Madeiran species. The giant Madeiran Cranesbill, Geranium maderense, thrives in large colonies beneath the dense evergreen canopy. Although tolerating temperatures as low as -5°C, G. maderense is not quite as resilient as the similar looking species, G. palmatum (both having large clouds of Fuchsia pink flowers). G. Palmatum can withstand UK temperatures as low as -10°C without any crown damage at all.
A more unusual genus to be found in these forests is Sonchus. Sonchus, sow-thistle or the giant dandelion are biennial or perennial herbs. Some, such as Madeira's S. fruticosus, are large 'woody' steamed shrubs. Although hardy to 0°C, when obtained these plants make a stunning summer feature in any sheltered garden seating.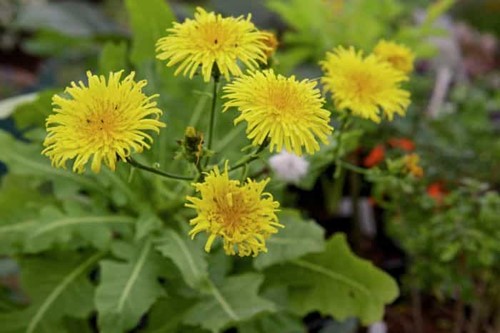 Sonchus fruticosus
Canaries
The Laurisilva forests are an ecosystem also to be found on the northern flanks of four of the Canary Islands. Tenerife, La Gomera , La Palma and Gran Canaria all receive sufficient rainfall to support a rich variety of species. La Gomera's mountains support the largest area of forest with species such as Geranium reuteri carpeting the forest floor in spring.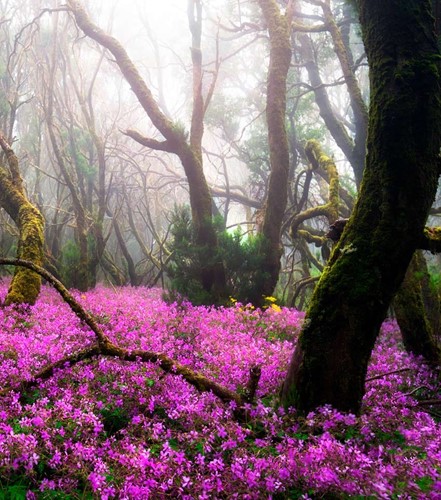 Geranium reuteri
Another familiar Canarian native is Digitalis canariensis (Isoplexis). Increasing in popularity in the UK, this bird pollinated, orange flowered member of the foxgloves, forms large shrubby stands in open forest and margins. From succulent Aeonium of arid Lanzarote to the Sonchus indicative of La Gomera's forests, the Canary Islands epitomise the entirety of Macaronesia's ecosystems and plant diversity.
The two easternmost islands of Lanzarote and Fuerteventura are the driest, receiving little rainfall and have an arid climate. With dramatic bare volcanic landscapes, plant life here has to be tough. Low growing Aeonium and succulent shrubs such as Euphorbia canariensis and Senecio kleinia grow in rocky soils akin to the African steppe. Tenerife, the largest of the Canary islands, is perhaps the most diverse. Boasting Spain's tallest peak at 3718m, Mount Teide national park comprises 168 plant species, 33 of which are endemic to Tenerife. The mountain's lower flanks are cloaked in thick pine woodland, comprising the Canarian endemic Pinus canariensis. Within this zone Echium species can be found, namely, the white flowered E. aculeatum and the larger mauve flowered E. virescens.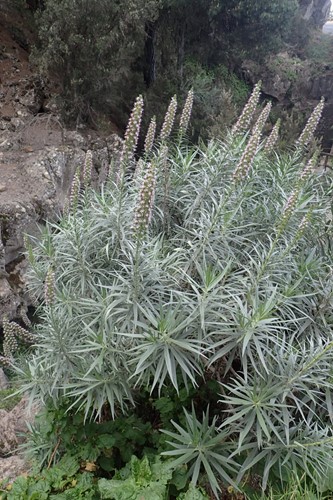 Echium virescens
As the woods thin at higher elevations, stands of broom (Cytisus racemosus) become common as does the Teide Sticky Broom (Adenocarpus viscosus) The mountain wallflower (Erysimum scoparium) also takes hold here, in spring turning the mountain flanks purple. Conditions here can be very harsh with temperatures dropping below 0°C at night and soaring to 40°C in the day. Towards the summit temperatures often drop way below 0°C and snowfalls are a regular winter occurrence. Withstanding such an environment is Echium wildpretii or mountain bugloss. With towering 7 foot spires of red flowers this plants stands out majestically in the rocky landscape.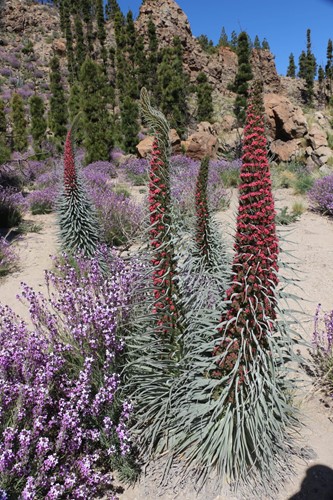 Echium wildpretii
These plants, despite their locations, endure some extremely hard conditions. It was with this in mind that our nursery began. Tenerife and the many islands of Macaronesia have a truly stunning plant diversity and we aim to bring a sample of it to the gardens of the UK.
Website: https://madyard.co.uk