A Garden Built from Clay
Paul Seaborne of Pelham Plants describes how a neglected paddock evolved into a much loved garden a decade later. - 28 May 2021
During the financial crash of 2008 we decided to take a leap of faith and move from a suburban semi to a neglected cottage hidden away in a wooded area of East Sussex.  Unlike many who consider aspect, take soil samples or weigh up school catchment areas, we fell in love with the potential of it.
We assumed a neglected Leylandii hedge taller than the house and running through the centre of the 'paddock' gardens was for privacy.  Having removed it in our first year, its true purpose was revealed as the first spring storm pulled some of the early plantings from the ground.  With hindsight, it was at that moment that a garden of hedged 'rooms' sheltering softer plantings was born.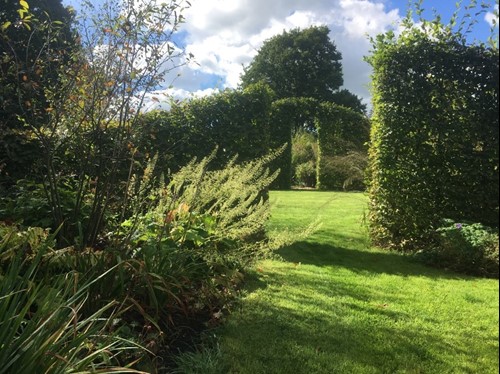 Unable to resist the temptation to sculpt the hedges into shapes pleasing to me, little niches and glades ideal for planting have appeared.  A low hornbeam hedge creates shelter and an element of surprise; a giant Heuchera villosa 'Autumn Bride' is suddenly revealed as you pass by.  The hornbeam is so quick and reliable on the heavy Wealden clay, that within a short few years, cosy seating areas hidden behind arching and rolling green walls have vistas across lush plantings that were impossible a few years earlier.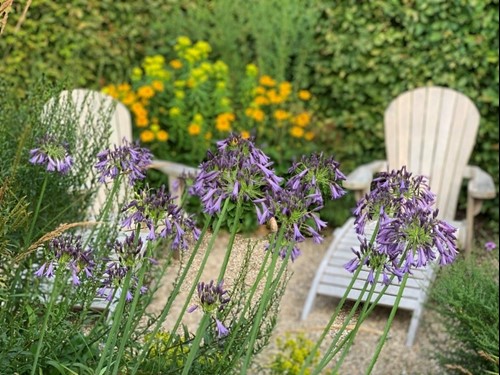 The paddock we inherited had few established structural plants to work with, except an overgrown Viburnum opulus 'Roseum' which has been rejuvenated through pruning, and now supports an early flowing honeysuckle.  There was also an isolated Pseudoplantanus 'Crimson King', now the home of a climbing Hydrangea petiolaris and providing a cover for Galanthus and Polystichum.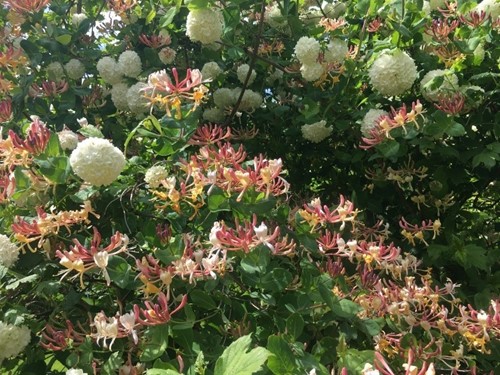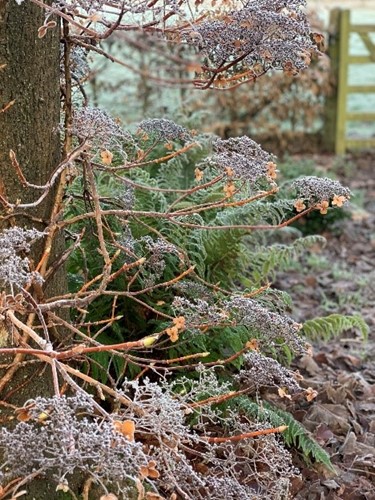 Driven by my need to experiment with plants new to me and latterly my desire to 'stock' the plants I sell on the nursery, the remaining blank canvas continually evolves.  Mistakes are made and lessons learnt, but above all the plants drive how to plant the spaces I have created.  No formulaic border designs, or static colour themes could weather the storm of hurried replanting that takes place every spring to replace divisions taken from the garden. 
A garden edged by mature woodland and on slightly north facing slope provides challenges for the 'sunbathers' of the horticultural world.  Yet closest to the house, raised beds and much improved soil has provided a focal point and safe haven for those plants needing sharper drainage.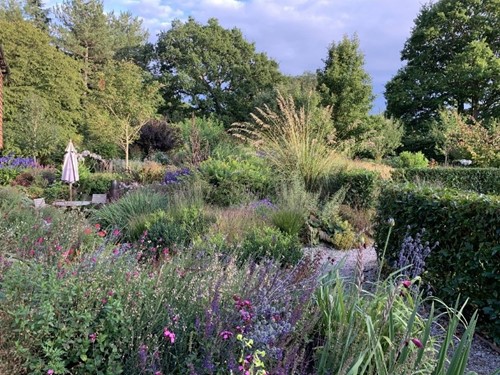 The textural grasses and blue hues of Eryngium planum 'Blaukappe', Agapanthus in variety and Salvia yangii (formerly Perovskia)provide a framework through which splashes of colour can be woven.  Somewhat unplanned and driven by the desire to squeeze in another stock plant for harvesting seed or cuttings a rich tapestry has emerged.  Dianthus carthusianorum provides pin-pricks of vibrant pink and Linaria 'Peachy' is the party animal who mixes well with all around.  A small sunken seating area surrounded by herbs, and decorative Alliums, Oreganos, Sedums and Salvias is (in theory) where we sit and relax, looking up into the rich contrasting colours of the border beyond.  Agapanthus inapertus 'Quink Drops', Echinacea 'Rubinstern' and Crocosmia 'Okavango' not clashing, but each enlivening the colour of its neighbour.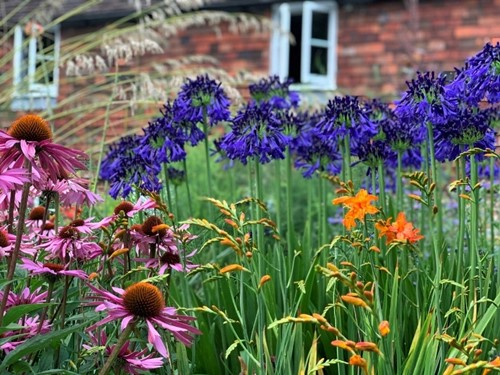 The use of grasses throughout the garden is central to its appeal for me.  The soft colours, tones and forms of grasses help harmonise plants whose features might otherwise clash or appear too harsh.  The dainty Pennisetum orientale 'Shogun' softens and accentuates the beauty of its neighbours.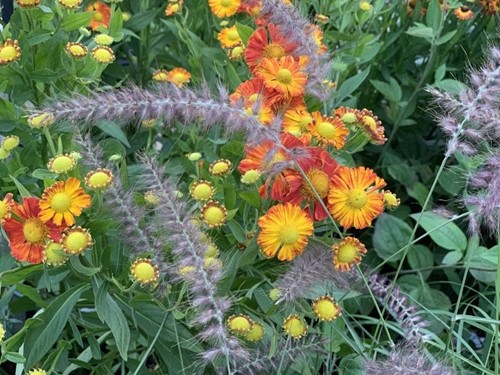 The late summer and autumn light starts to tip the balance and grasses no longer understudy their floriferous neighbours.  Back lit by low golden sun they can bring a declining and hopelessly flopping border alive again.  Their true value emerges in late autumn and into winter when the skeletal herbaceous borders recede.  A hoar frost brings out the camera shy grasses, when just recently it seemed so difficult to do them any justice in a summer snap.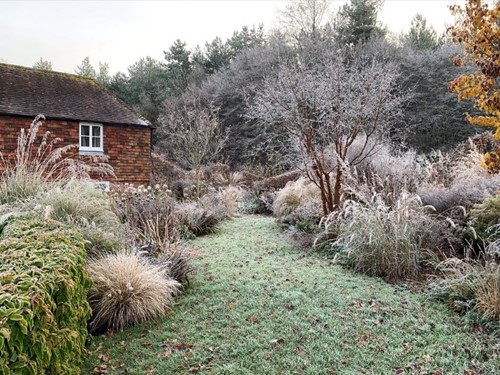 Occasionally, I break my own rules and allow the grass to be the centre of attention.  Stipa gigantea 'Gold Fontane' is a statement in its own right, and the Miscanthus 'Yakshima Dwarf' hedge is a living windbreak, too tactile to pass by untouched.  Its 'blockiness' dampened by the Aster xamethystinus 'Kylie' arching through it, and compensated for by the movement and sound it generates in even a gentle breeze.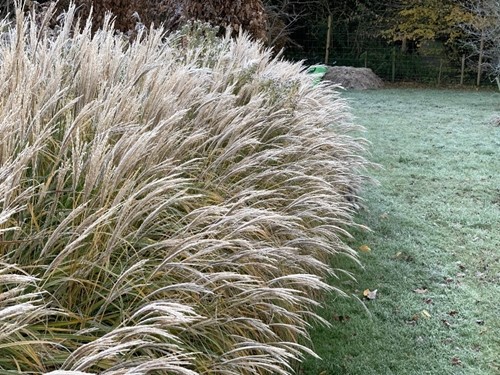 A good garden needs variety, and the intensity of the herbaceous borders (and of the work involved) is not sustainable on a large scale.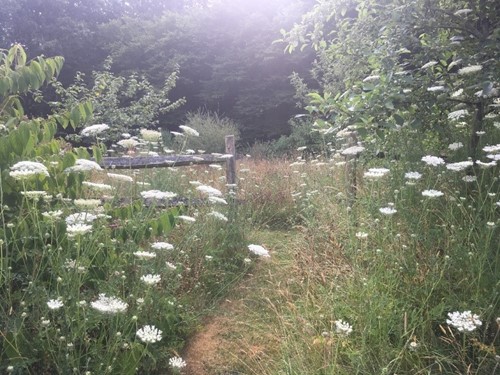 The fashion for meadow making has not passed us by and the successful introduction of Yellow Rattle to weaken the paddock grasses enriched by the clay has allowed a meadow of sorts to emerge.  Under our young apple trees, the introduced wild carrot seed and Greater Knapweed (Centaurea nigra) thrived and pleased instantly.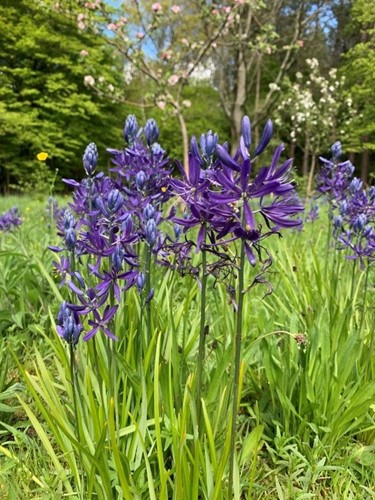 Gradually Camassia cusickii have bulked up in their original plantings and their seedlings are beginning to flower too.  Ladies Smock (Cardamine pratensis), Cowslips and Greater Stitchwort have crept in from the surrounding woods and represent to us the start of greater things to come.  A meadow that may out live the rest of the garden, as our ability or desire to garden quite so intensively and extensively, inevitably declines.
It's difficult for us believe that an open paddock is maturing at such a rate.  The stunning, if brief blossom of Malus transitoria now creates a scented arbour entrance to our home.  Neighbouring shelter belt of Betula jacquemontii, Pyrus calleryana 'Chanticleer' and Acer griseum now seem to belong rather than, as at first, appearing to have arrived unexpectedly and out of context.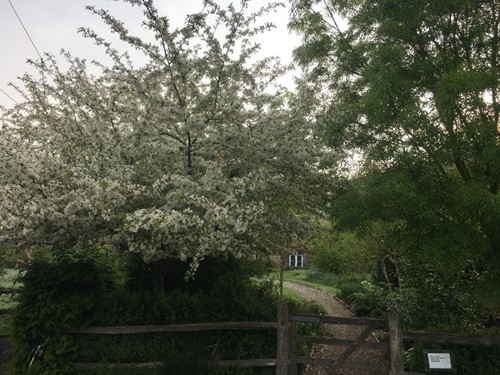 In the last twelve years, the blink of an eye to the mature oaks around us, a garden has emerged.  In parts intensely controlled, considered and structured.  More often evolving, unpredictable and exciting palettes of plants and plant combinations emerge.  If I learn from more than half of the many mistakes I make then progress is made and a garden is enjoyed.  Rather than cowering in the shadow of Leylandii, our cottage now sits back comfortably in its plot, and I look forward to doing so soon.  But not yet!
Pelham Plants Nursery is a hidden gem in a lovely wooded area of East Sussex.  The nursery is open by appointment only.  Book a visit to the nursery, or order plants for collection at events, or by mail order at www.pelhamplants.co.uk.  The garden is open for group visits in the summer by prior agreement.