Shrubs for Autumn Colour
Gordon Link, from The Gobbett Nursery, on fantastic shrubs for Autumn colour - 11 September 2015
The first plant most people associate with autumn colour is one of the many varieties of Acer palmatum, but being most gardeners already recognise these I will concentrate on the many alternative colour autumn foliage plants.
One of the best must be Cotinus coggygria 'Grace ' whose large reddish / purple leaves take on an even more vibrant scarlet colour in autumn before falling. Grace is quite a vigorous shrub easily putting on 2 – 3ft per year, but can be kept in check by hard pruning in early spring.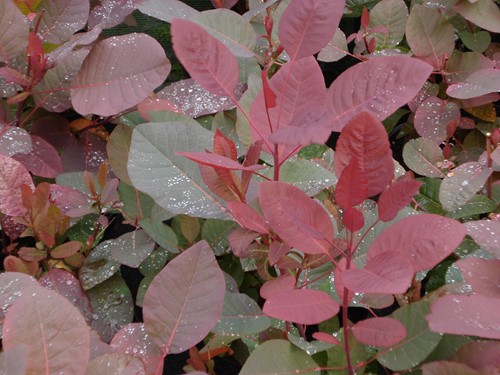 Cotinus coggygria 'Grace'
Many of the deciduous Berberis have stunning autumn colour, one of the best must be Berberis thunbergii 'Orange Rocket' which has orange/red foliage in spring and early summer, but takes on an even more intense hue in autumn. Other Barberry suitable for small gardens are B. thunbergii 'Admiration' and B. thunbergii 'Atropurpurea Nana', both with stunning autumn colour and only growing to about 2ft tall.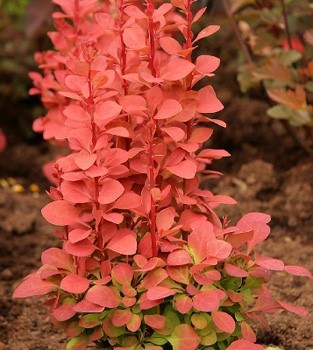 Berberis thunbergii 'Orange Rocket'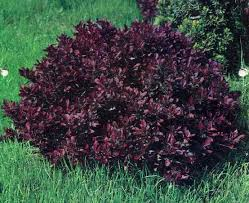 Berberis thunbergii 'Atropurpurea Nana'
Now if you only have room for one stunning shrub for late colour it has to be one of the deciduous Euonymus. The best known must be Euonymus alatus with its distinctive corky wings on the stems and branches. It is best planted in full sun where it can be illuminated to best effect, and is a slow growing shrub to about 6ft. There is also a smaller form, Euonymus alatus 'Compacta', only growing to half that size.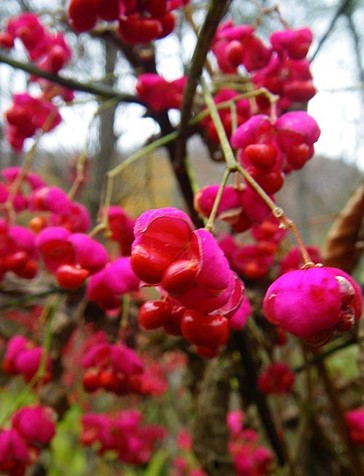 Euonymus hamiltonianus
My favourite Euonymus must be E. planipes, a slow growing shrub to reach 8ft after many years; it produces masses of scarlet fruit which split to reveal bright orange seed then the leaves turn an amazing deep red and purple before falling and is one of my favourite shrubs in the garden. Other spindles of note are Euoymus hamiltonianus, E. sieboldianus and E. phellomanus, both with pink fruit.
If you are lucky enough to garden on acid soil Fothergilla should be a high priority, with their bottlebrush flowers in spring on  bare stems followed by intense autumn leaf colour. Native of the United States, they thrive in moist acid soil in sun or light shade. Fothergilla monticola 'Major' eventually forms a large shrub to 2.5metres. There are dwarfer forms such as  Fothergilla  'Gardenii' and F. 'Blue Shadow' which has grey/blue summer foliage and grows to a height of about 1.5 metres.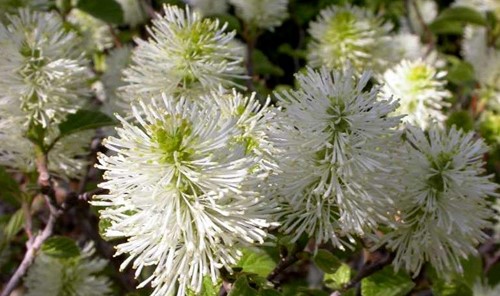 Fothergilla monticola 'Major'
Another must for acid soils must be Enkianthus campanulatus, with its pink and white bell shaped flowers in late spring/early summer followed by intense reds and purple leaves in autumn. Enkianthus can be planted in full sun, but will also take quite a bit of shade. Another form with even larger flowers is the equally spectacular Enkianthus chinensis.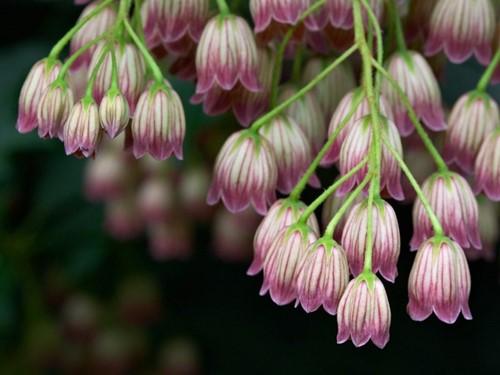 Enkianthus campanulatus
Another favourite genus are the dogwoods, best known are the red or yellow stemmed shrubs such as Cornus alba 'Sibirica', whose leaves can also turn really colourful before falling. But the real gems are the flowering dogwoods, especially Cornus florida and Cornus kousa. Both make large shrubs on any moisture retentive neutral to acid soil. Mainly grown for their brilliant spring display of large white or pink bracts.  They also turn amazing colours in the autumn.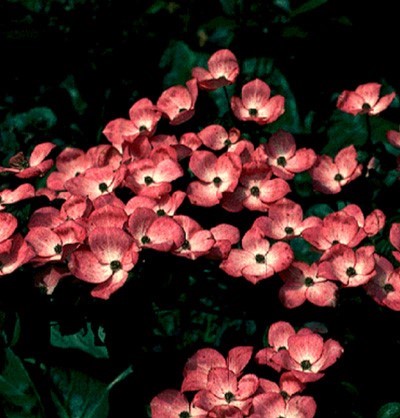 Cornus 'Heartthrob'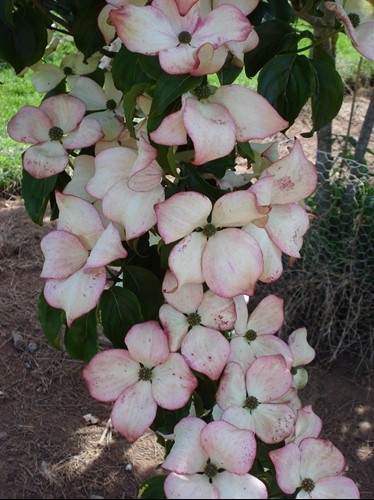 Cornus kousa 'Satomi'
Callicarpa bodinieri  'Profusion' is grown for its eye catching clusters of violet/purple berries in autumn, which follow the small purple flowers of summer; the leaves of this shrub also turn rosy pink in autumn. There is also an interesting rare white berried form Callicarpa japonica 'Leucocarpa'.  Another rarely grown shrub is Aronia melanocarpa (American Chokeberry), at 1.5m great for a small garden. In spring, plants are covered with clusters of white blooms followed by red berries which turn black as they age, in autumn the foliage turns red before falling. Not fussy as to soil type, completely hardy in sun or part shade.
Of all the different species of Hydrangea probably the best for autumn colour must be Hydrangea quercifolia (oak leaved Hydrangea); not just worth growing for their lovely panicles of white flowers in summer but in the autumn those enormous oak like leaves turn a rich burgundy colour. Easily grown in a semi shaded spot in a  moist soil.
Gordon and Christine Link own The Gobbet Nursery, based near Kidderminster in Worcestershire. They specialise in shrubs, especially Cornus and Syringa.
Website: www.thegobbettnursery.co.uk