The Carnivorous Plant House at Winterbourne
Dan Cartwright, Head Gardener at Winterbourne House and Garden, on the collection of carnivorous plants held in the botanic garden there. - 28 June 2021
The plant kingdom is not generally considered a threatening presence; its members are a passive breed, the source of so much romantic imagery and literature. But one particular group has consistently inspired terror, and revulsion, and entered into the public consciousness like no other. The 'murderous propensity' of plants was first noted in the 2nd century AD when it was written that female grape vines enjoyed eating sailors who tried to mate with them.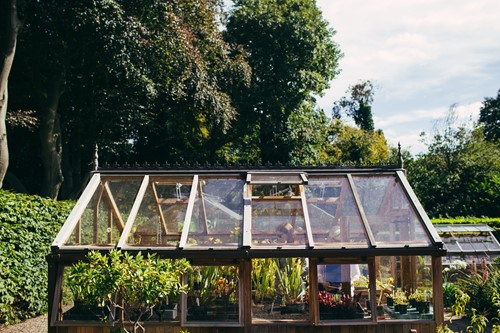 Similarly, in 1864 The New York World reported on explorer Karl Leche's expedition to Madagascar. Leche described his encounter with Crinoida dajeeana, a tree with enormous spine studded pineapple-like leaves and a depression in its crown filled with honey-sweet liquid. Leche was present when a cave dwelling tribe, the Mkodo, offered one its women to the tree by way of human sacrifice at javelin point. The 'atrocious cannibal tree' he said 'came to sudden savage life... with the fury of starved serpents, quivered a moment over her head, then as if instinct with demoniac intelligence fastened upon her in sudden coils...'
Of course, Leche and his account were later proven to be no more than a fictitious indulgence by reporter Edmund Spencer. Nevertheless, such a graphic account of this exotic blood thirsty tree proved utterly intoxicating and spurned several expeditions in the hunt for further evidence. Even The Garden magazine noted the 'harrowing description of a man-eating plant going the rounds of the papers'.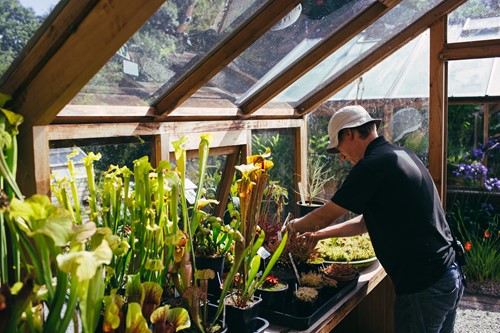 Little more than a year later, Charles Darwin published Insectivorous Plants, the result of what his wife warned had become an obsession. Darwin's more considered exploration of carnivorous plant adaptations did nothing to quell Victorian thirst for the sensational. Despite this, many of his findings continue to cast a long shadow on even the most ghoulish manifestations of the imagination. As with much in the natural world, fact is often far stranger than fiction.
Our own Carnivorous Plant House was established in 2012. It has good ventilation and plenty of light; the perfect hunting ground for hungry herbs. Sarracenias, or pitcher plants, are some of the most ingeniously adapted of all carnivorous plants. Pitcher plants grow mainly in the east and south-eastern coastal plains of North America, thriving in grassy, open, wetlands, fens and swamps. However, there is one notable exception; Sarracenia purpurea can be found as far north as Canada and has also been introduced and naturalised in Ireland.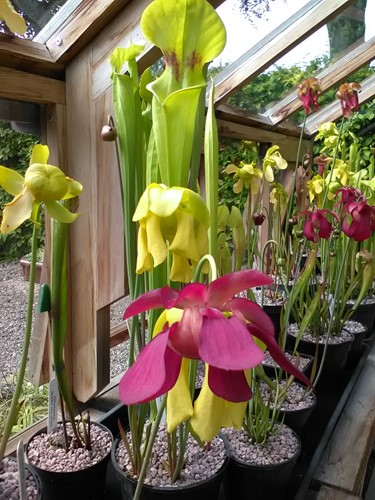 The natural habitats in which trumpet pitchers usually grow are very acidic, moist and virtually void of the necessary nutrients required for normal plant growth. Pitcher plants have subsequently evolved to digest prey as a means of obtaining vital food and energy in pitfall traps. They catch a whole host of insects, flying and non-flying, which are attracted to their colourful nectar rich tubes. The insect feeds on the often poisonous nectar, situated around the rim of the tube, before slipping to the bottom of the trap. The trap generally has steep, waxy sides, and often downward facing hairs which make escape practically impossible. At the bottom of the trap the plant produces digestive enzymes, which increase as more insects are caught. These insects are broken down into a nutritious soup containing nitrogen, potassium, phosphorous and a host of other trace elements.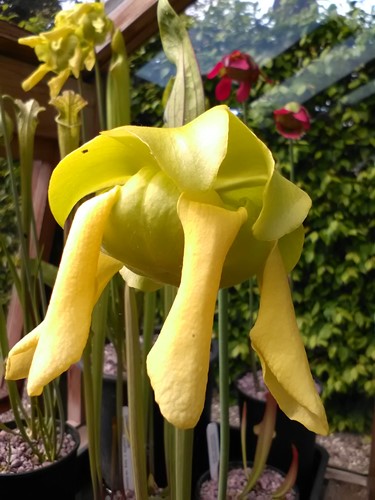 Pollinating carnivorous plants can be a risky business when you're a small insect just as likely to be on the menu. However, many carnivorous plants have developed some very particular habits to prevent themselves from accidently eating the pollinators necessary for successful reproduction. Space and time are crucial. Often carnivorous plants produce flowers early in the growing season before their traps are fully active. Positioning these flowers on long stalks high above treacherous traps gives further security to helpful creepy crawlies. Carnivorous plants also frequently prey on separate insects to those that they use as pollinators. Different insects are attracted to different parts of the plant with variable colours and scents. Pitcher plants, for example, mostly feed on flies, such as bluebottles, and wasps, but are pollinated by honey bees and the sarracenia fly, Sarcophaga sarraceniae, which uses pitcher plant flowers like an umbrella for shelter on rainy days, covering itself in pollen as it does so.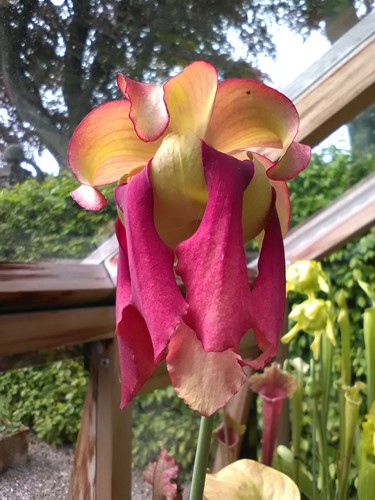 Many pitcher plants are extremely vulnerable to extinction in the wild; in some areas as little as 2.5% of their natural habitat remains. Modern land management and development techniques, such as draining bogs for agriculture, mean that invasive woody plants can quickly take hold and crowd out pitcher plants to the detriment of natural biodiversity. Over collection of wild populations is also responsible for much of the decline with collectors seeking unknown variations and forms. Here, the horticulturalist plays a crucial role in supporting ongoing conservation efforts. Always ensure when purchasing plants that their origin can be traced to plants raised in cultivation only.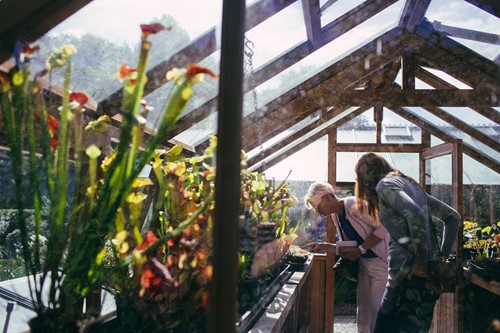 Website: www.winterbourne.org.uk