Corokia
Paul Green , from Green's Leaves, on these interesting and unusual shrubs from New Zealand - 29 April 2016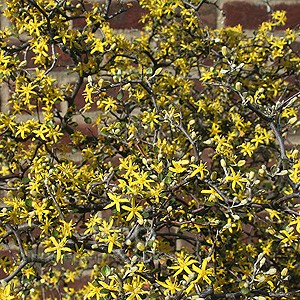 C. cotoneaster in flower.
"So why do you like corokias?"  It's a question I get asked a lot. They are not in your face, but there is a subtle beauty to them. It's a genus mainly from New Zealand, with ten species found there, and a sole species found in Australia. The stems of the shrubs are dark when mature,  and are covered with downy or silky hairs when young. In spring to early summer in the UK, they produce clusters of small, star shaped yellow blossoms, followed by berries that are red or yellow. The ones you see in the UK most are  –
C. cotoneaster – "Wire Netting Bush". The divaricating (zig-zag) stems make this really stand out. Small  leaves mean you always appreciate the stem structure. The very prolific tiny yellow flowers in late spring are followed by red fruits (hence the sp. name). Size can range from around 2.5 m (7-8 ft) as seen at Kew or it can be kept to 1 m or less. They look fantastic in pots or rockeries / gravel beds. I think many plants with curly or zig-zag stems can get lost if used in densely planted  borders.  There are different cultivars in the trade – some smaller leaved than others.  All in all, it's a great plant that will take -10 oC to -15 oC. It does need  a bit of shelter from strong winds in the coldest areas. As with many New Zealand plants, a low or neutral  pH and moist, but well drained soil  is required. Sun to partial shade is fine.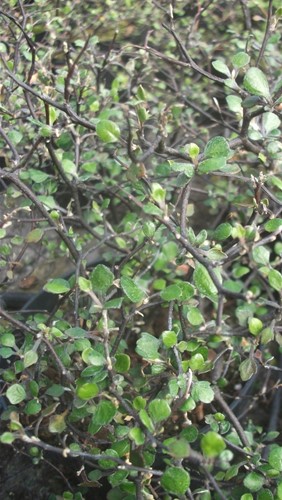 Corokia cotoneaster
C. x virgata hybrids – these are numerous and variable in appearance. They are hybrids of C. cotoneaster & C. buddleoides, they are sometimes mistaken for Pittosporum cultivars. My choice ones include –
'Silver Ghost' – tiny silvery leaves on dark stems, dense growing.
'Frosted Chocolate' – larger leaves, bronze in winter going more silver in summer.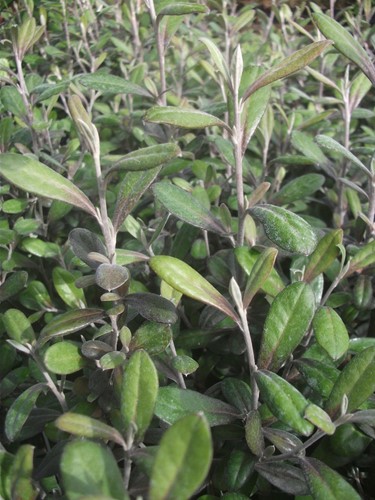 Corokia x virgata 'Frosted Chocolate'
We are hoping to get National Collection status for our selection of corokia in the near future.
Paul Green and his wife Helen are the owners of Green's Leaves, based in Newent in Gloucestershire. They specialise in choice and rare shrubs, coloured foliage plants, architectural plants and grasses.
Website:  www.greensleavesnursery.co.uk
Article and all photos copyright the author.