A Selection of Perennials and Ferns for Spring in the Woodland Garden
Nigel Rowland, from Long Acre Plants in Somerset, with his selection of choice perennials and ferns for woodland and shade. - 24 March 2023
In terms of cultivation, the plants I've chosen below roughly fall into two groups. The European natives are well adapted to southern UK shady situations, particularly where deciduous trees dry out the soils once they are in full leaf.  The second group are Asiatic plants which generally grow well in more northern areas of the UK with its higher rainfall and cooler temperatures. These will need some Summer moisture in the South and are often more successful grown on the north side of a wall or in a courtyard. 
Ypsilandra thibetica A newish introduction from China. The plant is evergreen with strap shaped green leaves which are often bronze in Winter. Spikes of fragrant white flowers with blue anthers appear in late Winter and Spring. The flowers once the petals drop have pink flushed calyx.  It is easily grown in soil that doesn't dry out, you are more likely to lose it through drought in Summer than cold in winter. It has proven very hardy.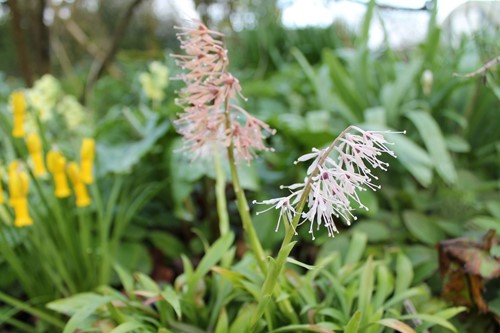 Anemone nemorosa 'Robinsoniana'  The  large pale blue flowered wood anemone so lovely in the woodland garden. It was introduced to the Oxford Botanic Garden around 1870, probably from Ireland.  William Robinson was given rhizomes some time later, and he cultivated it in his garden at Gravetye Manor and  wrote effusively about it popularising it, and as a result it was named for him. It remains quite one of the best Spring woodland plants, slowly spreading to form a carpet. It dies down in late Spring early Summer to twiggy rhizomes which can be divide in late Summer.  RHS trials some years ago found that a number of clones go under this name all are good. 'Alleni', though similar and often offered as thi,s has silver backs to the flowers.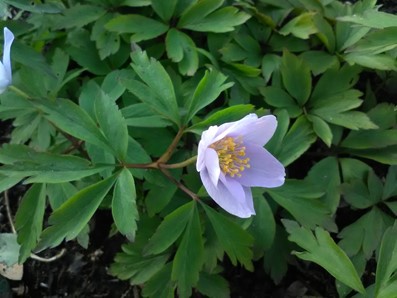 Lamium orvala album - Lamium tends to get a bad press due to it's habit of running around and rooting at the nodes and so can be invasive. Lamium orvala is a very different plant. Native to central and eastern Europe, it is completely herbaceous and forms a tight clump, it doesn't run at all. Upright stems  to 60cm tall emerge in Spring.  Lamium orvala 'Album' has large pinkish white flowers in whorls up the stems unlike the pinkish purple flowers of the species. The leaves are pale green much paler than the typical plant. Easy in a shaded bed or woodland garden and if established  will grow well in dry deciduous shade.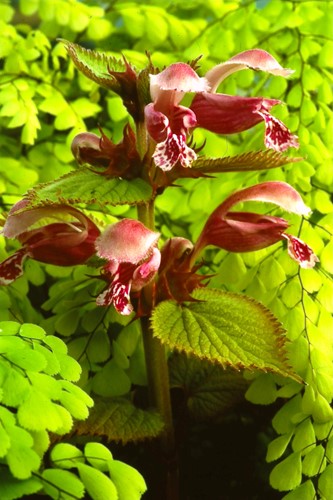 Lathyrus vernus  The European native spring pea has become much better known over the years.  When we originally grew it for sale a clump forming non climbing perennial pea was relatively unknown and more than one customer complained that it didn't climb up the trellis below which it had been planted! Flowering from mid-March to mid-May with racemes of 2cm flowers in a variety of colours from white through pink to blue and purple at the tips of the stems, which are clothed with pinnate leaves. A very deep rooting plant which allows it to grow well and survive the dry summer soils when planted under deciduous trees.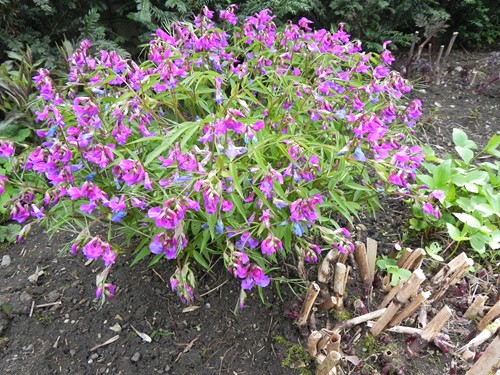 Hepatica nobilis 'Cobalt' This dark blue flowered form of the classic European Hepatica. Hepatica nobilis in Europe is commonly found in the Alps and the Pyrenees as well most other European mountain ranges. It also grows as a woodland plant in Easter Europe and Scandinavia. Hepatica derived from these woodland forms are much more adaptable to gardens in the Southern half of the UK, but a raised bed or shaded trough is ideal and avoid them being smothered.
Corydalis elata 'Blue Summit' The blue corydalis are lovely plants for the shaded garden but most are not very perennial, with dryness in summer being the main problem. This form of this tallish growing species (to 45cm) with fragrant dark blue flowers and slightly pale rounded leaves is much easier to keep from year to year and has half a shade darker flowers. Keep the plant mulched and water if possible in dry summers, a north wall or courtyard gives shade without the drought from overhead trees extracting the ground water.  
Cardamine pentaphyllos Cardamine come in a variety of forms and this taller growing pink flowered species from Eastern Europe is quite one of the best plants for the spring garden. Emerging form a thick scaly bulb like rhizome in March it has large 4 petaled pink flowers atop the serrated green leaves. This species stays as a clump not running around like C. quinquifolia and besides it is twice the size. Humus rich soil in shade will suit it well. It will die down below the ground in mid-summer as the soil dries up. If a lot of oil seed rape or mustard is grown locally you may have problems from Cabbage Flea Beetle damaging the foliage,  otherwise it is pretty trouble free.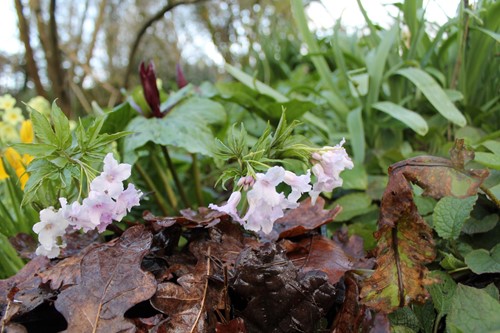 Athyrium otophorum var okanum A deciduous fern from Japan related to the more commonly grown silver foliaged Athyrium nipponicum 'Pictum'. It a plant for borders, beds or pots which can have some moisture in Summer. Like many Japanese plants they are adapted to the higher summer rainfall the Asiatic monsoon brings. The new foliage is a bright vibrant golden yellow with red stems (stipe) on the fronds, it grows up to 60 cm tall and wide , given some moisture new fronds are produce all spring and summer.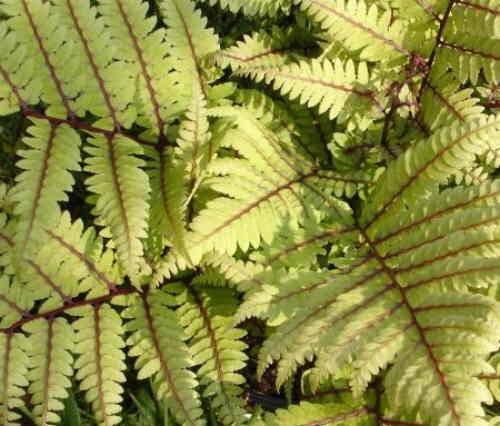 Nigel Rowland is the owner of Long Acre Plants, based in Somerset, a mail order planstman's nursery specialising in plants for shade. 
Website: https://www.plantsforshade.co.uk/